A couple of weeks ago I was invited back to KDU College as part of their Open Day.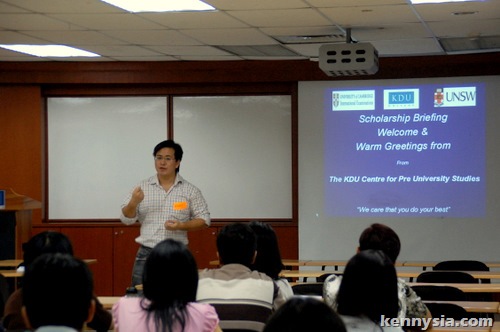 The college told me that I had to speak to a couple of Form 5 students about what to expect after high school.
I had no idea what to talk about. So I asked my Twitter followers what is the biggest thing that happened to them after high school.
One person said "losing his virginity".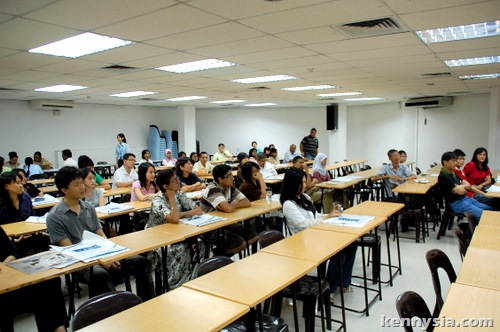 Well, I can't possibly say THAT in front of parents and students!
Instead, I told them how instead of choosing something traditionally "safe" like medicine or engineering, it is more important to do something they like. When choosing a college course, it is vital to think of it as something they don't mind doing for the rest of their lives.
Nowadays people can become "celebrities" in not just entertainment, but also in cooking, interior design and *cough* blogging. As long as they have the passion for it, success and money shall naturally follow.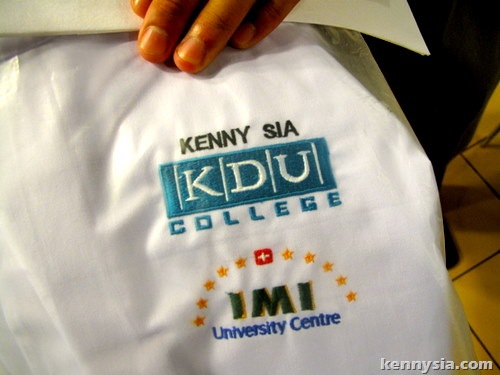 "The moral of the story is. Choose something YOU want to do. Not something your parents want you to do."
A couple of parents in the audience were giving me evil eyes after I said that.
But it's true what! How many of us regretted engineering because our parents never told us how incredibly boring it is!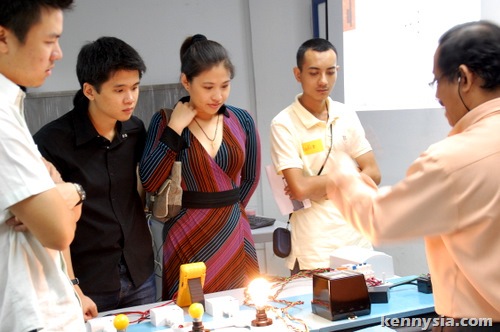 Obviously, if you get a kick out of problem-solving and looking at electrical wires, then this career option is for you.
But if you're clumsy as a clown like me…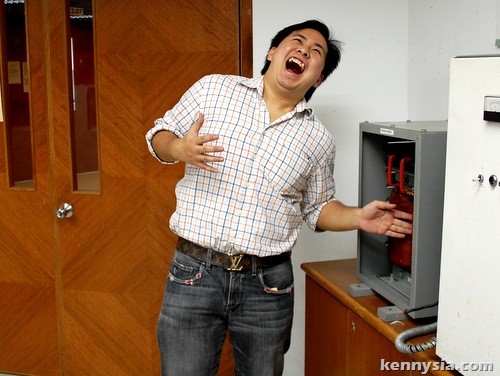 Then you might wanna go for something safer.
Anyway, it was nice to enter an engineering lab again after studying it for 5 years at university. It's been so long, I've forgotten how to use a multimeter already.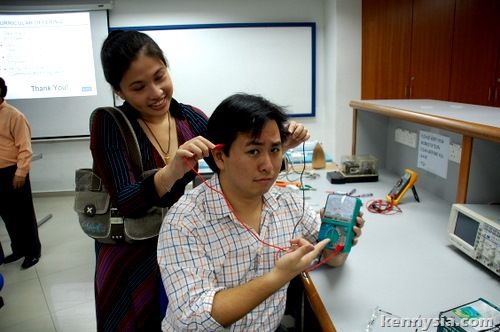 This one doesn't work. I think spoil already.
If engineering is not for you, you might wanna do other fun stuff.
Like mass communications.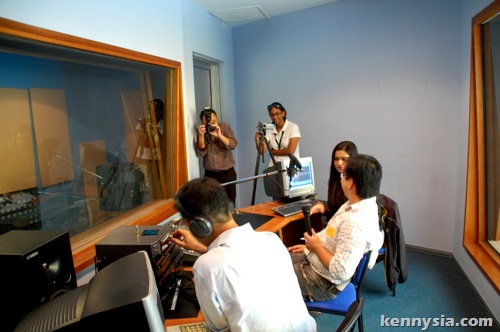 Or even law.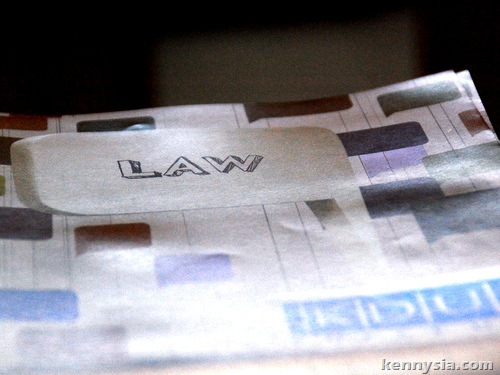 At KDU College, the law lecture theatre is designed like a courtroom. The lecturer who showed us around is a hot chick lawyer who carries around an LV handbag.
Personally, I can never do law.
Some people are born to do law. Some people, like me, can only do this.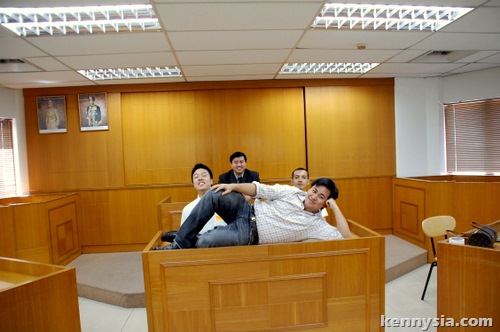 I dunno what I was doing but I'm pretty sure it's against the law.
KDU College's biggest strength is still in its School of Hospitality, Tourism and Culinary Arts.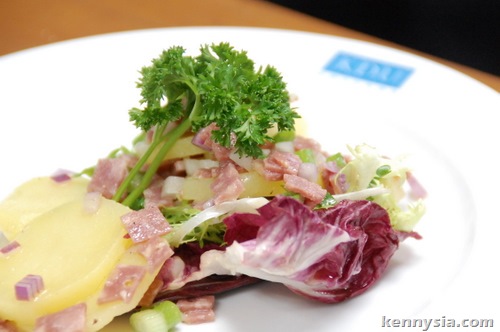 Previously, I only had the chance to discover a bit about what they have to offer. This time round I got to learn so much more.
The culinary arts course at KDU is still very popular and it's not difficult to see why.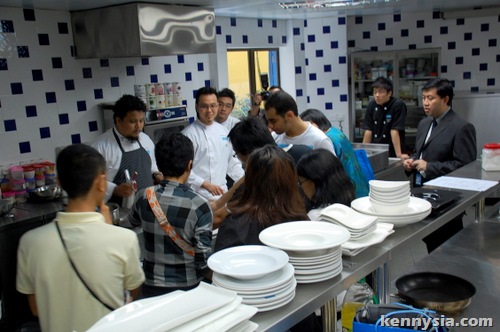 The college employs very experienced ex-chefs as lecturers.
Their culinary arts course is unique in the sense that it's a marriage between cooking and science.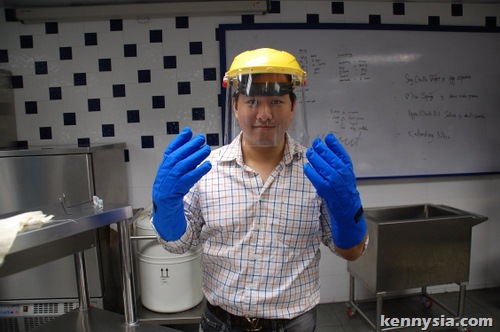 That's why not just prospective students enrolled into the course, but also housewives who wanting to brush up on their cooking skills.
Of course, some of the stuff they did goes beyond what a normal household kitchen is capable of.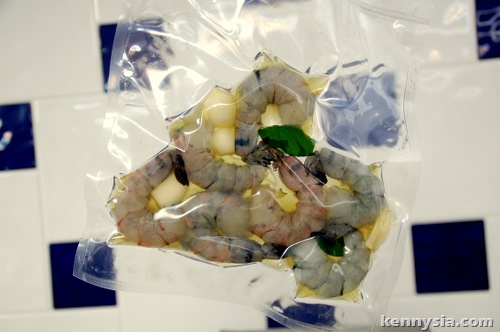 The KDU lecturer introduced me to this thing called "vacuum cooking".
Normally, with stuff like meat, a lot of its juices and flavour are lost if you pan fry it. So what they do is vacuum pack the marinated meat first, then throw the whole thing into boiling water to cook it.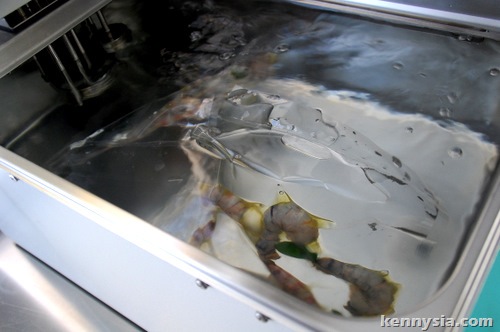 True enough, when these prawns are finally served, they are as juicy, tasty and succulent as… umm… Edward Cullen.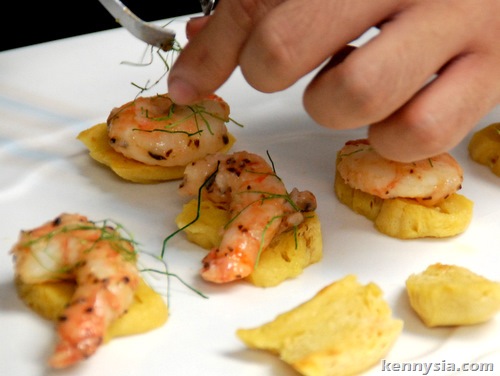 Not that I know what Edward Cullen taste like.
And I'm sure those prawns taste better than a vampire from the movie Twilight.
Anyway, there's also this thing called "molecular cooking".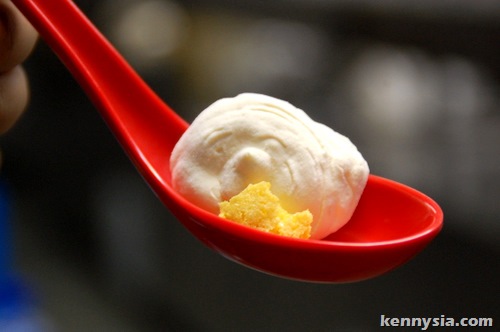 This is actually an ice-cream
dessert the chef at KDU college prepared for me. In some expensive fine-dining restaurants, they would offer this as part of their dessert menu.
Once you order it, they will ask the chef to come in front of you.
Yes, the chef will literally take out a spoon and squirt out a bit of cream.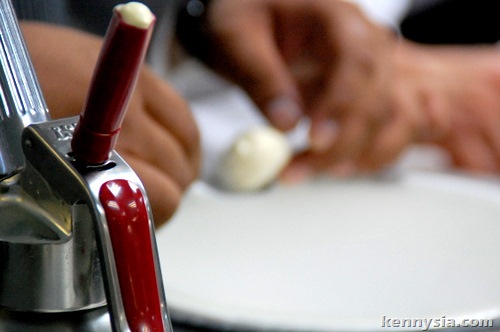 Whipped cream.
Next, he takes out a liquid nitrogen and freezes his cream right in front of you.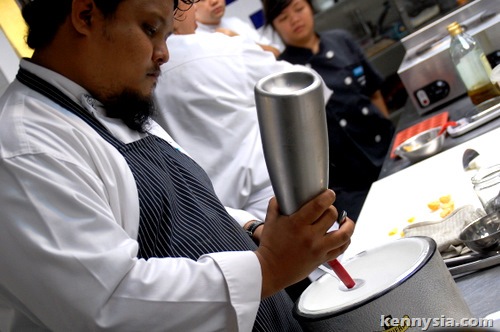 You take the frozen cream into your mouth.
It's cold. You bite into it.
Next thing you know, your mouth explodes with ecstasy. You are high in delight and wonder, "Damn! How on earth can something like this feels so good. So pleasurable!"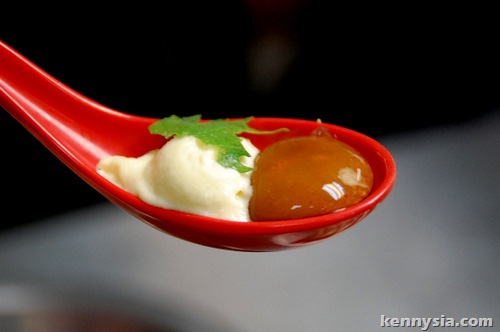 You are satisfied. The chef is satisfied. Then he'd charge you RM50 for the experience.
This blog entry is sponsored by KDU College. If you're a student fresh out of high school looking to further your studies, a working professional hoping to brush up on your skills, or even a simple guy who just wanna learn how to cook to impress your girlfriend this Valentine's, head on to www.kdu.edu.my and check out their range of long and short courses on offer.
Hannah Tan did.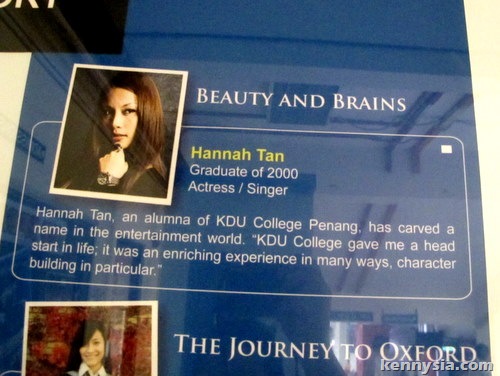 Hannah Tan graduated from KDU College, with a degree in Beauty and Brains.