Us Kuching drivers are really one of a kind.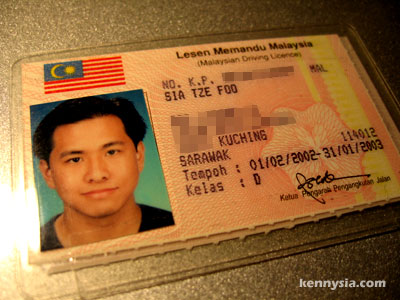 See, most of us who drive on the road have a proper and legal driver's license (I hope). Thats mean we must at least pass our theory exams on road signs, road rules and stuff right? You know, the one that says "green means go, red means stop" and so on.
I tell you hor, all these theory exams, we did it for fun only. Actually nobody use one. Bullshit only. Everyone else test their students before giving them their driving license, that's why we do it also. Must act act a bit make it look real like that mah. Cannot just anyhow give out licenses like giving out APs. What, you think our government is Salvation Army ah?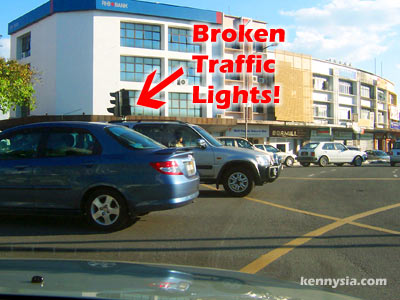 The reality is, here in Kuching we have like, a completey different set of driving rules. Rules that apply elsewhere doesn't always apply here.
We Kuching people, we love to be different. That's why when you come down from our airport, the first thing you see is our state motto: "Sarawak – A Place Like No Other".
That's referring to our driving rules.
You know how everywhere else, traffic light green means go, orange means slow, red means stop? Over here, traffic light green means go slow like snail, orange means go slightly faster, red light means go full speed ahead – chiong ahhh!!!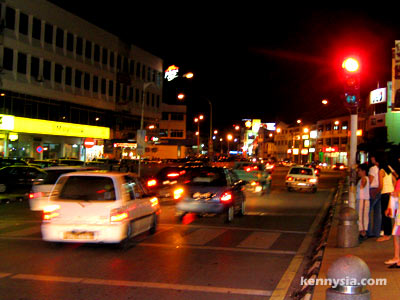 But that's nothing. You should see the way we park our cars, even more terror. This is Kuching Parking 101, proudly brought to you by kennysia.com.

Rule #1: Designated parking bays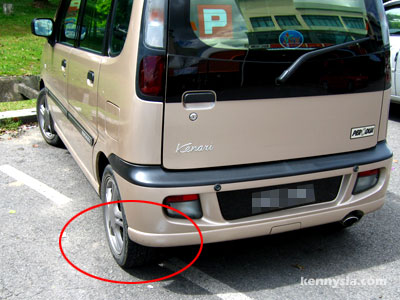 This is important when you're parking small cars like the Kancil or Kenari, to always stick out one of your wheels out. See, because your car is puny and insignificant, people won't normally notice you. Your moral duty is to annoy them by parking your car slightly over the line so the other person cannot take the bay next to you.
Of course, if you drive big cars like the Pajero and you're feel rather tulan 'cos this stupid Kenari had taken up two parking bays, you can always do this.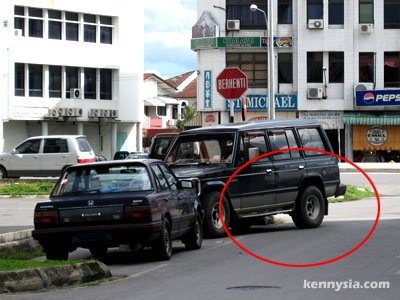 Rule #2: Yellow lines.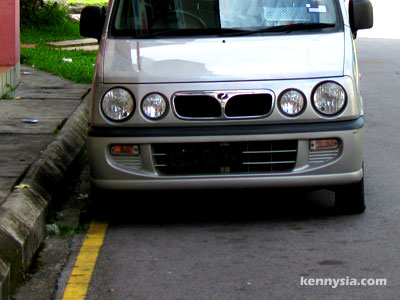 Because it is such a chore to walk 5 steps from the parking bay, you can always park on the yellow lines right next to the shoplots to visit your favourite laksa stall.

Rule #3: Yellow boxes.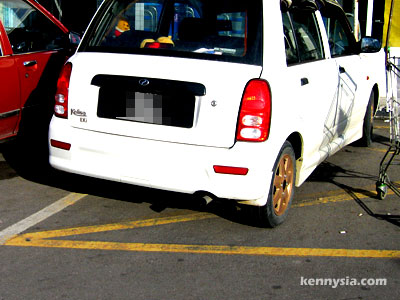 Feel free to park on our yellow boxes! See, yellow boxes are like just yellow lines, but with more lines and got nice nice cris cross pattern.
It means VIP parking.

Rule #4: Blue sign with red strike over it.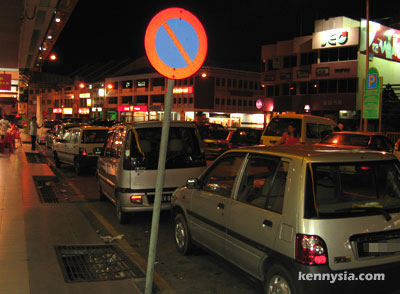 A common sight at the shoplots next to Sarawak Plaza, there's always a row of cars parking next to this sign. This is like, Kuching's international symbol for parking space. Other people use a big big "P", we use this symbol.
Remember, Kuching people like to be different.

Rule #5: "Strictly No Parking".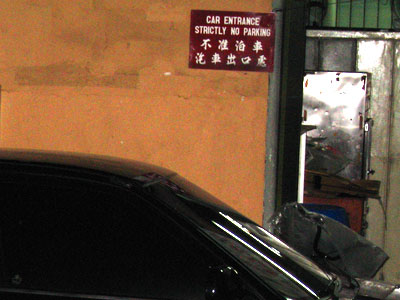 Just like how "Air" in Malay means "Water" when translated to English, the words "Strictly No Parking" is actually Malay. When translated to English, it means "You're very welcome to park your car here eventhough you might block this entrance to our private car park because you are important and we love you"


Rule #6: The pedestrian walk.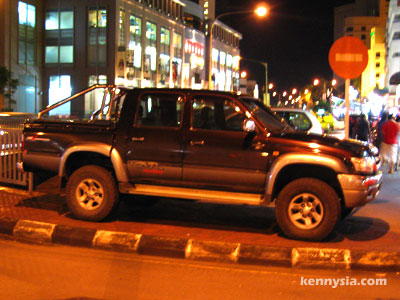 If you have a 4WD, this is premium parking space reserved for you! Who cares about the pedestrians? They can always step on the busy main road to walk around your brand new 4WD if they like.
Damn those stupid pedestrians. Always causing trouble.

At this point, you must wonder. With all these people parking indescriptly at 'alternative' parking spaces, what happens to our normal parking bays?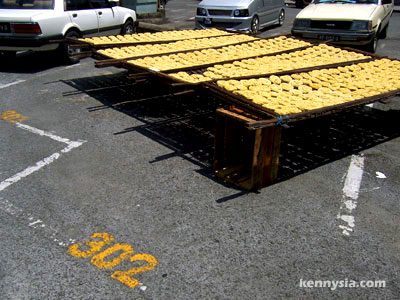 Why, we use them to dry our noodles of course!

The 2005 Weblog Awards is up! kennysia.com is not in it, but there's some familiar names in the Best Asian Blog category. My vote goes to mrbrown for his terrific podcasts, poignant entries and for simply being an all-round great guy.