4 days ago, we began our great Tasmanian road trip from the island's north.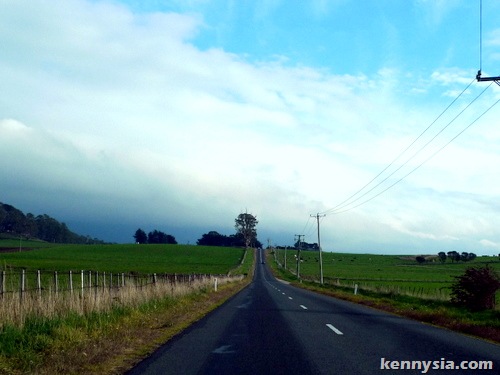 From Launceston, we travelled westward towards Cradle Mountain National Park.
Along the way, we stopped by honey factories, sauce shops, wineries and Sheffield – a funny little town with building walls where people put their best artwork on.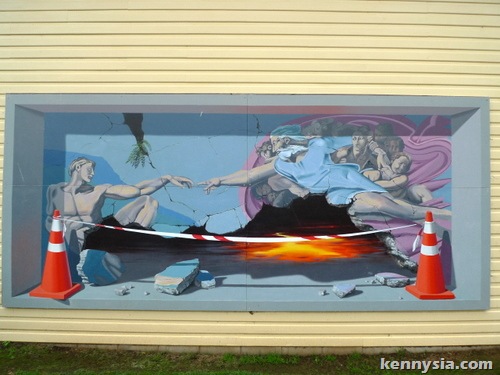 Somebody even painted Michaelangelo's Creation of Adam here, in 3D.
When we reached Cradle Mountain, it was like entering an entirely different world. The national park is a popular destination for locals to rest, relax and trek through the forests. The views, even from our hotel rooms, were nothing short of enchanting.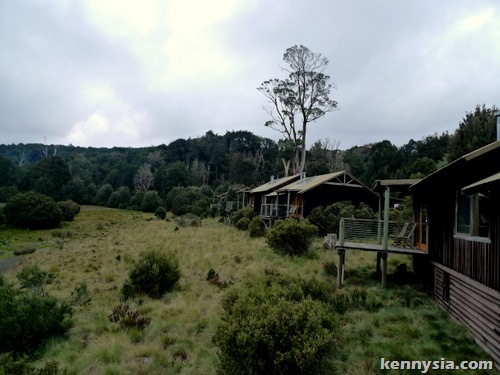 We spent a night on the mountain to soak up the fresh air. But heavy rain woke me up the next morning.
Regardless, Cheesie and I still pressed on with our umbrellas and walked through the forest.We had no regrets. Only in Cradle Mountain would spot wild native Australian animals in their natural habitat and we be rewarded with ethereal views like this.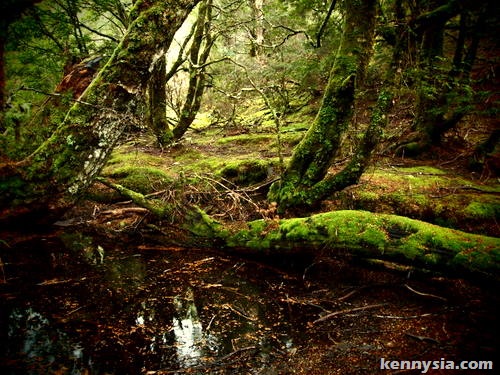 From Cradle Mountain, we travelled eastwards towards Freycinet – to visit another one of Tasmania's beautiful national parks.
The journey took us 3 hours.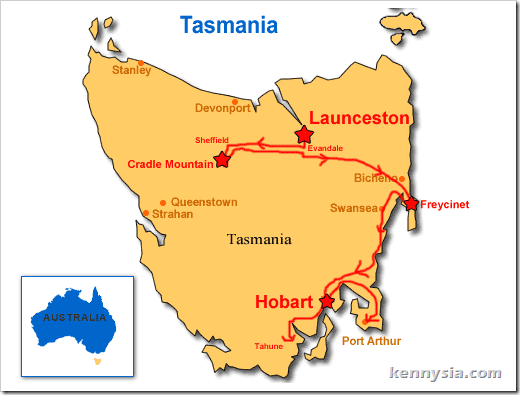 Okay, I lied.
The journey took a lot longer than 3 hours, because every time we saw an interesting shop along the way, we would make a short detour.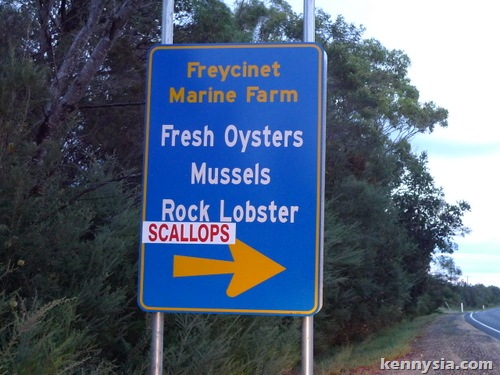 We spotted this road sign and swang by this tiny shop where they breed and farm their own oysters, mussels and other types of delicious seafood.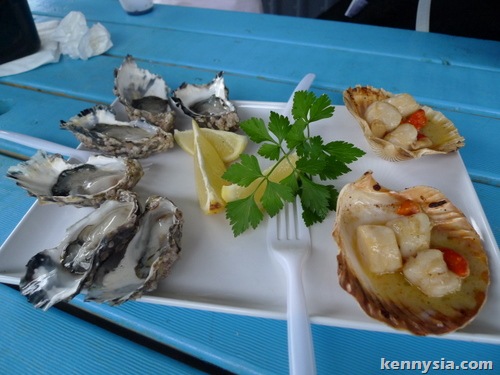 These literally come straight from the water into our dinner plate. It doesn't get any fresher than this.
And it's cheap too. 12 pieces of natural oysters is only AUD$14 (RM42)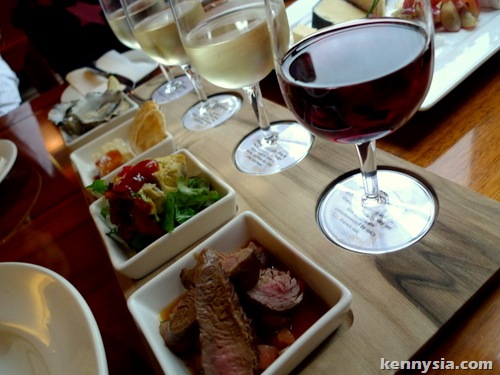 One thing I like about Tasmania is that we often get the chance to meet with the founders, or at least the person behind the day-to-day running of the businesses.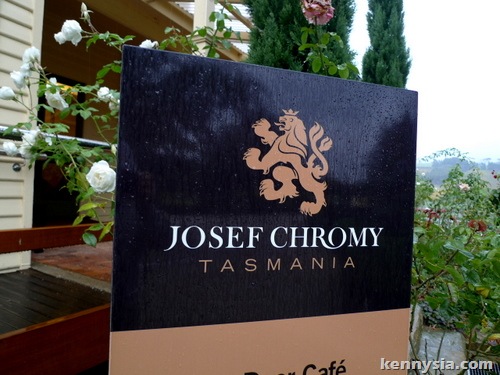 At Josef Chromy winery, we actually had lunch with Josef Chromy's grandson.
Not only did the guy treated us to a platter of cheese, he entertained us with stories about how 60 years ago his grandfather fled war-time Czechoslovakia with no money in his pocket -  and ended up setting one of the most successful wineries in Tasmania.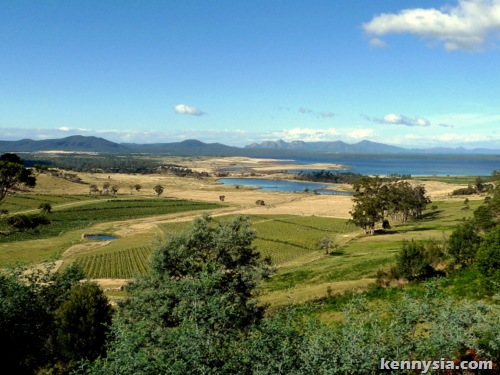 Finally, we reached Freycinet National Park. The views here are completely different from what we experienced at Cradle Mountain.
The weather is warmer here and we were greeted by turquoise blue bays and white sandy beaches surrounded by dramatic granite mountains.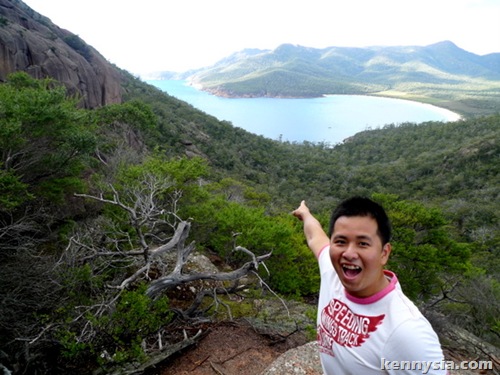 A popular thing to do in Freycinet is to take a 1-hour hike up to a small lookout overlooking Wineglass Bay. It wasn't too difficult (even Cheesie can do it), and they say you can see a beach that looks like a wineglass.
But I couldn't see any leh.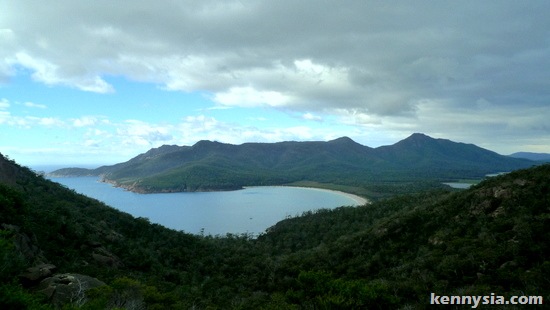 Then again, the weather wasn't perfect on the day I went. On a good day, we would've hiked down to the beach and enjoyed the waters. Wineglass Bay was consistently voted as one of the top beaches in the world.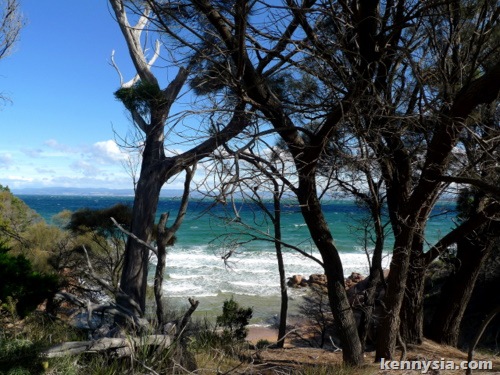 We didn't manage to see as many wildlife as we did in Cradle Mountain. The only one we managed to spot was in the carpark.
Its a wallaby wallaby walla-walla-wallaby *sings to the tune of Imma Be*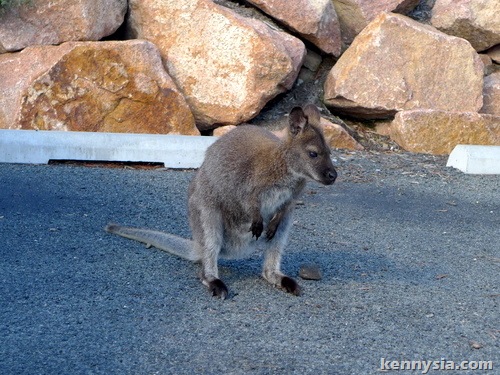 Cheesie went up to the wallaby and gave her a nice pat on the back.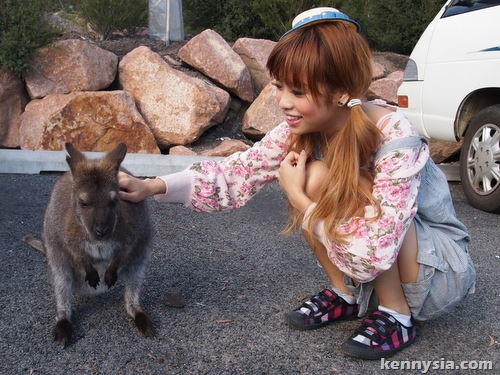 She stayed still. She likes Cheesie.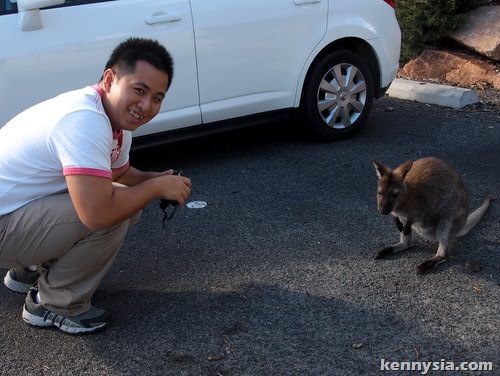 I went up to her to give her a nice pat on the back.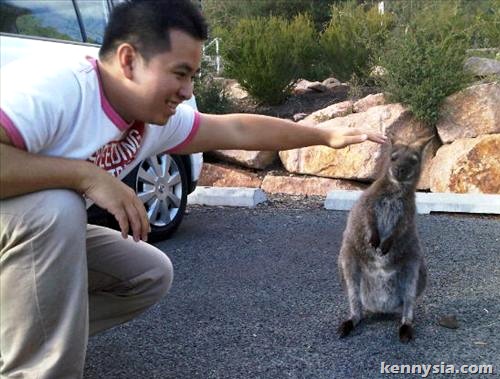 She hates me. 🙁