This is bad. This is real bad.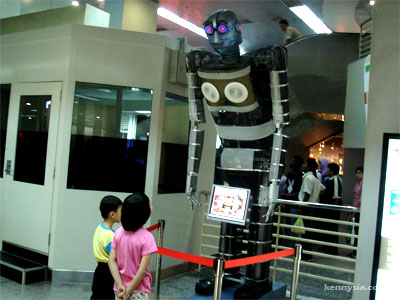 Am I the only one feeling slightly perturbed by this 10-foot-tall Malaysian-made robot on display right now at the KLCC LRT station?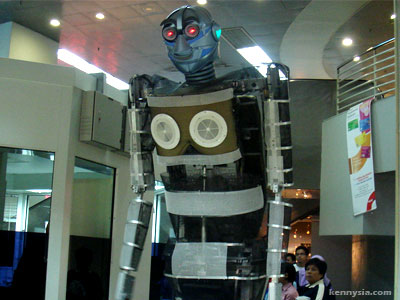 Our robot seems perfectly content speaking fluent Bahasa Melayu in his mechanised accent, educating our little kids about the dangers of Aedes mosquitoes and such, while at the same time moving (or rather, jerking) his arms and torso wildly like only a mechanical robot with chronic rheumatism can.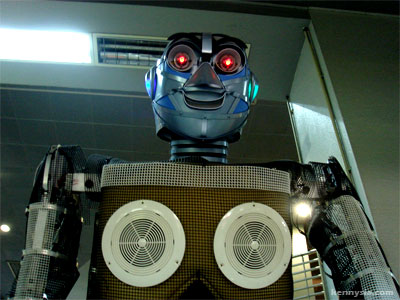 Never mind the flashing red Darth Vader eyes and mouth that looks like a bird's beak. Never mind even the fact that he has bloody LOUDSPEAKERS FOR BOOBS!
Hey, after all, I've met girls with tits so big, they look like they're talking to me half the time. Loudpeakers for boobs is NOTHING.
What disturbed me was this.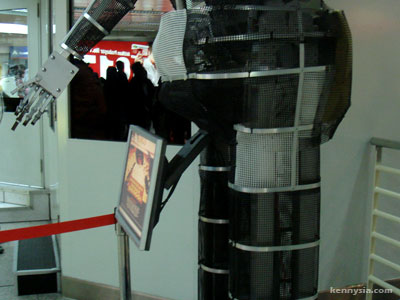 That bloody perverted robot has a friggin LCD MONITOR hanging out of his pelvis as his dick!
The worst part is, all these while little kids were looking at the monitor thinking they've learnt something new about Aedes, when in fact they were STARING AT HIS ROBO-MOJO.
OMG WHAT KINDA SICK ROBOT IS THAT?!
Freak!