I totally dig Singapore's nightlife.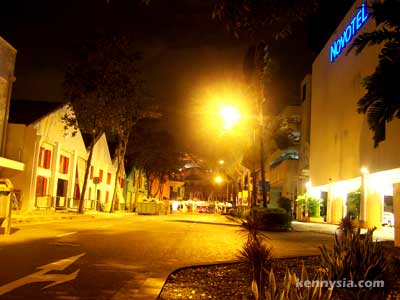 Sure, compared to back home, alcohol in SG may cost twice as much and the midnight charges for taxis are horrendous. In the end, it's the crowd and company that make a great night out. The Singaporeans I met sure know how to partayyyy.
Zouk's Mambo Night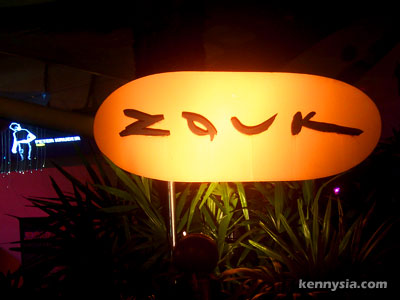 Wednesday nights in Singapore are special.
It is when all the Uni and College babes come out and play, and old farts like me play with ourselves watch them play. Their playground is Zouk's Mambo Jambo Night.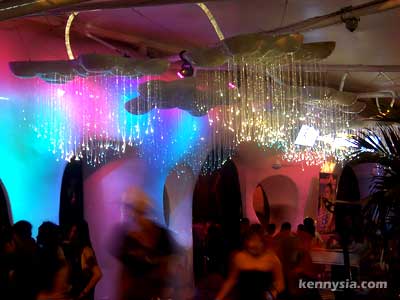 I have no idea why Mambo Nights are so popular. Since when did 18, 19 year olds start dancing to 70s and 80s retro music? I'd have thought people of their age would be going Zouk to listen to tetno music.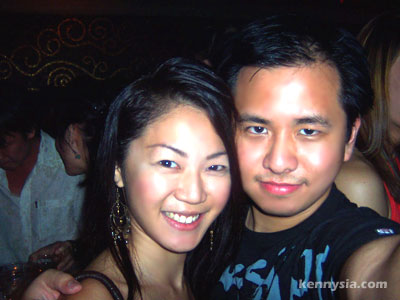 This is my date for the night, Linda Chia.
I'm a bad date though. I made her wait outside Zouk for an hour while I record "Zhng My Car" with Brown and Miyagi. Sorry Linda!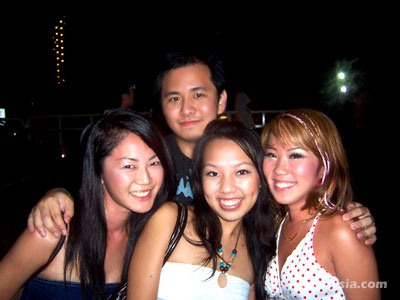 While we're outside, we spotted this someone who probably just came out of torturing little animals inside a handicapped toilet while chanting anti-KL slogans. 😉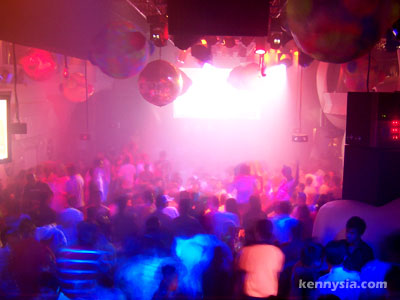 Mambo Nights aren't just fun, they're funny as.
One thing I noticed was that when it comes to doing the Para Para hand movements, the guys are actually better than the girls! I asked a girl where she learnt her hand movements from, and she said "Neh! From those guys there on the podium!"
Its amazing. These are guys that dressed and looked like your average handphone shop Ah Bengs. When they stepped up onto the podiums they become gods. And the hundreds of revellers worship the podiums they stood on.
Linda and I tried doing the Para Para hand movements, but we ended up looking like a deaf and a mute talking to each other.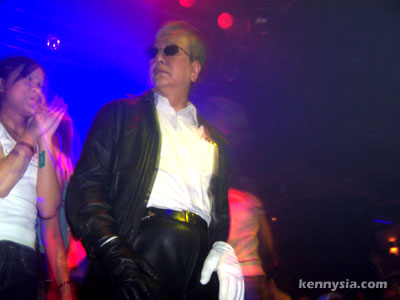 Out of no where, this 40+ year old uncle wearing leather pants, jacket and sunglasses climbed onto the podium and started "dancing". By "dancing" I mean squatting, pointing and turning his head slowly.
At first I thought he's Zouk's head of security trying to catch people snapping photos in the club (like me). But when I saw the whole club literally stopped to watch and cheer him on, I knew he must be someything. It's unbelievable, bunch of 19 year old kids cheering on a high school principal lookalike.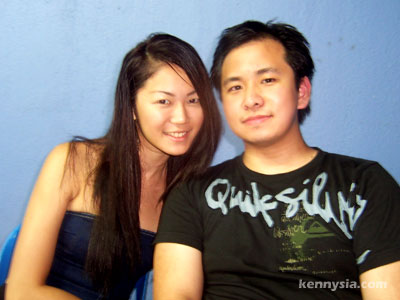 We left around 2:30am that night for some Fish Meehoon Soup at River Valley. Linda still looking hot as ever. I didn't sleep the night before, which is why I looked like a male version of Furong Jiejie.

Andrea Fonseka at Attica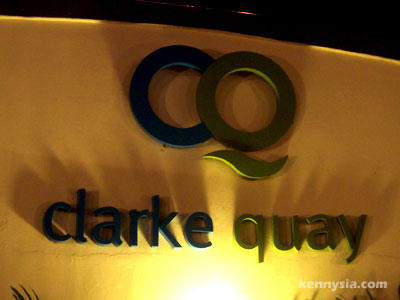 There's something I don't like about Attica. It's evil. The air of pretentiousness is so thick you could cut it with a knife.
This is probably the only club in Singapore where 90% of the males are expats, and 90% of the females are trying to get in their pants their attention. It is a very discomforting sight.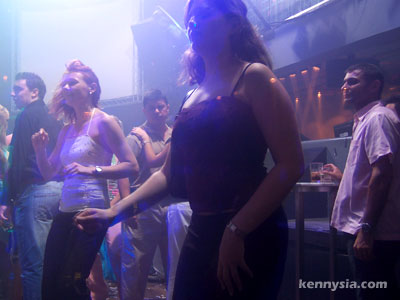 I'm not saying all girls who go to Attica are bad. There's a line between looking sexy and slutty, and the lengths some of the girls go to left me dumbfounded. Like that Thai girl who had a dollar note stuffed inside her cleavage by this Italian guy.
I don't know aye, I reckon she's trying a little too hard perhaps? I prefer the Zouk crowd anytime.
Anyway, the reason I was there was because after that Foot in Mouth incident, Lena wanted me to judge Andrea Fonseka for myself, to see if I might change my opinion about her.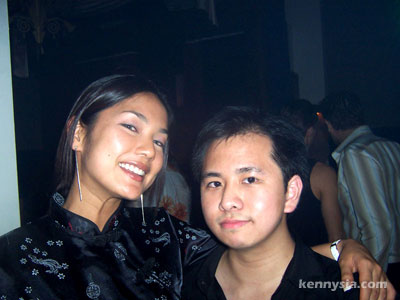 What can I say? I guess the TV does add extra pounds on her.
This former Miss Malaysia is bloody tall. Andrea Fonseka looks statuesque in her cheongsam and she effortlessly exudes this aura of confidence and exquisiteness that make people weak in the knees. It's a little intimidating , especially when you witness the power she wields.
Andrea not only managed to get me into Attica without paying cover, she got me through to the members-only Attica Too and even into this atas private lounge where a birthday party was taking place. They must really love her there I guess.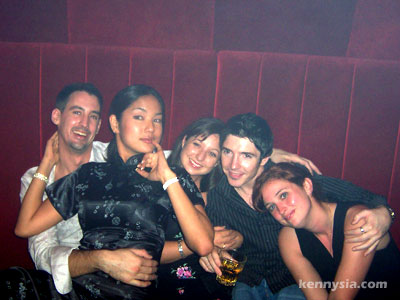 Even with her apparent elitism, Andrea has no problems showing her quirky crazy side. This is one fun-loving, and her group of friends she introduced to me that night was class act. Thanks for being a great host, Andrea! 🙂
Lena was right, Andrea Fonseka isn't as bad as the angry mob made her out to be. That said, I still cannot comment on how she looks like in a bikini though, so we might have to arrange for a private show next time.

UnXpected Live at Wala Wala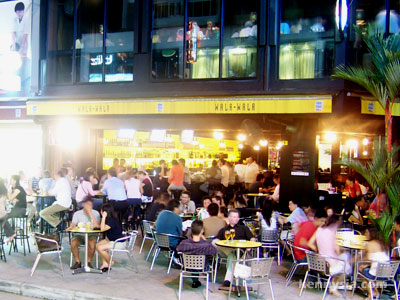 Wala Wala is this fun pub in Holland Village popular for their live bands.
I wanted to watch The UnXpected perform, partially because I've heard so much about them, but mainly because I know girls who lust NOT for their drummer Brandon, but for their lead singer Shirlyn.
Yes Shirlyn, as if us men don't have enough competition already.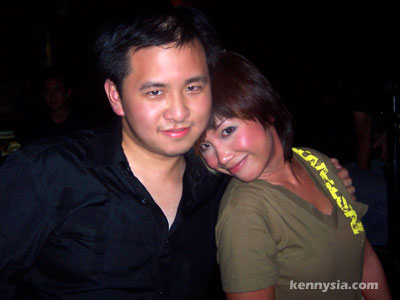 One song from them, and I knew the reason why Wala Wala was so crowded on weekends that authorities had to step in to prevent overcrowding.
The band rocks and Shirlyn is hot. Her voice is a cross between Jewel and Sheryl Crow and Shakira, and it really works well with the contemporary rock songs the UnXpected is famous for.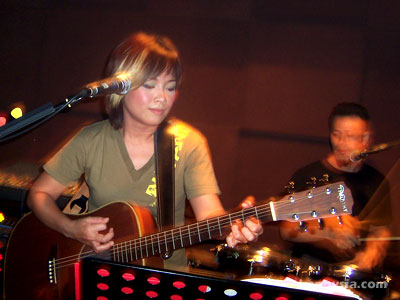 My camera flash fired so much that night, Shirlyn forgot her lyrics and Brandon dropped his sticks. I should've known. The UnXpected are ROBOTS!
Check out the video clips from the night. You'll need to install DivX to watch the downloaded clips.
There's more of their music here.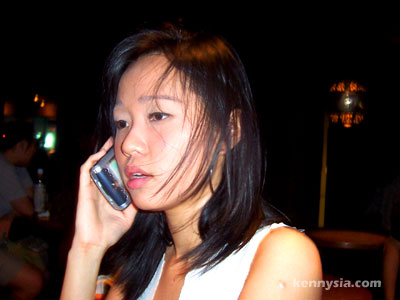 I seem to get myself into trouble everytime I step foot into Singapore, and my last trip was no different. The Cowboy Barflies I hung out with were a happening bunch, but something happened that made the night more memorable than SPG's set of tits.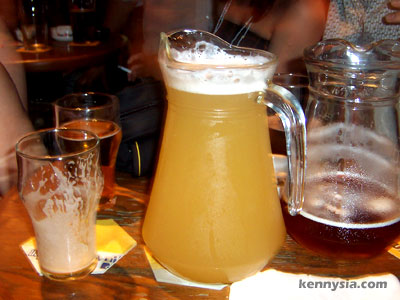 I'm not allowed to say who. Let's just say someone had too much alcohol, and decided to give me a souvenir in the form of the Scarlett Ting Strawberry Milkshake Treatment. Only difference is, I didn't get the luxury of strawberry milkshake, just a cold carton Marigold UHT milk.
I laughed out loud when Shirlyn described him as the Incredible Hulk 'cos I can certainly see the uncanny resemblence.
So here's what happened.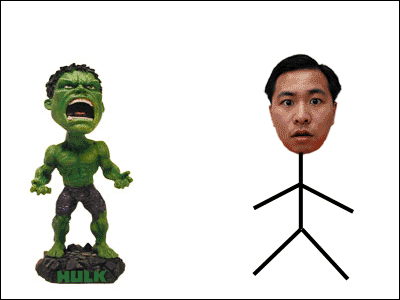 Yeah. I dig Singapore's nightlife… sometimes.

Departing for KL this afternoon, arriving at 7pm.
Things I plan to do while I'm in KL:
Friday: Go Zouk
Saturday: Go Zouk
Sunday: Loiter outside Zouk
Monday: Work. 🙁