Sunday, 26th June.
2:00pm. Hotel 81 Chinatown.
When I parted with Scarlett Ting the night before, I promised I'd do lunch with Sassy Janice and her today. Its already 2pm and she still hadn't yet replied my SMS. Wait any longer and our lunch date is gonna turn into dinner.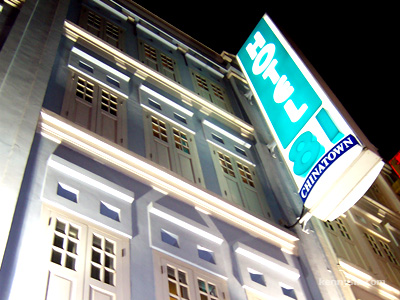 I messaged 'Very Poisonous Lady' Apple Lim since I was supposed to meet her for coffee as well, but there was no reply either. Man, I never felt so neglected.
Still feeling giddy as I recounted the events of last night I ventured out of my hotel alone, wandering around aimlessly and ended up at Plaza Singapura.
3:45pm. Plaza Singapura.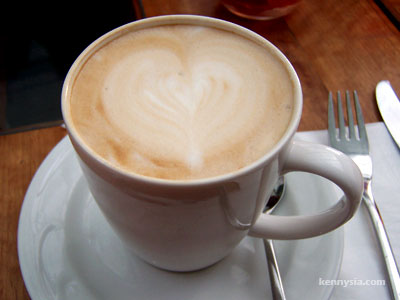 Phone call from Ting, finally. Believe it or not, that woman had only just woke up. You know you're a blog addict when you went home at 6am after meeting so many people from the blogosphere and the first thing you did was to update your blog.
By coincidence, paikia(bad boy)-loving Finicky Feline was in Plaza Singapura as well. We arranged to meet at Cafe Cartel, and she bought me a drink. Thanks, FF!
Her old-time friend GuoJun joined us a little later. He paid for his own drink. Poor bastard.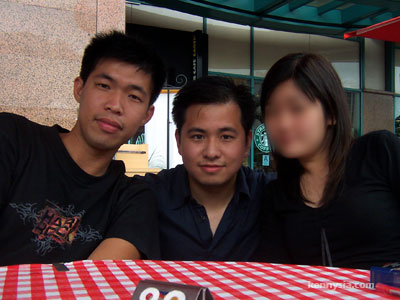 Something unusual happened while we were sitting there chilling out. A man approached us and placed a little pin attached to a card on our table. The card reads something like this: "I am deaf. I would appreciate it if you help me out by purchasing this badge, which costs SGD$5". I've seen people doing this in Kuching as well.
I had my suspicions because the man is obviously well-dressed and well-fed, probably more well-fed than I am. If it were to choose between giving him or the Kuching Shuffler money, I'd choose the latter without blinking twice. FF reckoned it was a con, but my lousy conscience got the better of me.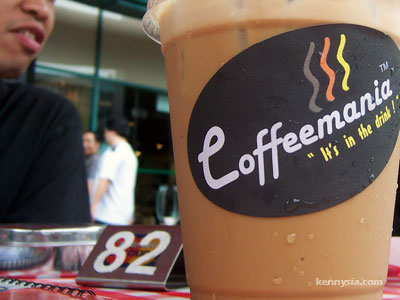 When the man returned, I handed him SGD$2 and asked him to keep the pin. FF looked at me quizically. I looked back at her grinning sheepishly. Was I conned?
We looked over our shoulders when we heard funky music blaring over the speakers. Apparently there's some cheerleading demonstration going on. FF, GJ and I ran over there like primary school children at the start of their lunch break.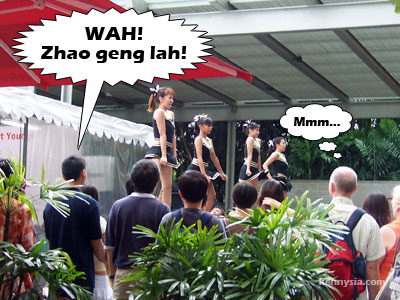 Download cheerleading video: here or here.
I always thought male cheerleaders are kinda gay. Despite that fact, you gotta envy them because they can anyhow grab, fondle and touch those hot nubile little cheerleaders without landing themselves into hot water. So lucky. When I grow up I wanna be a cheerleader too.
5:00pm. Plaza Singapura.
FF and GJ left to watch some crappy movie. Scarlett Ting sent me a message blasting me for making her meet so many strangers. And Apple Lim just woke up.
"OH MY GOD! I slept like a pig!! Seventeen hours!"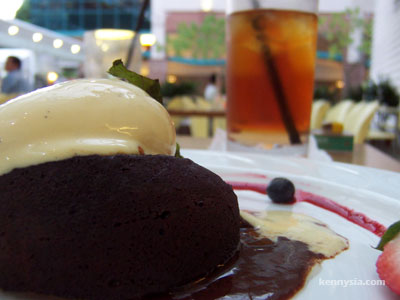 Seventeen hours! Have you heard anyone who have slept for 17 hours?! Gee, what is it with Singaporeans and punctuality? 😉 And I thought Xiaxue was being mean for making me so long for the answers to her IQ questions.
6:15pm. Bakerzin (or was it Baker's Inn?)
Scarlett Ting, Sassyjan and I finally had "lunch" at 6:15pm.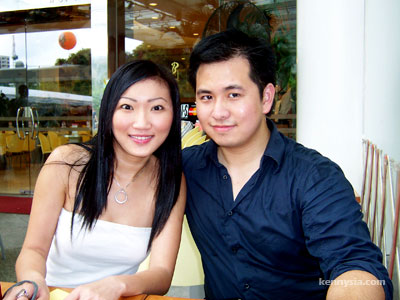 Apple's round necklace and ring intrigued me. She said she likes round things. I think that's probably the reason why she likes me.
Apple Lim is truly one of a kind. I'm not saying that because she once declared that she wanted to hug my hairy leg to sleep. I'm saying that because I've never seen a self-confessed Ah Lian blogger as good and as hilarious as she is. She's also in the Wheels Magazine Race Queen contest, so go vote for her.
There's this stereotypical misconception that models are usually stuck-up bimbotic airheads. Apple is the exact opposite.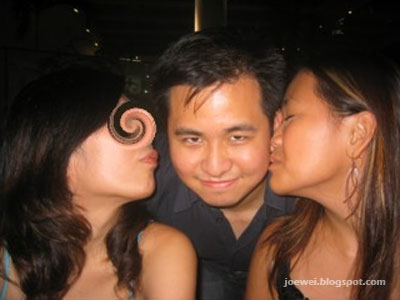 We talked only once on MSN. When I told her I was coming to Singapore, she was nice enough to offer her place (not her room lah, siao) for me to stay. I declined, fearing she'd secretly take photos of me in my red boxers and post it all over the Internet. She suggested Hotel 81 Chinatown, which is why I stayed there this time round.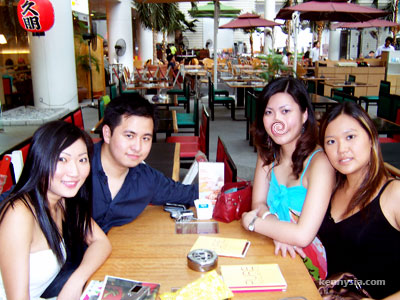 I felt so left out. The only modelling experience I had was when I did my SarongPartyGirl pose.
Anyway, I'm surprised Apple Lim is so unpretentious, so incredibly down-to-earth, so likeable. It was the first time she met us all, but we seem to hit off pretty well. Scarlett Ting and Apple had a lot more in common than they think, and they were chatty throughout lunch dinner. Apple told us her interesting encounter with a fortune teller. I was amused she put so much faith in what a fortune teller told her.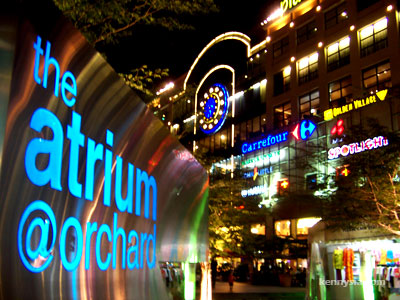 I had agreed to meet James Seng and mr brown for dinner at 8pm, so I bade the girls farewell.
8:30pm. River Valley.
Finally. Some male bonding after all that female attention. Never thought I was ever gonna say this, but after a while, I kinda grew tired being surrounded by hot and pretty girls, especially when these girls belong to the can-see-but-cannot-touch category.
I had a long chit-chat with mr brown that night, and it was definitely the most enlightening moment throughout my whole trip in Singapore. No wonder they called him the ah kong (granddaddy) of Singaporean blogosphere. This man knows his shit. Right down to its colour, texture, and the number of undigested yellow kernels in it.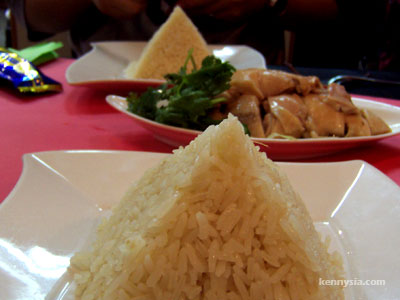 We talked about the Singaporean blog culture, the upcoming Blogger's convention, the commercial aspect of blogging, among other things. One thing I realised from our conversation is how much more mature and serious the blog culture is in Singapore compared to the rest of Asia. Its evident from the facts. Mr brown, Miyagi are writing for Today; Wendy is writing for The New Paper, Maxim, endorsing LocalBrand; and most interestingly, commercial entities are APPROACHING the Bloggercon organizers for sponsorship, instead of the other way round.
All these are happening while Malaysian bloggers are still gloating over how they got their first cheques from Google Adsense.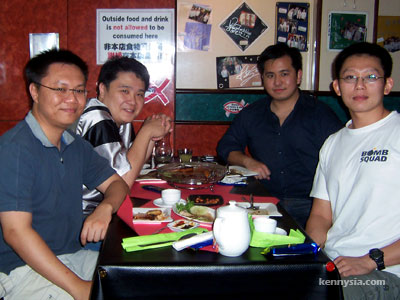 I learnt so much from mr brown that night, and yet he still chia me eat chicken rice. What a nice man. Thanks mb, I appreciate it.
12:30am. Holland Village.
Decided to meet up with the princess again before I leave the country the following day.
I was buying FHM and Maxim (as I always do when I'm in Singapore) at Cold Storage when a makeup-less Wendy in pink platforms suddenly appeared and gave me the shock of my life that froze me. How appropriate was it then that I was in Cold Storage.
We adjourned to the nearest kopitiam, where she wowed and entertained me with her amazing blowing skills.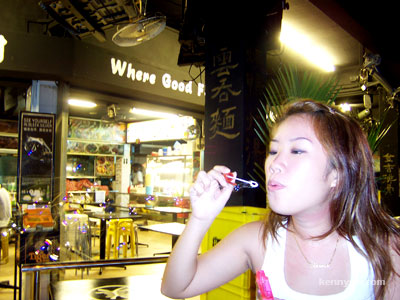 BUBBLE blowing skills lah. What were you thinking?
Quite a few people have asked me how Xiaxue is like in real life. I admire her for her willingness to share details of her private and personal life. I think in a way, she is very similar to the way she blogs – feisty, straightforward, sometimes mean, sometimes vindicative. But not mean to the point where she'll kick a stray dog off the road lah of course.
Kenny: "Eh why you cross the road like that? Not scared cars knock you down one is it?"
Wendy: "Never mind lah. Cars won't knock down 'mei nu' one."
Kenny: "…"
Still, it takes a lot of understanding to click with Wendy's sense of humour and not get offended.
People are so used to her being that snobbish vengeful bitch online its kinda difficult accepting her nice, angelic side. And she does have an angelic side. Its the subtle things she did that speak for itself. Like how she blew bubbles to make a little toddler girl smile, and later gave the whole tube for her to play with.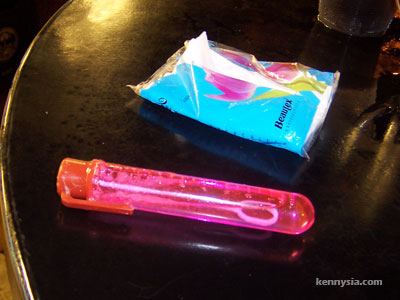 People usually don't notice things like these when she writes about it online, but it does bring a nice fuzzy feeling to my stomach.
Wendy and I chatted, joked, strolled till 5am in the morning.
In the process, we encountered one big ass spider.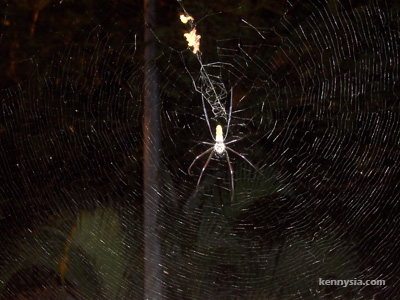 Wendy tried to act chio by planting a flower on her head.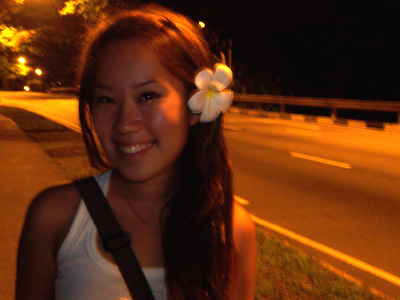 I tried to act chio, but failed.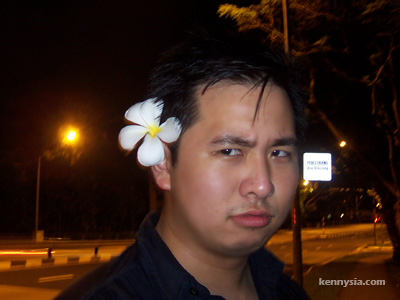 Miserably.
5:15am. Hotel 81.
I returned to my hotel after exchanging goodbyes with Wendy.
I was about to enter the lobby, when out of a sudden I spotted two familiar faces scurrying towards the exit. It all happened within a few seconds, but I managed to whip out my digital camera in time to snap this scandalous picture.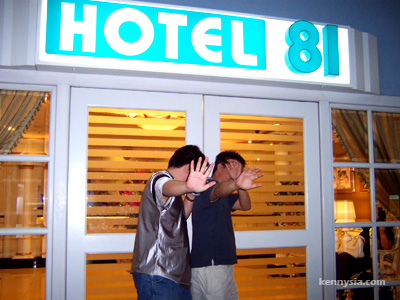 Now we know exactly what the Tomorrow.sg editors meant when they say "We work together hard. Very hard."

Thanks to those who e-mailed me information on "Jenne". I decided to just let it go.
This is the last of my entries documenting events of my KL/Singapore trip. Back to more normal-length posts from now.