Happy (belated) National Day, my fellow Malaysians!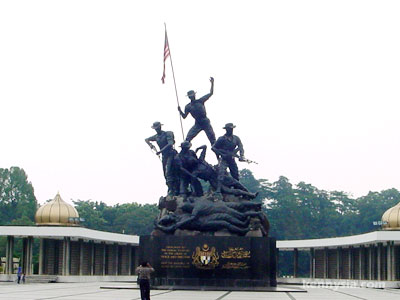 You know, sometimes people question me about my loyalty towards my country.
It's no secret that I often poke fun at the way things are being run in our country, what with RM400,000 spent on public toilets and all. True, there are a lot of funny things in the country happening right before our eyes.
But make no mistake about it, despite the presence of some idiots managing this country, I still do love Malaysia.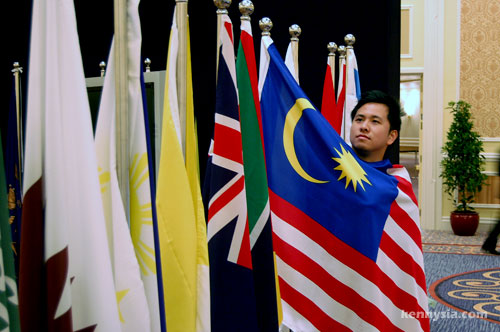 Malaysia is my home, and it is the only place in the whole world that I can identify with.
I would say that I am patriotic.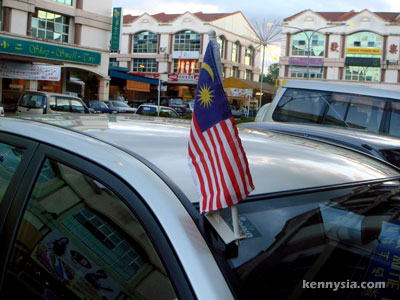 I am so patriotic, I have a Malaysian flag on my car.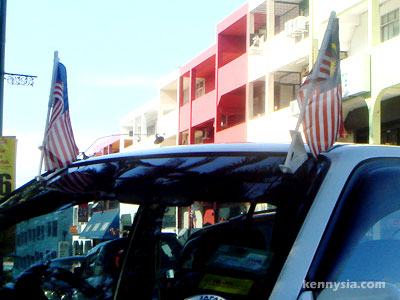 Fine. Maybe not as patriotic as this guy, because he has TWO flags on this car.
If patriotism is defined by how many flags you put on your car, it means this guy is TWICE as patriotic as I am.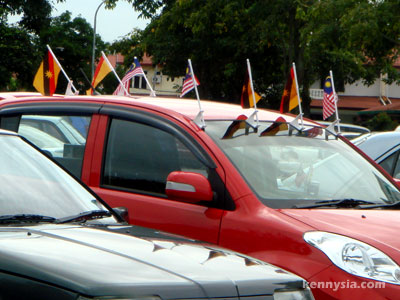 Or this guy. He is SEVEN times more patriotic than me.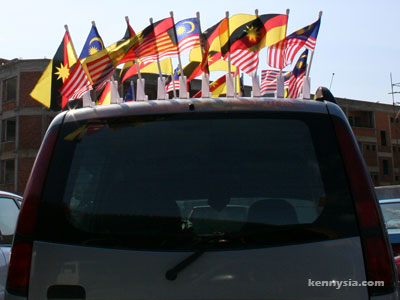 Or…
Ok fine. I accept defeat.
I may only have one flag on my car, BUT I'm still considered patriotic, alright?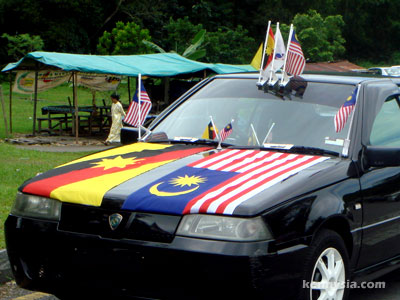 I am patriotic. I love my country. Some may say that because I am a blogger, and bloggers are traditionally left-wing social activists who like to voice out against the might of the government, that I might actually be "anti-government".
That is not true.
It's true that many socio-political bloggers in Malaysia are activists, but it doesn't mean that I always agree with them.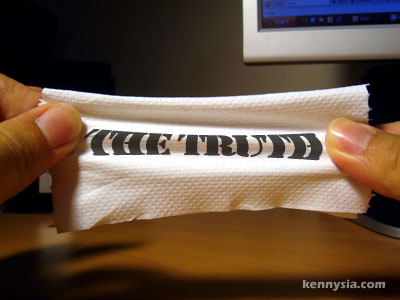 The problem with us bloggers is that we often have the habit of stretching the truth and jumping to conclusions. It can cause problems if people felt they were being defamed.
I should know. I myself have been wrongfully accused by other bloggers before. Once for alleged plagiarism, and the other time for supposedly not offering my help during a car accident I witnessed.
It felt like crap when you were accused for doing something you didn't do, so I can totally understand why some people get their panties up in a twist and started suing bloggers.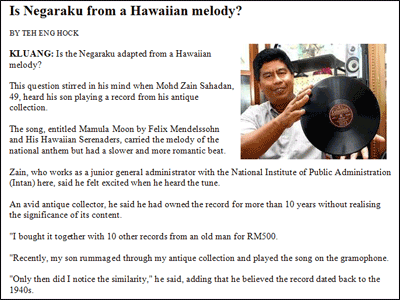 Two years ago there was this big hoo-haa leading up to national day.
Apparently, some antique collector found out he has this song on vinyl record called "Mamula Moon". It was a 1940s Hawaiian love song, but the chorus sounded eerily similar to the tune of our national anthem "Negaraku".
Negaraku = Mamula Moon!
Immediately, a lot of Malaysian bloggers jump on the bandwagon and accused the government for plagiarising the Hawaiian song Mamula Moon and made it into our national anthem. Everyone was angry. Many questions were asked. But sadly none of those questions is the question I want to ask.
And the question I want to ask is… Can someone tell me what the hell is a MAMULA?!?

Personally, I think to say Negaraku is plagiarised is a bit too harsh. Perhaps the correct word to use here is "adapted".
You see, the whole concept of copyright probably never existed back in the 1940s. They didn't even have stuff like "blogs", or "Youtube", or "Limewire" to pirate MP3s around back then.
Whoever it was who wrote Mamula Moon probably never would've thought that some Malaysian could took his creation and made it into a Malaysian national anthem. And whoever it was who made Negaraku our national anthem probably also thought that no one would ever find out.


And if Mamula Moon is never copyrighted, it's fair game for anyone to copy it and adapt it into their own.
So Malaysia's national anthem Negaraku is adapted from the Hawaiian song Mamula Moon. Not plagiarised.
If you consider THAT plagiarising, why not state the immediately obvious?



Why not say that the Malaysian flag is plagiarised from the American flag?
One more thing.
Malaysia's national flower is the hibiscus.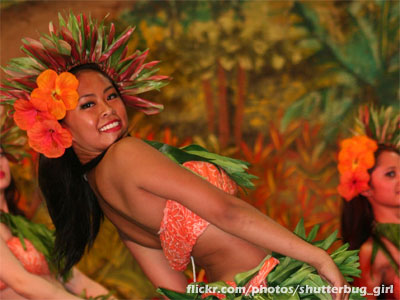 Hawaii's official state flower is also the hibiscus. Why not say that our national flower is also plagiarised from Hawaii?
…
Hang on.
Wait a minute.
I think I see a pattern here.
Malaysia national anthem Negaraku = Hawaiian song Mamula Moon.
Malaysian flag Jalur Gemilang = American flag. Hawaii is a state of America.
Malaysian national flower = Hawaiian state flower = the hibiscus.
COINCIDENCE?! I think not!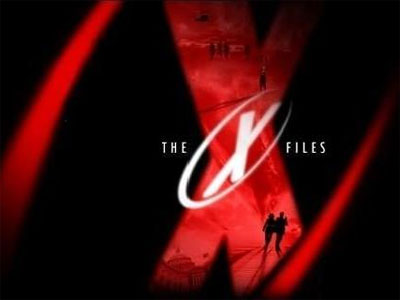 Call the X-files. Something looks wrong here. The truth is out there!
It's all one Big Fat Hawaiian Conspiracy!
Behind the scenes, our country is secretly controlled by an evil Hawaiian dictator! There's no prime minister or federal parliament. All those are fake. We are all plugged into some kinda Matrix world and all those things you read in the newspapers is just some propaganda bullshit designed to cover up THE TRUTH!
I did some investigation. Behold, this is the rare image of the Hawaiian dictator!
His name is… CAPTAIN MAMULA.
And this is how he looks like.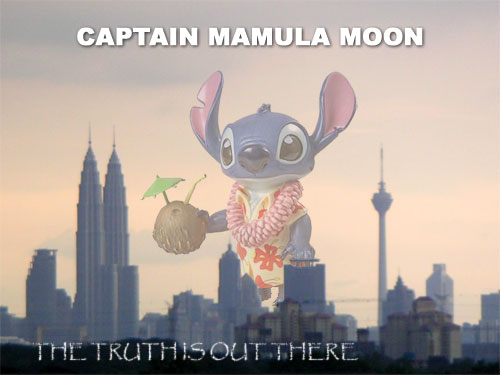 Yeah, that explains why the country is so screwed up sometimes.

I celebrated 12 midnight on Merdeka Day pumping petrol into my car at Petronas.
I had wanted to have a typical night out, but the overwhelming presence of so many hooligans at the pubs was a bit scary. True enough, I heard fights had broken out and a man was stabbed to his near death at the Kuching Waterfront. All these on the 31st August.