It was by all signs an ordinary Saturday night at the Orchard Road underpass.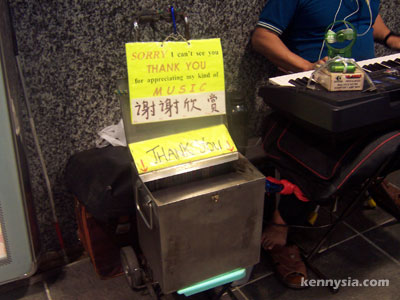 Throngs of everyday people were minding their own business walking through the underground walkway situated between Wisma Atria and CK Tang's. On the walls, the rolling posters burr noisily when they change. A middle-aged busker on keyboards, a seemingly permanent fixture of the Orchard Road underpass, was singing Christmas Carol's in his signature monotonous tone.
I missed what exactly happened, but it was the resulting commotion caught my attention.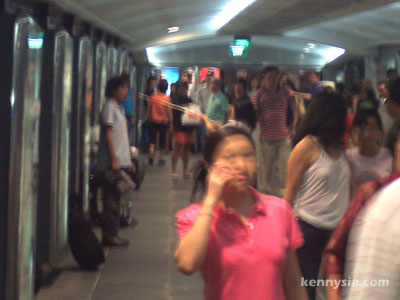 "Call the police! CALL THE POLICE! CALL!!!" yelled the man on the left.
I stopped my footsteps immediately. My face turned ghost white.
What did I do wrong? Was it the pirated DVDs I brought in from Johor? Could it be the packet of chewing gums I had in my pocket? Maybe he reads my blog and didn't like me putting up pictures of durian terrorists shouting God's name in vain.
I looked over to his direction.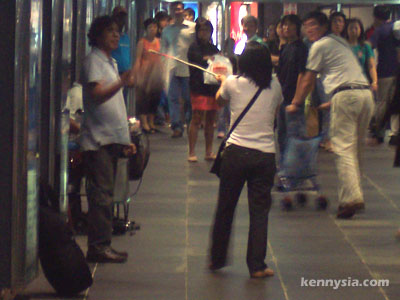 The man was yelling at this blind visually-impaired woman (must be politically-correct in my blog nowsaday, y'know? Don't want some visually-impaired people to "read" my blog and think that I have something against blind people. I believe it was a great poet from ancient China who once said 'With great power comes great responsibility'. Or was that a quote from Spiderman 1?)
The woman must be peeing in her pants because the man was shouting at a volume 100 decibels above the human hearing threshold, and this was in an underpass so you can imagine how loud he was. All this while she was mumbling nervously and pointing her walking stick towards the man's face, though I doubt it's gonna help much since, like, she cannot see?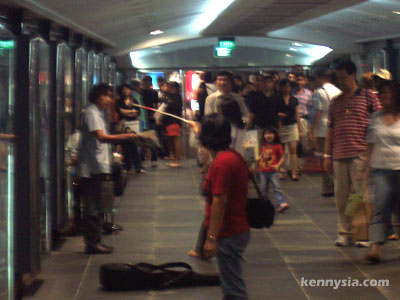 By then, a large crowd has already gathered around the two. Even the uncle playing on keyboard grew sick of the confrontation and said "Oi. You two want to fight go home and fight lah. Don't come here and fight, make everybody unhappy."
And with that, he nonchalantly sang Santa Claus Is Coming To Town, much to my amusement.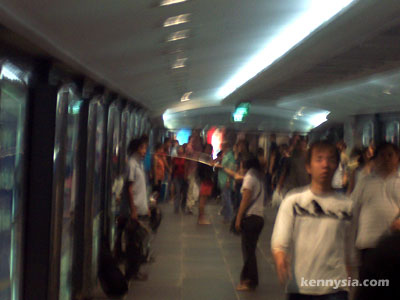 At one point, the woman kicked the man's guitar till it fell on the ground. To his credit, the man didn't do anything back against the woman. He just talked, thus proving correct the theory that all men are "No Action, Talk Only".
Before I knew it, a plain-clothed detective showed up and separated the two.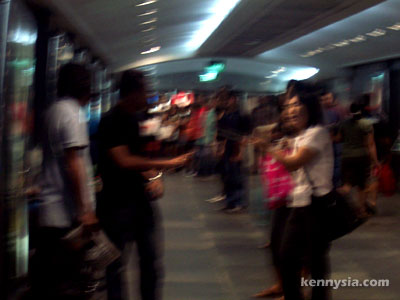 With no free show left to watch, the crowd slowly dispersed. I too, quietly slipped a note into the busker's donation box before disappearing together with the crowd. Don't wanna get caught red-handed with chewing gums in my pocket, ya know?
Download Fight Club at Orchard Underpass Video. (MOV, 3.2MB, 14s)

The Malaysian blogosphere is so depressing right now. If people continue on fighting like this, the next PPS Bash would have to be held inside a wrestling ring.