I've always wanted to try out the hair salons in Singapore. The problem is I didn't know which one to choose.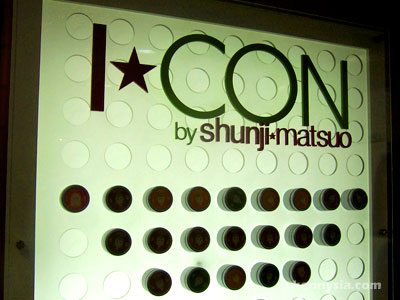 Samantha recommended that I give Icon by ShunjiMatsuo a shot.
Before then, the only hair salons I knew in Singapore were Toni&Guy and Kimage. I've already done Toni&Guy. And according to Sam, going to Kimage is like going for a lucky draw. "First draw is going to the correct Kimage salon, second is the hairdresser, and final draw is the choice of haircut."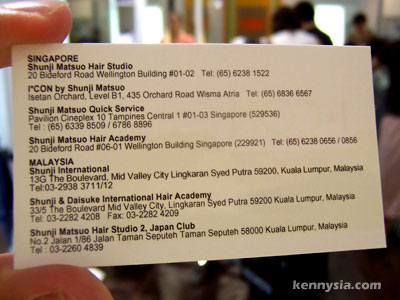 I trusted her judgment, so I called up Icon for an appointment without much deliberation. I also logged onto Shunji Matsuo's website to find out what I can expect in store for me.
And this is what I saw.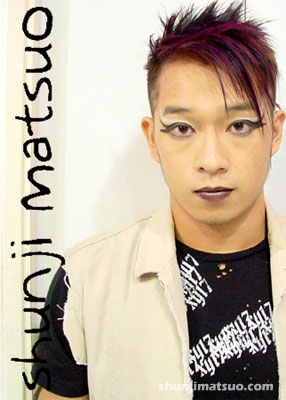 OH. MY. FRICKIN. GOD. You gotta be kidding me.
Is this what I might turn out?! Gee, SOMEONE must really hate me.
Nonetheless, appointment has already been made and I'm too lazy to change it Kenny Sia is not one to back down from his words. So I turned up.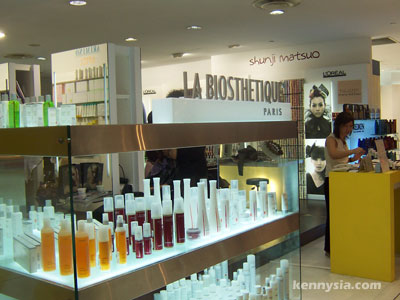 Icon by ShunjiMatsuo is strangely located in a corner inside the Isetan Department Store at Wisma Atria, Orchard Road. Their little space is decorated with bright lights and striking colours to create that fun and funky atmosphere, obviously targetting towards younger crowd.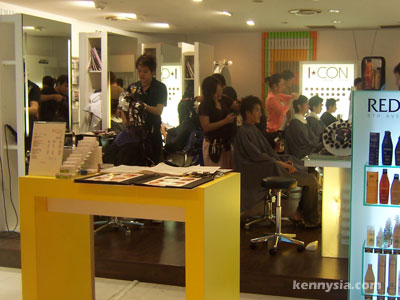 When I arrived there, I noticed there's already quite a number of people getting their hair done at the store.
The inside of the store isn't too lavish. There isn't even a proper counter to front the store. For a mid-upper class hair salon, Icon seem to skimp a lot on interior design.
'Minimalist' would be the nice word to use to describe the store. The bad word would be 'kiam siap'.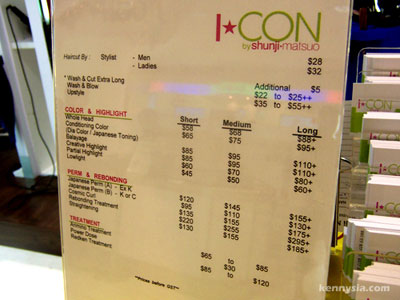 Here's the price menu for Icon by Shunji Matsuo.
Btw, Icon is to Shunji Matsuo what Tiger Airways is to Singapore Airlines, what iPod Vano is to iPod Video, what Cosmo Girl is to Cosmopolitan, what Armani Exchange is to Giorgio Armani, what Justin Timberlake is to Michael Jackson. In other words, a cheaper, smaller, cut-down version of the original.
It costs SGD$29.40 (RM66) to do my hair, which is significantly cheaper than having it done at the full-fledged Shunji Matsuo store.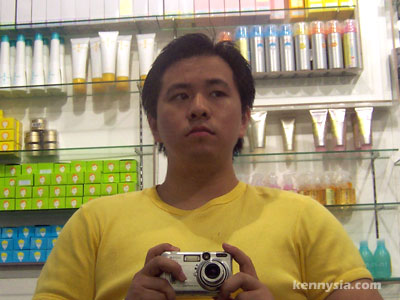 And this is the obligatory 'Before' photo shoot.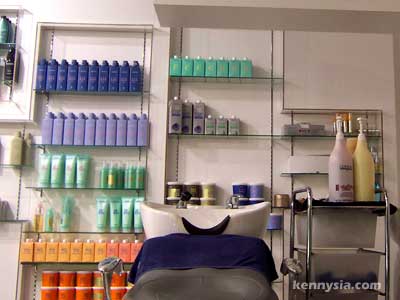 A short while later, I was led to the shampoo area where I was hoping for some good strong scalp massage to loosen those knots in my head.
Fat chance. My head wasn't even given so much as squeeze. Seems like they don't offer these type of services at Icon.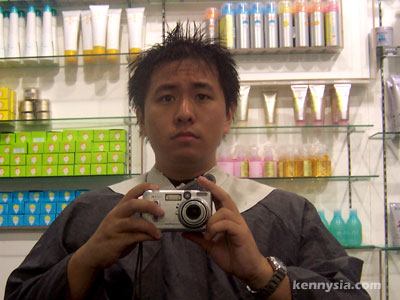 This is me after the shampoo, with my act-cute puppy eyes thrown in for good measure.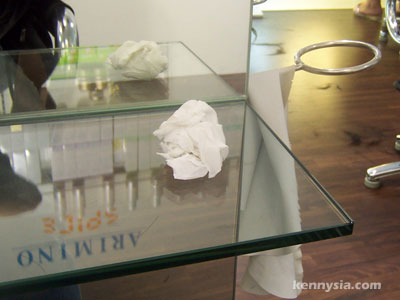 I don't mean to nit-pick, but Icon disappoints helluva lot when it comes to cleanliness. Their floor was full of hair and there's this bundle of used tissue in front of me the whole time. I shudder to think what's in it, but it's not mine, it shouldn't be there and it's downright disgusting.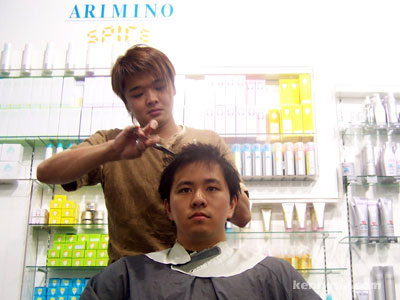 This is Kenji, my hairdresser for the day, who managed to raise his middle finger at me even while he's cutting my hair.
Normally when I go to hairdressers, I tell them to "feel free to do whatever you want with my hair. Be creative." But since I'm in Singapore, I said to him "Oi, siao eh. Limpeh say dun pway pway. Zhng my hair!"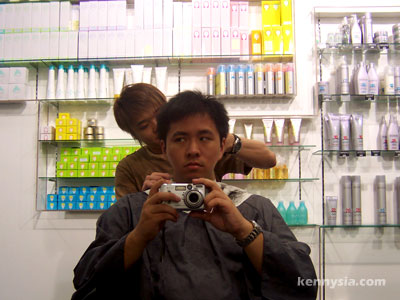 Anyway, 30 minutes later, and this is what I look like.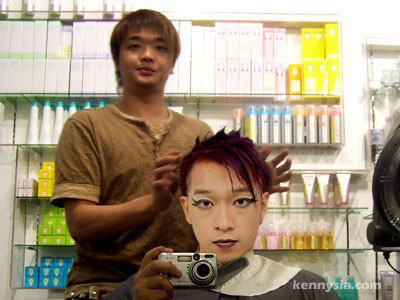 Just kidding!
This is what I actually look like.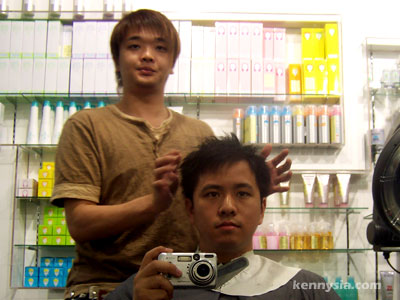 I have to admit, despite those minor qualms I have about Icon, I quite like this funky hairdo they churned out for me. It's probably one of my favourite hairstyles yet.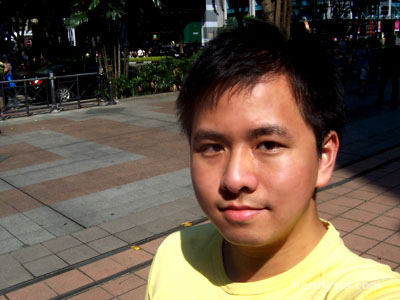 Actually, I reckon I look kinda Japanese in this hairdo. All I gotta do now is grow some Dawn Yang eyes.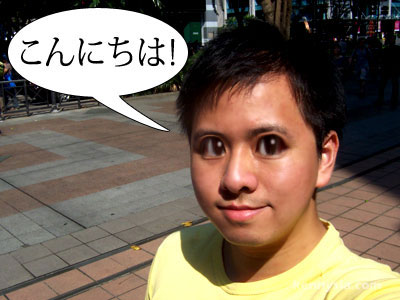 What do you think?

To that hairdresser working in that hair salon which I reviewed a few months back.
If you don't like what I wrote because I said your coffee tasted like crap, fine. At least be professional enough not to go on a long diatribe badmouthing me in front of your clients who were there to have their hair cut. Face it, your coffee taste like crap, and after I heard what you did, I'm NEVER going back to your store ever again.