I was walking around Watson's in Sarawak Plaza today, and guess what I found?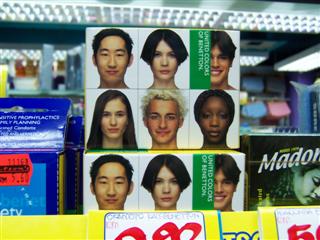 That can't be… United Colors of Benetton CONDOMS ?! For the uninitiated, United Colors of Benetton (or UCB) is a clothing company group based in Italy. The brand is famous for its young adult clothes and bags. For them to produce condoms?! That's really kinda odd.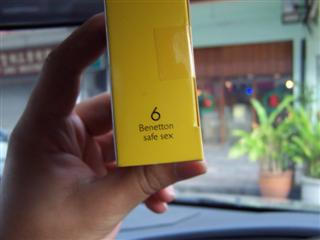 Curious, I plonked RM9.90 and purchased a box of UCB condoms right away. The box comes with 6 condoms, which works out to be RM1.65 per fuck. What a bargain!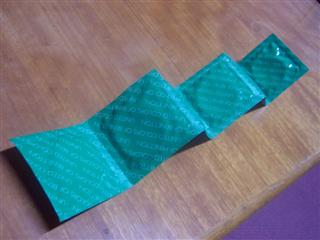 The UCB condoms come with a green wrapping with overprints of the United Colors of Benetton logo. Because of its designer brand name, I'm pretty sure it would make any girl all horny and say something like "Put that on you and put it in me… RIGHT NOW!"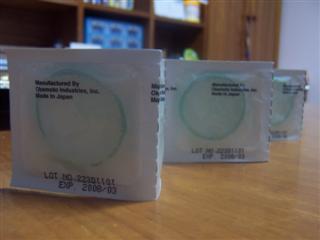 On the reverse of the wrapper, it says "Manufactured by Okamoto Industries. Made in Japan. Exp 2008/03". Japanese condoms! So, it must be good, right?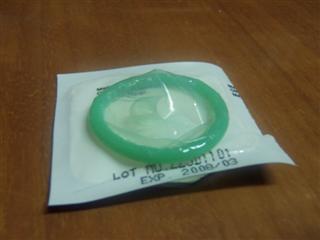 All the condoms are lightly lubricated and all comes in green. I'm not sure why, but I'm pretty sure its not meant to make your male member look like some sort of vegetable.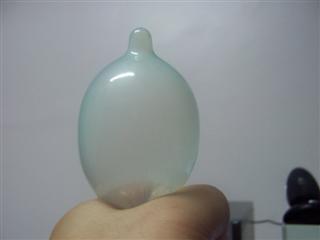 This is how much the reservoir teat of the condom can hold. Honestly speaking that's not very much.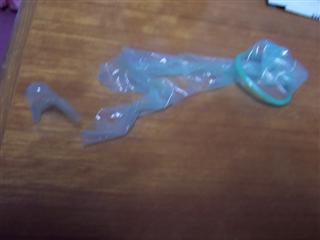 I pulled a bit too hard when I was removing the condom, which resulted in condom breakage – an undesirable effect. So much for Japanese condoms huh? At least we know what that says about Japanese penises.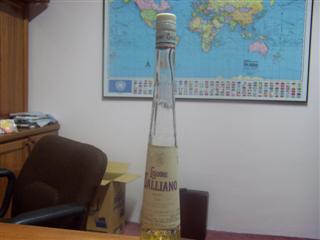 Unwilling to accept defeat, I pulled out the Galliano bottle.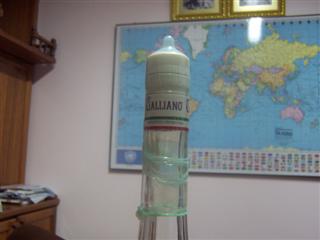 And this is the Galliano bottle, now fully protected against all STDs and unwanted pregnancies.
So, should you try it? My advice is this: If you have a small and thin penis like the Galliano bottle, you could perhaps impress your female partner by using this designer branded condoms. (Meanwhile, you might want to pray that Louis Vuitton does not release some RM500 LV monogram-printed condom or something like that.)
But if you're big like ermm… like me, don't use UCB branded condoms and just stick with Durex or Ansell ok? 🙂