KY, Cheesie and I attended the GUINNESS® Gastronomic Workshop hosted by celebrity chef Emmanuel Stroobant.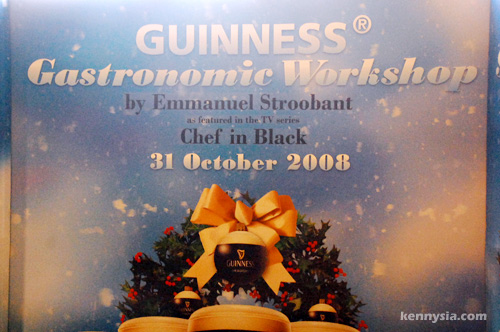 I must admit that I am completely hopeless when it comes to cooking.
I have been told many times that women find men who knows how to cook sexy and attractive. Case in point, during this year's CLEO 50 Most Eligible Bachelor competition, Bachelor #3 Ebi Kornelis whooped 49 other bachelors' collective asses to top the online polls.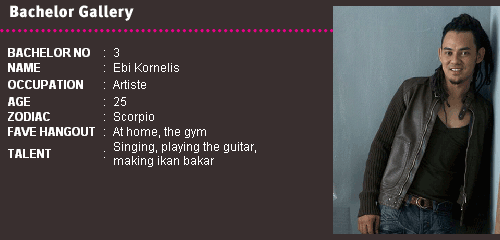 All because he knows how to make ikan bakar!
It's not that I do not know how to cook. I used to cook myself instant noodles all the time. But I dunno why people keep saying that cooking instant noodles is not considered "real" cooking.
What lah, cooking for "real" or "fake one meh?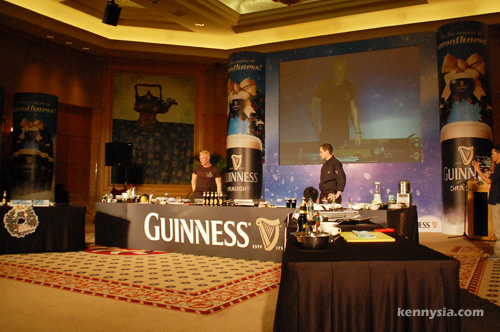 My mom was not impressed when I told her that I don't wanna learn how to cook.
She insisted that I was being lazy. Instead of learning how to cook, I gave her stupid excuses like how cooking is so damn difficult and how I could accidentally burn the house down if I wasn't careful.
"COOKING IS EASY!" she said. I went on and on about how it's even EASIER to pay someone RM10 to do the same thing, but all that resulted was her rolling her eyes and offering to show me the kitchen.
Too bad. Instead of taking up her offer, I went straight to a CELEBRITY CHEF!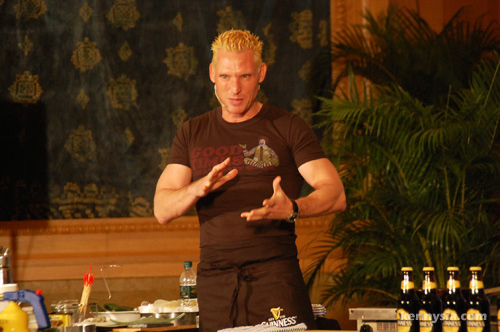 This is the AFC's Chef In Black Emmanuel Stroobant, a man blessed with a body that resembled more like a male fashion model than the master chef of an exclusive fine-dining restaurant in Singapore.
Watching Emmanuel Stroobant demonstrate his cooking skills, I began to doubt my mom's assertion that "COOKING IS EASY!"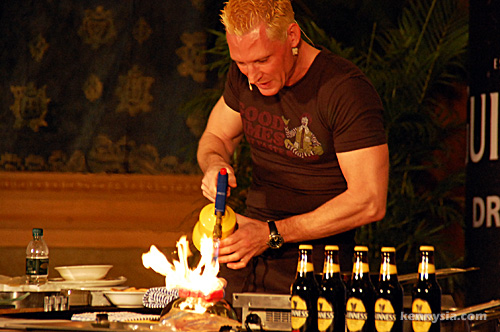 Watching Emmanuel did his thing, I thought he looked more like he was building IRONMAN than heating up some tuna.
There were flame throwers, test tubes, precision digital scales among other gadgets more likely to be found in James Bond's arsenal than my mom's kitchen.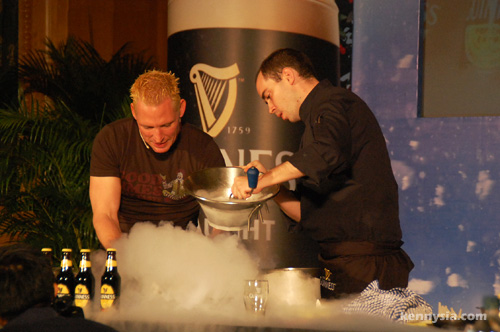 Emmanuel was very fast. His main target audience are the senior chefs from the big name restaurants in Klang Valley, who attended the workshop to learn how to creatively incorporate GUINNESS® into their cooking. As a beginner with very little experience in the kitchen, I only managed to absorb a small portion of what he had shown us.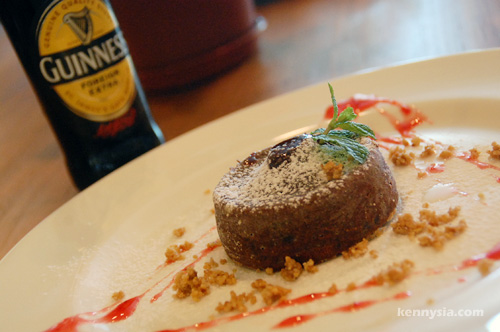 The infusion of GUINNESS® in food isn't exactly something new.
The bold, distinctive and signature bittersweet taste of the legendary black beer complements extremely well with either sweet or salty dishes. Although not widely explored before, using GUINNESS® in cooking is quickly gaining popularity. In fact, one of the most popular dishes in Kuching's seafood restaurants are GUINNESS® chicken wings.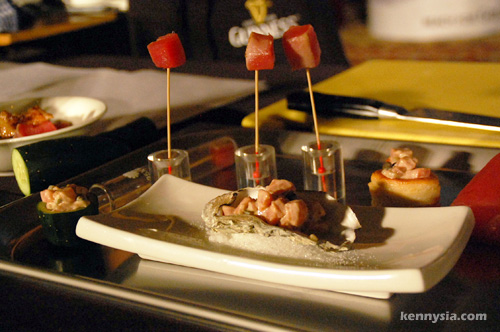 The food Emmanuel Strooband created all turned out looking very pretty.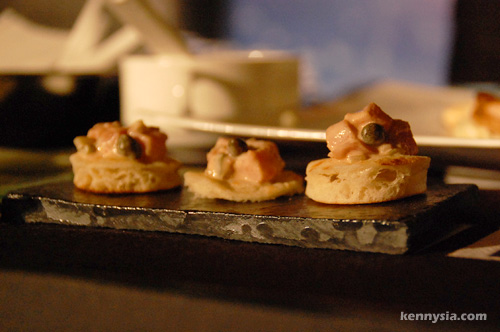 This is the Tuna Tar-Tar Taco With GUINNESS®.
It's a starter dish quite easily prepared with Sashimi-grade tuna, gherkin, shallot, caper, mayonnaise, tomato sauce, Worcestershire sauce, tabasco sauce and GUINNESS® all mixed together and served on a taco.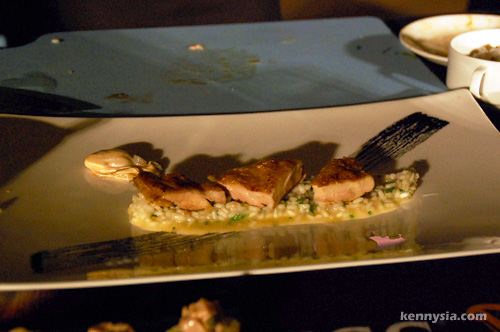 This is the main course, Kakuni Style Braised Chicken with GUINNESS®, Fresh Herb Risotto and GUINNESS® Poached Oyster.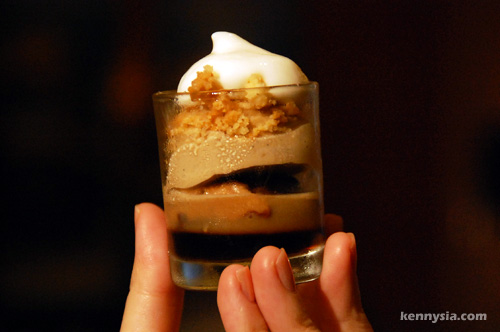 The dessert dish Emmanuel prepared is called "The Giodness".
It's GUINNESS® jelly, brownies and crumble nicely layered inside a shot glass, then topped with coffee ice-cream and finished with foam. Very yummy!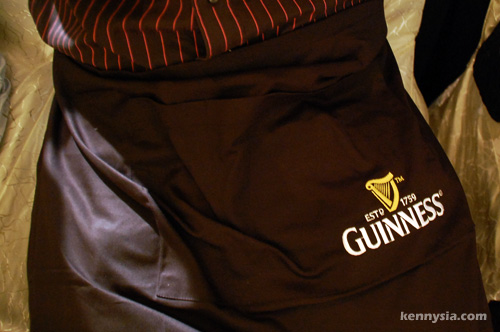 After the cooking demonstration by Emmanuel, the organizers had a little something up their sleeves for those in attendance. There was a live hands-on cooking session where attendees were chosen to go on stage and duplicate those dishes that the celebrity chef had demonstrated earlier.
Having not slept well the night before, I was secretly praying that they not to pick me because, y'know, I don't wanna be known as the guy responsible for burning Mandarin Oriental down.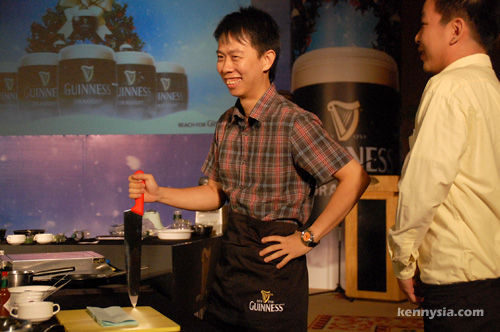 Luckily, KY was picked.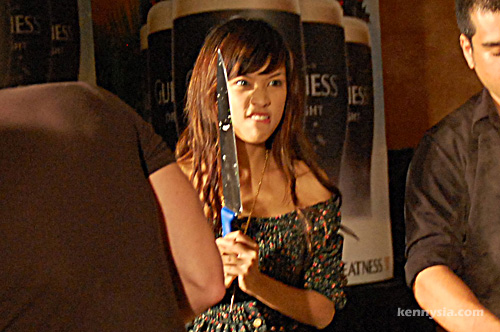 Cheesie was also picked.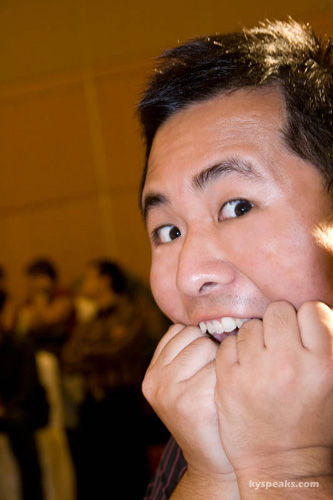 But in the end, I also kena picked.
ARGHHH!!!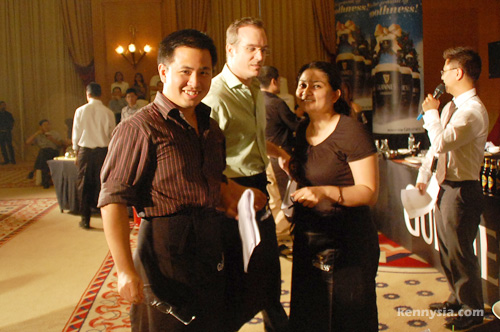 My team mates were the chef from The Apartment and a journalist from The Sun, and we're tasked to prepare the main course.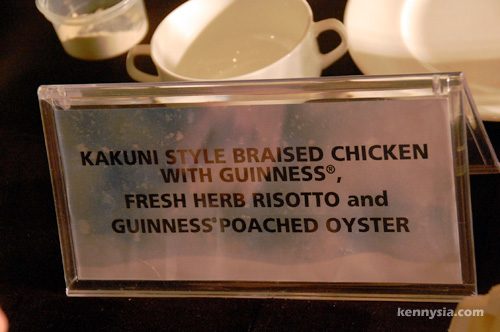 It was the most difficult dish from the demonstration earlier.
Please lah I don't even know how to cut an onion how am I supposed to cook such a complicated main course!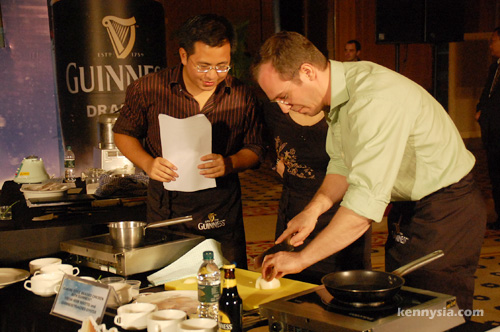 This was me frantically studying my notes while the master chef from The Apartment showed me HOW TO CUT AN ONION.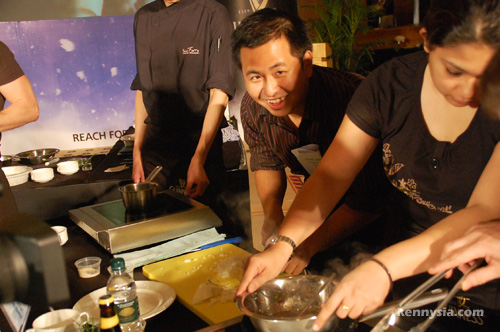 Look mom, I'm cutting an onion!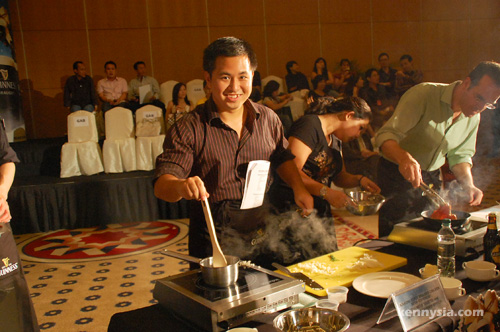 And I'm stirring the pot!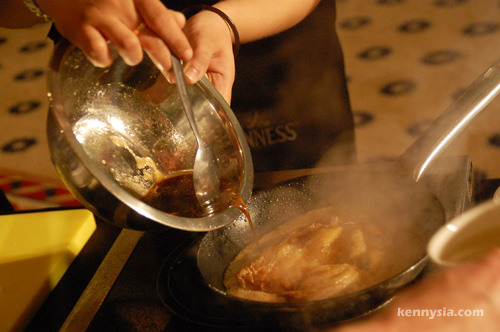 While I cooked the fresh herb risotto, my two other team mates diligently prepared the braised chicken thigh.
They've put together a mixture of water, black pepper, sugar, soy, garlic, ginger, aniseed pod and GUINNESS®. The chicken thigh was baked in it for 20 minutes, then pan-fried and served with a little bit of the mixture as sauce. (E-mail me if anyone is interested in more detailed recipe)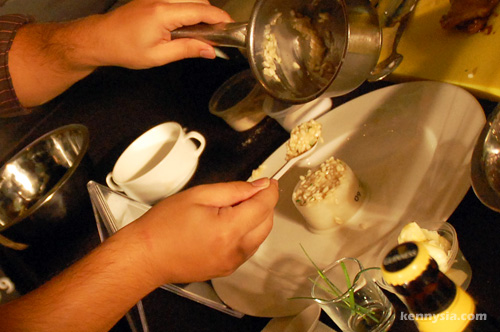 Meanwhile, my risotto was cooked "al dente" (phwoar, first time I use such a canggih word here) and I scooped it onto a round shaper for presentation.
Half an hour later, we presented our masterpiece!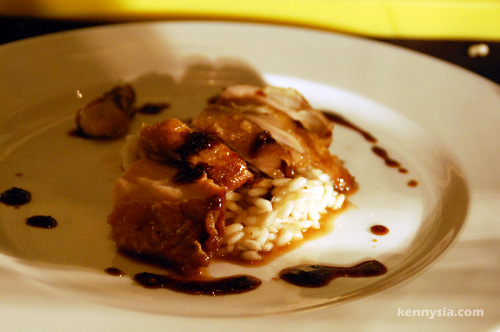 Not bad aye?
Obviously it was nothing compared to the one Emmanuel made earlier, but it was surprisingly very tasty and looked like something I'd pay good money for.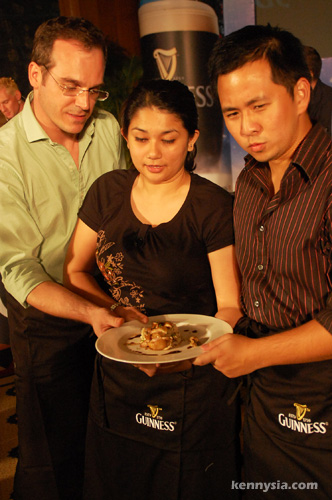 This is me and my team mates, and me flaring my nose as if to take all the credit.
That was my first time cooking a meal fit for fine-dining.
I was overcome with a sense of personal satisfaction as I served my creation to my friends sitting in the front row, and watched as their face changed (and not foam at the mouth or turn green).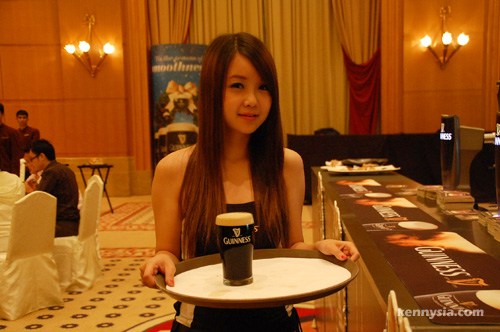 It's a weird but wonderful feeling. This must be why so many people enjoy cooking as a hobby. If you're reading this mom, I hope you're happy I took that first step towards cooking. 🙂
Of course, all credits go to the master chef at The Apartment for guiding me through, and the "Chef In Black" Emmanuel Stroobant for the easy to follow recipe.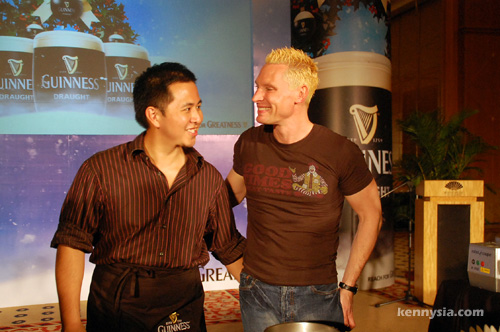 And errr… no, I was not grabbing his butt.

AD: You can renew your car insurance and road tax online in just 3 minutes with www.EasyRenew.com.my
Head to their website, or drop by their roadshow in Cineleisure Damansara this weekend and pick up some free goodie bags while you're there!