Taking a break from my adventures travelling, kennysia.com brings to you exclusive coverage on the grand final of recent Miss Malaysia Universe 2007 pageant.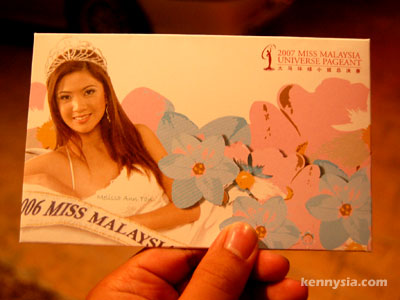 The contest began two weeks ago after a national call to search for "real woman".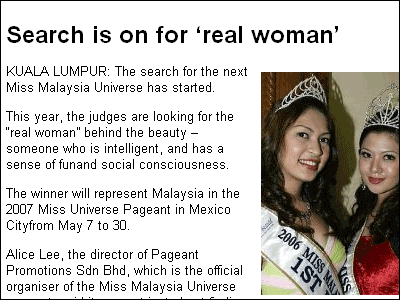 Makes you wonder what they've been doing all these while. Searching for a "fake woman"?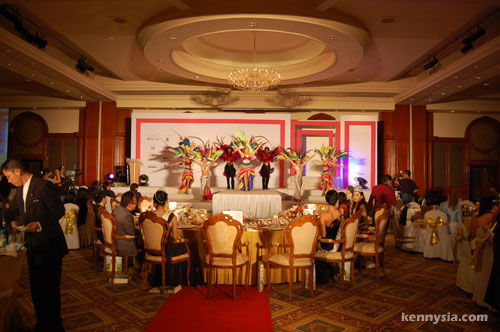 The grand final was held at the Palace of the Golden Horse at the Mines Resort. It was a grand affair with tickets costing up to RM220 per person.
Normally when you have to pay that amount of money for dinner, you expect good food served with great wine.
Well, this must be the first time I attended an expensive dinner function that instead of wine, we were served MILK.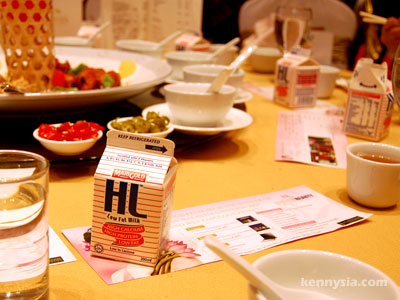 Then again, it's not like we came for the food anyway. 😛
The pageant itself is as cliched as beauty pageants get. After the usual boring speech by the Datuk, it didn't take long for the 16 grand finalists, dressed in elegant batik, to come out much to the delight of the crowd.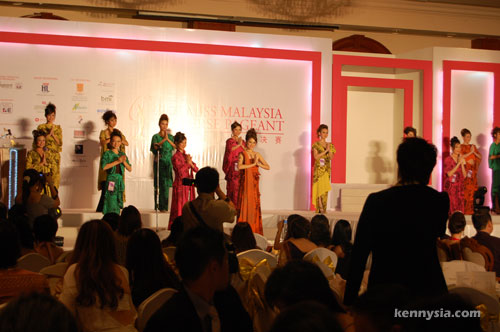 I must say, the line-up this year is pretty (no pun intended) impressive.
Normally when it comes to beauty pageants in Malaysia, half the contestants look like their face kena crashed by lorry. But this year, all of them look absolutely fantastic.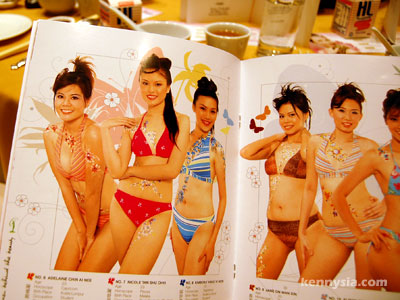 Maybe the search for "real woman" did work after all.
Here are some of my favourites.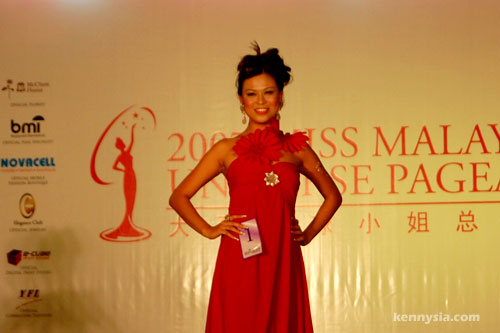 Contestant #1: Caroline, a 22-year-old student from Sabah.
She later won the title of Miss Congeniality.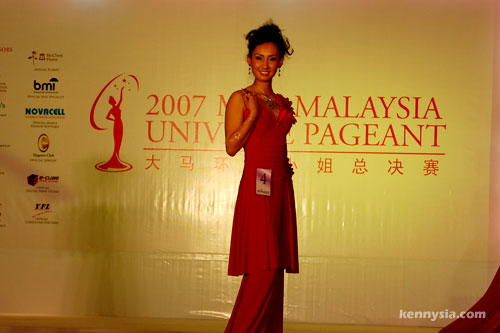 Contestant #4: Tanya, from Penang.
Her body is freaking toned and FIT to the 'T'.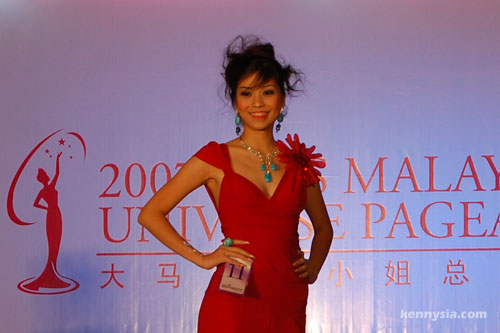 Contestant #11: Nai Hsing, from KL.
Blessed with a pair of huge Japanese anime character-like eyes, she's every contestants' favourite to bag the title of Miss Malaysia.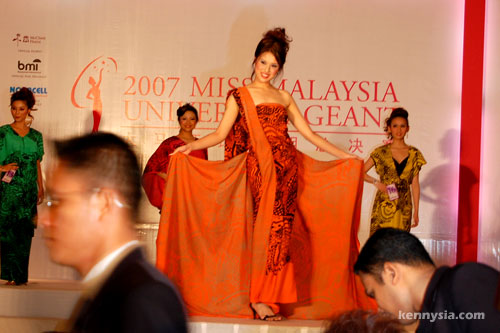 And of course, not forgetting our blogosphere's very own Contestant #7 from Malacca. 😉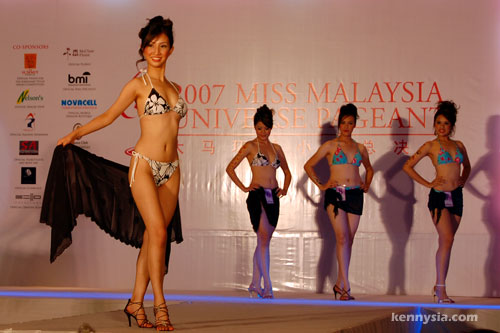 Traditionally, there's never a swimsuit parade in any beauty pageants in conservative Malaysia.
This year, thanks to a swimwear sponsor, the contestants were all required to catwalk in their bikinis as part of the contest. Needless to say that certainly makes for a much more interesting show. 🙂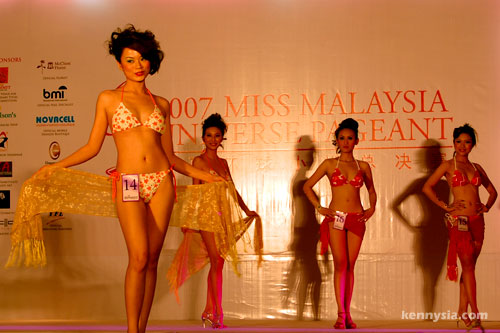 Kinda make me wish I were one of the judges, then I can quality examine them without any guilt. Heh.
Disappointingly, there wasn't a talent show in the contest. Usually that's the most interesting part of any beauty pageants. I was looking forward to Contestant #7 swallowing a live sago worm as part of her talent show.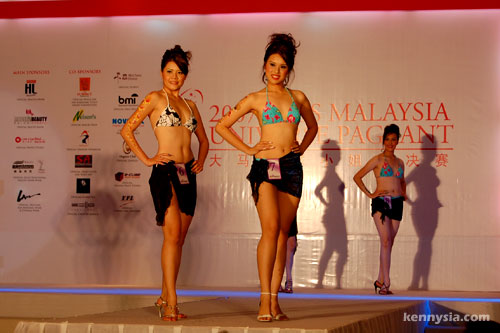 Soon, the judges decided and announced their Top 5. Sadly, apart from Contestant #11, none of my personal favourites got in! Heck, even our humble Malaccan iguana-eating girl isn't one of them.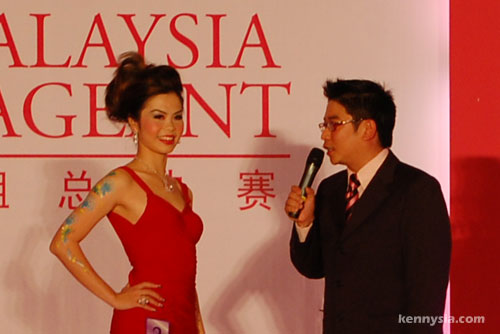 The question posed to the Top 5 was "What is a real woman?"
Those girls, arms on hips, will then have to go all philosphical and answer stuff like "A real woman is one that is confident and beautiful inside and out."
Deep. I thought a real woman is one with boobs and vaginas. Not those Ah Gua you see in Pattaya.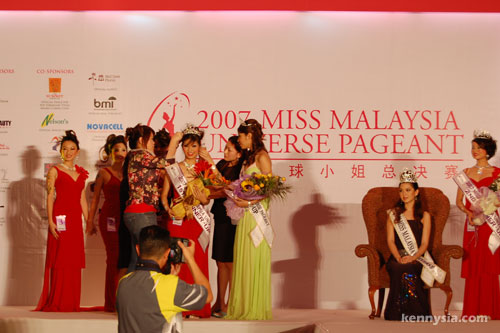 When it finally comes down to awarding the titles of Miss Malaysia Universe, Sue Ann Cheng (14) bagged the 2nd Runner-up prize, everyone's favourite Goh Nai Hsing (11) ended up with the title of 1st Runner-up.
And the title of Miss Malaysia Universe 2007 goes to…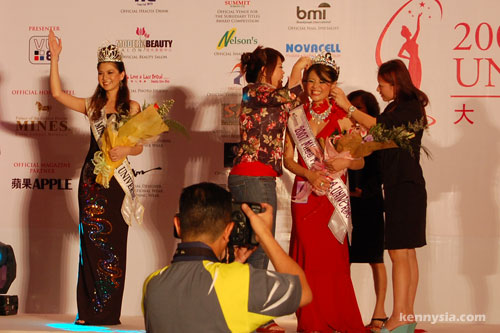 Miss Adelaine Chin.
Just like in the Oscars, the other two finalists who didn't win have to try their best to pretend to be happy and cheer for the winner.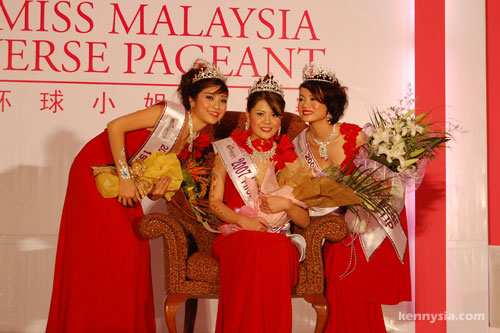 Adelaine will now represents Malaysia to compete in Donald Trump's Miss Universe in Mexico City next month.
Here's some videos I took during the pageant.

I might add, for complicated reasons, that all videos and photos here are taken by Kenny Sia, but is the copyright of Pageant Promotions. I gotta mention this otherwise they wouldn't allow me to take any photos.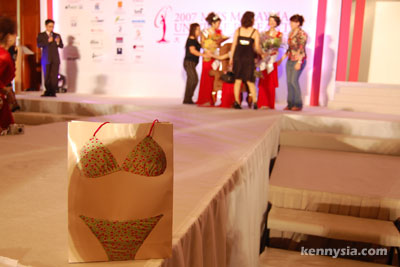 Adelaine wasn't the only person lucky that night. I got lucky as well… when I won a lucky draw.
Fine, all I got was some cheap T-shirt and swimming goggles from Prosun. Their creative packaging rocks. 😛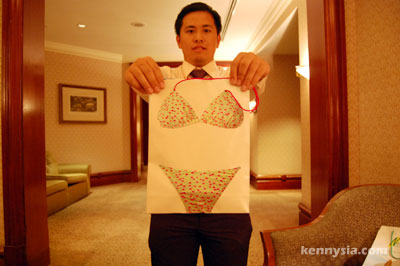 But that's not the end of the night.
After the show, Dominic and I hung around the hotel a bit to catch up with Contestant #7.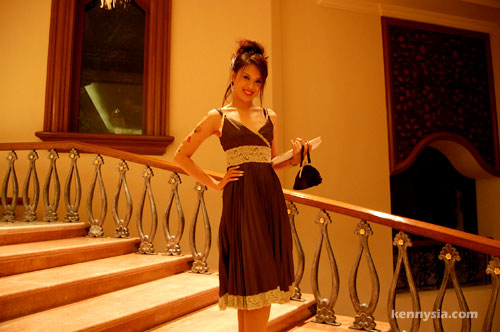 It was nearly 3am and she was hungry for supper. That's understandable since she had to watch her diet for the past 10 days. So she called up the other girls to ask if they would wanna join for supper.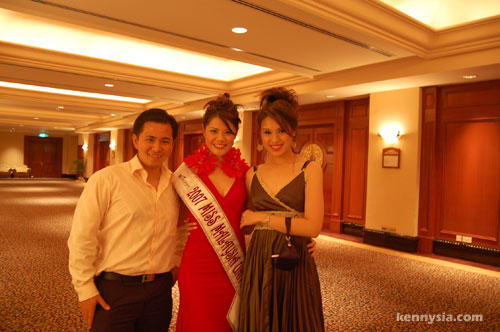 I would be happy if one or two of them to join. Maybe three, max.
But no…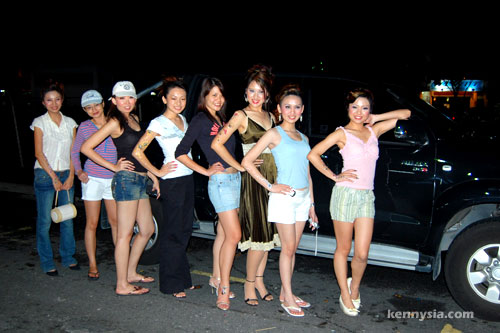 There was EIGHT.
EIGHT beauties, all of whom who just competed in the Miss Malaysia Universe pageant, came down to join us for supper at 3 in the morning.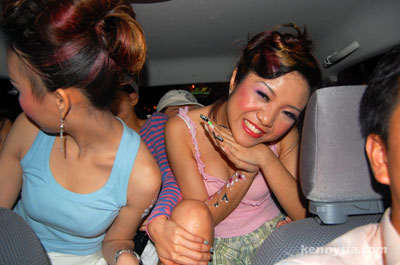 We're talking about HALF the competition here, complete with make up, body art, fake eyelashes and fake nails still on, cramming into the backseat of the vehicle.
These girls must be really hungry.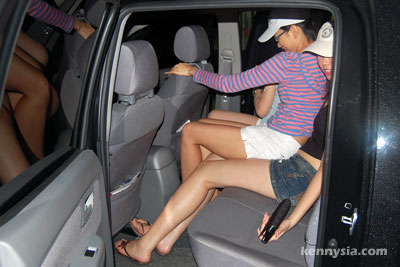 It was like one of those Guinness Book of World Records thing where they try to squeeze in as many people as possible into the car. But we had it with beautiful women instead of a bunch kiasu idiots.
Trust me, I was dying to move to the backseat myself.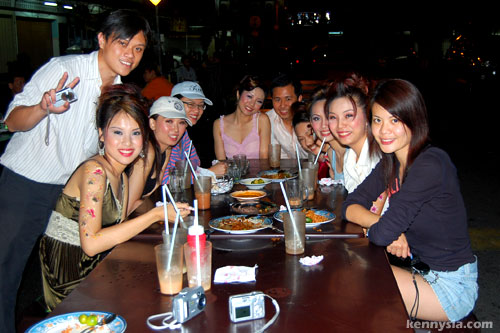 If this is not what dreams are made of, I don't know what is.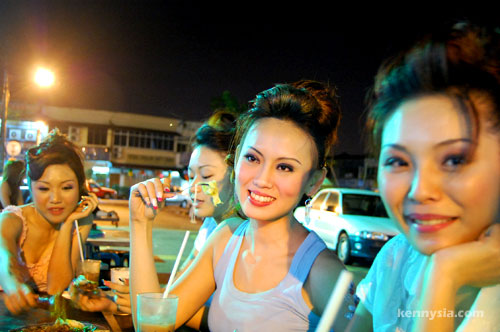 Mamak food never tasted so good.

I competed in Deal or No Deal. The show will most likely go to air towards the end of the year on ntv7.
Due to the contract that I signed, I cannot tell you how much I won. But safe to say, the amount was so sad I could cry.