Today's date is 20th June 2005. Nice date, 20062005.
I'm sure there's something important that's supposed to happen today. Something to do with 'XiaXue' Wendy Cheng Yan Yan. An "interblog marriage" perhaps. Hmm. Dunno. Can't remember. 😉
*~*~*~*~*~*~*~*~*~*~*~*
My name is Kenny. The name on my birth certificate is my Chinese name, Sia Tze Foo, but people always call me Kenny. I had studied in Chinese schools before, but my classmates and teachers still called me Kenny. Which is fine because I reckon Kenny sounds heckuva lot better than Tze Foo.
Since my Chinese name is my official name, Sia Tze Foo appeared on all my official documents – from my passport, to my identity card, my Bachelor's degree, my driver's license, my phone bills, my credit card, and so on.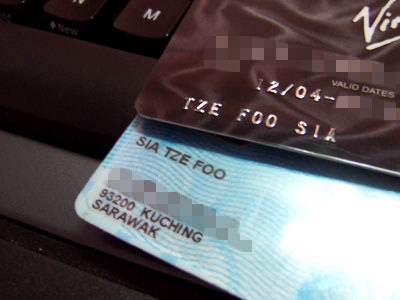 This became a problem when I headed over to Australia. See, when I use Sia Tze Foo in Malaysia people know that my last name is Sia and my first name Tze Foo – ie, surname first, followed by your first name.
But them Aussies don't do business like that. According to their system, your first name comes first, followed by your surname. So, Sia Tze Foo in Malaysia becomes Tze Foo Sia in Australia. But because of the way we write our Chinese name (we write it as Tze Foo, instead of Tze-Foo or TzeFoo), they automatically assumed that Tze is my first name and Foo is my middle name.
In other words, my name was mutilated into Tze F. Sia… or worse, Tze Sia. And that sucks because they don't know how to pronounce the word "Tze". I used to have a gym instructor who gets very excited everytime he sees me and says "Hey, how ya doing today, ZEE!?" Very annoying.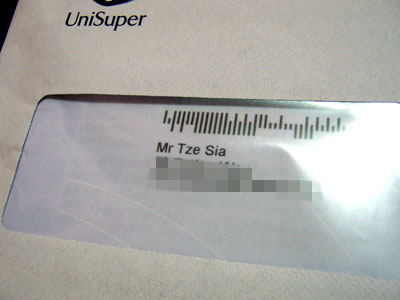 But at least mine is not that bad. I used to know a guy whose surname is 'Yew', first name 'Fook Ping'.
And they called him 'Fook Yew'. That poor bastard.
Another thing I find irritating is people pronouncing the surname 'Tan' as 'Ten' instead of 'Ta-an' (although technically speaking, 'Ten' is correct. I've also seen Jeff Ooi's name incorrectly typed as Jeff OII. Sounds very wrong. It instantaneously transformed him from Malaysia's Most Influential Blogger to Malaysia's Most Abused Pasar Malam Boy.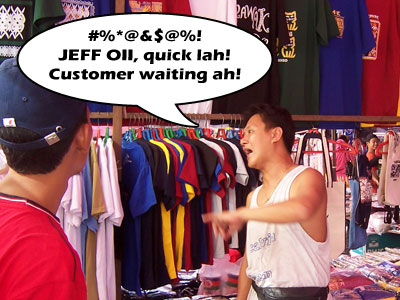 Come to think of it, Chinese surnames can sometimes be a source of laughter in Western countries. The Chinese surname of 'Huang' (Yellow) is sometimes written as Bong. But if you introduce yourself as Mr Bong on the dodgy streets of Australia, people are gonna ask if you have any marijuana and the police might send you to jail overnight.
I remember I used to go to high school with someone whose surname is Loo. Then there's a Miss Kok during my Uni years. That poor girl. Wonder how many times people mistaken her for a transvestite.
But all these pale in comparison to the most unfortunate surname in Chinese history – Ho.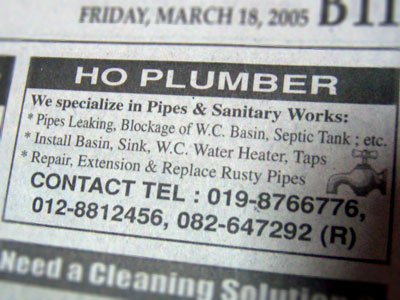 Saw this ad in the paper sometime back. Sounds like who 50 Cents and Nelly would call when they need to renovate their homes. Don't you think?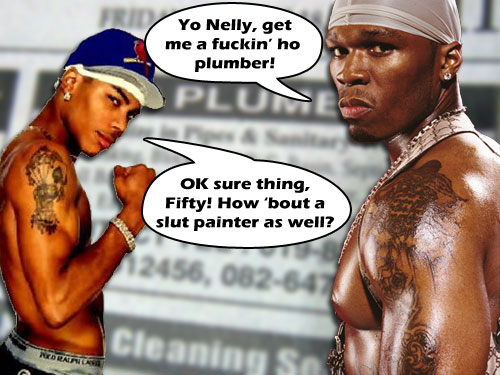 *~*~*~*~*~*~*~*~*~*~*~*
Here's a trivia for you. Why is it that 'XiaXue' Wendy Cheng doesn't want to marry F4's Jerry Yan?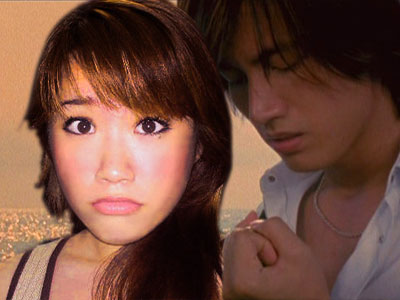 Because she doesn't want to be known as Mrs Yan Yan Yan.

Be sure to check out The Star newspaper today and see if you can recognise a familiar face in the Star Two insert.