Its not an everyday thing that I can claim that I am the source of every man's envy.
Today is one of those rare occasions. I woke up this morning, checked my inbox and found out from my readers that Singaporean blog princess XiaXue Wendy Cheng has mentioned me on her 8,000 visitors/day blog. I head over to her site immediately and… believe it or not, the very attractive XiaXue posted an entry on her site ASKING ME TO MARRY HER!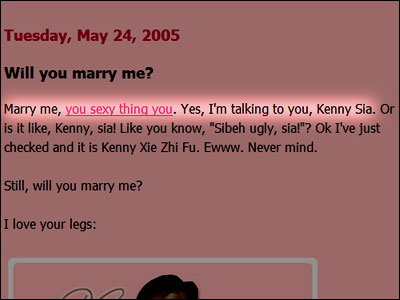 The Blogger's Method
Profess your love for him on your blog.
Write about how romantic/macho/hamsem he is.
BUT, say you know that he is out-of-bounds cause he's attached, but you can't help but fall for him.
Get your blogders/girlfriends to whore your Blog and make sure he reads it.
Again, let him think you are suffering in silence.
Men's instinct will naturally want to protect you.
Whoa! Executed to perfection!
Why did XiaXue choose me? She blind ar? Someone like XiaXue could've chosen that Alt-F4 wanker Jerry Yan, or that tiny-dicked elf Orlando Broom. But no. Despite me having three-layered cake on my stomach instead of her favourite penis veins, XiaXue chose me. Me, ME, ME!
Heck, she even dedicated the entire entry to me and gave me five reasons why I should marry her. Well actually, I was only featured in a quarter of her entry – the rest of her entry was about how pretty she looks. But hey, something is better than nothing right? At least she thinks that I deserve to be sucked.
Well… Actually she meant my bandwidth deserves to be suck, not me. BUT STILL!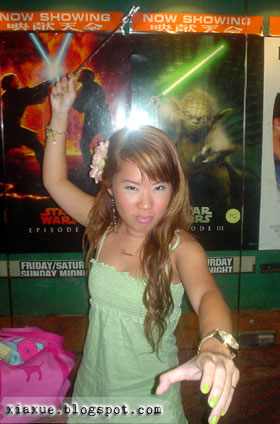 Anyway, according to XiaXue, one reason why I should marry her is because 'She Is Yoda'.
Now, I don't get it. WHY THE FUCK WOULD I WANNA MARRY SOMEONE WHO LOOKS LIKE YODA?! Can you even begin to imagine what Yoda would look like in the NUDE? Wrinkly green hairy ass and all. MAN!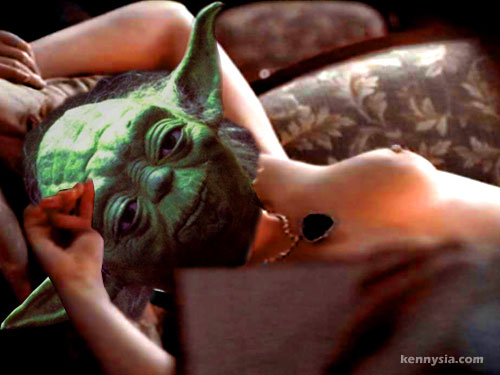 I think our in-bed coital sessions is gonna be very ridiculous.
XiaXue (as Yoda): "Kenny sweetums. Horny I am. Fuck me you must!"
Kenny: "Yes, master."
*Undress. Kenny mounts XiaXue*
XiaXue: "Mmmmm…. Very nice that feels. Long lightsabre, you have!"
Kenny: "Thank you, master."
XiaXue: "Ooooh, fuck me harder my padawan! Use the Force! USE THE FORCE!"
Kenny: "Ohhh… Yes, master."
XiaXue: "Stop you must not! Cumming I am! CUMMING I AM!"
Kenny: "Hold on, master!"
XiaXue: "AAAAH!"
*BOOM! Xiaxue explodes*
Kenny: "Master?! MASTER!! NOOOOOOOOOOOOOOOOOOOOOOOOOO!!!"
Ok lah maybe its not that bad.
But there is still one problem with the marriage proposal though – I already have a girlfriend. But hey, let's assume a hypothetical situation where I'm still single and available. And XiaXue has indeed lost her mind and decided to throw away the rest of her beautiful life by marrying me. Holy shit, what kinda wedding that would be?!
This is where I consulted my crystal ball (conveniently located inside my pants) and looked into the future…
The Wedding
It is not gonna be a conventional wedding in a hall filled with people you don't know and ah pek / ah mah singing 'Ai Pia Jia Eh Ia' on the karaoke machine. No no no! XiaXue and I will be making history by holding the first ever Interblog-Wedding.
Sorry readers, xiaxue.blogspot.com and kennysia.com will be no more. Instead, the two blogs will combine into one brand new husband-and-wife blog site.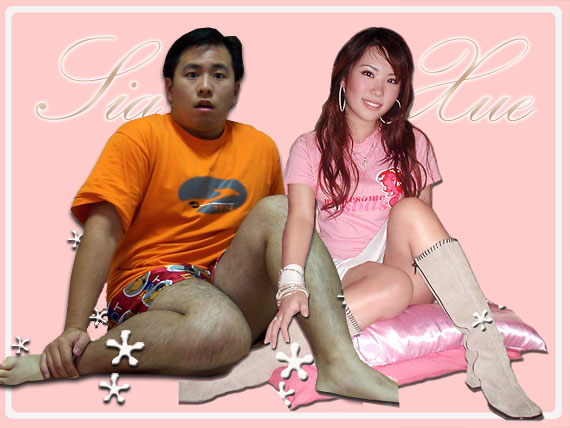 The Pregnancy
What's the point of getting married if you don't form a family right?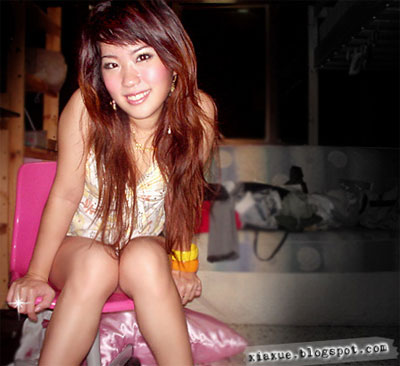 Yes I know this picture has absolutely nothing to do with pregnancy. In fact it looks like XiaXue is sitting on the toilet bowl doing her number 2 business when someone barged in and snapped a photo of her. No idea why she's smiling so happily though.
I put up this picture because I remember fondly when I was very young and naive, probably around 5 years old, I asked my mother where babies come from. My mother, obviously trying to avoid explaining the birds and the bees and the male and female anatomy, simply told me that babies come from 'the mother'.
"But where? Impossible that the baby appears suddenly for no reason one bah!" innocent little Kenny asked.
"Ummm… it comes from the kacheng, dear. Just like when you pang sai."
"Really? So whenever I find my sai very big and very difficult to squeeze out of my kacheng, it means that I'm having a baby too?"
*frustrated* "Err… yes dear!"
The horror! Ever since that conversation with my mom, I cried everytime I had constipation because I thought I'm gonna create a mini-Kenny that's gonna drop into the toilet bowl and he's gonna die because I wasn't quick enough saving him.
I hate adults sometimes.
The Children
Now here's where the bad news come.
Although we had hoped that our child look as cute as Abbie or Jayden, that is sadly not the case.
Meet our future daughter, Wenny Sia.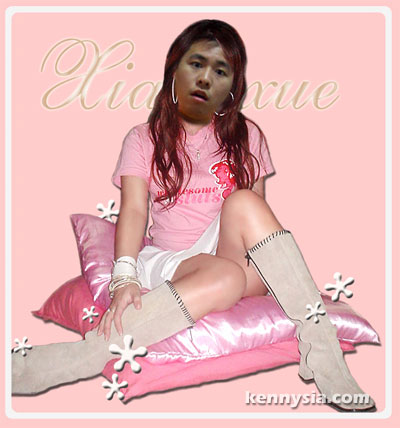 And out future son, Kendy Sia.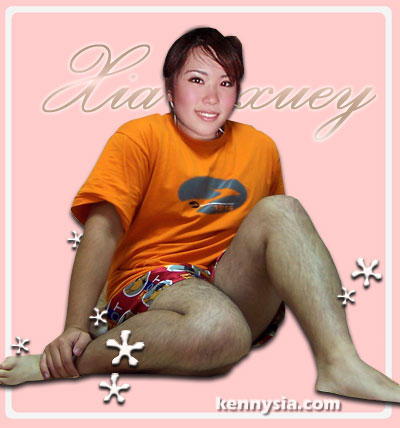 One big happy family!
*sigh* I don't know, my dear XiaXue baby. But somehow I have a bad feeling that this is marriage is not gonna work out. Sorry!