It's great that I was staying in Hamilton because Hamilton is the gateway to New Zealand North Island's scenic countryside.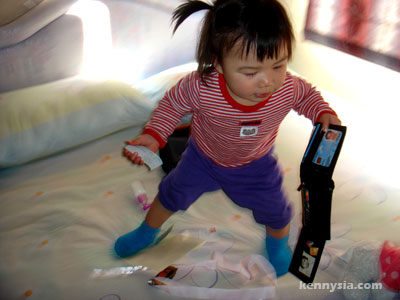 On the fourth day of my travels, I left my sister's place to drive towards the Waitomo. Turned out the hardest thing for me to do was to leave the house. Jayden was crying non-stop because I woke up late and didn't have time to play with him in the morning.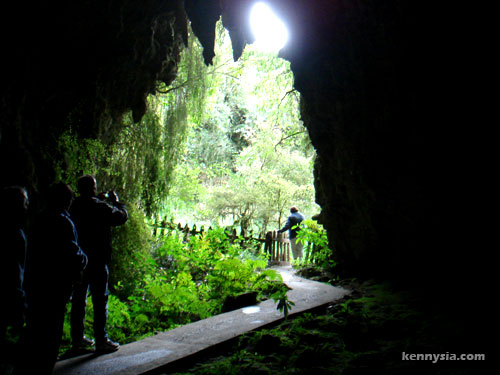 Waitomo is 1.5 hours drive from Hamilton and is best known for its system of underground limestone caves. What made these caves really special is that they are inhabited by colonies of tiny little insects called "glow worms". These insects hang over cave ceilings and emit blue bioluminesence lights, literally from their asses, to attract food and sex.
If all it takes for chicks to have sex with me is for my ass to glow blue light, I think I wanna be a glow worm too.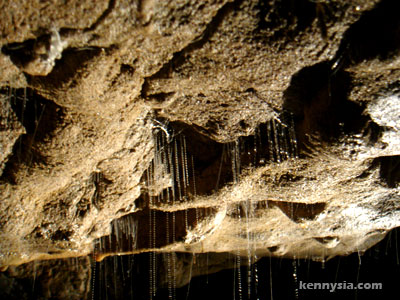 We took the guided Spellbound tour into the caves (costs NZD$47.50 / RM 119 per person). If you want to, you could do blackwater rafting and abseiling in Waitomo. I didn't because the costs are way out of my budget.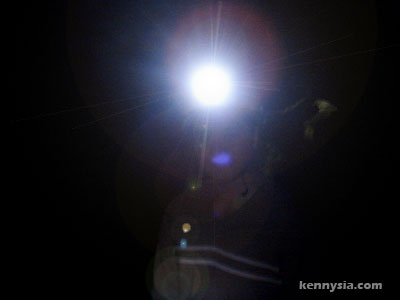 It was freaking cold inside the caves, but the experience was worth it. Our guide gave each of us hard hats that made us looks like miners. Once we hiked deep inside, she got us to switch off our headlamps.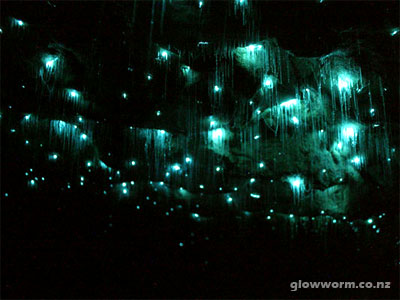 Without all the light pollution from outside, the entire cave glowed like the brightest stars I've ever seen, only instead of stars were millions of glow worms everywhere above our heads.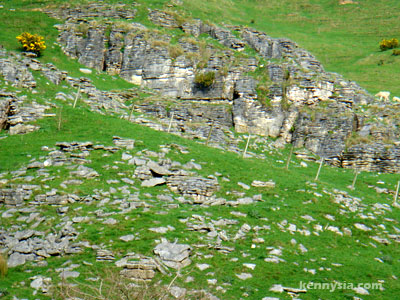 Outside the caves, the Waitomo landscape looks like the Land of the Teletubbies with its strange-looking hills. Apparently, many of the Shire scenes in the Lord of the Rings were filmed in this area.
The entire tour took only about 3.5 hours. When we finished, we still got a bit of time on our hands so we made an excursion to Marokopa Falls.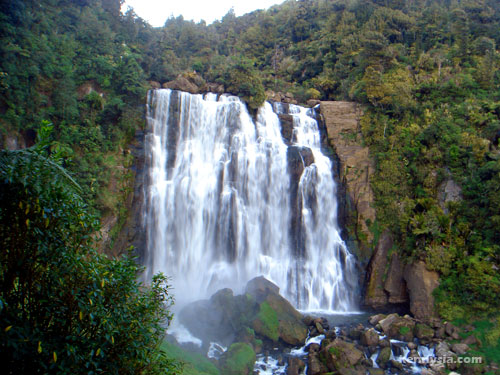 This is one spectacular waterfall not many tour buses would take you to since it's a bit out of the way. I'm just glad I'm on a self-drive tour.
Another one of the best things about touring around in a car is that you can at your own pace, stop and see many peculiar sights along the way. And trust me, there are lots of them in the New Zealand countryside.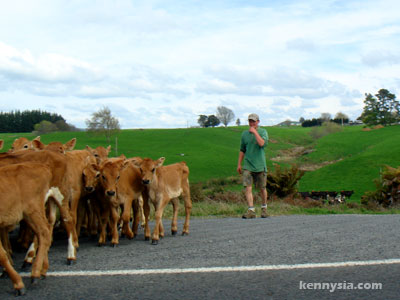 From Hamilton heading towards Rotorua, we encountered in one of the towns, a giant building shaped like a dog.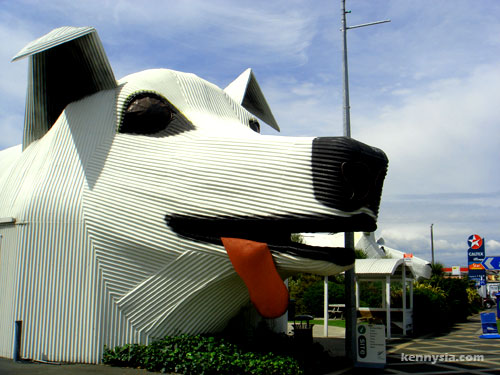 It's the New Zealand Tourist Information Centre.
Next to it, is a giant building shaped like a sheep, selling sheep products.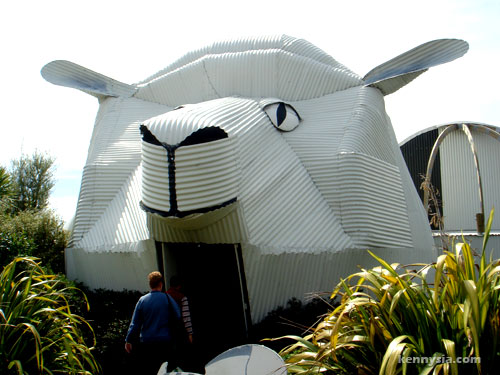 Those crazy New Zealanders, though you gotta admit that it's actually kinda cute.
I have an idea. I reckon Malaysia could perhaps take a leaf out of the Kiwi's book and do something similar.
After reading about the Penang Municipal Council President implying that women who wear normally office attire are bringing upon themselves to be sexually harrassed because it is "sexy", I suggest that the Penang Municipal Council building be renovated into this.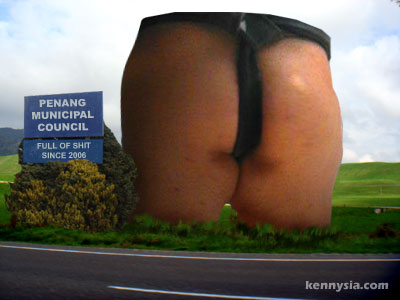 Considering how much shit came out from the president's mouth, I think this design is only appropriate.

Quote of the Week: "Why turn on the radio when we can make music ourselves?"