When you're invited by the 3rd richest man in America for dinner, you know even the food you're eating is gonna be different.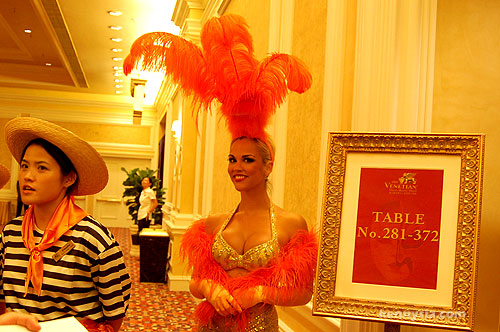 Immediately after Venetian Macao's grand opening extravaganza on the 28th August, the invited guests emptied the arena straight for the casinos, while the few special ones were ushered into the Venetian Ballroom for an exclusive Gala Dinner.
Now I have been to some big dinner banquets before, but this is just too impressive for words. Not even my camera could capture the splendour and opulence we're enveloped in.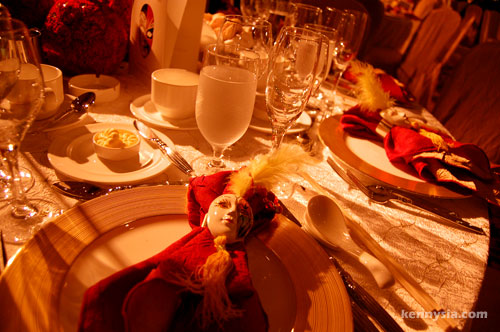 The Venetian Ballroom housed almost 400 dinner tables for 4000 guests. There's an attendant in sight every corner. Each table is intricately decorated with flowers, candles and utensils from the East and West.
We even get a souvenir in the form of a masquerade ball mask bracelet.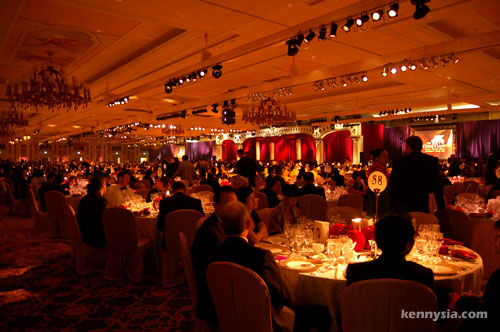 In front of a ballroom is a theatre stage adorned with red curtains. We can only wonder what treat is in store for us behind those curtains.
It's beautiful.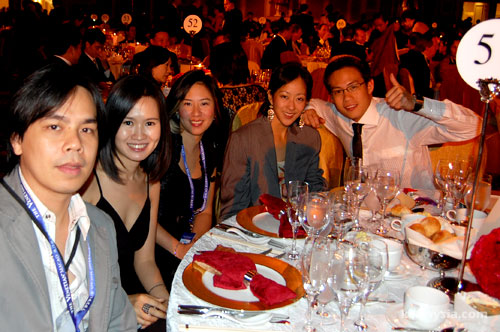 Even the Thai girls I shared the table with are beautiful.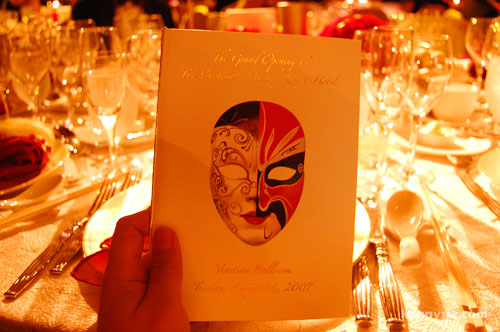 Gotta love the image on the cover of their dinner menu.
It shows a European-style masquerade ball mask on the left halve versus a Chinese Opera mask on the right halve. It's a fitting reference to Las Vegas Sands Corp establishing itself in Macau, China.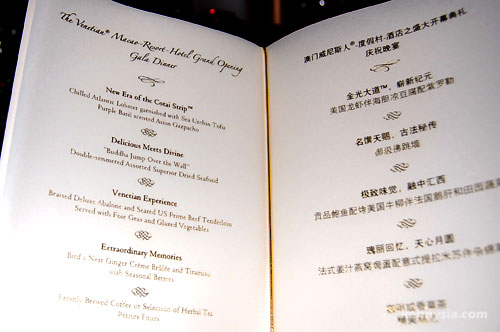 The gastronomous delight on offer.
Coming from a humble little town of Kuching where cheap hawker food is so embedded into our everyday life, I must say I'm not used having such expensive dishes. I gained 3kg in 3 days in Macau, and this is why.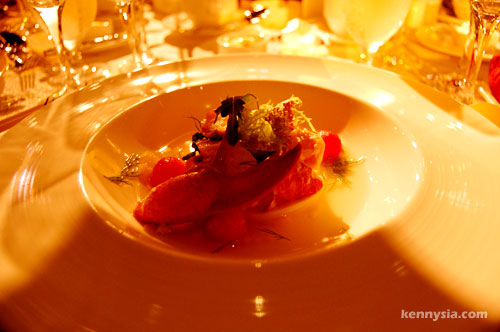 First item on the menu is the appetiser: Atlantic Lobster with Sea Urchin Tofu.
Lobsters for appetisers? Sea urchin tofu? In some places, we call this the main course already!
I got so excited I swallowed down two bowls of those. Divine!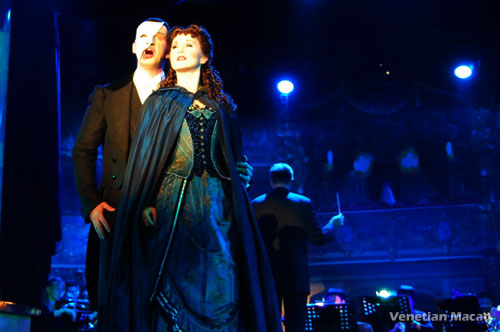 Entertainment for the evening comes in the form of a live performance from the original cast and ensemble of the Phantom of the Opera from Las Vegas.
It was a short performance but they did all the well-known scenes, including the romantic duet "Say You Love Me". Too bad the crowd was busy chattering and indulging in the food, paying little attention to the performers.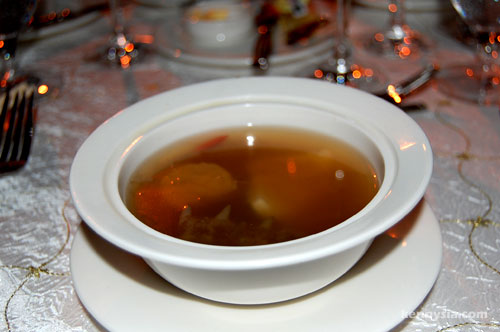 Next came a soup interestingly named Buddha Jumps Over The Wall.
It's a Chinese soup with all the expensive ingredients like abalones, scallops and shark's fins all thrown in and stewed in a pot for two full days. Whoever invented it called the soup that way because they claimed it tasted so good, even a vegetarian like Buddha would jump over the monastery wall to steal a sip.
Controversial, I know. But I don't think it'd have the same effect if it's called Jesus Jumps Over The Wall.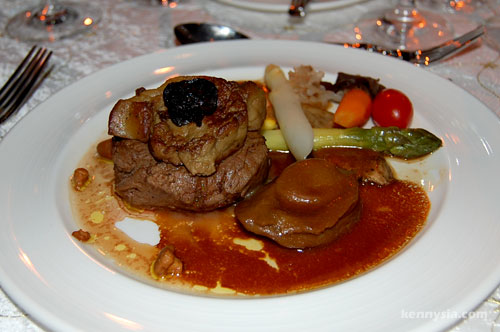 The main course is a fantastic dish comprising of braised abalone and seared prime beef tenderloin served with foie gras.
Knowing that shark's fins and foie gras was served to some 4000 guests in attendance is enough to send any animal activists up in a frenzy. But they were so darn good, I gladly helped the skinny Thai girl next to me finish the dish.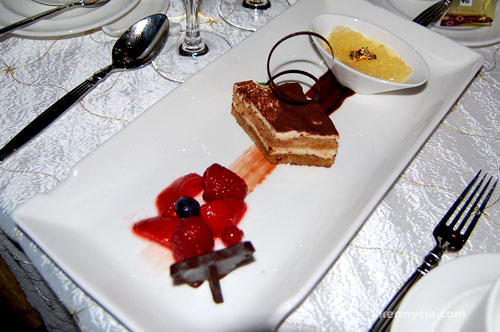 Venetian Macao certainly saved the best for last. After the main course, We were served the most unusual dessert dish I have ever seen in my life.
On a long plate were some strawberries, a slice of Tiramisu cake and then there's this.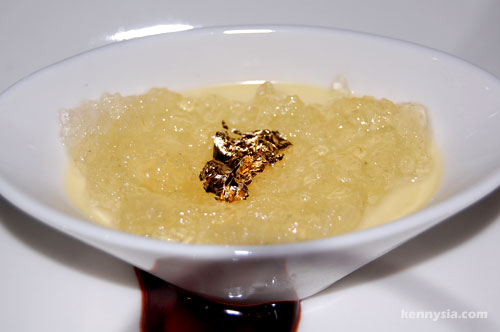 What is this, you ask?
My friend, this is what they called Bird's Nest Creme Brulee. Served with Gold.
Yes, GOLD. An actual sheet of pure GOLD!
This is ridiculous. I'm used to finding stawberries and ice-creams on my dessert. But what in the world is a sheet of GOLD doing on my dessert!
Gold is meant to be worn as an accessory to show off how rich you are. NOT EATEN AS DESSERT.
Heck, I didn't even know you could eat gold!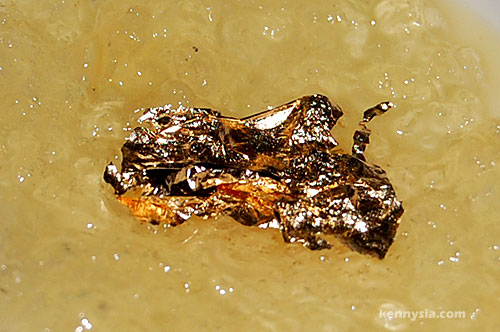 But yes, eventually after overcoming my surprise finding gold on my dessert, I took a bite.
It was tasteless. But weird knowing that there's a piece of gold metal swimming in my body now waiting for digestion.
Or maybe the gold I ate wouldn't even be digested.
In that case, there's a chance whoever handles the plumbing at Venetian Macao might shift through the shit to look for the gold sheet and make himself a gold ring.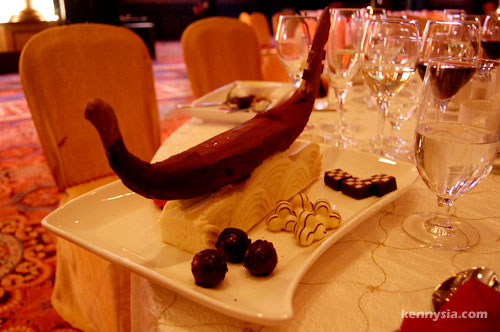 There was still a big plate of chocolate truffles to go around, but by this time it was getting quite late and most of the guests have left already.
I later helped myself to all the untouched truffles left on the tables as I watched the entertainment on stage.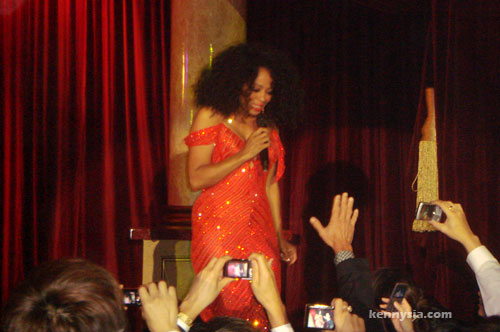 It was really great 'cos unlike in the stadium-like Venetian Arena, we get the chance to go up close and personal with the performers.
I got so ridiculously close to them, I could even see the hair in their nostrils.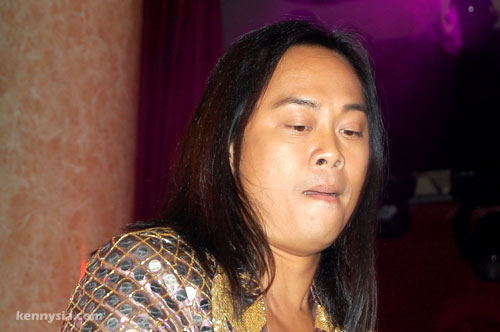 What the hell, right?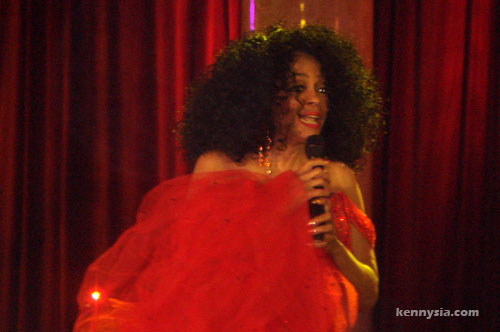 Diana Ross is definitely one of the most impressive 63-year-old grandmother I have met. It was surreal to be physically inches away from such a legend.
If you've watched Dreamgirls before, the movie was pretty much based on her life and career, with Beyonce's character playing the role of Diana Ross.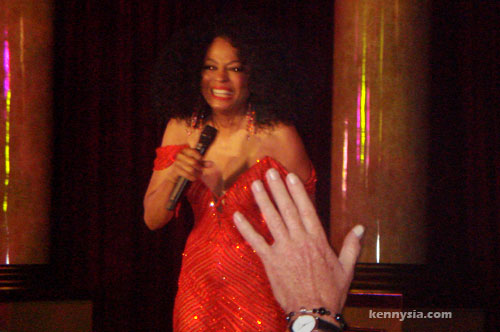 She belted out classics like I'm Coming Out, Baby Love and finishing up with I Will Survive – a song that even up till today is a major hit.
How many 63-year-olds you know could move and sing like that?
I can't imagine my mom doing that, and she's not even 63.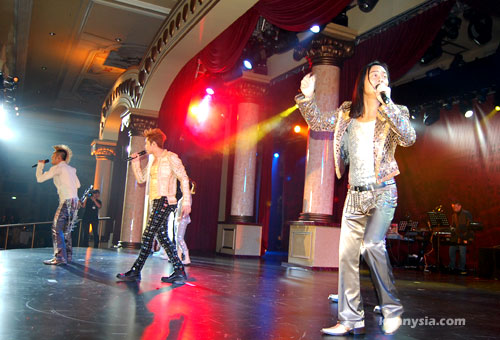 For the second time in the evening, Grasshoppers came out again.
Dammit somebody's gotta call the pest controller.
I know I've said some pretty nasty things about Grasshoppers, but you gotta give them credit lah.
I mean, not a lot of people I know would dare to go up on stage wearing THIS.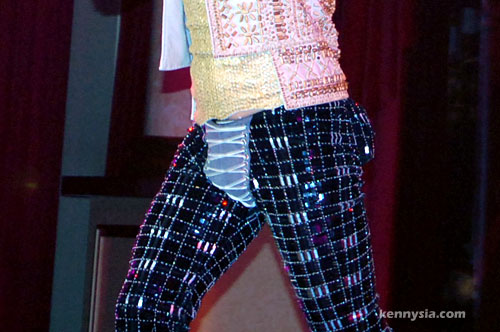 What do you call that thing? SANITARY PAD FOR MEN?
Grasshoppers have always been known for their energetic dance moves, and they didn't disappoint tonight.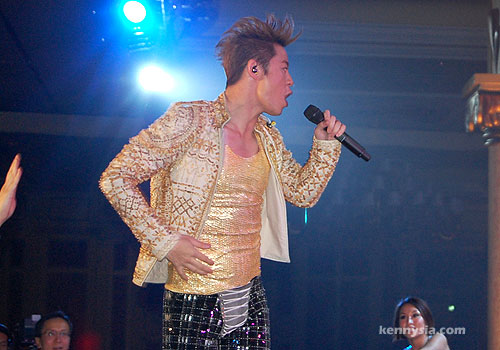 This one they called it, "Rooster Crows In The Morning"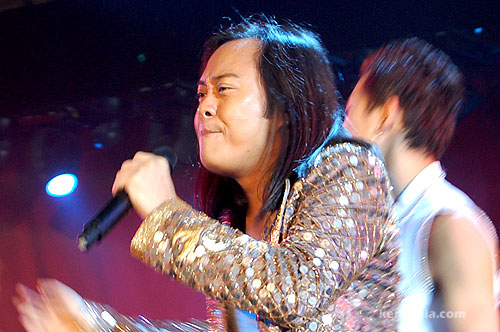 I believe this one is, "Mommy! I Want Candy!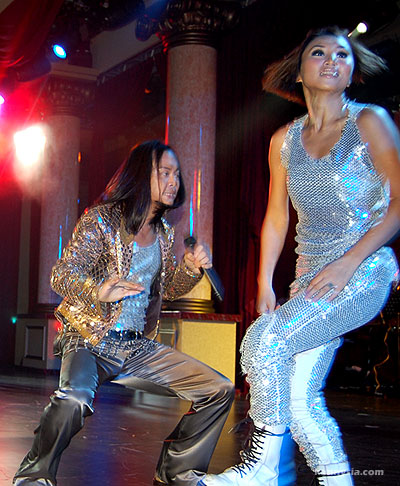 Finally this one is called, "Scare The Shit Out Of Your Backup Dancer"


Alan Tam's performance was in contrast, a lot more subdued.
Too bad I don't listen to Cantopop a lot, so I'm not familiar with many of his songs. For the finale, the crooner sang Pang Yao ("Friends") – a fitting end to the most amazing evening.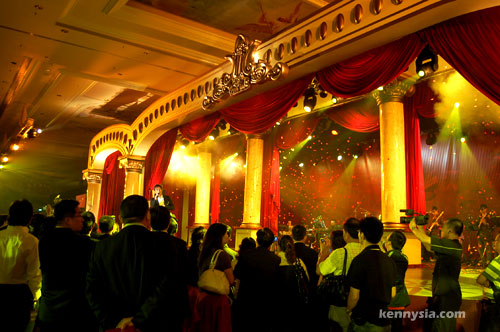 Here's an edited video of Diana Ross, Grasshoppers and Alan Tam's performances during the Venetian Macao Gala Dinner.

Anyway, this finally concludes my multiple blog entries on my Macau trip.
I must say, getting a media invite to the Venetian Macao's grand opening is almost like winning jackpot in the lottery. The resort must have spent at least RM10,000 on each of us. Flights, rooms, food, everything. I almost feel obligated to ask my readers to buy a ticket to Macau and visit The Venetian right away.
We're literally treated like kings. I have no idea when's the next time I'm even gonna get something similar.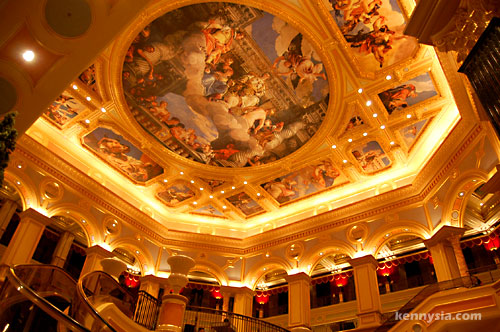 It was so amazing to stay in a resort that was almost made of gold. We've seen gold, touched gold, EVEN TASTED GOLD.
On our way out of the Venetian Ballroom, we're even given a gift from the hotel as souvenir.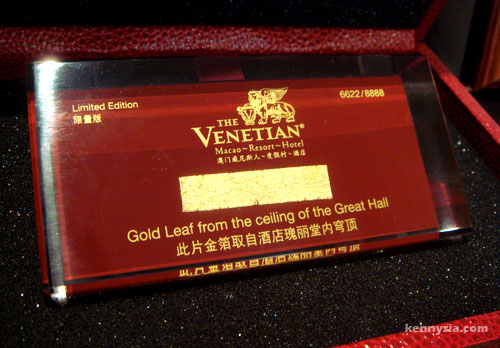 What! MORE gold!

Through my networks, I was asked to look for young talents aged below 25 who could represent Malaysia in the International Junior Delphic Games to be held in the Phillipines this November. Specificially, they're looking for anyone who could compete on the world level in the fields of music, dance, crafts, photography, film-making or story-telling. More info click here.
Talents come first. Sponsorship and fund-raising to get to Phillipines will follow.