I am feeling so very the tulan right now.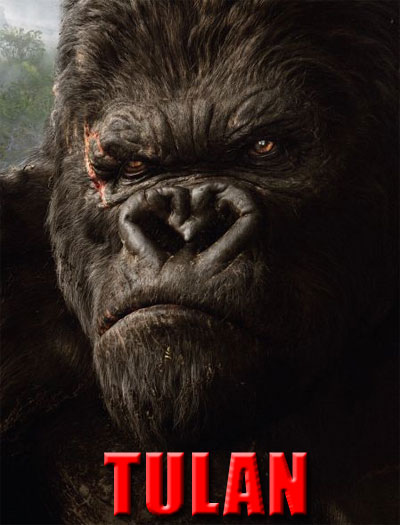 Timothy, Lance and I are in this Cornetto contest. We're supposed to form an all-male team to participate in the contest, so that's what we did.
We called ourselves the kennysia.com Lurve Squad.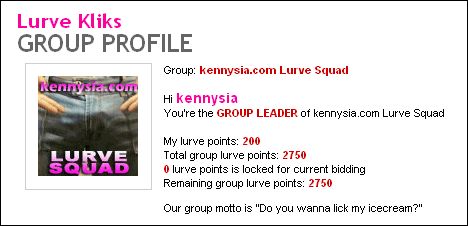 Check out our kickass group logo.
The way this contest works is that we collect points by eating ice-creams, and then use the points collected to compete with other groups to win prize packages.
Sounds simple right?
Eat ice-creams. Collect points. Bid prizes.
Even kids can do that.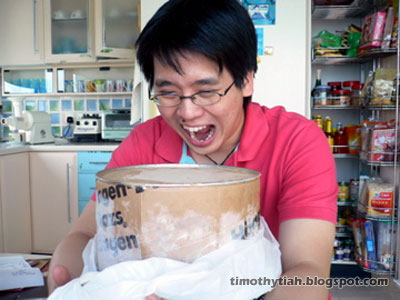 With an ice-cream junkie like Tim and a fat ass like me in the group, you'd think that we'd have absolutely no problems racking up the points and send all the other contestants back home to their momma crying.
Well… NOT QUITE.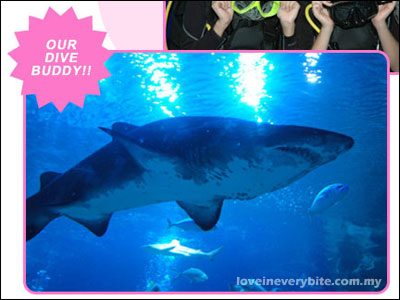 There's a grand prize on offer every three weeks. That is the prize that everybody wants.
In the first round of the contest, the grand prize was to go diving with the sharks at Aquaria KLCC.
We didn't bid. The winner was this other group called 'WSC' who accumulated 7300 points to bid the top prize. If 1 Cornetto = 100 points, that's 73 Cornettos they consumed in two weeks!



That's alright, because the kennysia.com Lurve Squad decided to let them win. (Ok lah. In actual fact, we were too slack to get our group organised until the last minute)
Second round comes along.
This time the grand prize is one night to live up the glamourous high life and go on an evening date with Hannah Tan at Maison and Tarbush Starhill.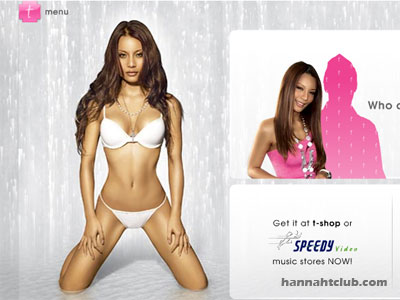 We didn't win.
BECAUSE WSC WON THE BID AGAIN.
I was frustrated. How the heck could ANYONE eat so many Cornettos in such a short time?!
So I clicked on this WSC's group profile, half expecting the three of them to look like this.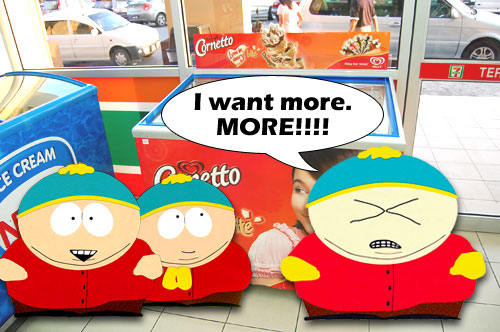 Instead of having three overweight pimply teenage kids staring back at me, I was confronted with three Nicole Richie lookalikes.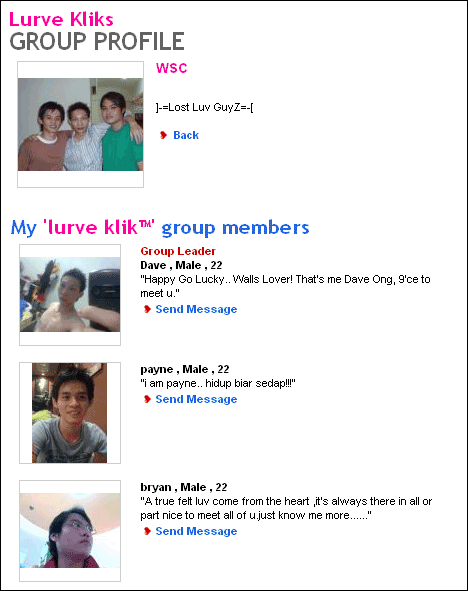 Are you kidding me? This is ridiculous.
How the hell can our group of one guy, one ice-cream glutton (Tim) and one fat ass (me) with a kickass group logo, lose to three stick-thin skinny dudes!?
What has the world turned into!?
This isn't fair!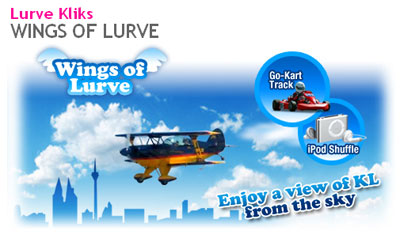 So for the next round, we decided to get our act together.
The grand prize is an Airplane + Go-karting + iPod Shuffle package.
In the beginning, WSC got the early lead, but kennysia.com Lurve Squad was ruthless. Over the next two weeks, we went on so many trips to 7-11 and ate so many Cornettos until our jaws got frozen. But the results paid off.
Finally, we knocked them off the top spot!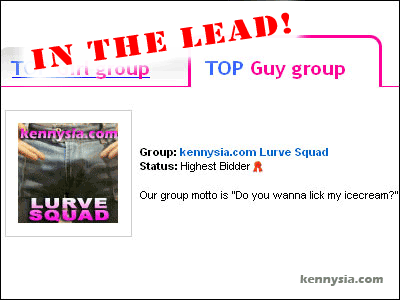 WSC is no more. Come, let's all laugh at them.
HAHAHAHAHAHAAHAAA!!!
Lick on that, suckers! Too late to shop for ice-cream now.
As the clock ticks down to zero, it seems almost definite that we're taking home the big prize. We refreshed the page many times, making sure we're not outbidded.

Then right at the lasttttttt second…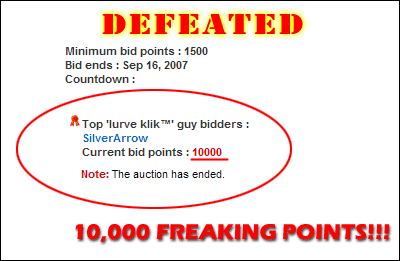 WTF. These people go swimming in Cornettos or what?

I fell off a bike when I was in Vietnam and injured my right hand. It's still hurting and I can't lift heavy stuff for close to a week now.
Anyone know a good registered reflexologist in Kuching?