It is a kennysia.com tradition to travel to Bali every year.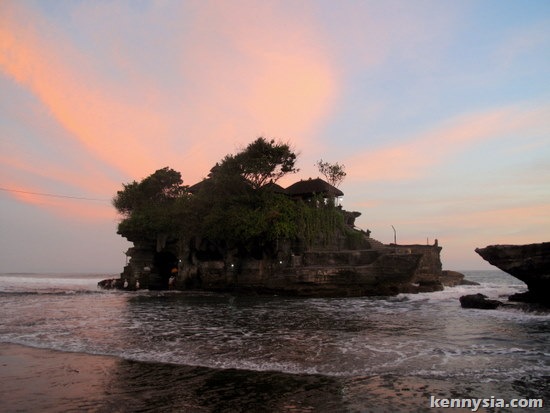 There's a lot of reasons why Bali is the place I go to do my retreat every year: cheap flights, friendly people, amazingly good food. The biggest attraction for me is the fact that Bali is the only place I know where the range of accommodation options is virtually limitless.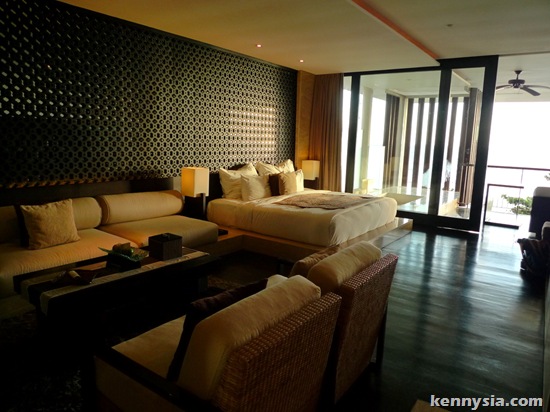 In Bali, you can do home stays for RM15 a night, or rent a luxurious multi-bedroom private villas with your own swimming pool, chef and butler.
I write this blog entry especially for those who had partied through Kuta, done Bali on the cheap before, and are now returning to look for something a bit more.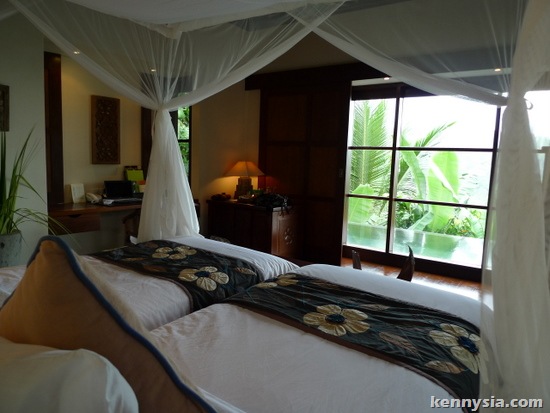 Although luxury in Bali does come with a hefty price tag, it is not completely out of reach for most people. On average, a very well-serviced, luxurious high-end hotel here would cost around USD200 (RM650) per person per night.
But I think about it this way. Instead of flying to Paris for a supposed romantic holiday then stuffing myself inside a cramped 3-star shoebox hotel, I'd rather fly to Bali, splurge on a beach-front suite and be treated like a king.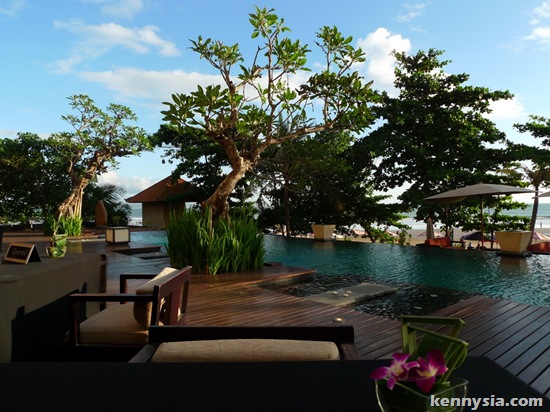 Truth is, there not many places in the world that gives as good a bang for buck as the hotels and villas in The Island of Gods. During my most recent trip to Bali  2 weeks ago, I had the privilege of being hosted at some of the most beautiful hotels I have ever experienced personally.
The first was Ubud Hanging Gardens.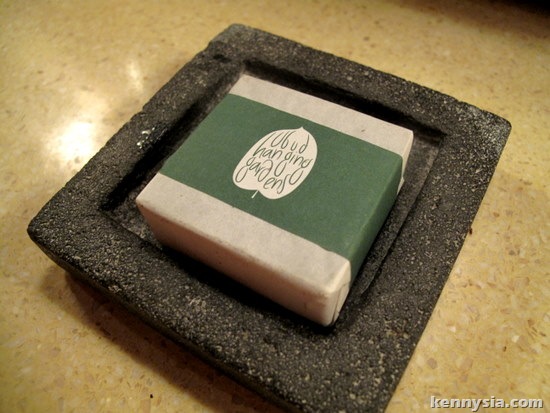 If I were a girl and my boyfriend wants to propose to me, this is the place I'd want him to do it. Otherwise, not only would I not accept his proposal, I'll probably throw the ring back at my boyfriend, scream "YOU THINK I SO CHEAP AH!?" before hurrily taking off and leaving him alone in the dark.
But I digress.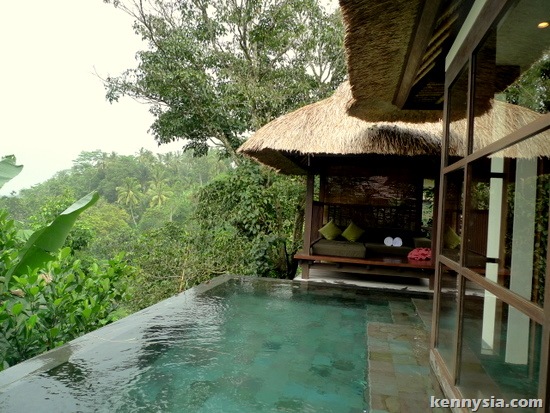 Ubud Hanging Gardens is an absolutely fucking stunning hotel.
Pardon my language, but there's just no other way to describe it. The road heading towards the resort was narrow, bumpy and ridiculously difficult to find. I spent 4 hours circling the entire Bali island in my rental car and cannot find it. In the end we gave up and requested for hotel pickup.
But once we arrived, it was like clouds have parted and we arrived heaven on Earth.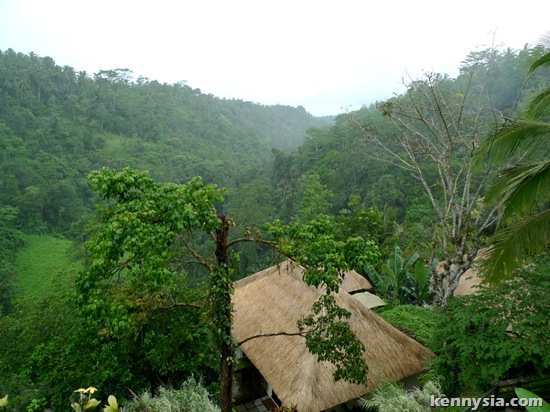 Words cannot do it any justice.
Ubud Hanging Gardens is one of two Balinese resorts by luxury hotel group Orient Express. It's called "hanging" because when we looked out into the distance from our room, we literally felt like we were hanging in the air. We were so high up that all we could see were the tops of the trees below.
The view here gotta be seen to be believed.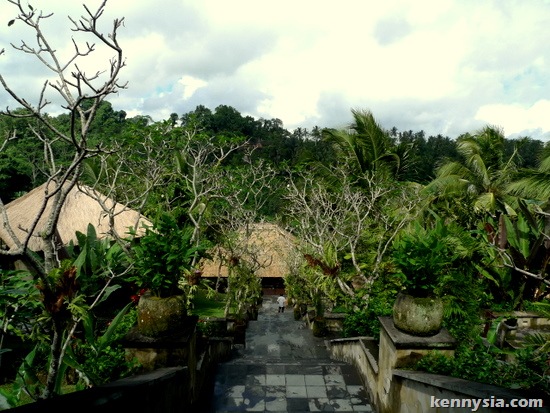 Despite what its name suggest, the resort is not actually located inside the intensely crowded and touristy Ubud town, but quietly tucked away on top of the hill in the middle of the forest, about 30 minutes away. There was literally nothing at all within the vicinity of the resort.
What they offer instead, is the ultimate in serenity and luxury.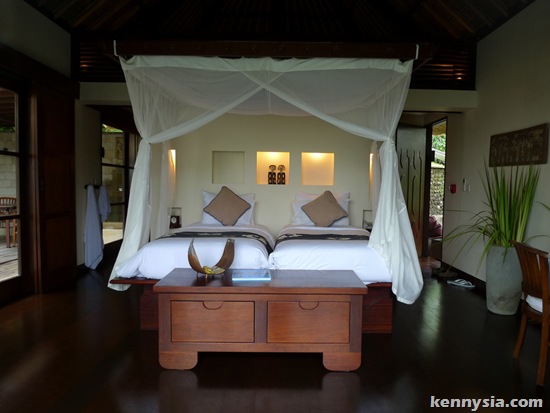 The villa units themselves aren't particularly huge, but they are well-designed to take advantage of the breathtaking surrounding views, and make us feel as close to nature as possible.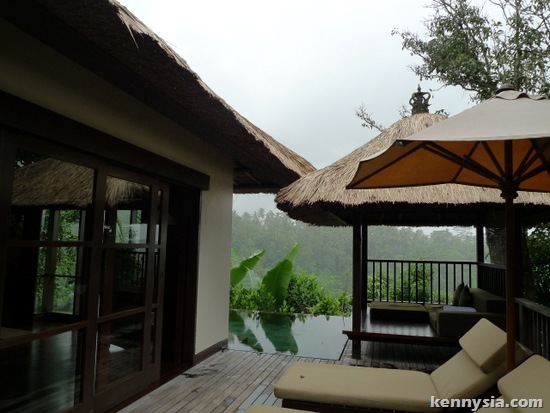 Each unit is located on the hill slope. So instead of taking the lift from the lobby, we have to go to our rooms using this cute little funicular train.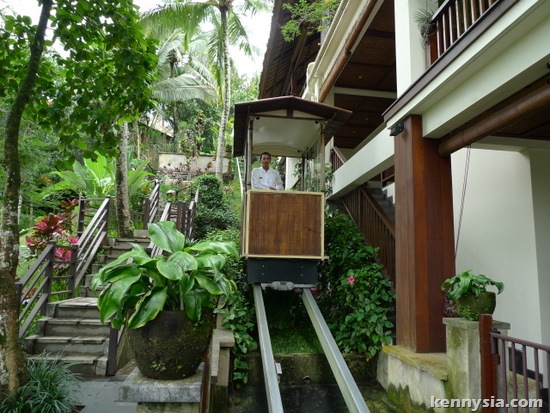 It was the best place in Bali to recharge and rejuvenate. On top of it all they got free internet access, outdoor bathtub and my favourite – the heated infinity private pool.
I LOVE the private pool!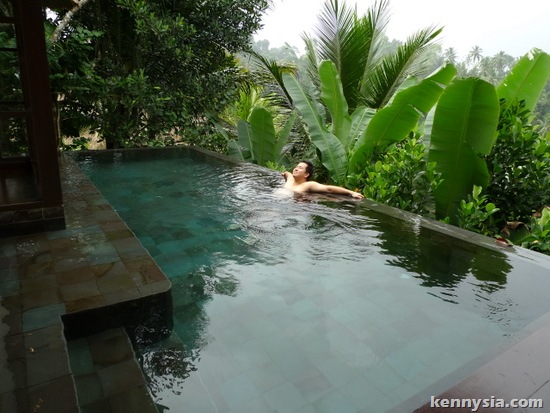 All of them are built in such a way to resemble Bali's cascading rice paddy fields. It was very relaxing and very romantic.
But the private pool wasn't the best thing about Ubud Hanging Gardens.
Just outside the restaurant, overlooking the forest, is the resort's most jaw-dropping feature: the double-storey freeform infinity pool.
It was breathtakingly AMAZING.
Imagine being able to swim right up towards the edge of the pool and do this.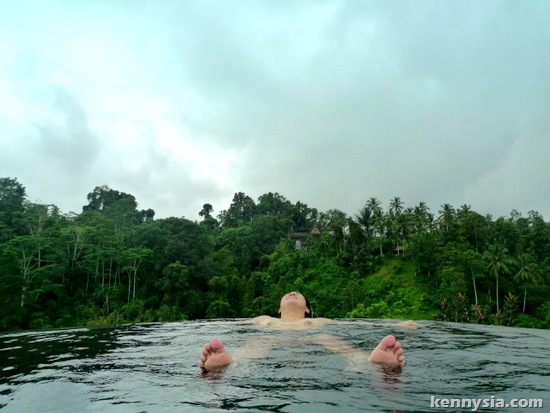 It was pure magic. This is the closest thing to swimming above the skies.
You can see in the picture that there's a Balinese temple perched on top of the hill in the distance. At night, they light up the temple so it looks as if it was floating in the air.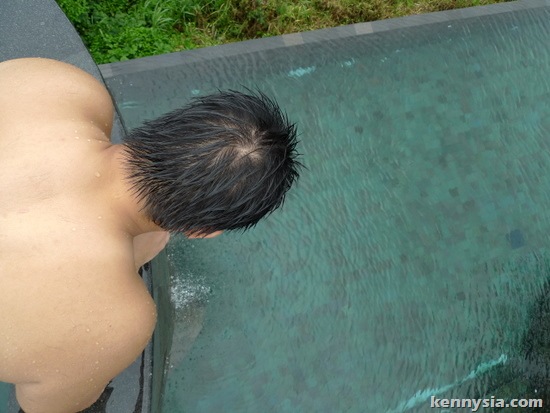 Overlooking the edge of the infinity pool. Don't worry, I won't jump.
After our stay at the Ubud Hanging Gardens, we returned to Seminyak where all the restaurants, shops and parties are located. This time round, we stayed at another equally stunning hotel called Anantara Seminyak.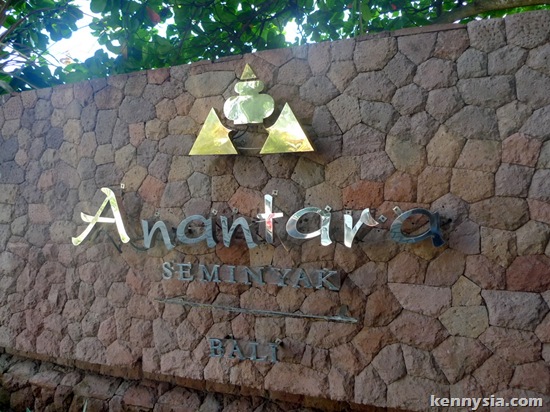 This hotel is not located high on the hill nor in the middle of a dense forest.
I came to Anantara Seminyak for jaw-dropping ocean views like these.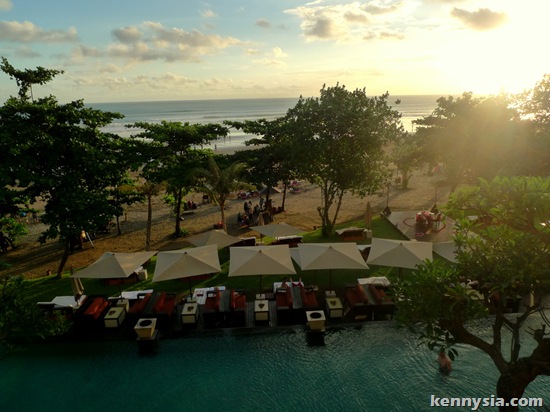 It's less "green", more "gold". In fact, there's a million-dollar view right from the balcony of every beach-facing Ocean Suite. I thought sunset at Ku De Ta was amazing. I obviously ain't seen nothing yet.
Anantara Seminyak is targeted towards honeymooners and those seeking for a stylish romantic getaway.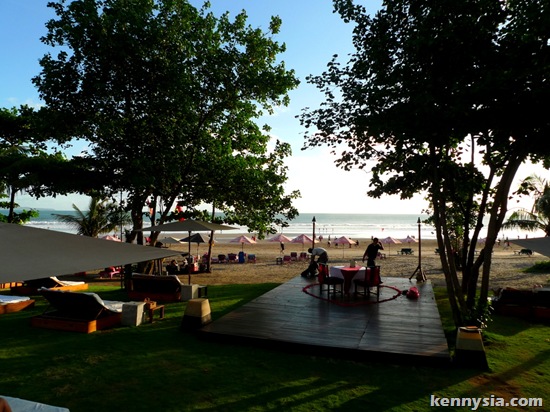 This is not where you'd come if you want some quiet "alone time" in the forest to meditate. For that, stick to Ubud.
If you wanna impress a date, this is perfect.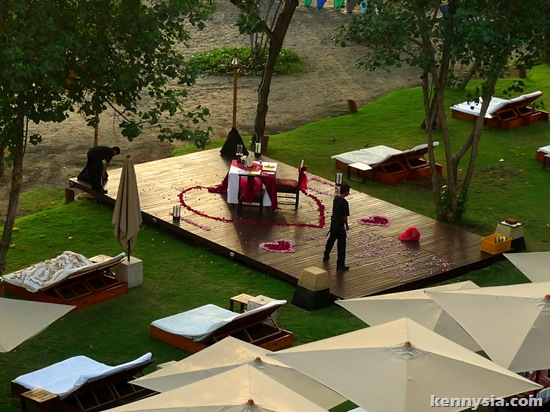 Start the evening with a romantic candle-light dinner by the beach.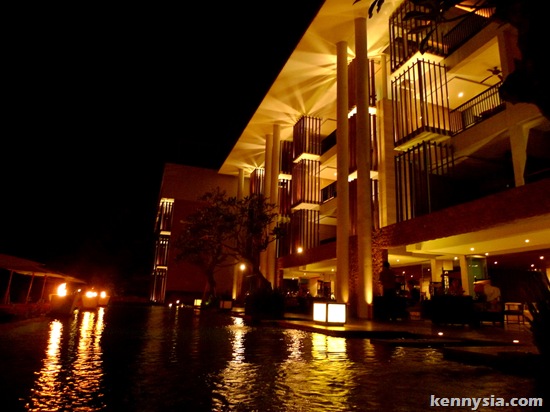 As night falls and temperature drops, take her in to your hotel suite for something a little bit more cozy.
She will be impressed as soon as she opened the door.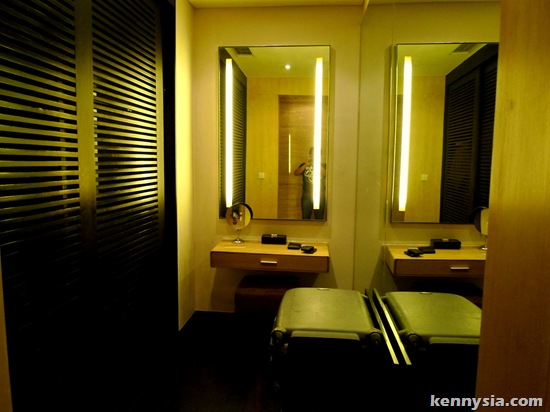 First, she sees a nice walk-in wardrobe.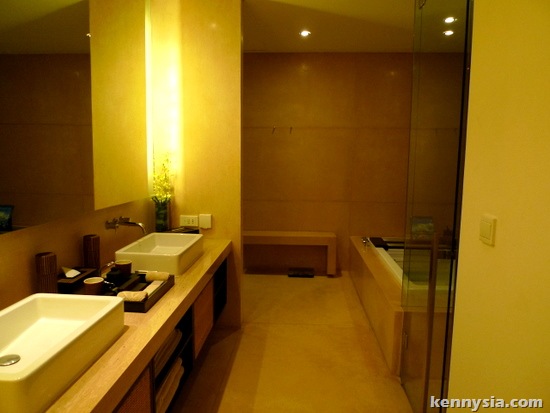 Further down the marble corridor, she sees a spacious bathroom area, complete with aromatherapy soaps, a Jacuzzi bathtub and a rainshower with three different options for massage.
You can't help but to grin…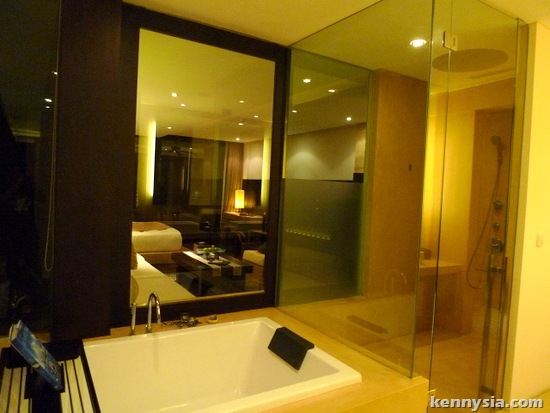 …because you know the bathroom is see-through.
Next, THE BEDROOM (oh yeah, baby).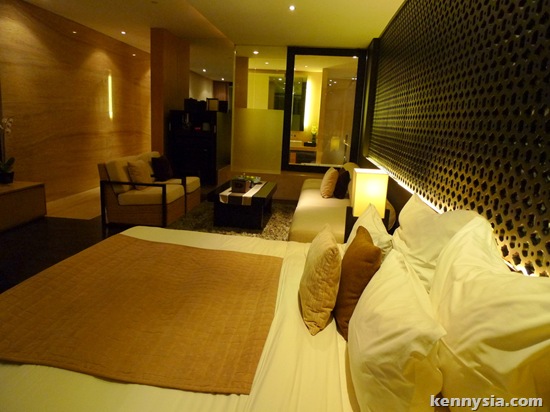 The bed is built-in, oversized, sexy and extremely comfortable.
She's in awe. She knows she wanna spend the night here.
So you put on some music on the Bose Sound System.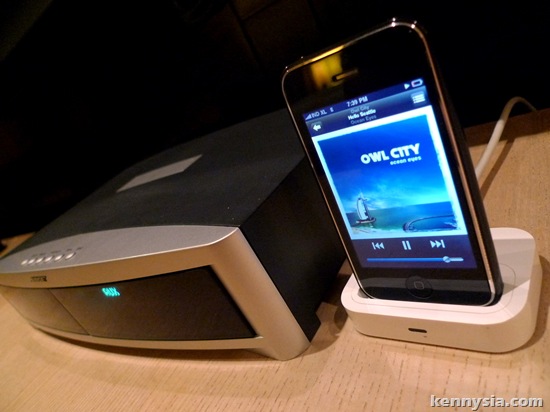 Hopefully something more Barry White instead of Owl City.
And the rest… is up to your imagination. Heh.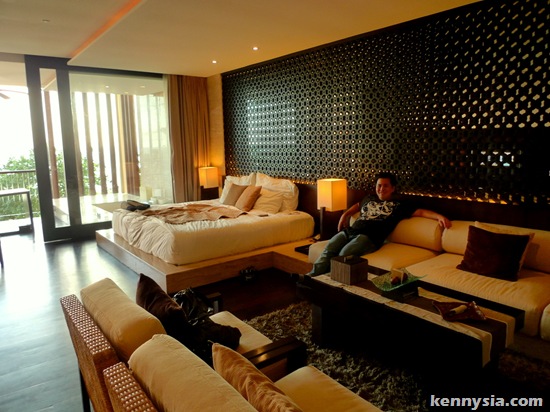 The suites at Anantara Seminyak is my idea of the ultimate bachelor pad.
It's not exactly where I'd bring my mother to, because let's face it, who wants to see their mother in the see-through bathroom?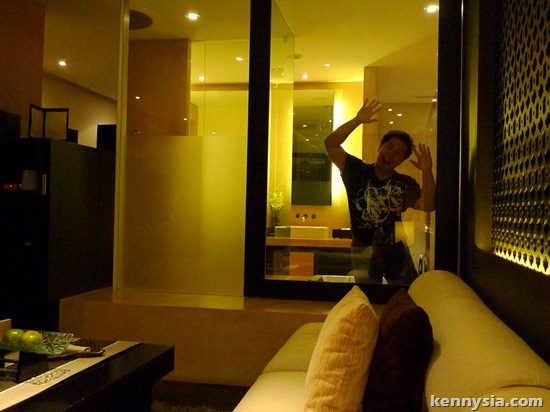 The suites at Anantara may not have their own private pool, but who needs one when you can sit in the outdoor jacuzzi soaking in the ocean view?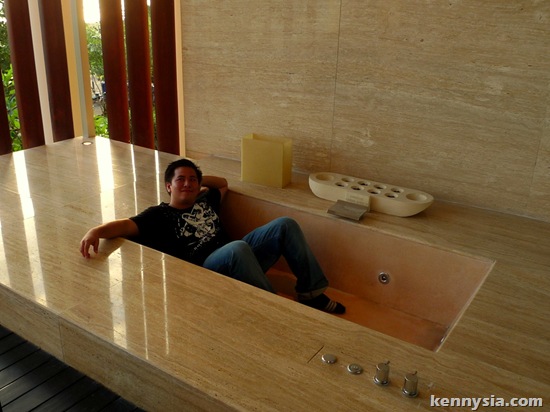 A night's stay here cost USD450 so it's really for those who have a bit more in their pockets.
Without spending that much to sleep a night at Anantara, it's still possible also to enjoy the famous sunset over Seminyak at their stylish rooftop lounge. Lots of jet-setting, mojito-sipping, good-looking people to see here.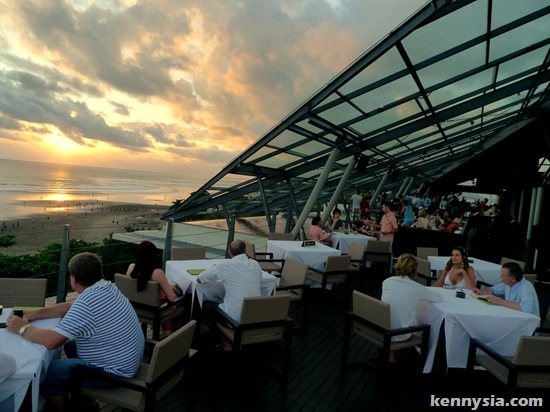 You can't help but to be one of them.
Besides, there's nothing quite like sitting on a plush daybed, sipping designer cocktail, listening to cool chill out music playing in the background while watching the sky changes colour as the sun goes down.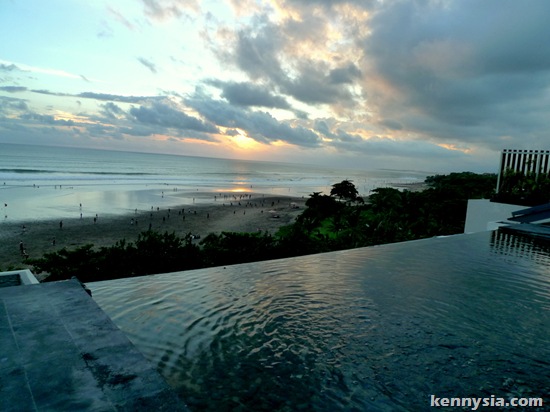 It's my third trip to Bali, and still it ranks as my favourite holiday destination in the world.
Yea, it's true that Bali can be done very cheaply. A lot of first timers stay in Kuta because it is cheap. But Kuta is possibly the worst possible place to stay in Bali.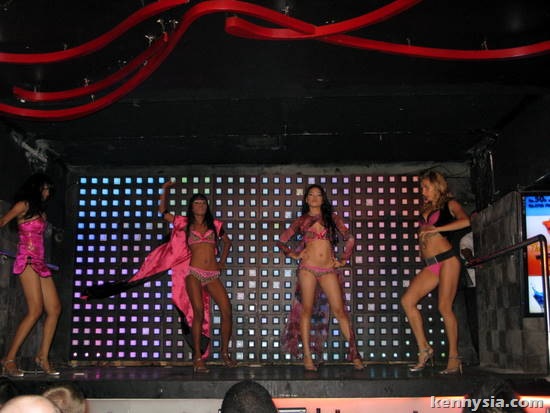 The problem with Kuta is that the dodgy nightclubs, the drunken Australians, the overpriced souvenir shops, the traffic jam and the drug pushers all ended up making me more stressed than I was before I left for holidays.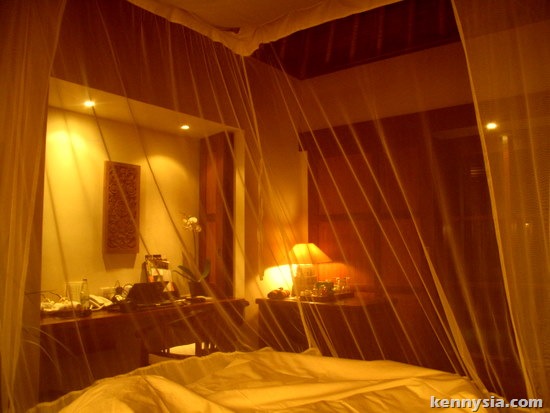 I go to Bali to recharge my batteries and to forget about work for a while. Places like Ubud and Seminyak did the trick for me.
Last year, I stayed in this hotel in Kuta. We arrived so late that the reception counter was closed. In the end, the person checking us in was actually the hotel's security guards.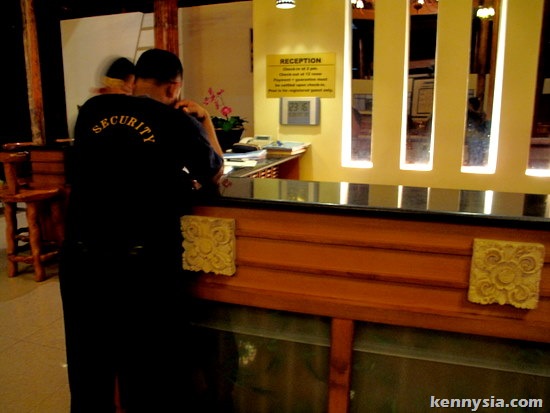 These two muscular guys were not just the hotel's security guard and receptionist, they were also the hotel's housekeeper.
When we called the reception and asked to put in an extra bed for us, guess who came to our rescue?
Yes, the same two security guards.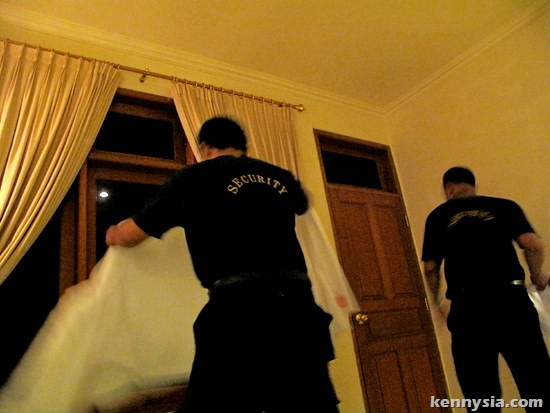 Made my Bali holiday looked like an episode of CSI.