Tulan
n. adj. tu·lan
A pig's penis.
A feeling of extreme dissatisfaction and unhappiness.
What Kenny Sia is feeling right now.
Example of usage:
Have you ever had a tulan moment?



As a blogger whose photography and writings are freely published on the Internet, one of the most tulan things that could ever happen is when some other blogger took my work and published it as THEIR OWN without acknowledging kennysia.com as their source.
Something else EVEN MORE tulan is when I read newspapers or magazines, and find out that the article they published look suspiciously like what I've written before on my blog.
But that is still ok.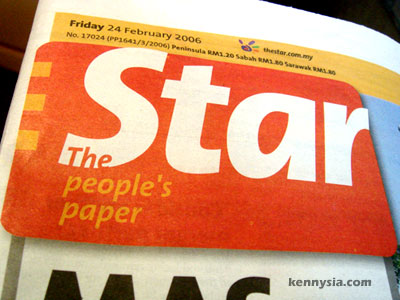 But when some stranger stole a photo I took from my website, removed the kennysia.com watermark, mailed it to a major newspaper, AND THEN won herself a whopping RM50 in the process. I tell you, I won't just be feeling si beh tulan ok?
I will be feeling THE MOTHER OF ALL TULANS!
THE KING OF TULANS!
I'm not talking about normal cute cute pink colour Hello Kitty-sized tulan.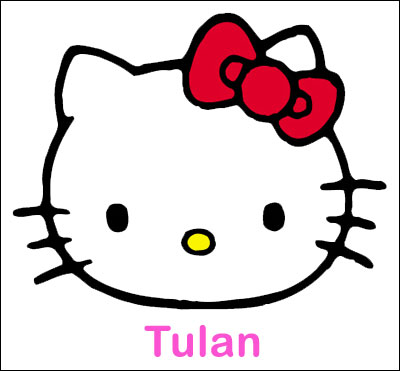 NO.
I'm talking KING KONG BIG-TIME PISSED-OFF CHAO MOTHER TULAN OF ALL TULANS!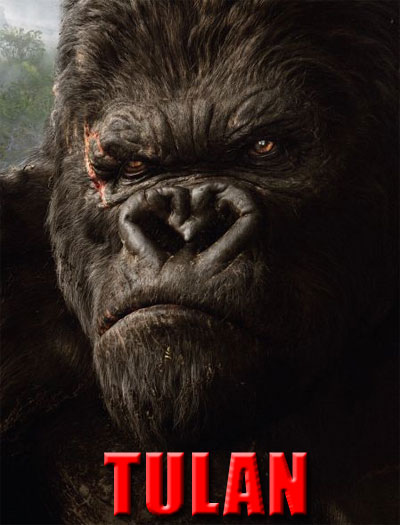 This is a picture someone mailed in to The Star published on page N34 on the 24th February 2006. (Thanks for the heads up, Matthew)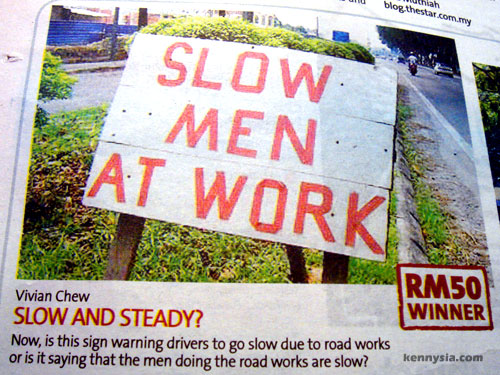 And THIS is the picture of a roadsign I took some 9 months ago along Jalan Tun Jugah where a new car showroom was being built.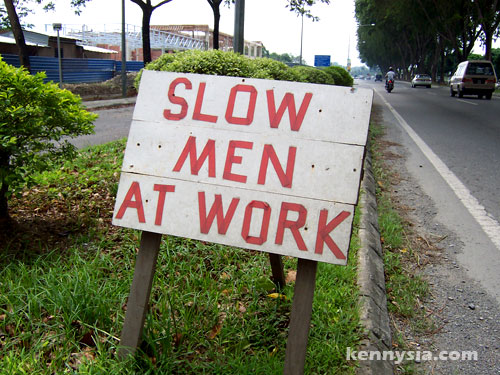 Would I not be feeling si beh tulan, knowing that someone who stole the photo I TOOK USING MY OWN CAMERA got this?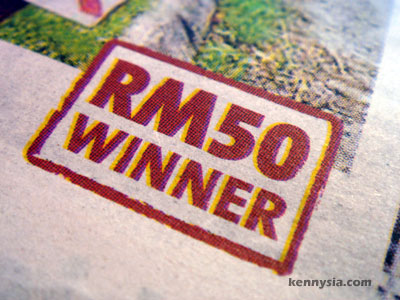 BLOODY HELL! Who is this Vivian Chew? Makes me wanna chew Vivan Chew.
Dammit, I want my 50 ringgit back!

Blog plug of the day: cute babe + camwhore = babelicious69 = a good blog for swallow shallow people like me.
Disclaimer: babelicious69 is NOT Vivian Chew. I repeat, she is NOT Vivian Chew!