Pulau Tioman + Good company + 4 days of doing absolutely nothing = A very, very, very relaxed Kenny.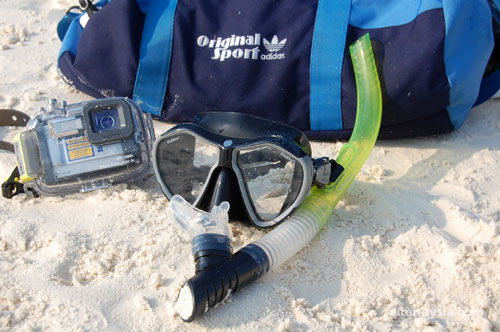 Tioman is every bit of an island holiday that I imagined it to be.
Powdery white sand.
Swaying coconut trees.
Turquoise blue waters.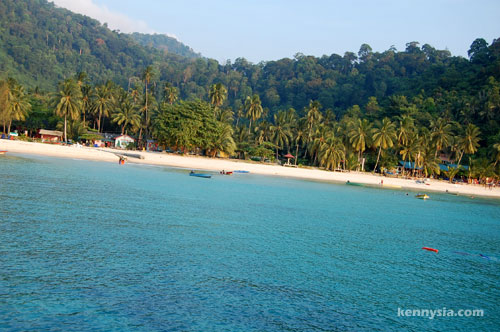 For such a popular holiday destination, Pulau Tioman is ridiculously difficult to get to. From the Johor airport, it's a 2 hour long taxi ride (RM160) directly to Mersing jetty, then it's another 2 hour long ferry ride (RM35) before we arrived at our final destination – the backpacker's paradise of Kampung Salang.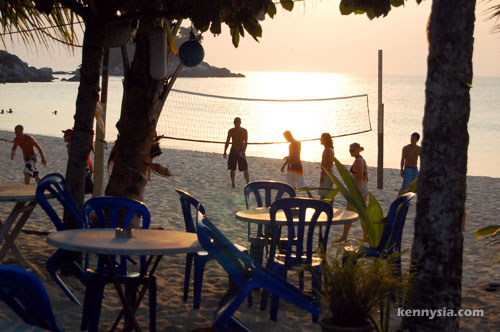 The reality of travelling with two girlie girls sunk in when during our taxi ride, Joyce somehow miraculously managed to convince us to take a detour to Toys 'R Us, where I was miraculously coerced into buying this multi-coloured spinner toy.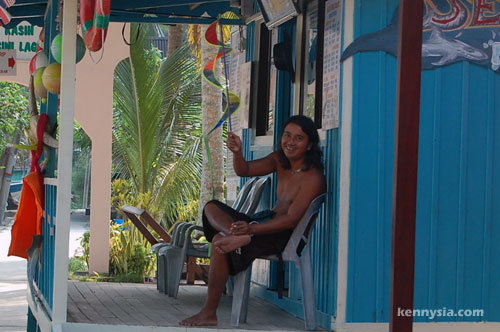 It was the gayest thing in the history of gay that I have ever spent my money on. But Kenny Sia is a team playah so I bought it anyways.
No, there's absolutely no chance in hell I'm gonna post a photo of myself playing with my gay multi-coloured spinner toy.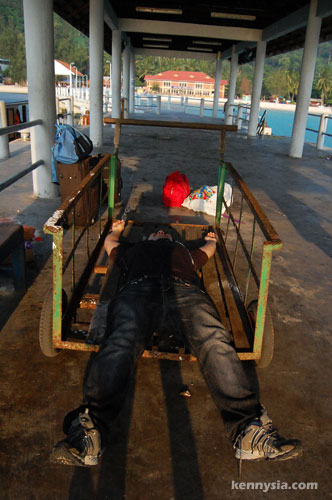 After years of not knowing what cartoon nickname to give me on her blog, Joyce finally nicknamed me "Doraemon".
Not just because I am round in shape, but because I was carrying more luggage than Mary and Joyce combined.
Not my fault k? I had to bring along all my diving and trekking gear! All those two had to carry were tubs of beachwear and bikinis.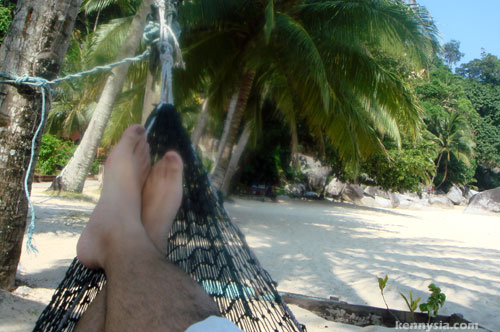 Bliss is lying on a hammock as the cool breeze gently rocks me to sleep.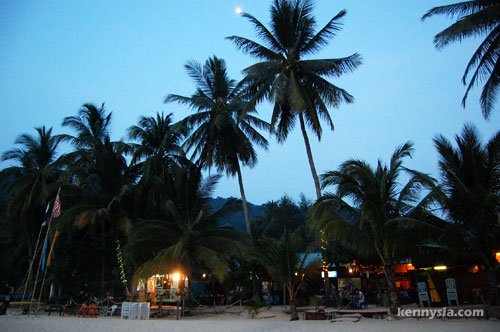 At Kampung Salang, our phones were safely out of reception and eventhough there is internet connection, it was slower than dial-up.
It's a good thing I suppose, because it forced me to take my mind off things for a while.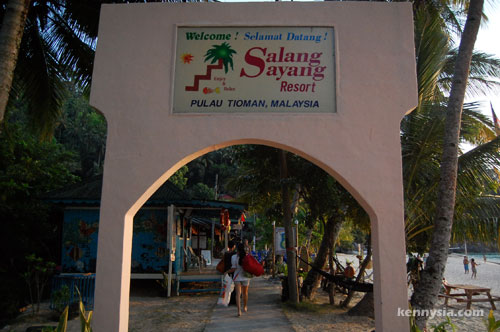 Mary is brilliant.
She managed to book ourselves a decent 4D3N package at Salang Sayang Resort at a dirt-cheap price of just RM140 per person in total. Not bad, considering it's long weekend when we were there.
The resort isn't anything fancy but it sure has a lot of character.
Placed neatly on the reception desk, is a box of limited edition Abdullah Ahmad Badawi branded tissue papers.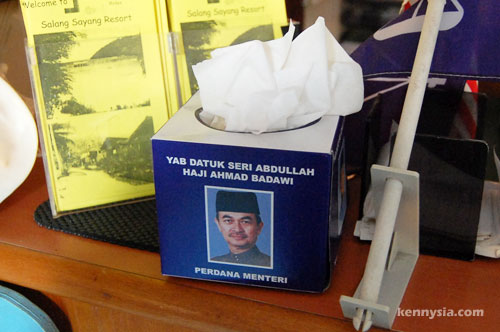 Seeing our Prime Minister's face on a tissue box looked kinda funny actually.
Some may argue that his face should be better printed on tissue paper itself and not on the box. Others would suggest that the tissue box should be for toilet use instead.
But of course, that's a different story for another time.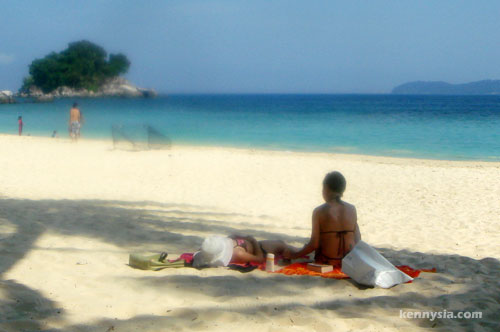 Beach babes sunbathing in their pretty bikinis are a common sight at our hotel beachfront.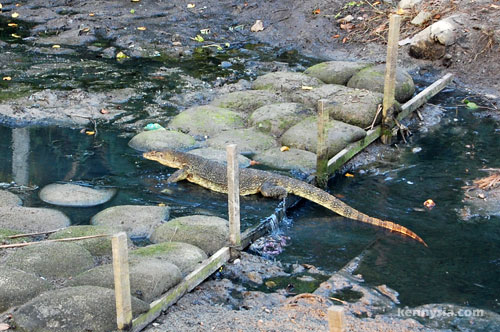 Almost just as common (but justifiably less attractive), are monitor lizards as big as crocodiles.
Occasionally you can spot some animals doing weird things in Tioman.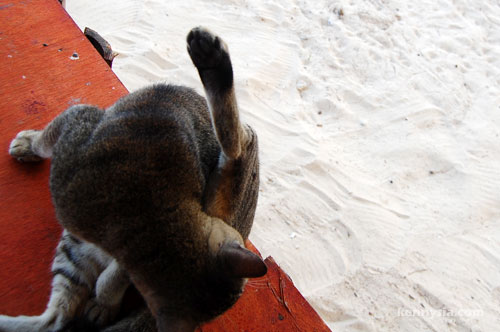 Such as this cat giving himself a blowjob in full view of the public.
For Mary, Joyce and myself, our activities in Tioman can pretty much be summarised as follows.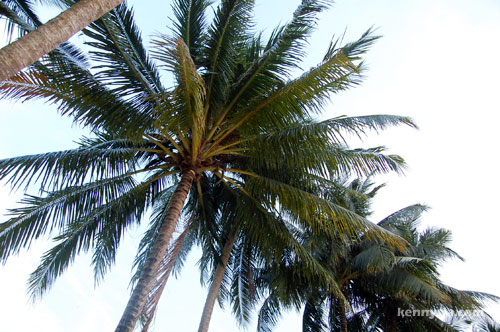 In the morning, we dive/swim/snorkel/lie on the beach and do nothing.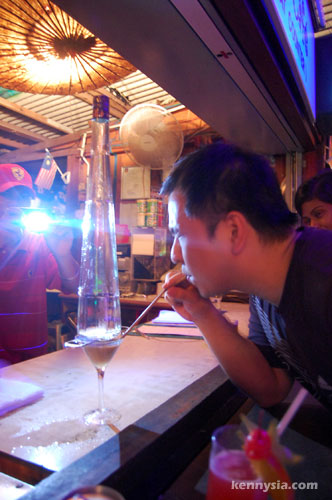 When the sun goes down, we head out to Four-S Cafe, the one and only bar in Kampung Salang to drink, chit chat and be merry.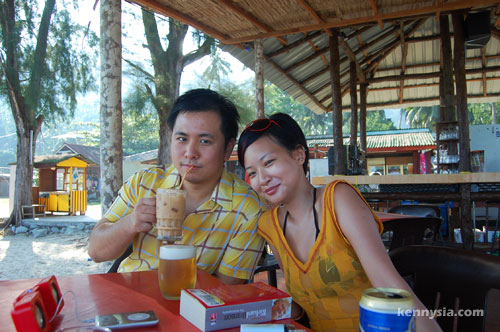 Although, if your name is JoyceTheFairy, you can continue drinking Tiger Beer for breakfast whilst the rest of us mere mortals just drink Teh Ais.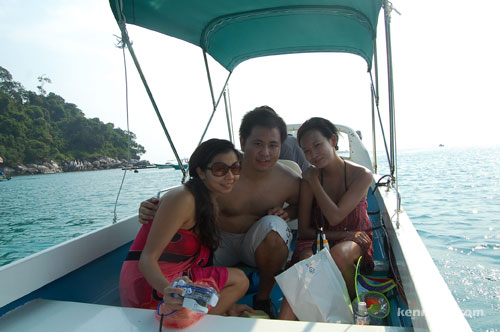 Our excursion to the nearby Coral Island was the favourite part of our trip eventhough everything that could go wrong seem to go wrong.
First, our speedboat ride from Tioman to Coral Island was so hard and bumpy that by the end of our 30-minute journey, my ass developed MUSCLES.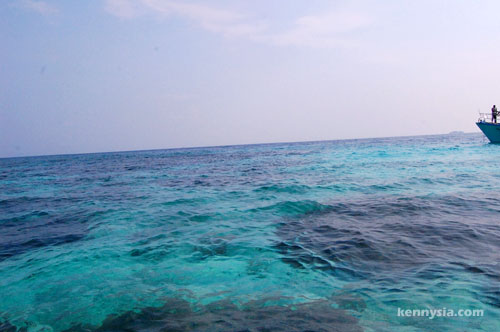 Secondly, after we arrived at beautiful Coral Island, we realised the boatman had forgotten, of all things, our snorkelling gear!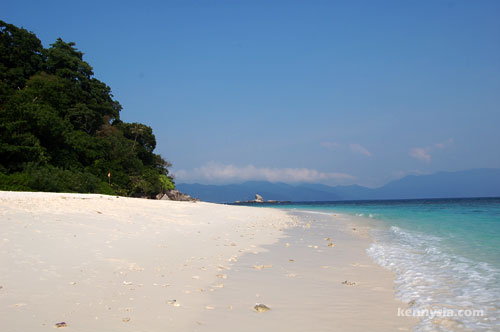 What a waste, considering how breathtakingly gorgeous Coral Island is.
Luckily, all is not lost because of the great company that we have.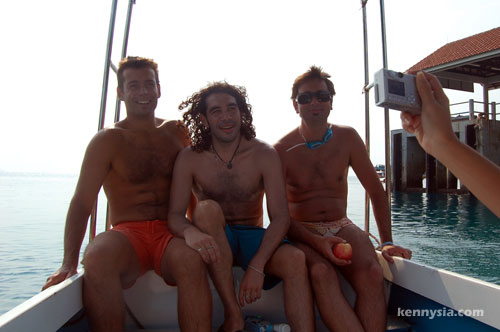 Emilio, Denis and Costantinos are three travellers we met during our diving trip and hit off immediately.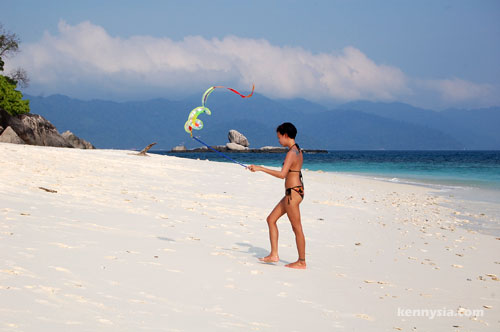 As soon as the last of tour boats left, the six of us virtually had the whole beach to ourselves and we made the best of what we have by snapping hundreds of happy pictures by the beach.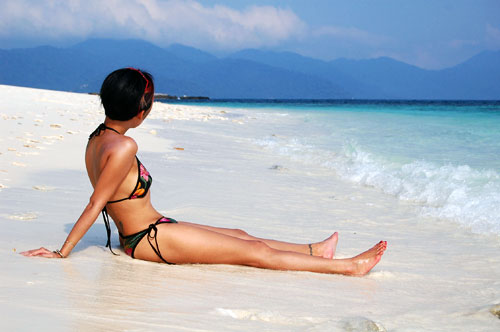 JoyceTheFairy posing for Tourism Malaysia.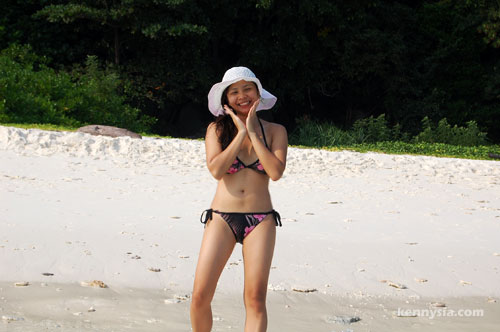 Lady Mary posing for Colgate Malaysia.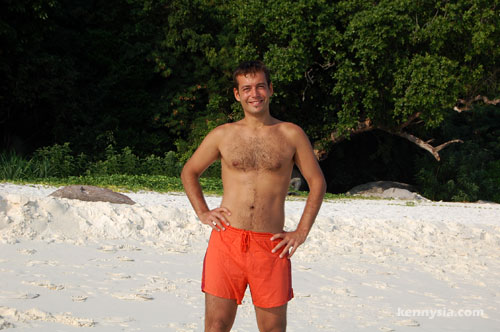 Emilio posing for Baywatch Malaysia.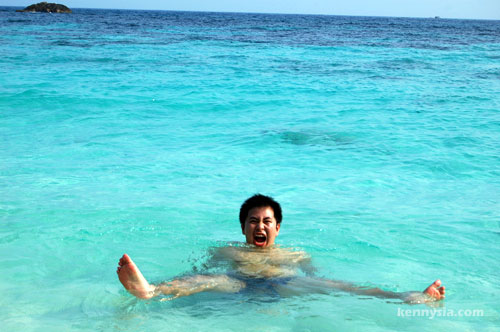 Kenny Sia posing for People-Who-Like-To-Pretend-They-Are-Sharks, Malaysia.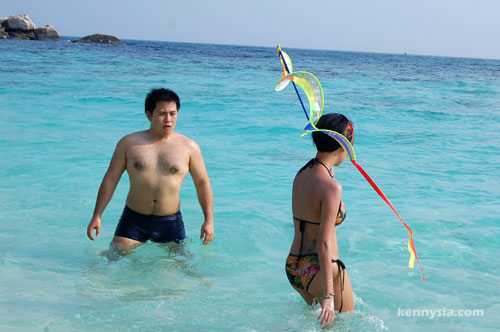 Dunno what exactly, but there's something inexplicably funny about this photo.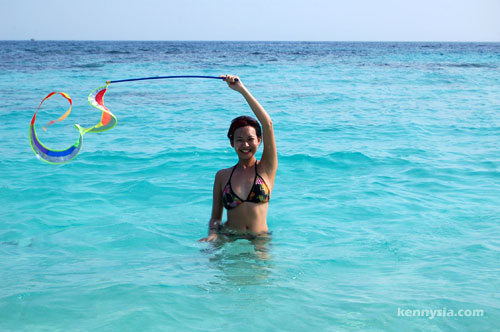 Happiest photo of Joyce playing with the spinner on the beach.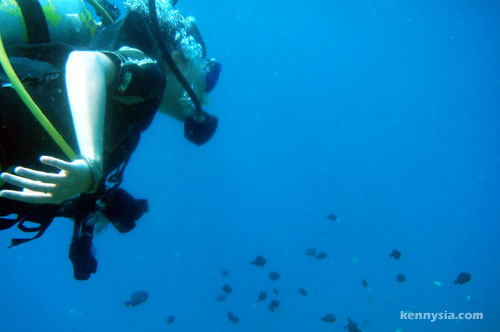 Diving in Tioman was quite a disappointment and not as pretty as many of us had expected.
There were so much dead corals surrounding the island that the place was almost like one big friggin graveyard for corals. I don't know, maybe I was spoiled by the virginity of the underwater world in New Zealand, but I didn't pay RM90 per dive just to see dead corals.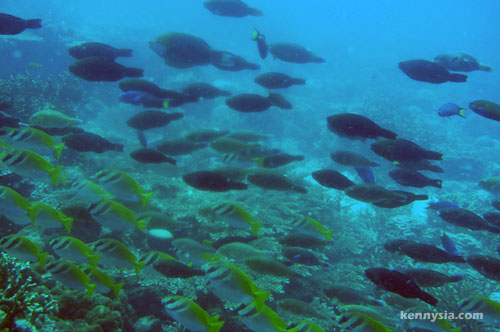 At least we still saw plenty of colourful tropical fish.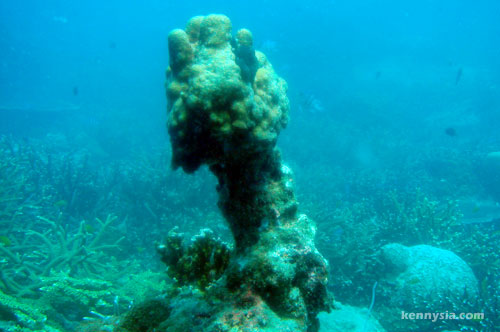 Funny-looking rock formations.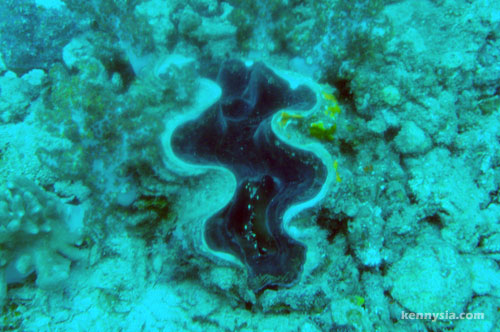 And giant clams that resembled some kinda gross vagina.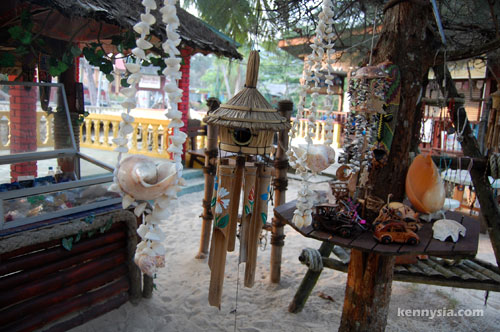 All in all, what a great holiday for the long weekend before heading back to the office.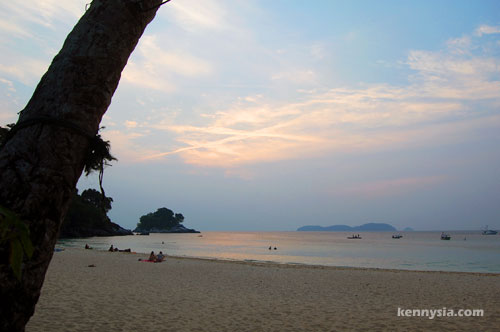 Can't wait for my next hedonistic island holiday.

Music of the Week: This song is what living in Malaysia means to me. Forget about politics. Forget about racism. 'Here In My Home', 52 of our homegrown artistes will tell you what it's all about.
If you like it, please spread the song around. It's free.