It was something I could never have expected when the brand manager of Mister Potato called me up.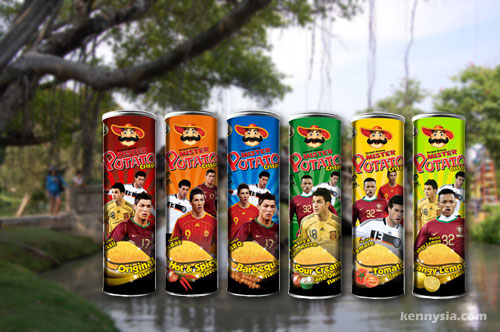 Mister Potato: "Would you like to make a cameo appearance in our latest TV commercial?"
Kenny Sia: "What! Me? You sure? It sounds fun, but… I dunno how to act leh!"
Mister Potato: "Don't worry about it, it's just a cameo. Besides, there will be there people telling you what to do."
Kenny Sia: "Does that mean I have to fly to KL?"
Mister Potato: "No, the shooting will be done in Bangkok!"
And with that I found myself in Bangkok, Thailand for this once in a lifetime opportunity to appear in an ad for Mister Potato.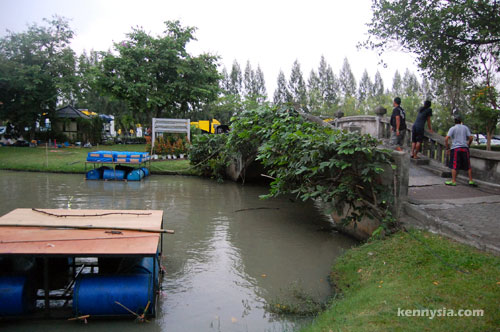 Okay. I know I am not an actor, I have never acted before and I have zero clue on how the whole thing works.
I was confused, but at the same time honoured that Mister Potato actually has enough faith to handpick me to make an appearance in their TV commercial. Not only that, they flew me all the way to Bangkok to do the shoot!
Not like there's not enough qualified actors in Thailand. But when such a big corporation like Mister Potato is willing to bend over backwards for me, of course I feel compelled to do a good job for them.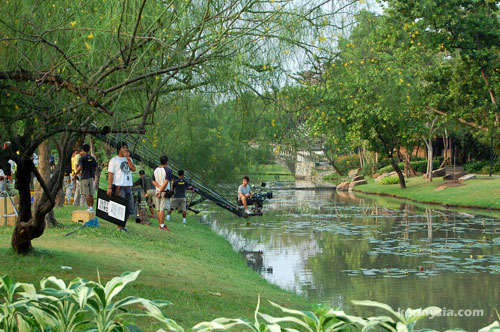 Question is, why of all places, Bangkok?
Well, if there is one thing I know the Thais are good at making (apart from spicy Tom Yum soup), it's their rib-tickling pants-droppingly hilarious TV commercials.
The best thing is, I didn't even know until I arrived on set that I would be working with not just one of the best production houses in Thailand, but throughout the whole of Asia as well.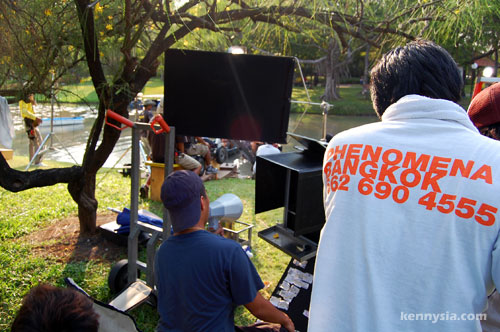 Phenomena is the TV commercial production house responsible for a lot of those funny Thai commercials that you see circulating around the Youtube.
They are really well-known in the advertising industry, and even produced the most awarded TV commercial director in the world. In fact, they have won so many awards, they were even given an award for winning too many awards!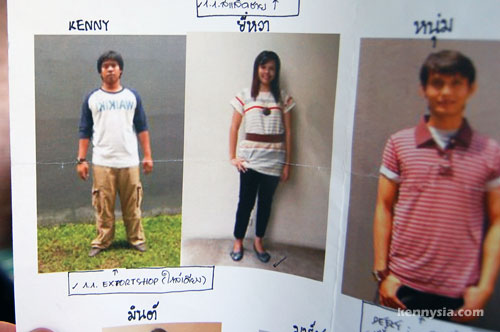 I've never done any of these before.
Because I couldn't attend any of the casting and fitting sessions before the shoot, Phenomena went through quite a bit of trouble for me.
We communicated a lot through e-mail, and when I found out they basically used this random guy to model for the photos for my wardrobe, I LOLed.
Can see from his face that he looked quite tulan lah, as if saying, "Nabeh this Kenny Sia didn't come early to Bangkok. Made me to the dirty job for you only."
Sorry, dude!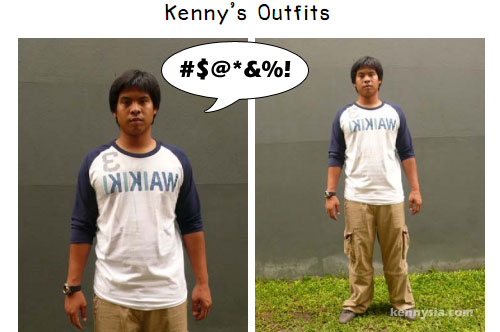 Then there's this other thing about the casting process that really tickled my funny bones as well.
Before I flew to Bangkok, I was requested to fill out this casting form.
The FIRST question they asked, immediately after I filled out my name and age, was this: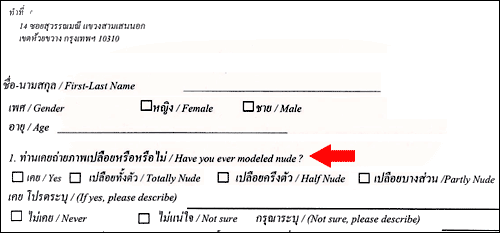 HAVE YOU EVER MODELLED NUDE?
What!? What kinda question is that?
To me, that was almost like the equivalent of going up to a girl, asking "Hi, what is your name?"
"Now can I see your boobs please?"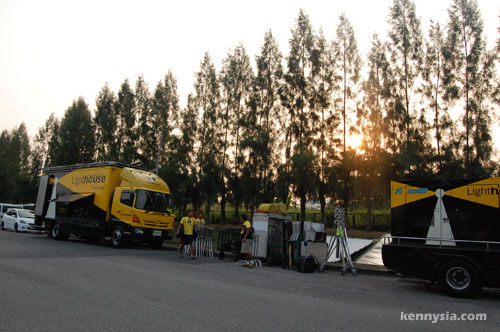 I was really excited about doing my first TV commercial. Having slept only just a few hours the night before, I arrived on location bright and early at an ungodly hour of 6 in the morning.
Filming was done in a quaint park located some distance away from central Bangkok. When I arrived, two huge semi-trailers were already parked by the roadside and a team of about 30 workers was busy carrying stuff, clearing rubbish and setting up props to prepare for the shoot.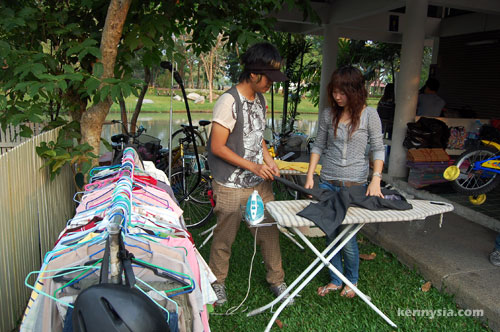 I was simply astounded by the level of preparation for this shoot and attention to detail for everything. It was pretty impressive. They got props for every little thing I could think of, and virtually every other thing no one could've thought of.
They were so attentive that they even prepared English-language signboards to cover up the original Thai ones in the background just in case, and even mini-trampolines so we could jump higher than what we're capable of.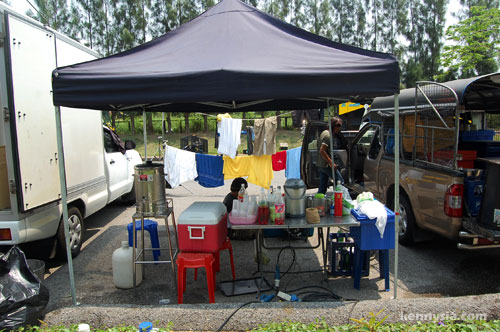 Actors are treated very well by the production team.
This is the food area, where the crew has very considerately prepared meals and drinks for us.
There's also a makeshift laundry and clothing line to hang our wet clothes.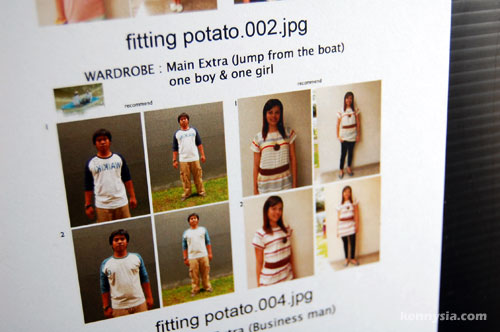 I was promptly introduced to the wardrobe department, who already had my outfit ready.
In my opinion, the wardrobe department was the coolest department of the production team. The casting manager was this nice auntie who knew exactly what look she wanted out of me.
All I was asked to do was change into the T-shirt and pants they provided, and then just stand still on the spot while three people simultaneously worked on my hair, my accessories and my clothing.
In no time, I was transformed from Kenny Sia to "Guy In Boat" in the Mister Potato Commercial.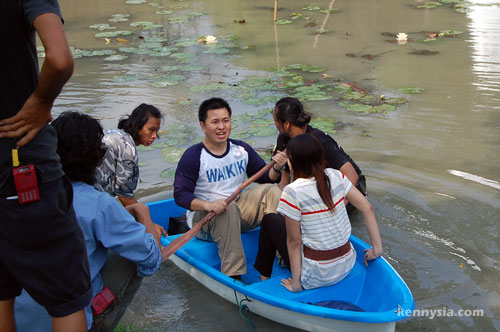 If you guys had watched the video, you'd know that the ad was actually pretty short. In fact, it was only half a minute long.
How long does it take to shoot a 30 second long video clip? Certainly not one whole day, I presume!
30 seconds isn't very long and by right, the filming process should finish pretty quickly. At least, that was what I hoped so I could bugger off and enjoy a 3-hour-long Thai spa session.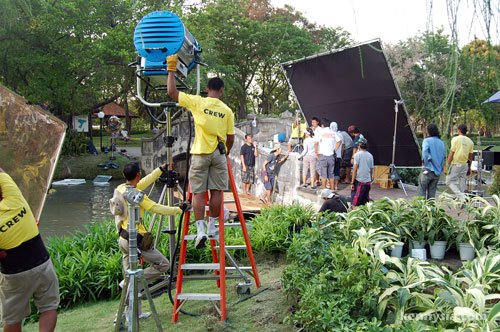 Despite it being only a 30-second-long TV commercial, in reality we had to shoot multiple scenes because the director wanted to have a wide selection of different footage at his disposal for editing later.
Some scenes even had to be repeated over and over again to achieve the best take. Even if one person accidentally made an error, the ENTIRE scene had to be resetted and then we had to do it all over again.
The whole shooting process was long, gruelling and tiring. For those of us as extras, there's a lot of idling and waiting in between scenes, which was something I'm not used to since I've always been a workaholic doing many things at once.
On the good side, I had some free time to get to know my other cast members better.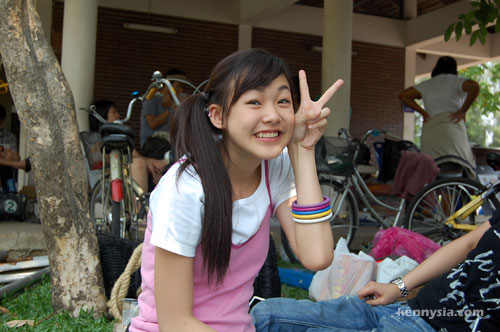 The Thais are really fantastic people. Almost all of them took the effort to chat up to me eventhough we know we're gonna have trouble communicating fluently. They asked me about Kuching, and some even wondered if I were some kinda movie star back home because I was specially flown in from Malaysia.
To that, I laughed and laughed and laughed until my left tit fall off.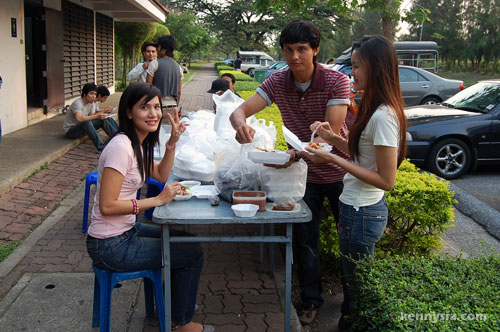 For once, it was actually pretty refreshing to speak to the local Thais without them trying to sell me souvenirs/give me massage/ride their tuk-tuk.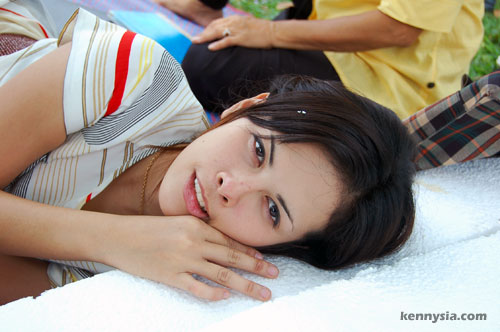 This is Yue Hwa. She is my "girlfriend" who I shared a bed boat with in the commercial.
In real life, Yue Hwa is a 19-year-old student whose exotic looks comes from her Italian and Thai parentage. She was the only person I spoke to in fluent Mandarin, which she claimed to have picked up herself after subjecting herself to Mando-pop songs by Fish Leong.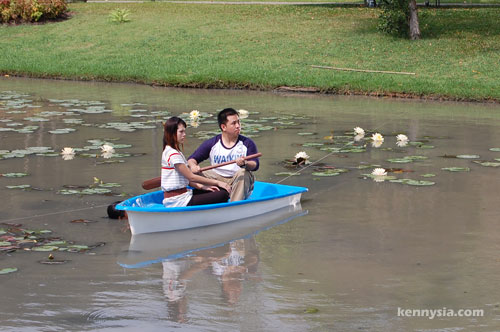 The first scene that Yue Hwa and I had to do was also our most difficult.
What we're supposed to do is, on the director's cue, shout out loudly, jump as high as we can from our boat into the river, and then swim as fast as we can towards the bridge.
"Swim like you are a crazy person!" said the director.
Sounds simple? Not quite.
I already made a mistake on my first try.
I was so excited that instead of LEAPING from the boat, I lost my balance and TRIPPED myself into river like a fat elephant.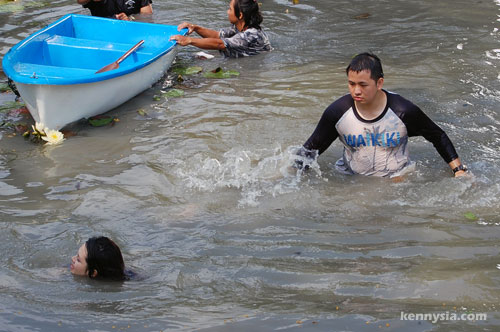 It was the most awkward-looking jump I had ever done, and the wobbly little boat didn't make things better.
Obviously I ruined their footage. And obviously I couldn't do another take right away because I was already drenched in filthy river water.
So how?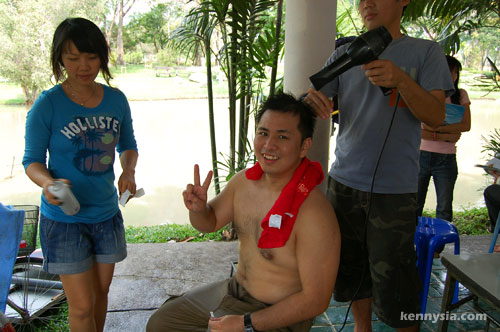 The crew helped me out from the murky river and proceeded to blow me dry all over using a HAIRDRYER.
I barely even had time to catch my breath because 10 minutes later, I was put back on the boat and to do a second take.
Then another accident happened.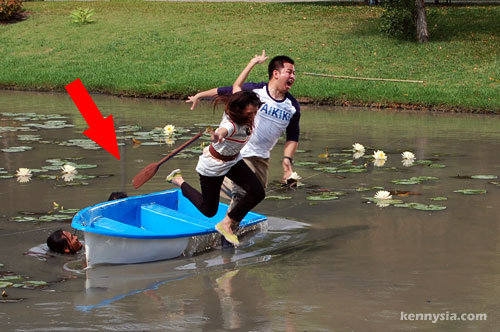 The director told me to act like a mad man.
But I got into "the zone" so much that as soon as the director yelled "Action!", I threw away my paddle so hard that the damn thing flew and hit the head of the crew member behind me.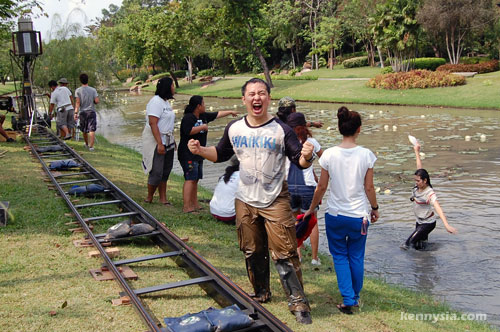 It must be the most excruciating pain ever and he complained to me about it.
Luckily for me, the guy was ok about the incident. Accidents do happen, especially when you're dealing a noob actor with no prior acting experience.
Some other actor however, wasn't as fortunate.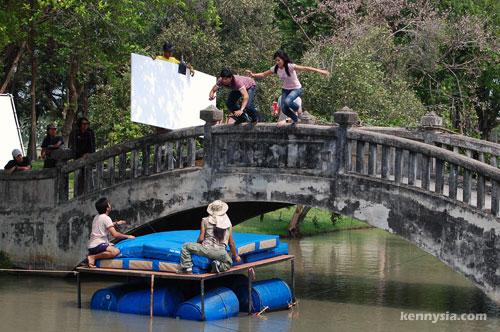 Among our cast, there's this damn impressive stuntwoman whose role it was to run past the main character, jump off from the bridge onto this floating barge that's supposed to cushion her fall.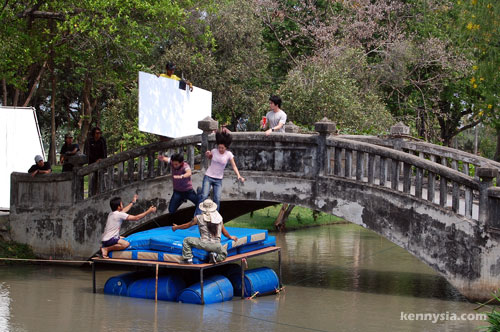 Unlike me, Miss Stuntwoman is by no means a noob in acting. She has worked as a theatre actress before on the set of Wild Wild West in A'Famosa Resort, where she had to jump down from buildings and perform other death-defying stunts.
But somehow when Miss Stuntwoman leaped from the bridge onto the barge, she landed awkwardly and sprained her ankle bad.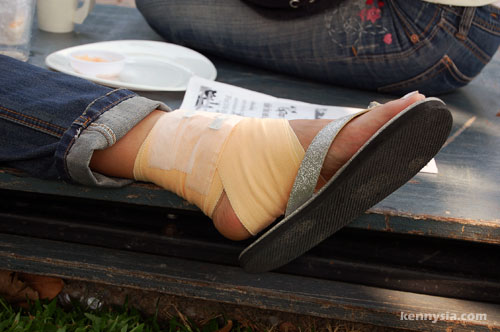 The girl was in so much pain she had to be sent to the hospital immediately. At that point, I thought we might have to call off the shooting since we're down by one cast member and there wasn't anyone to replace her.
By right, the last thing anyone in her situation would think about is to finish the ad.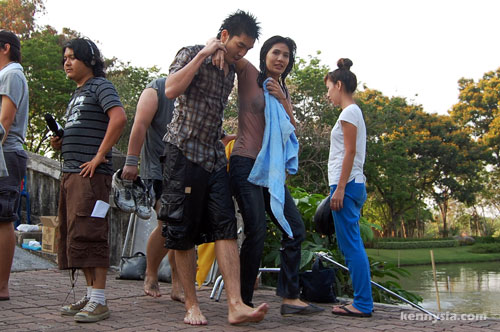 But instead of heeding doctor's advice to stay at home and take a break, Miss Stuntwoman limped back to our filming location, bandaged ankles and all.
That, my friend, didn't just take guts.
It takes BALLS.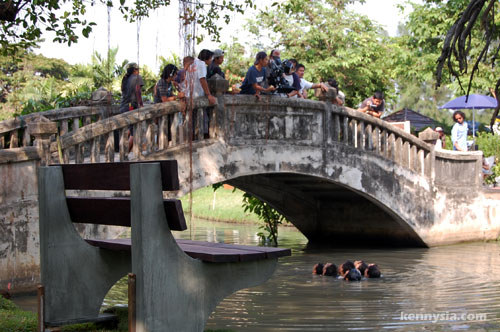 The final portion of the ad was when we had to soak ourselves in river water. Ironically, it was the most unpleasant and yet my favourite part of the shoot.
There was this scene where we all had to poke our heads out from the murky river water, and then open our mouths wide and show our greedy faces.
Try as we may, this was how pathetic we all looked when we did what we did.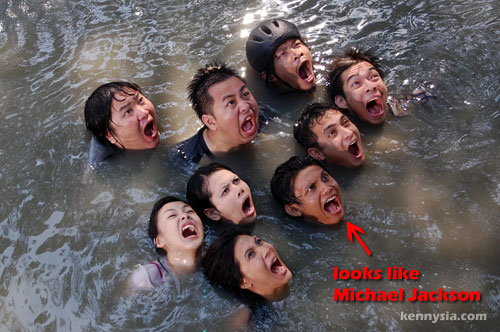 We were asked to hold our facial expressions for as long as we could.
But then our jaws got tired from opening so wide for so long, and we ended up looking a bit stupid like this.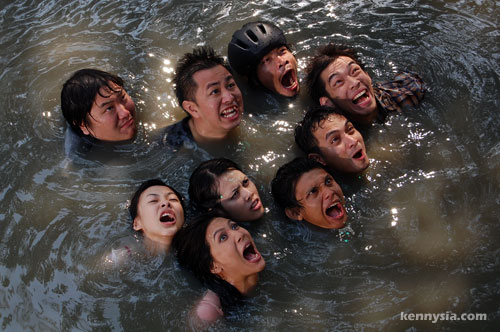 Now, being immersed for three whole hours inside stench-filled disgusting river water wasn't exactly my idea of fun.
We joked around and tried to take our minds off the odour. The production crew was also nice enough to pass us bottles of ice cold water during every break.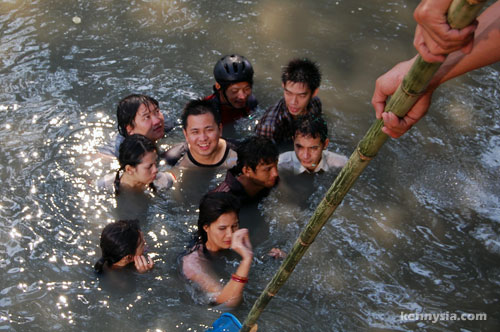 Somehow I couldn't help but to laugh at myself at the irony of my situation.
While everyone else goes to Thailand to soak themselves for 3 hours in traditional Thai spas, I actually went to Thailand to soak myself for 3 hours inside filthy the river of Bangkok.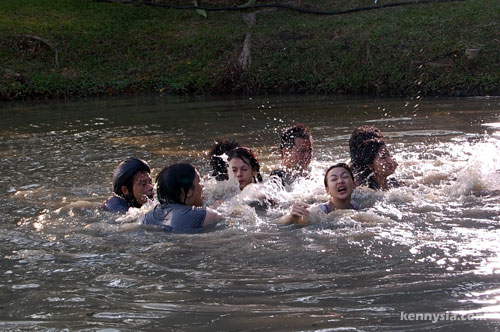 As we splashed around, I must have lost count on the number of times I inadvertently swallowed those dirty river water. And let me tell ya, it sure didn't taste good.
All I could think about at that point in time was a glass of ice cold beer, and two cans of my favourite Tomato-Flavoured Mister Potato chips.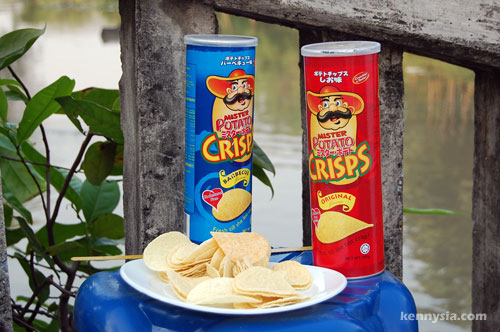 Still, we made the most out of the situation and even went on to shoot multiple endings for the TV commercial. Some of those alternate endings we shot were really quirky and funny, and if we're lucky, Mister Potato could release those versions online.
After doing many different takes of me jumping from the boat, blowdrying myself, dipping in the dirty river and splashing around like a mad man, at long last the director shouted "Cut!" for the final time and called it a wrap.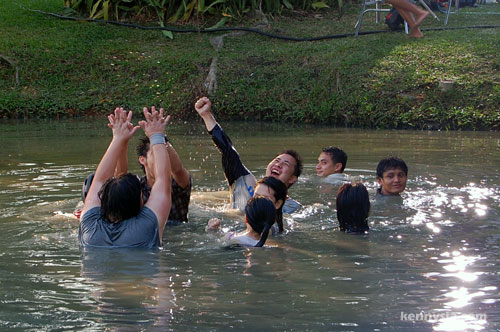 There was jubilance in the air as we high-fived each other and congratulated everyone over the hard work we all put in.
Shooting this 30 second TV commercial took close to 12 hours. We arrived at sunrise and finished just before sunset. Honestly, I never felt more relieved to get a job done.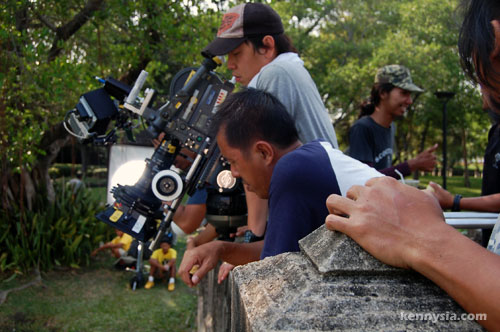 This was only my first acting experience and already I gotta say, I'm developing a whole new level of appreciation for professional actors and actresses.
It's a 30 second long TV commercial. And of that entire 30 seconds, I only appeared on screen for less than 3 seconds.
And yet, it took some 12 hours and a whole production team just to get that 30 seconds perfect.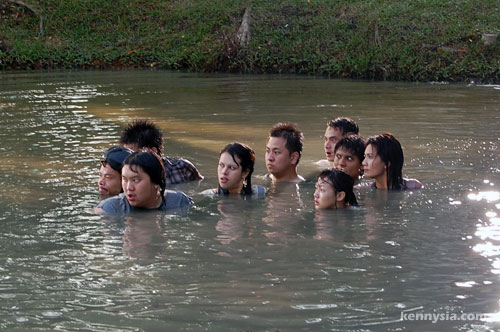 No doubt, swimming and drinking brown-coloured river water wasn't exactly pleasant.
Still, I had fun. LOTS of fun. 🙂
I am always up for trying something new and this is exactly the kind of thrill I seek for. And I love it.
Thanks to Mister Potato, not only did I get a rare opportunity to work with the best production house, I actually learnt something new. If I'm not mistaken, I might be the first Malaysian blogger to score a part in a TV commercial.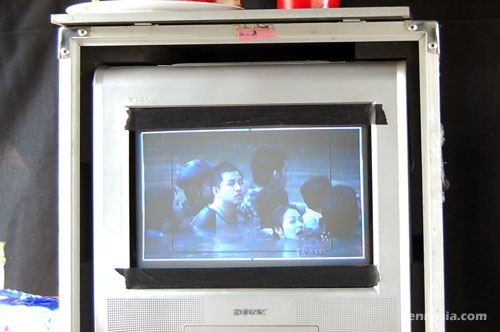 It's simply surreal watching myself on screen in a TV commercial that I am so proud to be part of. I can't wait for the ad to officially go to air across all the TV channels in Malaysia next week.
Mister Potato is indeed one of my favourite snacks since primary school, and never in a million years would I imagine that I would see myself their TV commercial years later.
If given another chance, I'm sure as heck that I'm gonna do it all over again. 😉
One thing though.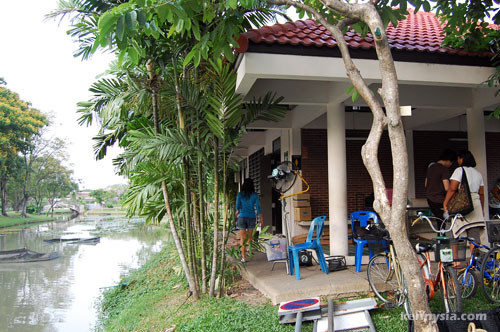 After we all exited from the dirty river, we were directed to have a well-deserved hot shower in the public toilets nearby.
But then something hit my mind.
A public toilet in a park, located next to a murky river? Why do I get such a weird feeling that something might be wrong with this arrangement.
True enough, I walked to the back of the toilets and then I spotted this water pipe.
It's a pipe that flows directly from toilets…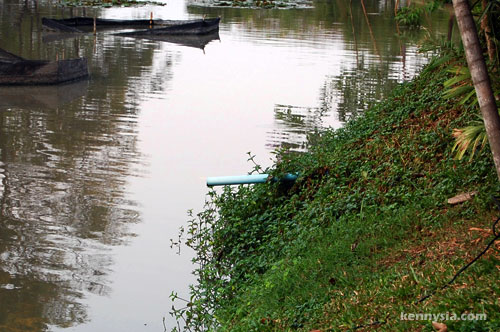 … right into the murky brown river.
Yes. For the whole 3 hours, I was actually soaking myself inside filthy used toilet water.
But yeah, it was all worth it. 😛

I just spent a lotta ching-ching to zhng my car audio!
Got myself a top-of-the-line Alpine CDA9887 complete with Bluetooth upgrade, and a huge VSL monoblock amp hooked up to a 900W 12″ Pioneer woofer sitting in my boot.
Now my car goes boom boom boom when I drive past. Like an Ah Beng car .