Wellington – the heart of New Zealand's politics, arts and culture.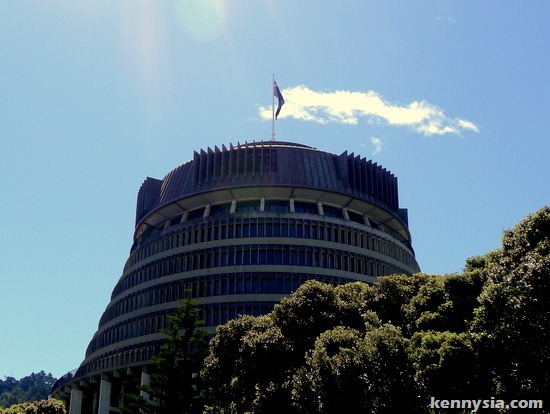 Lonely Planet lists Wellington as one of the Top 10 cities to travel to in 2011, describing is as "the coolest little capital city in the world".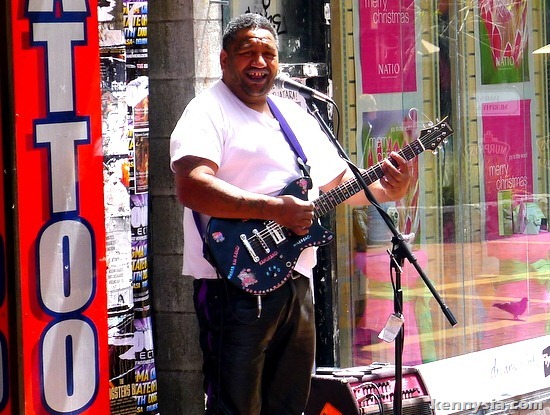 Wellington is a small city about the size of Kuching. Despite its tiny stature, the city is crammed with more bars, cafes and restaurants per capita than New York city. This ain't your typical Canberra or Putrajaya. The capital of New Zealand is both interesting and inspiring, and it has such an aura of creativity, that I feel like I could draw just by being in here.
Meet Jon, nicknamed "Drypnz".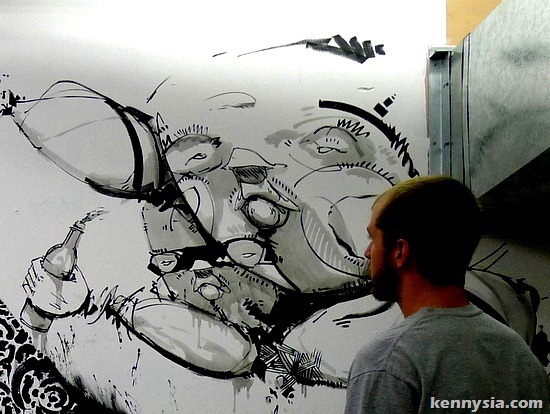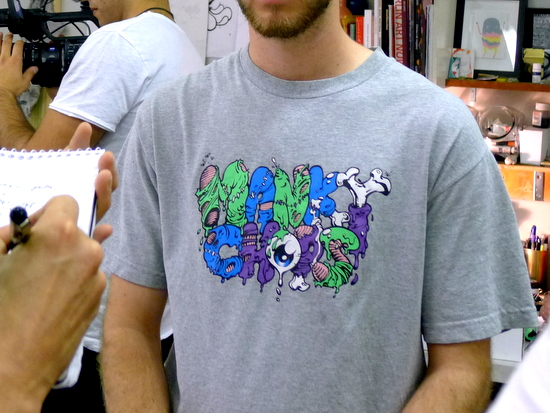 Jon's artwork is not something you would see in a typical high-brow cool gallery. Born in England, Drypnz is a mural painter/street artist who moved to NZ 5 years ago to push his work to a more "understanding" community.
Jon's signature is fat cat-like characters he called "Drypppls" – a representation of the decay of human beings in the modern society.
You'll find them painted on building walls in the back alleys of Wellington. And heck,  – sometimes, even on the roof top.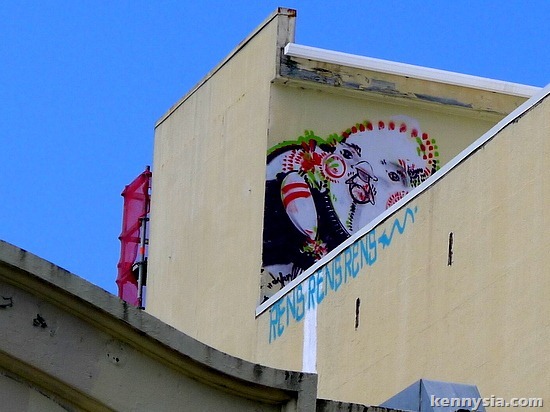 While exhibiting his works at an art gallery for underground artists called Manky Chops, Jon met local street artist Joe Blak. And the two bonded over their interests in street graffiti.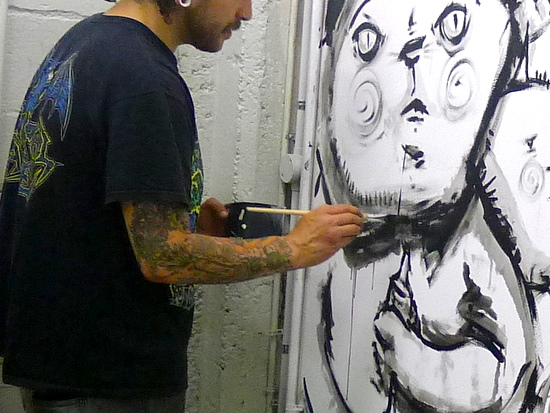 Now meet Song Yang from China.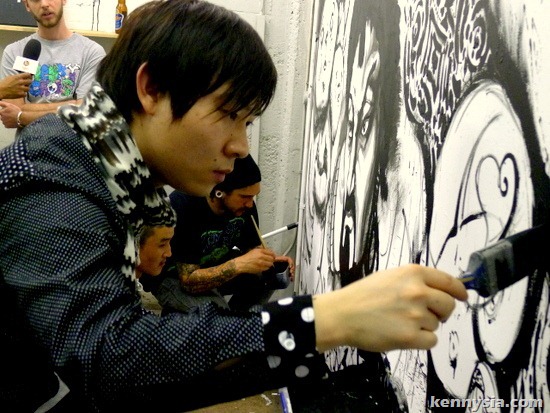 The creator of Chinese comic icon "Bad Girl" is also the most prolific comic artist in China.
How did Song Yang become so popular?
To curb the "problem" of Chinese youngsters going craze over imported Japanese manga, the Chinese government suppress imports and promotes Song Yang so much that he became popular throughout China. So much so that he even diversifies into fashion design, producing music videos and recording his own album.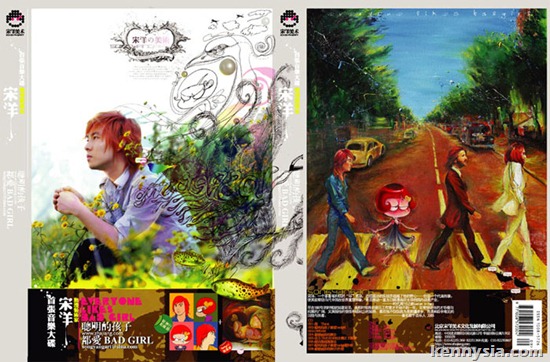 The 29-year-old has done just about attempted every artistic endeavour possible, except one thing – street graffiti.
So when Jon and Joe invited him to paint a graffiti with them, Song Yang turned up like this.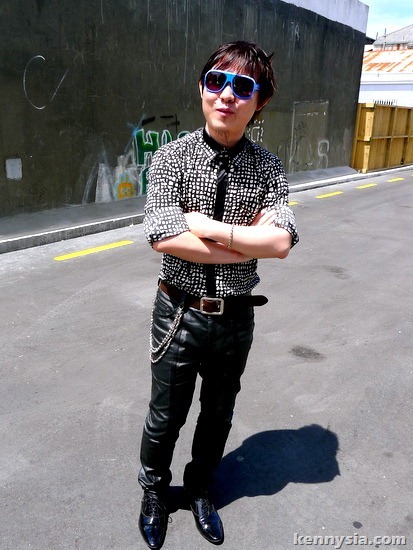 Clearly, somebody got lost in translation.
Song Yang joins the 2 NZ-based artists and Oggy from Mongolia to headline tonight's Tiger Translate at the Wellington Opera House.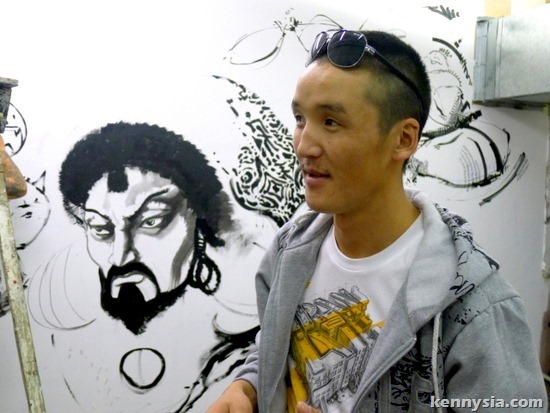 Oggy is the winner of of the Mongolian leg of the Tiger Translate competition.
Unlike previous Tiger Translate events I attended, the direction these 4 artists take heading into the main event is slightly different.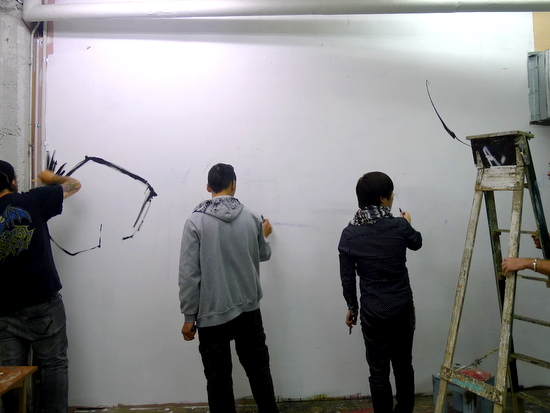 Rather than starting on a big piece of work and complete it over one week, the four collaborating artists will be starting and finishing their artwork over 5 hours on the night itself at the Opera House.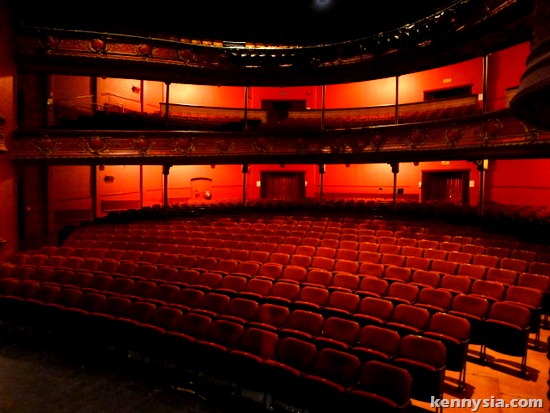 This way, the audience gets to see how the artists get to transform blank canvases into masterpieces.
Since they met 4 days ago, the artists have been practising their collaboration non-stop in art galleries and building walls around Wellington.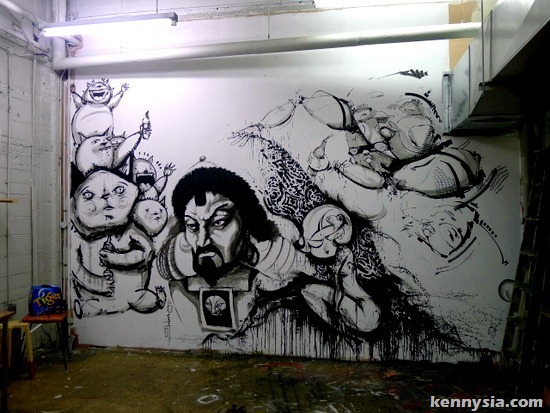 From left to right are characters by "Eeks" Joe Blak (NZ), Oggy (Mongolia), Song Yang (China) and Jon "Drypnz" (NZ).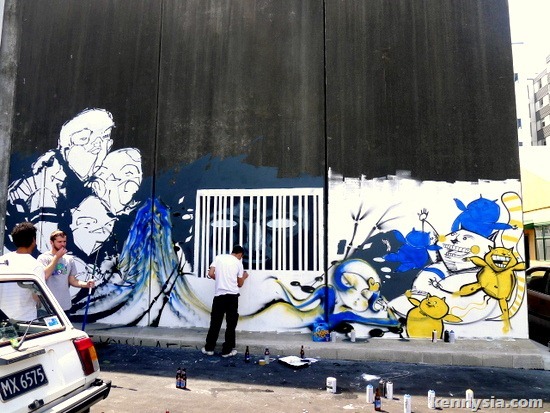 Street graffiti done Tiger-style.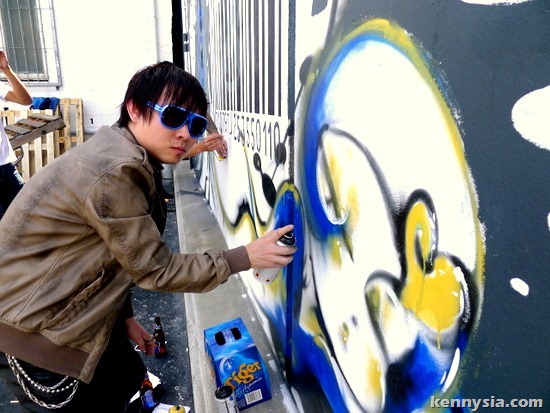 The most overdressed graffiti painter in the world.
Can't wait to see what transpires tonight. Whatever these four are gonna come up with, I'm sure it's gonna be better than my Wellington "Tiger Sheep".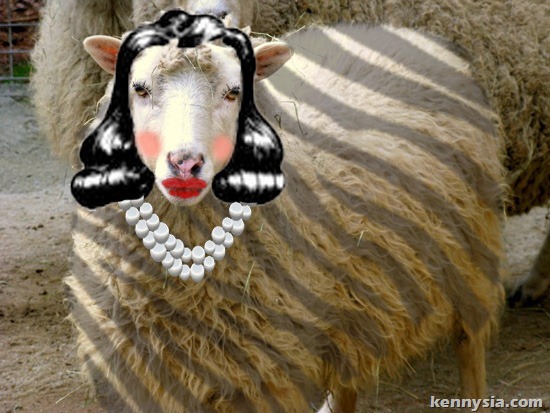 Baaa.
AD: If a shopping mall is a collection of boutique shops, what do you call a collection of ONLINE shops?
Jipaban.com that is! Created by the guys who brought you Nuffnang, Jipaban takes the fuss out of browsing hundreds and thousands of different online shops out there by collecting them all under one roof. Online shop owners can "rent their space" there to sell their wares, and Jiapaban even re-creates the experience of going to a mall with friends by integrating social-networking features – eg, you can thumbs-up or thumbs-down your friend's purchase (they call it "egg it" or "smash it")
Lucky for men, the "use boyfriend's credit card to pay for my handbags" feature is not included.