This entry marks the finale on my Copenhagen experience.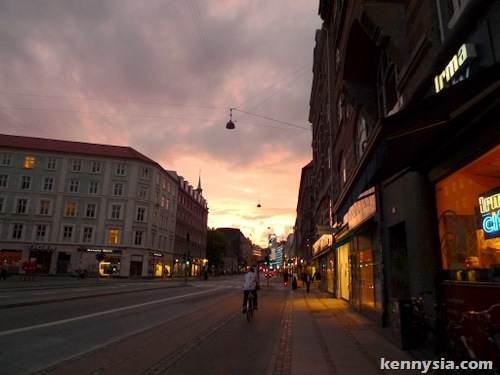 But before that, a quick recap about what Tiger Translate is all about, and why the heck I was in Copenhagen for.
You see, a lot of alcohol brands often do tie-ups with big name concerts or dance fests when it comes to connecting with the public. Arthur's Day, Green Room and Artistry, just to name a few.
At a time when everyone else is supporting music, Tiger Beer came up with a different strategy altogether.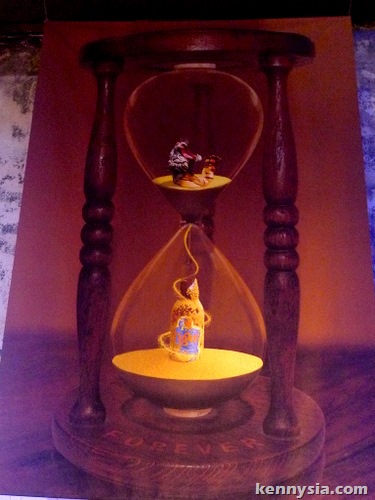 Everyone is doing music, but no one is doing something about art. So Tiger stepped in and did something about it.
Through a series of art contest held throughout the year, they uncovered a handful of young, unknown and talented painters, illustrators and graffiti artists from all around Asia.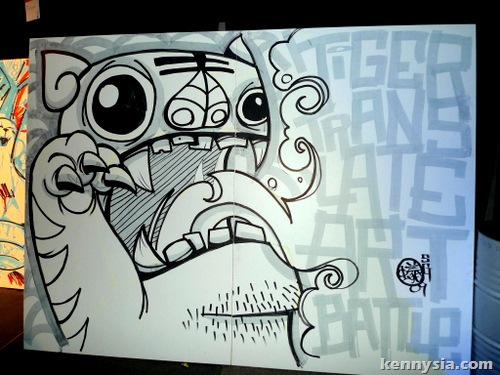 For these Asian artists, Tiger Translate is like the arts version of Idol.
Through these contests, they found a platform to promote their work to the general public. The next step is to invite well-established experts from the Western world to come in and collaborate with these Asian artists.
The end result: an "East Meets West" cultural exchange that translates through their paint brushes onto the canvas.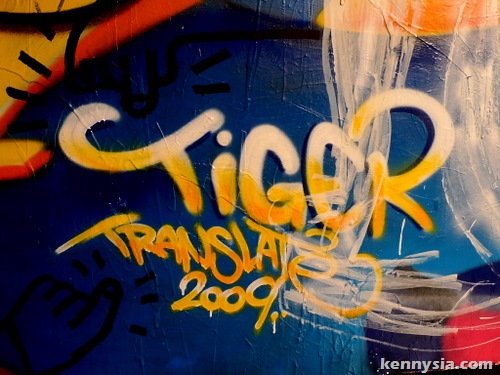 This what Tiger Translate is all about. Last year, they had it in London and this year they do it all over again in Copenhagen – the capital of Denmark and the site of this year's Tiger Translate Global Showcase.
On the 19th August, I travelled with 5 artists from Singapore, Thailand, Mongolia and China all the way to Copenhagen.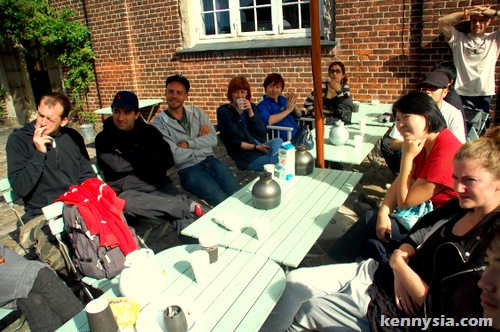 On day one, we went straight into the studio. The artists from Asia and the artists from Denmark were introduced to each other.
Right from the start, creative sparks were flying when the artists from both continents presented their portfolios. Language was no barrier and the more experienced Danish artists were keen to share with the young Asian artists what they know.
Within a couple of hours, I spotted them working on their canvases already. After all. they had an arts exhibition ready to present to the world in exactly three day's time.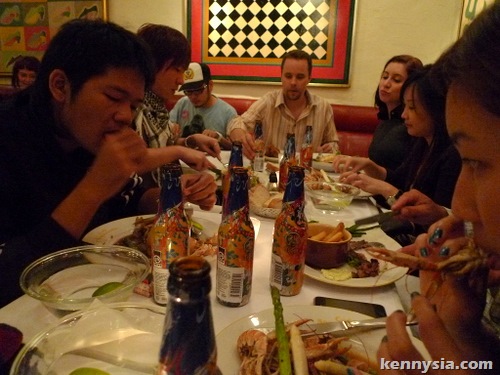 The only time those artists had a break were during the night-time when we followed the Tiger Beer crew to tour the nightspots of Copenhagen. That was when we had our hilarious incident with the Mongolians, who mistakenly thought the Singaporean version of "cheers!" was "SAMEEEEE!"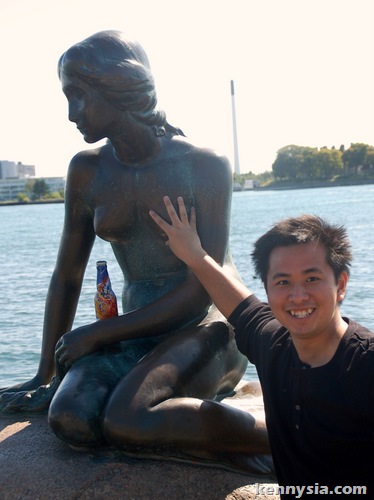 My job in Copenhagen was slightly easier. While the Asian and Danish artists were hard at work in the studio, I had a chance to molest the Little Mermaid tour the Danish capital's most famous attractions.
As I said in my Travel Guide to Copenhagen, the best thing about Copenhagen isn't any of those places you have to pay admission for, but inside a pub or restaurant where you can share jokes and have a mindless chat with the locals over food and drinks.
But after three solid days of collaboration, it was time for the Asian and Danish artists to put down their paintbrushes and prepare for the Tiger Translate Global Showcase.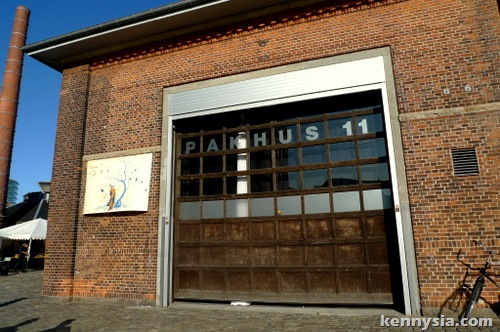 The venue of the arts exhibition is Pakhus 11, an abandoned power station a stone's throw away from world famous Little Mermaid statue.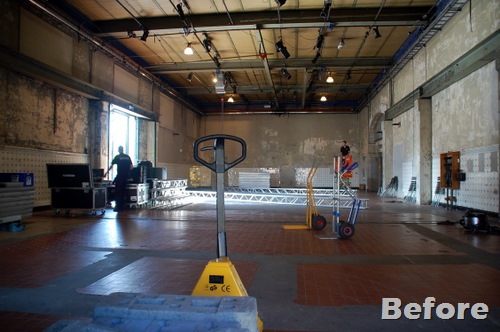 The crew setting up the place was just as hardworking as the artists. I was there a couple of hours before they opened doors, and I was amazed how they managed to turn a barren building into an arts exhibition / concert hall.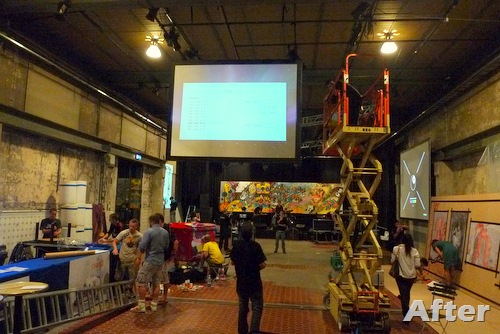 For the young Asian artists, this was the first arts exhibition they had ever done in their career. A lot of them were understandably nervous, putting finishing touches to their art pieces in the final minutes.
It was only when the doors were opened, the music turned up and beer bottles opened that the mood began to lighten up.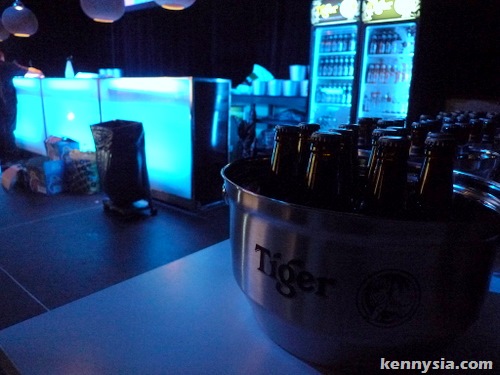 Compared to the London crowd last year, the bunch of people attracted to Tiger Translate Copenhagen was considerably more sophisticated. I've always heard that Danish people are design-conscious, well-dressed and incredibly sexy. That night, I witnessed that yes, it's all true.
The chicks especially – damn, they're sizzling.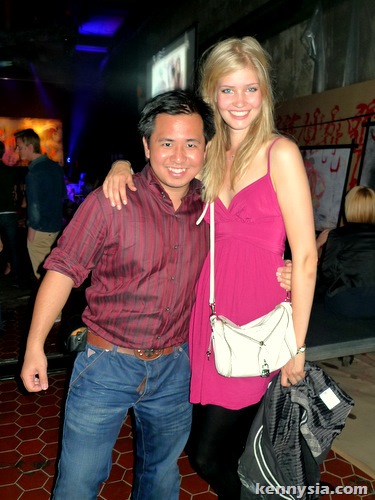 The only problem is that they're all too tall for me. FML.
There were a bunch of things ha
ppening simultaneously at Pakhus 11 throughout the night.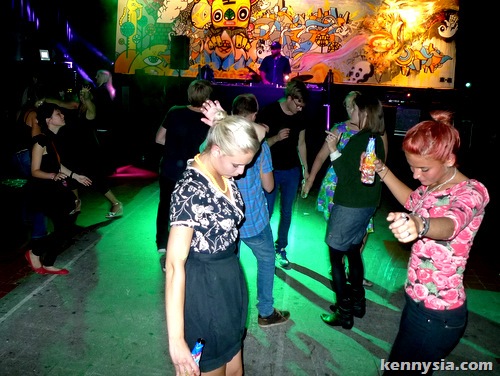 In one area, the DJ gets the crowd going on the dance floor.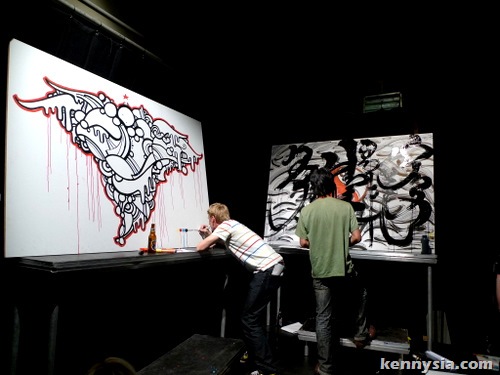 In another area, the artists demonstrated their paintbrush prowess in front of an live audience.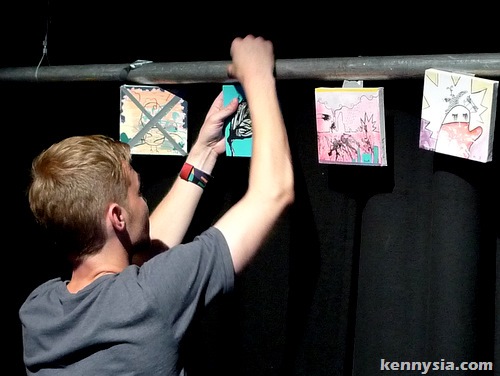 And then there's a corner where people can paint on little canvas tiles and hang them on the wall. Everybody can contribute.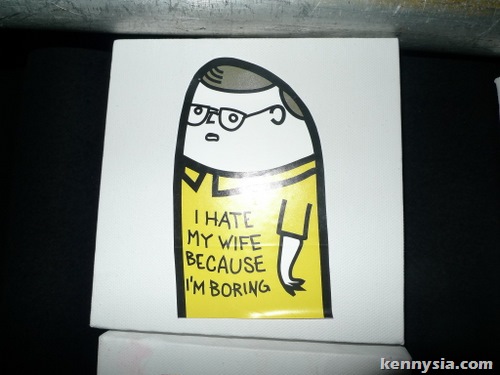 Everybody, even if you hate your wife because you are boring.
The theme for this year's Tiger Translate is 'Change'. Here are some of my favourite displays.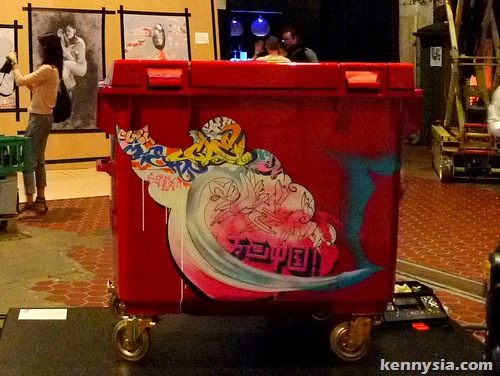 The Garbage Bin by Danish street artist Clean and Chinese comic artist Song Yang.
A garbage bin fusing Eastern style clouds with Western style graffiti. I'd love to that outside my house.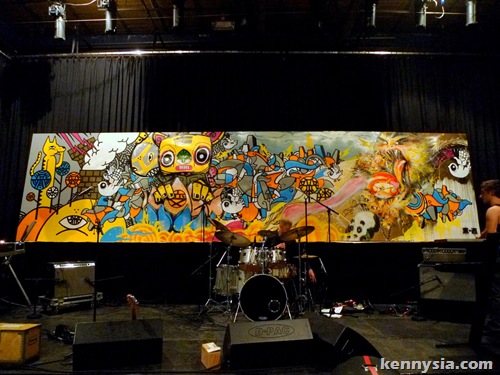 "The Pass-It-On Painting", depicting the fall of society values, and the irony that peace and harmony these days are achieved through violence, chaos and aggression.
This 8-metre long canvas was passed on from one artist to the next, which is why it felt kinda weird. From left to right are works by Danish illustrator Miss Lotion, Singaporean street artist Antz, Danish street artist Hrvrk and Chinese comic artist Song Yang.
The art on display are not just limited to those done with paintbrushes.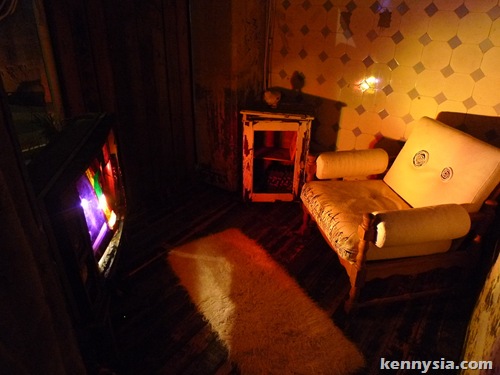 "My Chair Is Scared" is by Danish installation art collective Le Fix.
They built this art piece out of junks, to tell a story of a living room chair that becomes scared after watching all the negative news on television. The moral of the story: get yo ass out to see the world, man!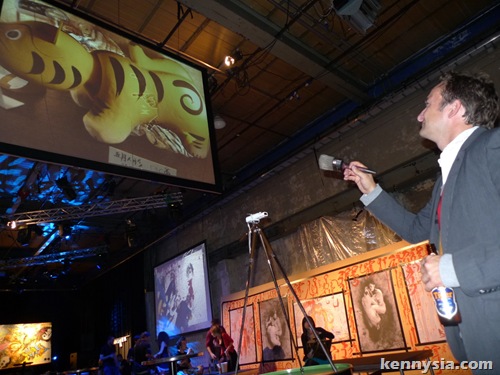 Interactive Change by Thai multimedia artist Rom.
This piece of work is simply too unique to describe with words! The guy attached a Nintendo Wii controller to a paint brush. Projected on the screen are pictures of the present world.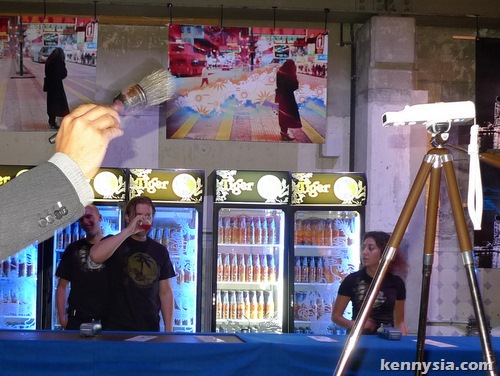 Wave the paint brush across it, and images of a futuristic world are gradually revealed. Too cool!
But without a doubt, the two artists who stole the show in Copenhagen are Liv, a Danish photographer and Ulzii, a painter from Mongolia. Right from the start, everyone noticed the incredible amount of chemistry between those two individuals from drastically different backgrounds.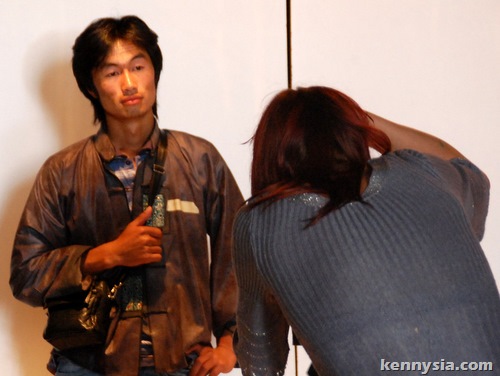 One is a 30-something heavily-tattooed single mother. The other is a 23-year-old student who speaks very limited English.
In one instance, Liv stripped and allow Ulzii to paint Mongolian alphabets over her naked body.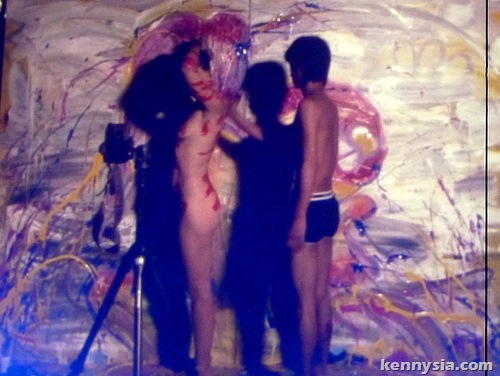 In another instance, she brought him to his church and they laid down on her brother's grave, forming the symbol of Ying-Yang.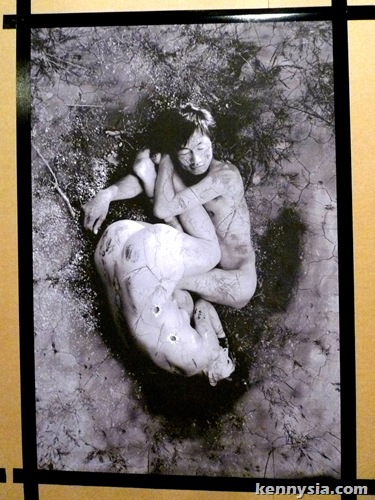 It was so provocative, so intense, yet surprisingly poetic.
This was how Liv described her unusual collaboration with her soul mate.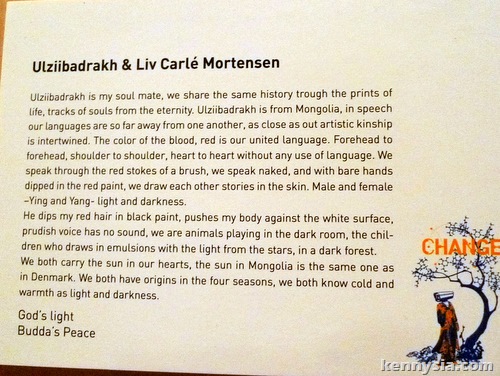 Three days working together, and she found her soulmate. Sometimes I wish I could understand how artists think.
(Any artists reading this entry, please critique and comment?)
There's one last thing I really wanna share here though. There was this one blank wall in the studio.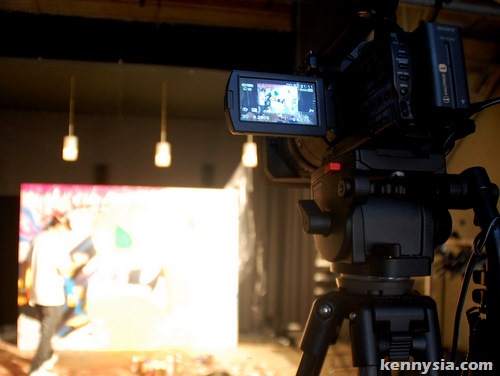 Throughout the whole three days, each individual artist painted their creations onto this wall. One painting over another. Continuously changing the picture on the wall from one to the other.
A video camera recorded the whole process. This was played back during the Tiger Translate Global Showcase in front of a live audience and everyone was completely blown away.
Well, what can I say?
When they said the theme for this Tiger Translate was "Change", I'm pretty sure that wasn't quite what they expected. 😉
After hearing the stories from some of my female friends about guys they dated, I discovered my newfound respect for women.
If a girl likes a guy, she can adapt herself and accept his flaws, even if he has a history less than desirable or the fact that he is a total shit ass bastard.