Yesterday was the first day of Hari Raya.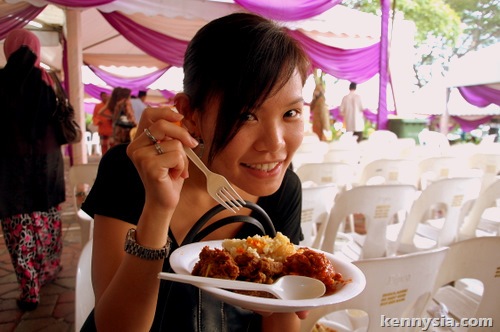 My "granddaughter" Lainey (long story why I call her that, but she's actually she's my age) texted me early in the morning, nursing what she called the world's worst hangover.
We were supposed to do lunch together, but I told her she better just stay at home to nurse her headache for her own good. That girl is very sweet though. She said, "lunch with 'grandpa' is the perfect antidote to the world's worst hangover."
Awww.
So we made plans for lunch. Since it's the first day of Raya, I felt like doing something different. So I came up with this brilliant idea – to crash our Prime Minister's Raya open house!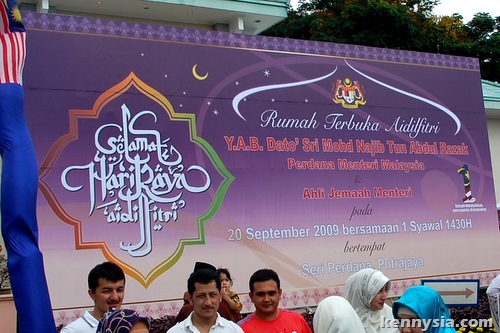 I had done many Raya open houses before, but I have never visited our Prime Minister's house. Since the PM has openly extended his invitation, I thought why not? Besides, I have never even step foot on Putrajaya before. My only experience with the government's township really was whizzing past it back and forth on the train to the airport.
Suddenly, visiting the PM's house sounds like something fun and exciting to do on a boring Sunday afternoon. Just so if people were to ask me how I spent my Raya weekend, I could tell them "I was hangin' wit da PM yo!"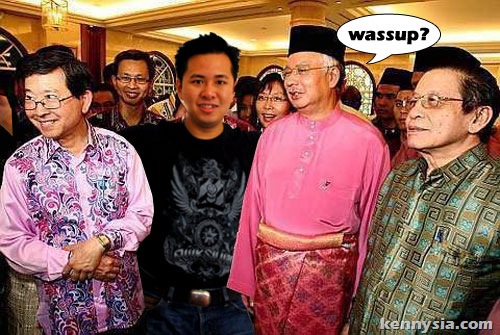 Then, in their head, they'd be imagining me with my arms on Najib's shoulder, talking the cock, singing song, playing pool around the PM's palatial home like longtime friends while Rosmah cooked lunch for us – most likely Mongolian lamb stew.
So the plan was set. After a bit of coordination through Twitter, Jaclyn, Cheesie and KY also decided to join us on our road trip to Putrajaya to see the PM.
Well, let's just say the Raya open house at Seri Perdana wasn't quite what we expected.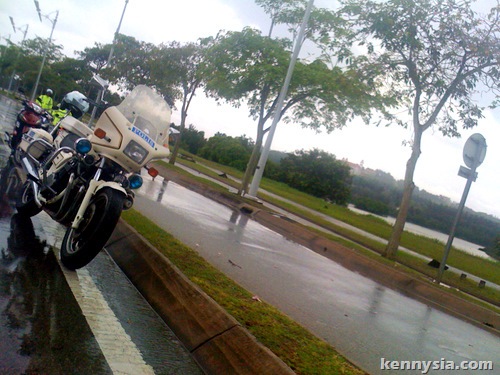 For a start, when we reached Putrajaya, we found out that the ramp to enter Seri Perdana was closed off by the police. So I wound down my window to have a chat with the officer.
Kenny: "Sir, I'm here to accept to the PM's invitation to his open house on the first day of Raya."
Police: "Sini tak boleh jalan, sini. You ikut jalan tu. This road is for V.I.P. only."
He stressed on the word "V.I.P.", which I thought I was. I was gonna reply "Abang, tapi saya orang V.I.P.! 1Malaysia. People first. Performance now. People first, jadi saya V.I.P.!"
But logic took over and instead of arguing with him, I decide to take the long way to Seri Perdana as instructed. That was when we arrived at the non-V.I.P. area.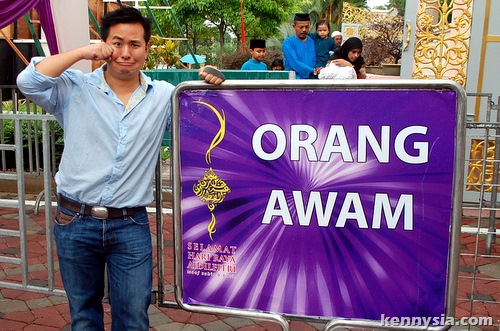 Also known as the ORANG AWAM area.
Meanwhile, we parked our car at one of the very muddy fields nearby.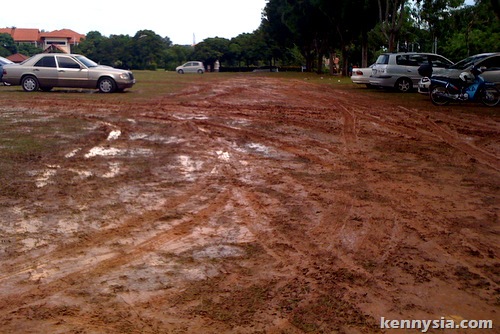 Already, Lainey was starting to regret coming with me.
We thought the Prime Minister would be there at the door welcoming us. Unfortunately, not only did he not turn up, he sent his hired guns to welcome us instead.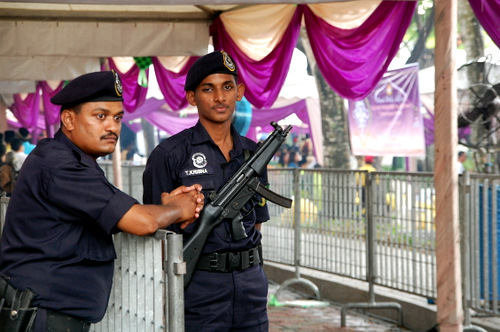 Gee, thanks, I feel so welcomed.
The PM's "open house" for us Orang Awams was held at the Seri Perdana's carpark. To be fair, there were lots of food being served.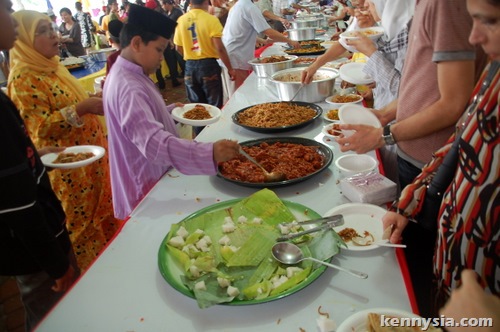 The problem is, there were TOO MANY people there all chasing after the free food!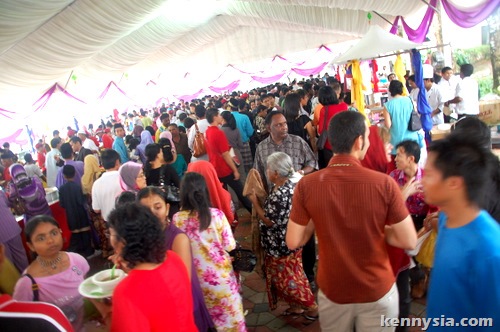 Despite having more than enough food to go around, the crowd were going after them free food like aunties during warehouse sales. That includes me.
I don't care, man.  I have already come all the way here so I better have my free food or all hell's gonna break lose! I mean I pay so much fucking taxes to the government every year. My tax money is what's paying for those food!
If I cannot get back my money, I want something to put into my tummy!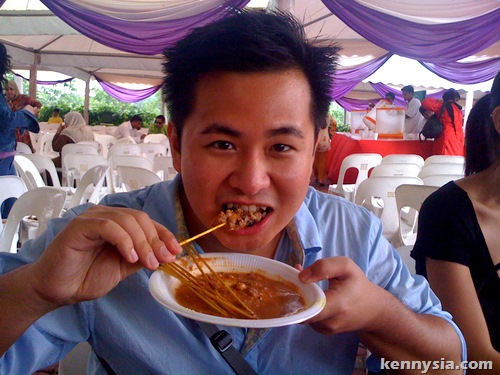 O HAI. I is at da PM's haus, stealinz all his free food! nom nom nom.
We waited for our host, the Prime Minister of Malaysia, to come out and meet up with us. But we waited in the carpark for a long time and still he didn't make an appearance. What kinda lousy host is this?
That was when we realised there's a separate entrance for us Orang Awams to enter the Seri Perdana to meet with the PM and shake his hands.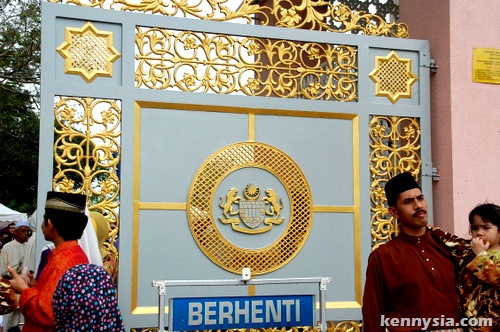 Unfortunately by the time we finished our food, they had already closed the gates. I think the Prime Minister must have gotten tired from all that handshaking.
So we didn't get to meet the Prime Minister, the food wasn't thaaaaat good (apart from the satays) and the venue was hot, crowded, wet, rainy and damn freaking noisy. I have no idea why the newspapers describe this Open House as "festive", because it was as "festive" as a primary school canteen.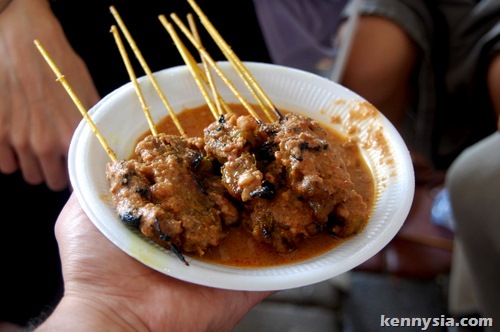 It  was a fun experience to do as a Malaysian though, and I think every Malaysian tax payer should go to the PM'
s crib at least once to claim back your money as much as you can through the free food.
But I must say the Open House ain't worth the drive to Putrajaya. And definitely not worth squeezing through the sweaty crowd for. But for some reason, Kenny Sia came up with this genius plan to make his "granddaughter" Lainey feel better from her world's worst hangover.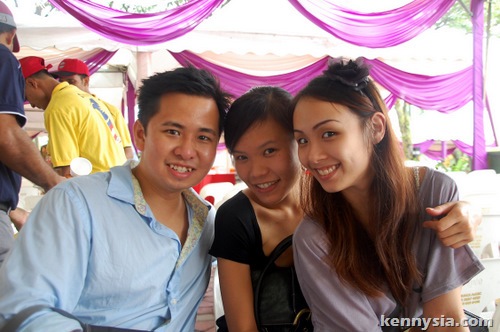 She hated it. She said she was nursing the world's worst hangover listening to the world's worst music in the world's worst possible way. All thanks to the world's worst (fake) grandpa.
Hey, at least these guys that tagged along all look very happy…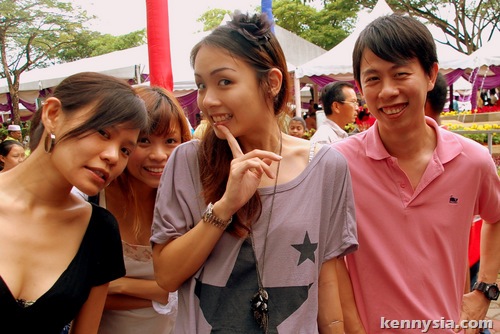 … kinda.
To be fair, when we first arrived, we actually did try to enter the Seri Perdana through the official V.I.P. entrance. We kinda fooled the first batch of guards by driving closely behind some important-looking black cars, until we managed to get right up to the main gates.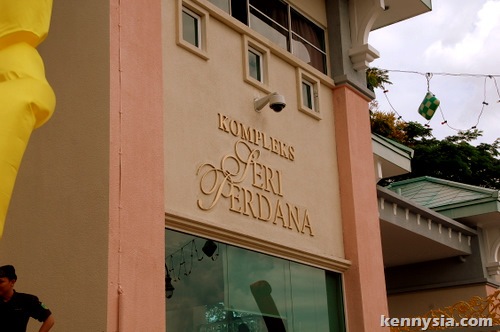 Unfortunately, the final batch of guards outside the V.I.P. entrance saw past our bluff and managed to stop our vehicle.
Police: "Sir, you have sticker? Where is your sticker? You cannot enter if no sticker!"
Kenny: "Sticker? Uhhh… yea, I got. I got sticker."
I have no freaking idea what bloody sticker he was talking about, so I pointed to the only V.I.P. sticker I have on my windscreen.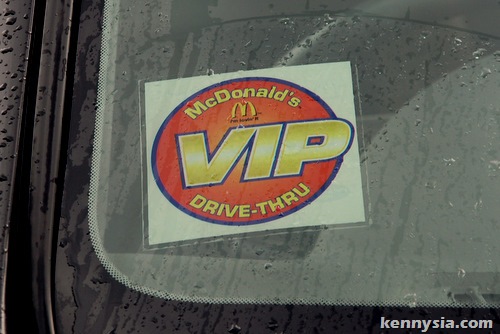 He didn't find it funny. 🙁
Must Watch Youtube: Fourfeetnine Audrey on Project Alpha.
Seriously, never before have I seen anyone fail in gym so hilariously bad!