If you a single guy looking to hook up, which of the following 'tools' would you rank most important when going after chicks?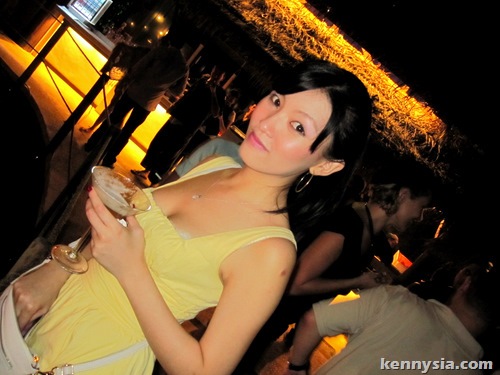 a) A wardrobe full of designer brands.
b) VIP access to the hippest parties in town.
c) A car.
The answer is (c) a car.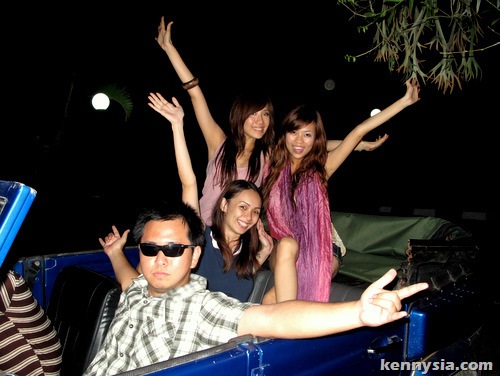 Why, you ask? Simple.
If I got (a), I may be able to impress her. But that's about it.
If I got (b), I may be able to impress her. But then she might meet so many people at the party and leave me for somebody else richer and more successful.
Now, say I got (c). Immediately I become someone important in her eyes. I get to pick her up, drop her off, and best of all, spend some private one-on-one time in the car with her.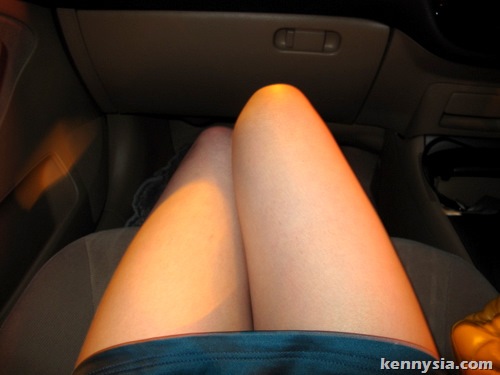 If we go to a party and things don't go my way, hey at least I got a car to whisk her away to safety. Not to mention, when I'm at her doorsteps and the mood is right (making sure Ne-Yo is playing on the car audio), it wouldn't feel awkward if I move in for the so-called 'second base'. 😉
You can't do that if you don't have a car. Even if you take taxi, it'd be damn awkward to have the driver staring right? That's why it's always a huge advantage for a single guy to have his own car. And how would I know?
From experience.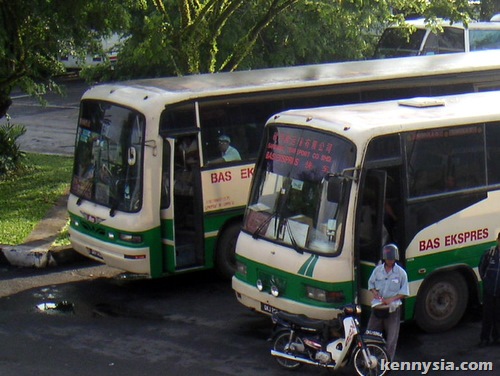 When I was 17, once I took a girl out on a date in a bus.
One week later she left me for a dude who drives a sports car. 🙁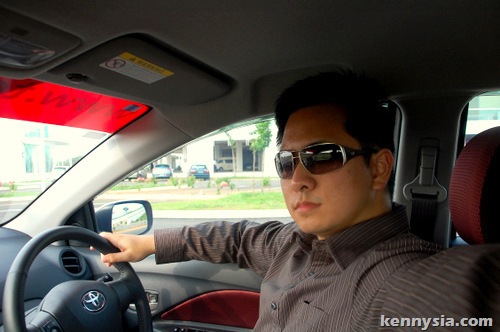 Yeah, that's the bastard that stole my girl.
Since that incident, I decided that one day, I'm gonna get my very own sports car.
Of course, that's easier said than done. Sports cars, or even standard cars that come with sporty body kits generally don't come cheap. You gotta be prepared to pay upwards from RM130,000 for those.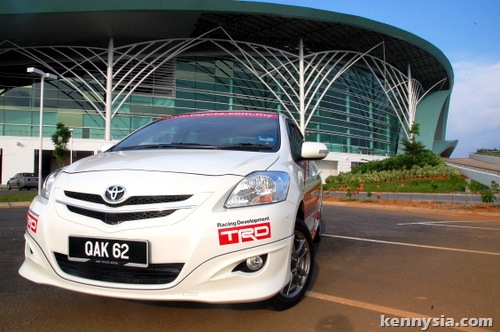 This is where the Toyota Vios TRD Sportivo comes in.
The Toyota Vios is the most popular foreign car in Malaysia. In fact, the Vios itself comprises of 36% of all Toyotas sold. But for quite a while, Vios owners have demanded for sportier, more aggressive look for their cars. Presumably to scare all the date stealers away.
That's why Toyota decides to release the TRD Sportivo, the car's official sports kit.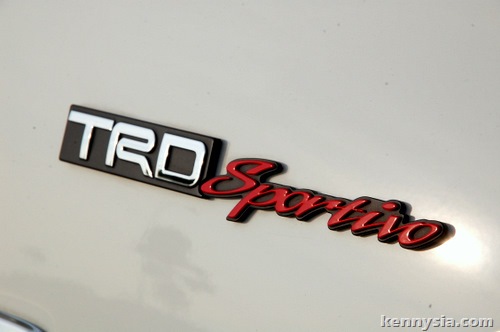 Since everyone is in racing mood thanks to Singapore GP, today's blog entry will be a review of the Toyota Vios TRD Sportivo.
Under the bonnet, the car itself is still the exact same Japanese-made Vios 1.5S. With the TRD Sportivo, the body kit is manufactured locally so Malaysians don't have to pay an arm, a leg and their new-born son for it.
In other words, the TRD Sportivo is a dress. But what a freaking awesome dress it is.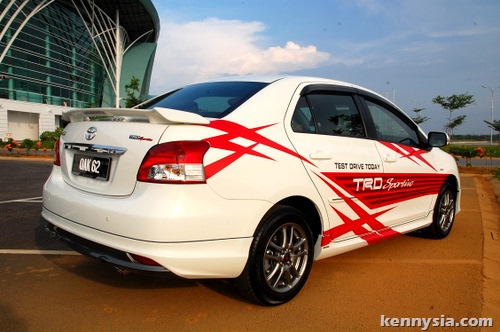 First thing that caught my attention is the spoilers on the back, skirts on the sides and spoilers on the front. All hung low to give it a sporty look.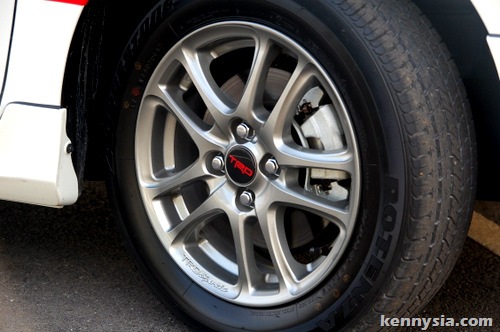 Taking a peek below, and I noticed all four wheels are fitted with 15″ Enkei alloy wheels. Very the boom boom pow.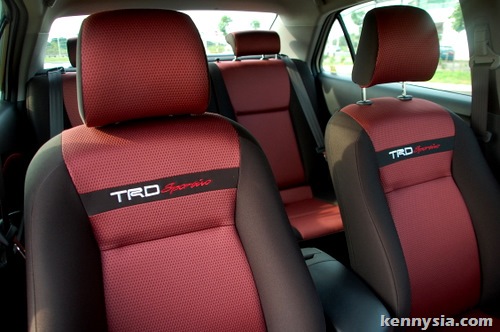 Open the door, and the red-and-black TRD Sportivo branded fabric seats greet me.
I can't help but to put your ass in. Meanwhile, I wondered what the 'TRD' in 'TRD Sportivo' stands for?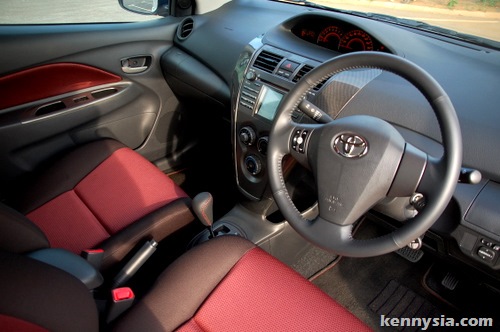 Inside, it's nice and spacious. The driver seat felt a little bit low, but maybe that's just the way it is. Either that or I'm too short lah.
I put my hand on the gear knob. It felt good. As a matter of fact, it's the smoothest knob I have ever wrapped my fist around.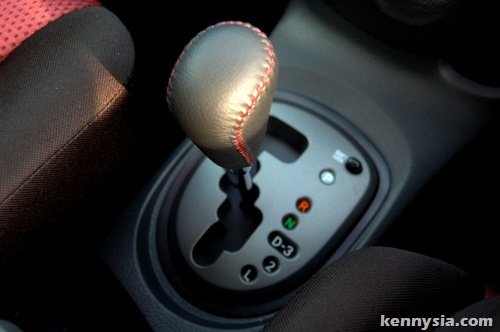 That's when I realised the knob has a leather skin covering its head. Nice.
I turned the key, started the engine and took the car around for a whirl. As the 1.5L engine vrooms, that's when the pleasure of driving this car kicks in. Each time I put my foot to the paddle, the Vios accelerates like a beast. I found myself overtaking vehicles after vehicles.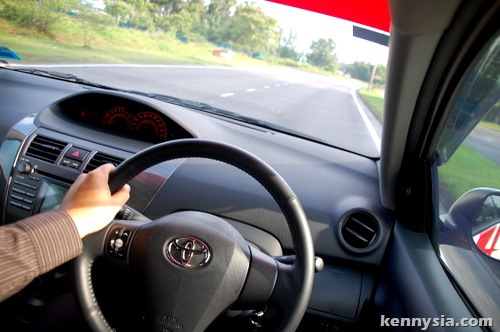 Vios handles quite well. In particular, the electric-controlled power-steering responds very well to sharp corners and tight turns. The same applies to the car's brakes.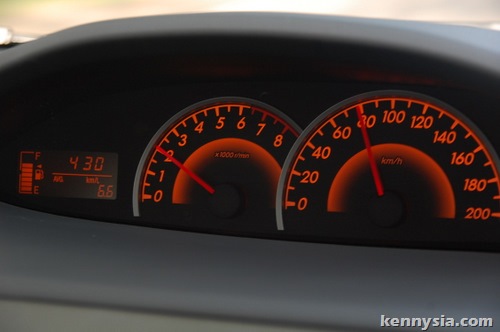 The speedometers and gauges, located in the middle of the dashboards, is a joy to look at.
The Toyota Vios has a reputation of being extremely fuel economy. This one is
no exception. One useful information it displays is how much kilometres the car has run per litre of fuel. I wonder why most other cars don't do it that way?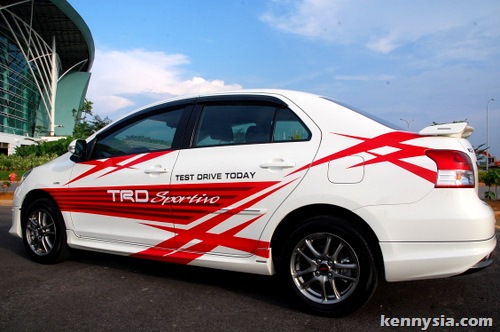 All in all, cruising the Toyota Vios TRD Sportivo around town was a pretty fun experience. I managed to turn around a few heads, and even the parking attendant at my workplace kept heaving praises on my car.
And that was when I realised what the 'TRD' in 'TRD Sportivo' stands for.
The Real Deal.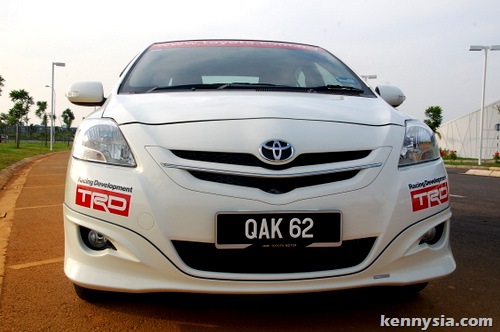 Fine, it stands for Toyota Racing Development. But still The Real Deal isn't far off.
Alas, I had to return to the car dealer after my test-drive. Pity I couldn't use this car to steal some other kid's chicks. Because I reckon I might be pretty successful.
Not many girls would be able to resist this look.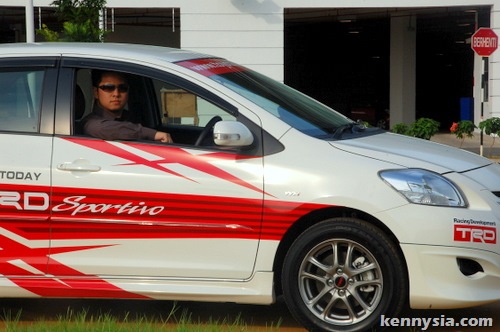 Right.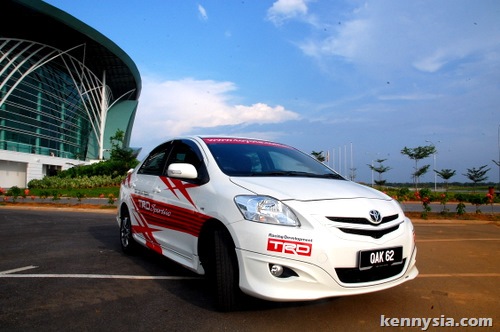 The Toyota Vios TRD Sportivo goes for RM90,900 in the West or RM92,377 in Sarawak. It is a good price – a fraction of what one would pay for similar cars from other manufacturers.
Obviously if you think that is STILL expensive, then I guess you can always modify your ciplak car yourself…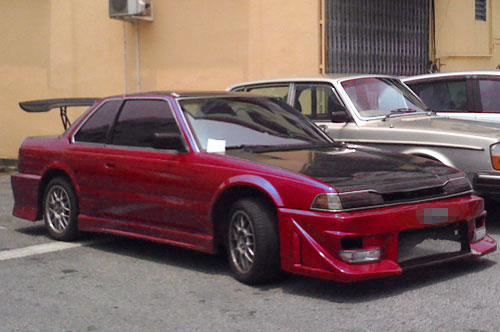 Just don't blame anyone if you fail to score any chicks with it lah.
Much apologies for the horrifically badly planned spacing and release of advertorial content. At times, schedules get moved around and ad releases coincide and overlap with one another.
One thing that never change is that I try to make my advertorial content as truthful, interesting and relevant as possible. But we know your pain, which is why my agent and I are working on improving our system, so that
kennysia.com
remains fresh to both myself, the advertisers, and most importantly – the readers. 🙂 Thank you for your understanding.