A lot of tourists come to Kuching City not knowing what to do.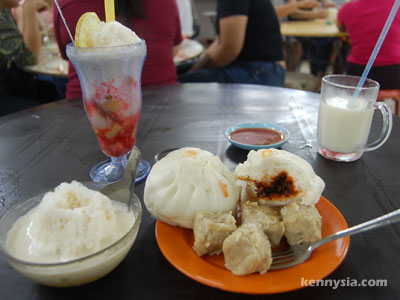 Truth is, there isn't a lot to do within Kuching City. Most of Sarawak's natural charms are located outside the city limits, towards the beaches in Damai, the mountains in Santubong, the hot springs at Annas Rais, the caves at Bau, and the jungles at Batang Ai. Not inside Kuching City.
If there's any reason for the average tourist to stay in Kuching at all, it is for the amazing array of delicious local food. To honour the unsung heroes of the Kuching tourism industry, I think it's high time to give out awards that the Sarawak Tourism Board had forgotten to give out on their glitzy Awards evening.
It's time for…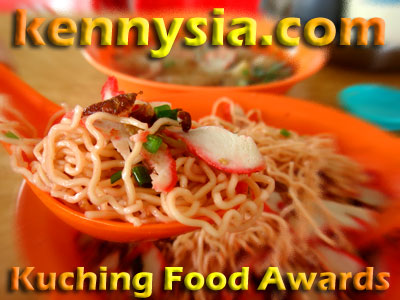 After reading this entry, I bet all those Kuching people living overseas must be desperately trying to book their tickets back home now.

Best Fine-Dining Restaurant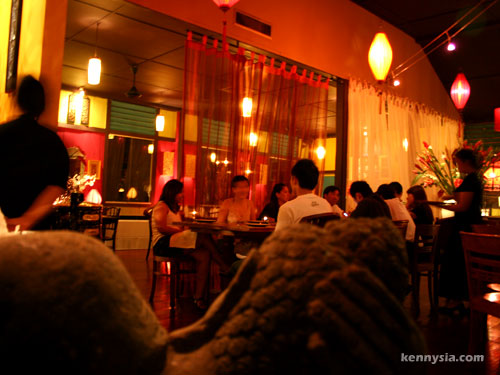 Magenta Restaurant, Jalan Nanas
Lately, there's been a lot of new fine-dining restaurants popping up all over Kuching. One dish there would cost about RM40. It is so expensive but these places are never empty. Kuching people must be getting richer and richer.
The problem is, most of these restaurants don't get the concept of fine-dining. It's either the service is crap, or the food tastes like shit.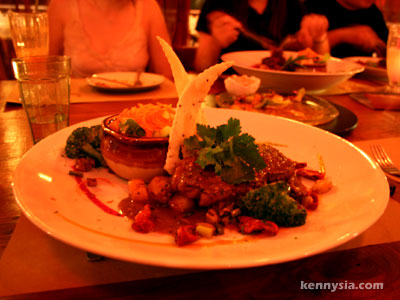 Magenta has been around for a long time and I reckon they're one of the few who got it right. It's the best place to bring a date out for a romantic dinner. The food here is delicious. What's more, their dishes are so well-presented they look more like sculptures from an art gallery, than food you can actually eat.

Best Bar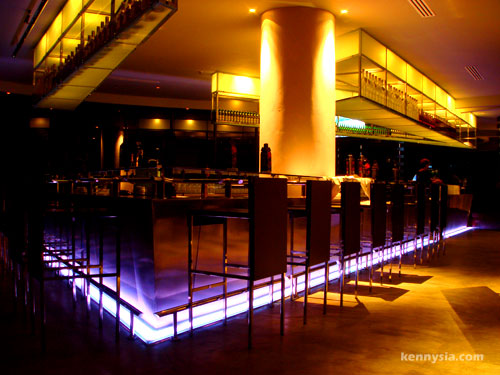 Links, Kuching Civic Center
If you like to be in the company of a rowdy crowd, go to SoHo. But if you enjoy a relaxing and exquisite environment, go to Links. I'm not saying this just because they did a great job hosting my 24th birthday party. But seriously, where else can you find a nice bar playing sweet house music perched on top of a tower overlooking the entire city of Kuching?

Best Place To Have Breakfast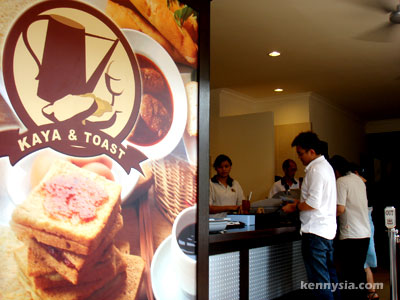 Kaya & Toast. They got two branches. One in 3rd Mile, the other one closer to the city in Wisma Nation Horizon, Jalan Petanak.
Their soft-boiled eggs are the best in town and I simply love their curry rice.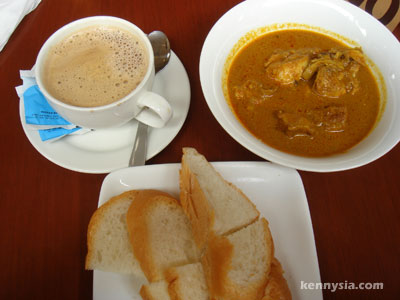 I come here so many times that even the staff recognises me. Not only that, they also developed some sort of psychic powers. I don't even have to open my mouth and they know what I want to order already.
If they see me walking in sleepily, they'll know I want my coffee. If they see me walking in with saliva dripping down my mouth, they'll know I want my curry chicken rice. Damn power.

Best Food Court To Try Almost Everything Under The Sun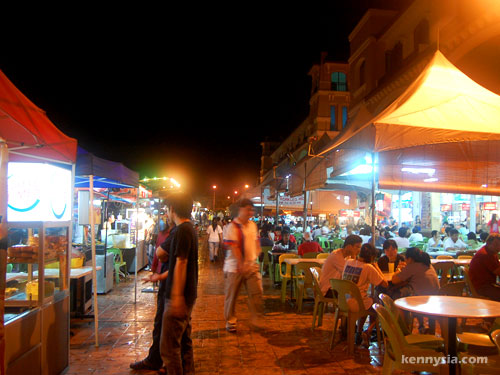 Jalan Song Food Court
With three major food courts packed into one area, no wonder is placed is always decked out. They are only open at night and the only way tourists staying in the city can get there is by taxi. Whenever I have friends coming over wanting to try a bit of everything that Kuching has to offer, this is where I bring them to.
Seriously, this place is so freaking huge, it's like the 1Utama of food courts in Kuching.

Best Roti Canai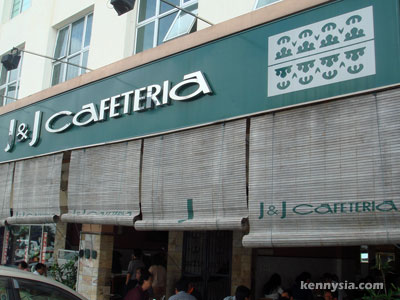 J&J Cafeteria, Jalan Setia Raja at Tabuan Laru
Roti Canai isn't very popular in Kuching, no thanks to the longstanding rumour that Indian roti canai makers who wear big rings on their fingers may have shit stained hands. Most Indians wash their ass with their hands instead of using toilet paper, and you won't wanna eat the roti canai made with those same hands.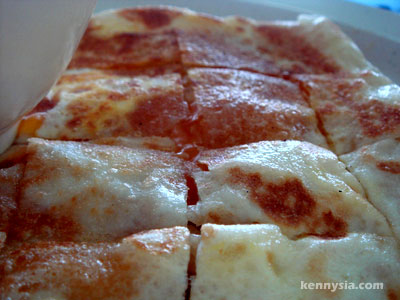 Well, if that rumour is true, then the shit of this roti canai maker must taste really good. Every morning J&J Cafeteria is packed to the max.

Best Teh-C-Special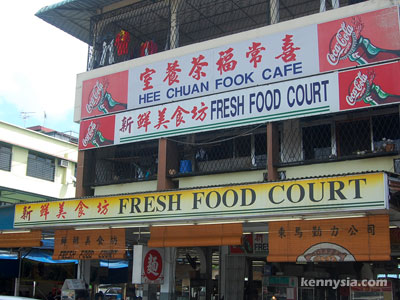 Fresh Food Court, Lorong Liu Shan Bang 3A, Kota Sentosa (aka 7th Mile)
Sarawak is the only place in Malaysia where you can get the Teh-C-Special, otherwise known as the three-layer Teh-C-Peng. This drink is served with three distinct layers of tea essence, sugar water and ideal milk clearly seperated in the glass. You're supposed to stir it up before you gulp it down.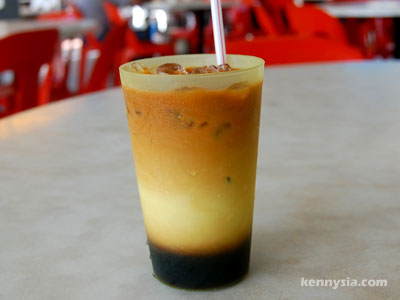 The delicious concoction of drink is available in almost every single coffee shop in Kuching, and and it tastes pretty much the same everywhere. If you believe in the doctrine that "Original Is Best", then go to this shop in the 7th Mile near the wet market.
Just like how Bethlehem is the birthplace of Jesus, Fresh Food Court in 7th Mile is the birthplace of the Teh-C-Special. It's where the citywide craze all began.

Best Sio Bee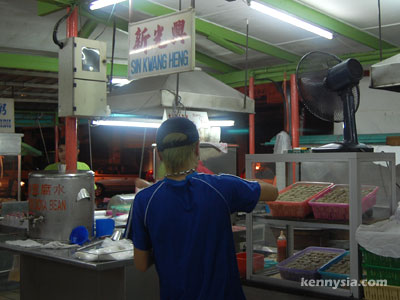 Sin Kwang Heng, Open Air Market
The owner manager of this sio bee stall is a Kuching legend in his own right.
Almost never seen without a cigarette hanging from his mouth, the guy must have violated hygiene laws in at least 70 different countries, including Malaysia's. But Kuching people very power one. If something is good to eat, we will risk life and death to eat – even if it has cigarette butts in it.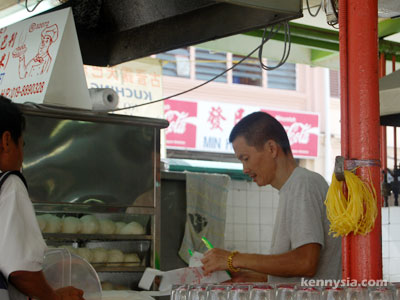 The owner manager of Sin Kwang Heng is also famous for shouting at you when you make your order. Try standing in front of his stall and he'd shout "LU AI HAMIK!?" (WHAT DO YOU WANT) like you had insulted his grandmother. It's funny, but a bit ridiculous. Wanna buy sio bee also kena shouted at. Like you owe him money like that.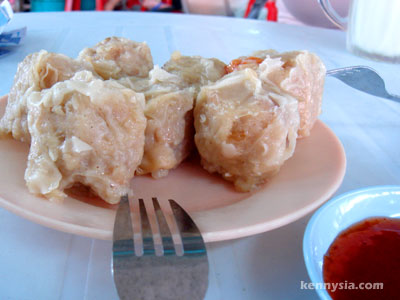 That aside, the sio bee here is a long-time Kuching favourite. They are so good that Sin Kwang Heng have begun mass-producing and supplying them to kopitiams all over Kuching.
The only thing Sin Kwang Heng could possibly do to make it better is if they follow those KL franchise like Strudelz and Baoz, and change their name to Sio Beez.

Best Beef Noodle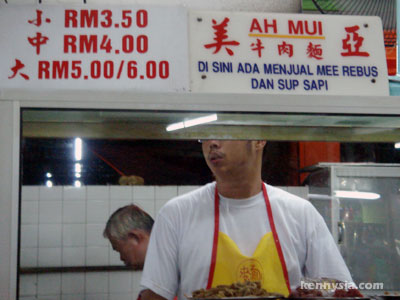 Ah Mui, Open Air Market
Another long-time Kuching favourite. With some luck, you might be able to order this dish served with bull's penis.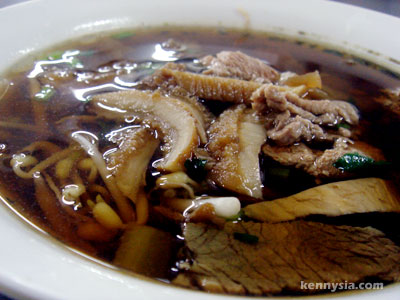 I've never tried it before myself though. To me, eating a bull's penis is too much like giving dead animals a blowjob.

Best Tomato Kueh Teow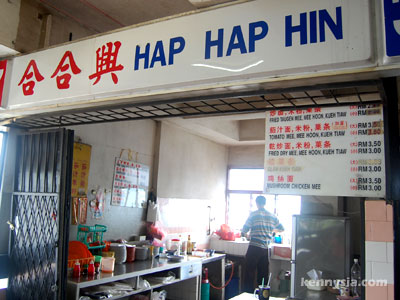 Hap Hap Hin at Kenyalang Market
You can get Tomato Kueh Teow almost everywhere in Kuching, but only this stall does it to perfection. Come early, because they are so popular, they sometimes sold out before noon time.
This is what Sarawak's Tomato Kueh Teow looks like.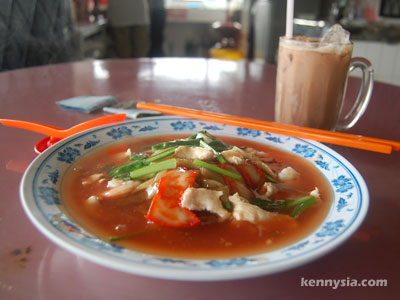 Other people seems to have a different intepretation of what "Tomato Kueh Teow" means.
Last time I ordered "Tomato Kueh Teow" in Singapore, they gave me a plate of Fried Kueh Teow and a bottle of tomato sauce.

Best Belacan Beehoon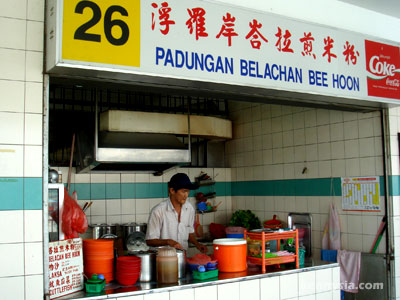 Padungan Belacan Beehoon at Song Kheng Hai Food Court, Jalan Padungan
This is my favourite dish! I always order it with extra cuttlefish and century eggs. This stall at Song Kheng Hai serves pretty mean Sotong Kangkung as well and the drinks stall next to it can make excellent Honey Sea Coconut.
The drinks stall owner next door has a pretty lame sense of humour. If something costs one ringgit, he'd come to you and ask for "one thousand ringgit."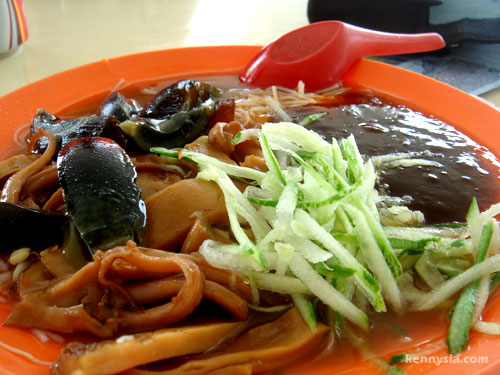 Belacan Beehoon is one of Sarawak's most legendary delicacies, although it can't reach Sarawak Laksa in terms of popularity. Nowadays, it is not so easy to find Belacan Beehoon in Kuching because not a lot of people can stand its pungent smell.
But for people like me who love this dish to death, we won't find it smelly at all. I had it for lunch with Jojo the other day and she complained about it.
Jojo: "That's gross. How can anyone stand eating Belacan Beehoon? It's so smelly!"
Kenny: "I put up with your smoking all the time, and you can't even put up with me eating Belacan Beehoon?"

Best BBQ Rice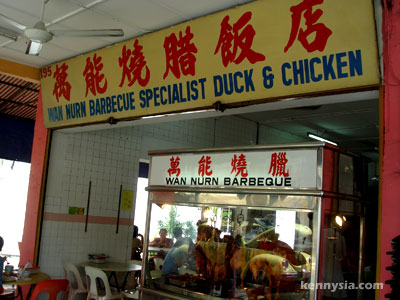 Wan Nurn Barbecue Specialist Duck & Chicken, Jalan Padungan
They are within walking distance from the city centre, located right opposite Memories Cafe.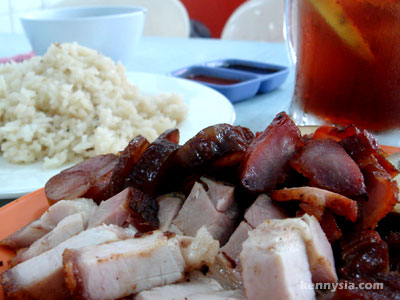 It takes a lot of balls for someone to call themselves a "specialist". Luckily, Wan Nurn lives up to its name. I especially like their BBQ pork selection. Served with their sweet homemade BBQ sauce, it is absolutely heavenly. Just remember not to take too much from this BBQ "specialist", otherwise you might have to make a trip to visit a cancer specialist.

Best Chicken Rice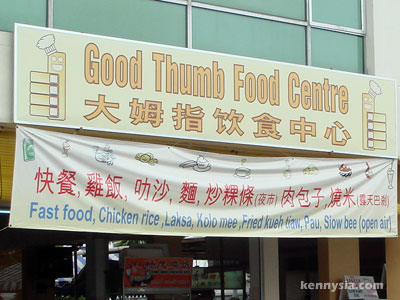 Good Thumb Food Centre, Jalan Dogan, Batu Kawa
This place used to be called Big Mouth. But then the popular chicken rice stall there had a dispute with the landlord, so they moved next door and call themselves Good Thumb. Why Good Thumb? Because the Big Mouth can suck on the Good Thumb and shut up.
Regardless of what they're called, the chicken rice there is still hands down the best of the best in Kuching.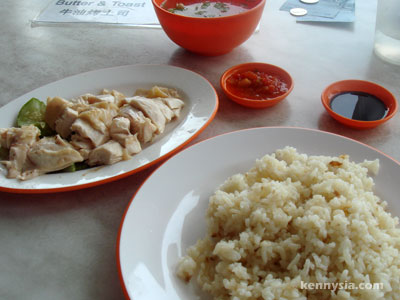 The most important ingredient of a chicken rice is the chilli sauce. Good Thumb's chilli sauce is so damn good, they might as well package it and sell it off as can drinks. I'd drink it everyday.

Best Kolo Mee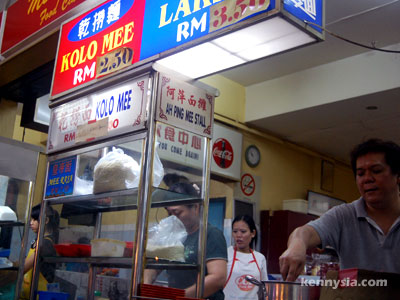 Ah Ping Mee Stall, Siang Siang Food Court Tabuan Jaya
There are no decent Kolo Mee stalls located within walking distance of any of the hotels here. For a real taste of Kuching, you must travel out to the suburbs.
Trust me, it's worth it. You hadn't really been to Kuching until you had a taste of Kolo Mee. And please, eat it like the locals do. Don't mix it with dark soy sauce like how the KL people does, or mix it with sambal like how the Singaporeans do.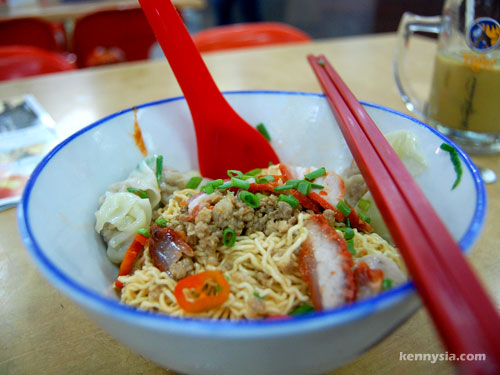 Actually, I still think Kuching's best Kolo Mee is at KY Cafe on Sekama Road. But too much of the same thing can be monotonous. For a change, I recommend this stall at Siang Siang Food Court in Tabuan Jaya. When I was staying overseas, my dad used to "ta pao" the Kolo Mee from this stall and bring it over for us. It's the only thing we look forward to.

Best Lui Teh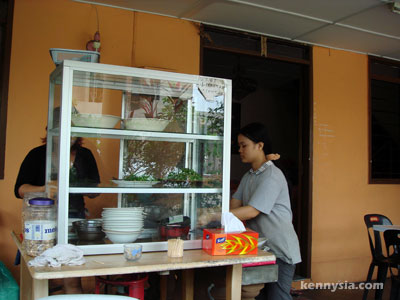 A residential house at the corner of Jalan Intan and Jalan Tengah, off Green Road
Lui Teh is a Hakka dish that normally tastes very bitter. Somehow the Lui Teh at this place is different – it doesn't even taste bitter at all!
I wouldn't even know this place existed if it weren't from Francis bringing me out to lunch here.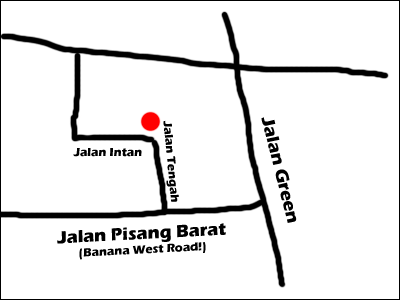 This place so well-hidden inside the residential area it must be Kuching best kept Lui Teh secret.
It's puzzling why the owner didn't wanna set up a stall at a food court to attract more business, especially since it's obvious that his Lui Teh recipe is so popular. Sometimes, his eatery can be so full that people have to wait outside to get a seat.
Even more puzzling is – why don't he serve drinks to his customers to earn more income? I think maybe he knows his Lui Teh is so good, his customers are gonna salivate so much that they don't need to order drinks anymore.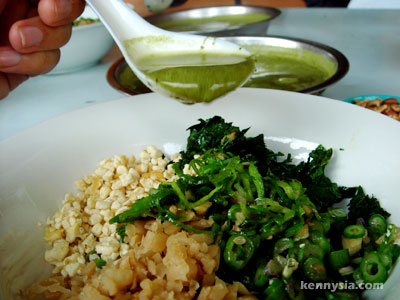 Whatever it is, you MUST try the Lui Teh at this place. Some people call it delicious.
I call it, Lui-Teh-licious.

Best Seafood Kolo Mee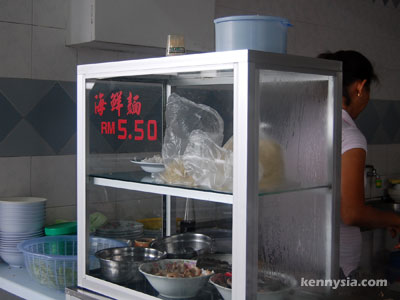 Hong Yan, Jalan Kuek Sik Fong off Jalan Sekama
The place is two shoplots big and the only thing they sell there is Seafood Kolo Mee. RM5.50 is pretty expensive by Kuching's standards, but Hong Yan makes every single cent worth it.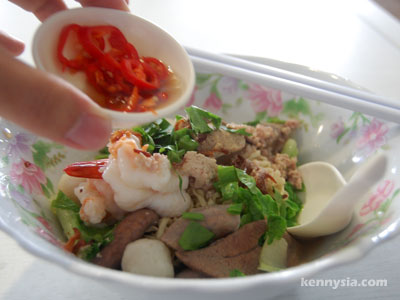 You don't see the customers there complaining. Eating the Seafood Kolo Mee here makes them happy. Don't come after 11am because I guarantee you it'll be sold out by then.

Best Kueh Chap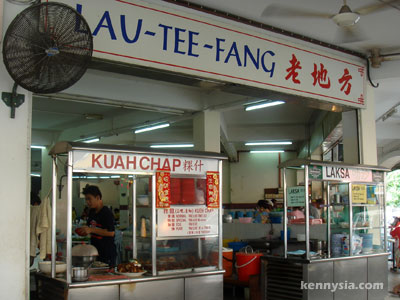 Lau-Tee-Fang, 4 1/2th Mile Commercial Centre
We call it Kueh Chap. Other people call it "The Pig's Spare Parts Soup". Kueh Chap is made by chopping up every single internal organ of the pig and served in some black-coloured soup. Salty, but lovely.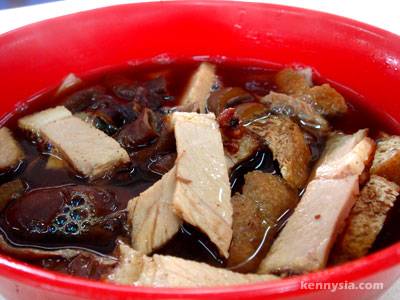 Just like the Seafood Kolo Mee stall, the Kueh Chap at Lau-Tee-Fang is usually sold out by 11am. I wish they could make more for lunch, but they are open for breakfast only so come early.

Best Sarawak Laksa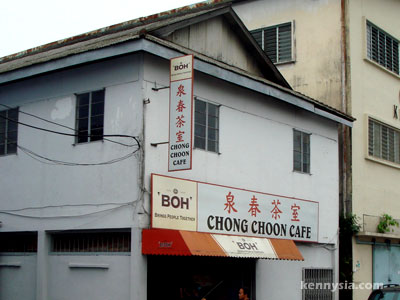 Chong Choon Cafe, Jalan Abell.
These guys have been around for ages and they really know their stuff. Located smack in the middle of the city, they are easily accessible to tourists staying in the hotels here. The 8TV crew has been here before and they love it. I brought every single one of my friends from overseas here and they love it. Their laksa is so good its addictive.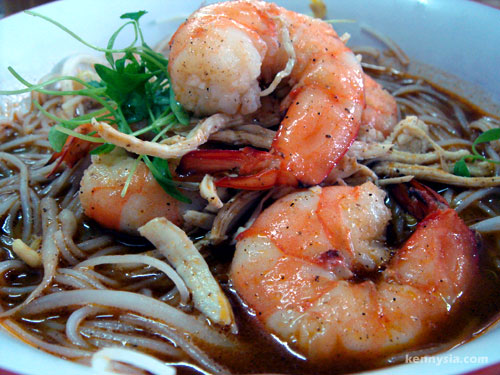 Chong Choon is open early in the morning and their laksa is all sold out before the clock even hits 11am.
If you realise, all the good eateries in Kuching are only open for a few hours. They could've make more money if they are opened a bit longer to serve the lunchtime crowd, but these people don't do it. I don't know why.
Maybe Kuching people just don't know how to do business.

A comment from my recent entry about my trip to KL:
"Kenny, you're just one pathetic kid trying to seek the media's attention for that so-called fame when you're trying too hard to hook up with those celebs.(Probably because you lost your father, you desperately need to show the whole world what you've GOT!)"
I didn't know writing about my holiday could offend anyone. Tell me, guys. Why do I have to put up with this?