The food in Bali is awesome.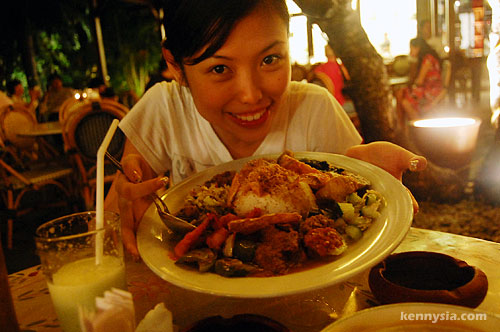 Throughout our one week stay in the Island of Gods, the four of us pretty much stuffed our faces crazy with some of the best authentic Indonesian food we have ever eaten.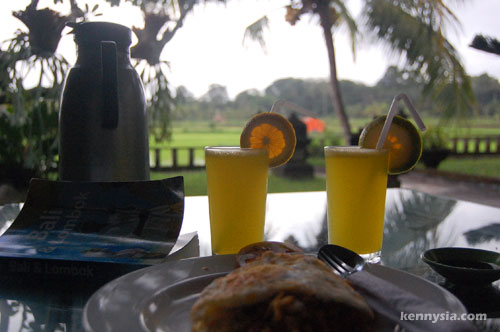 The great about thing eating in Bali is that it doesn't matter whether it's the lavish RM50 seafood feast by the beach, or the 20 sen pork satays by the roadside in the middle of the mountains, delicious food is everywhere to be found in Bali.
In fact, I might even say there's no such thing as bad food in Bali.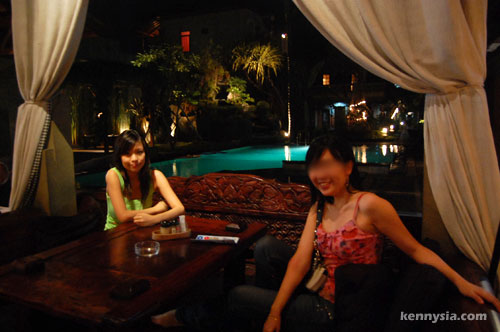 The hunt for good food didn't start off quite as smoothly though.
Our first night in Bali, we went to this gorgeous restaurant named Nasi Bali in the middle of Kuta.
Because we're all in a foreign country, we all wanna try something special and not commonly found back home. Luckily, the restaurant menu was easy enough to read. After all, Bahasa Indonesia shares many similarities to our own Bahasa Malaysia.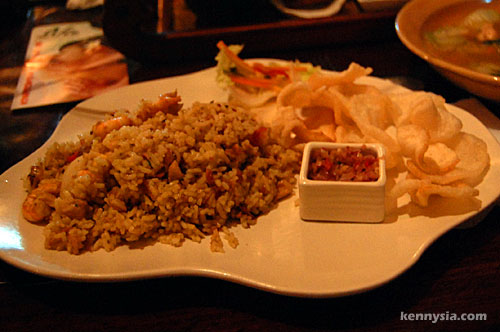 So I ordered this delicious Seafood Nasi Goreng while Chris Tock and Cheesie opted for the sumptuous Balinese Feast.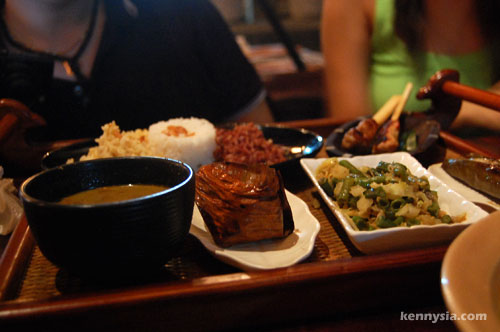 Icy on the other hand, decided to experiment with something a bit more exotic and picked a curiously sounding item from the menu called Cap Cay, eventhough she had no clue what Cap Cay is and what Cap Cay looks like.
Good for her. I always applaud people willing to try new things.
It wasn't when her meal finally arrived that she came to the sudden realisation that "Cap Cay" was actually not pronounced "CHAP CHAY".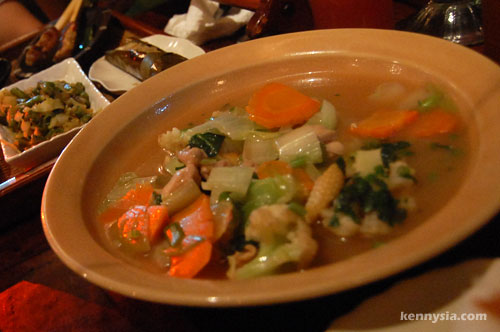 Cap Cay is really just a boring old vegetable dish, more commonly known to us as "ZHAP CHAI".
So much for trying something new.
Now that we know not to order something from the menu we don't understand, we wisened up and our lunches and dinners since then were nothing but a real treat.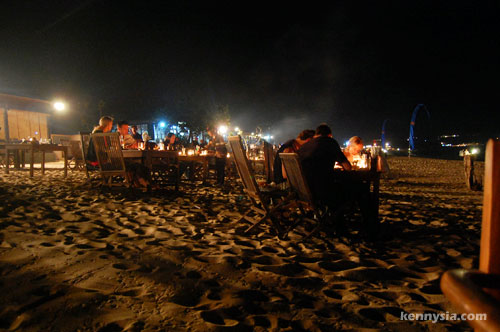 One of my most memorably meal was in Jimbaran, a small coastal town 30 minutes south of Kuta.
At close to 140K Rupiah (RM50) per head, our dinner at Jimbaran was easily the most expensive throughout our entire Bali trip. That said, I gotta say it was worth every cent of it because it was the best grilled seafood feast I've ever had in the longest time.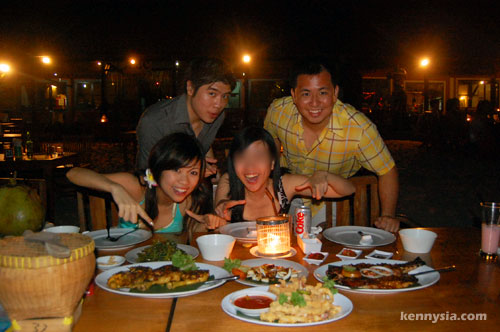 There's nothing quite like savouring the freshest catch from the ocean, dining underneath the stars on candle lit tables set up by the beach, hair swept by the sea breeze, toes digging into the sand, listening to the crashing of waves, chit-chatting with friends while enjoying the vocals from the group of roving musicians serenading you with a love songs.
It was incredibly romantic.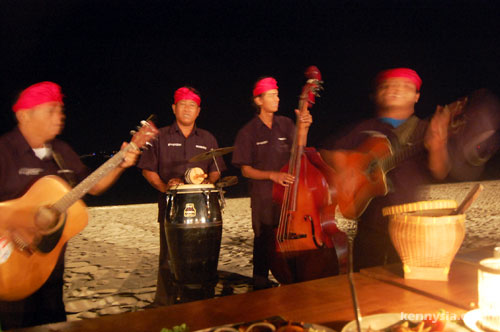 So romantic that at one point Icy wept uncontrollably during a song.
I don't know why she got so emotional cried. But I assumed she was hoping to share that magical moment with some hot half-naked hunk.
Instead what she got was Chris Tock.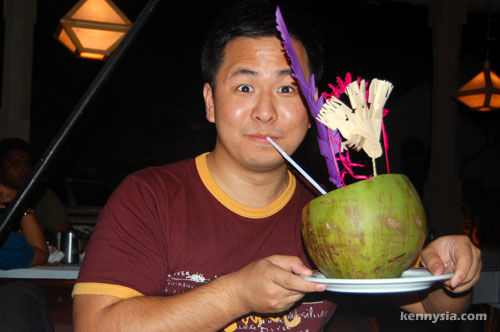 The food at Jimbaran Bay are one of a kind. Outside the typical tourist traps, food in Bali are all very reasonably priced.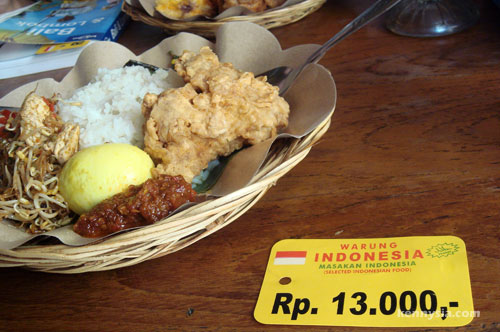 Warung Indonesia, located in the backlanes of Kuta, for example, serves generous portions of Padang food for around 13K Rupiah (RM5) each.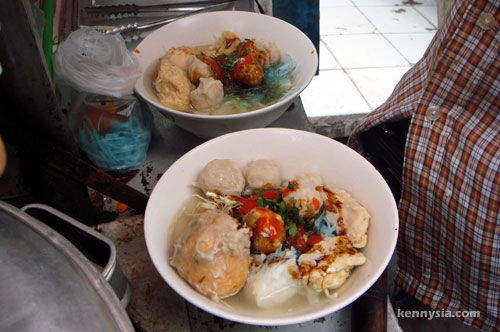 The dirty bakso pushcart at the Ubud Market also sells fabulous meatball soup for an equally dirt cheap price of 5K Rupiah (RM1.50) per serving. Notice that the meehoon they use here are blue in colour.
Bakso to Indonesians are like Kolo Mee to Kuchingnites.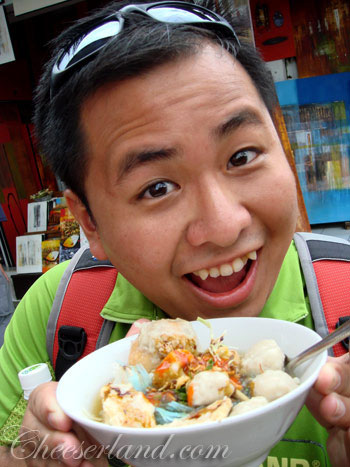 You can never say you've been to Indonesia until you've had the experience of squating over some strangers' doorsteps, eating by the roadside with one hand holding the bowl of bakso and the other hand holding utensils washed so carelessly that you could still taste the previous customer's saliva in it.
As unhygenic as it may sound, the bakso served is always mouthwatering and pack a punch full of flavour.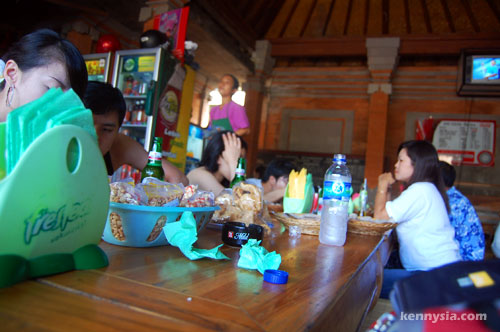 Just across the road from the Ubud Market is the most famous Babi Guling Ibu Oka.
Babi means pig, Guling means rolling, and Ibu Oka is presumably the Auntie Oka who runs the shop. Babi Guling is Bali's famous traditional dish and a must-try for any visitor to the island.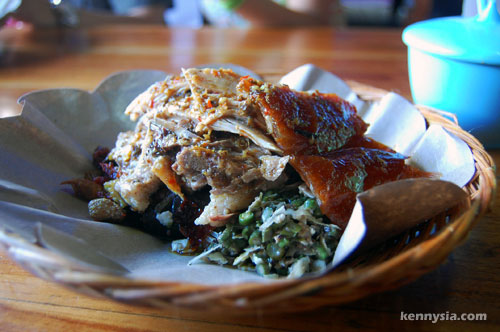 Ibu Oka's warung is like an institution over here. Locals and tourists have been raving about it since the day we touched down in Bali.
Despite being such a huge crowd favourite, Ibu Oka has maintained a modest price of 25K Rupiah (RM9) for a large bowl of spit roasted pig on a bed of rice, pickled veggies and fried pork skin.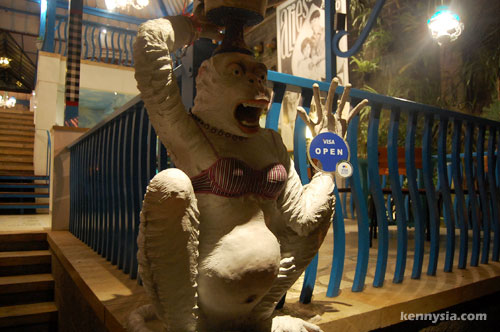 We dined at many beautiful restaurants in Bali, and all of them were fantastic.
But if you ask me which dining experience I remembered most fondly of, I'd say it's at the crappy roadside stall where we had our very authentic local version of pork satays.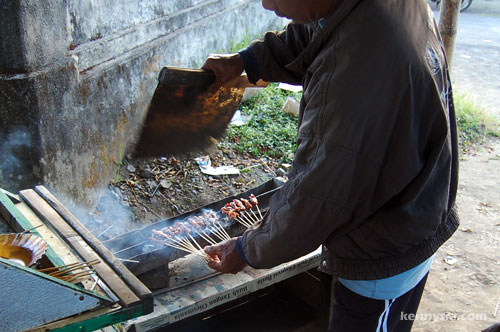 We stopped by this insignificant roadside stall after 2 hours of butt-thumping journey driving through pothole-filled mountain roads of central Bali.
I can't tell you where this stall is located because I don't even know. We were so far away from the tourist radar that the place we were in was not even depicted on my GPS map.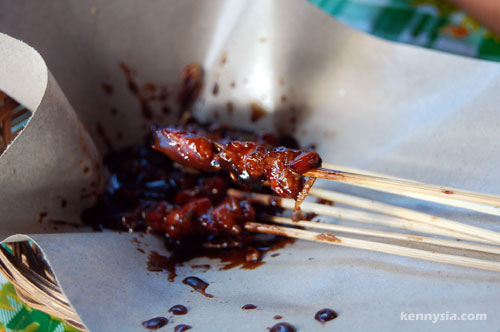 All our backache were forgotten as soon as we sat down on the wooden benches, eating freshly barbequed pork satays on a mountain village some 1,000m above sea level. An order of 10 sticks cost us just 5K Rupiah (RM1.60), and we liked it so much that as soon as we finished, we ordered another 10 more.
There's something about pork that conjures a whole new level of taste when they're done as satays.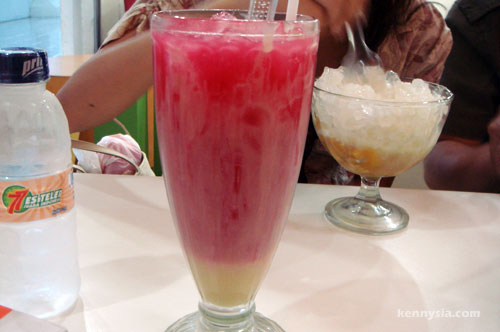 One drink I can never get enough of everytime I travel to Indonesia is this concoction they called Soda Gembira which I discovered during my last trip to Jakarta. Essentially, it's just syrup and condensed milk mixed with iced soda.
Somehow the mixture worked really well together, and I love it so much that I ordered it on almost every meal.
Soda Gembira, translated to English, means Happy Soda. And everytime I drink Soda Gembira, I become very happy. Soda.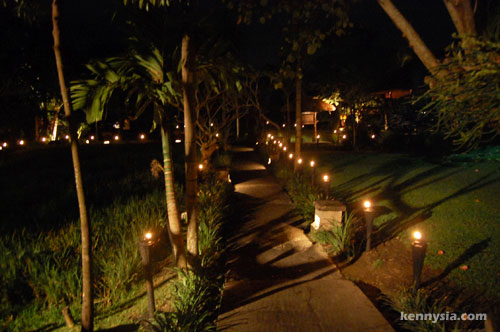 A word of warning though when you dine in Bali.
Indonesian food can be very, very spicy.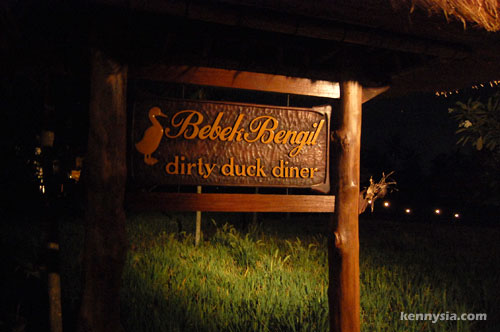 We were at a restaurant called Bebek Bengil (Dirty Duck Diner), a lovely restaurant located in the middle of the rice paddy fields in Ubud.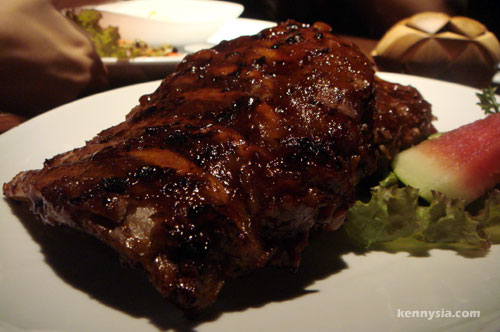 Give their signature crispy duck a pass. Go straight for BBQ pork ribs which are absolutely to-die-for.
On our night at Bebek Bengil, it was their traditional Indonesian Gado-gado that stole the show.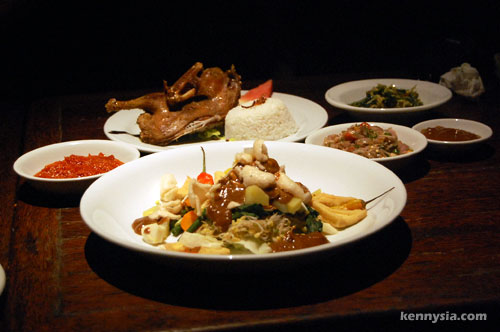 Specifically, it's the tiny little chilli on the dish that made quite an "explosive" impact on one of our posse.
Something I'm sure Christopher Tock will agree.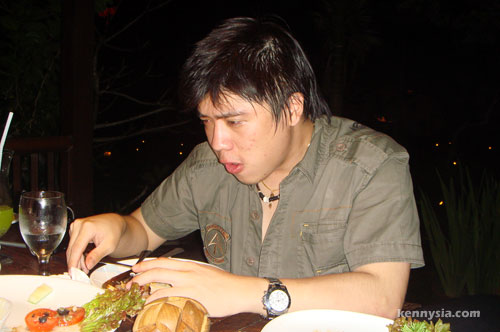 Don't be fooled by his serious face. He actually really liked the chilli.

Just watch his "review" above.

Weird News Of The Day: "A Singaporean man with a penchant for sniffing women's armpits was sentenced to 14 years in jail and 18 strokes of the cane for molesting his victims. He molested 23 women over the course of 15 months, smelling their armpits in lifts, staircase landings and their homes."
Poor guy. Why sentence him to caning?
If he likes armpit smell so much, the only punishment he deserves is to permanently stickytape his face to my hairy stinking armpits.