After spending 5 years in the professional workforce, I finally concluded that fresh graduates who complained that there's not enough jobs for them in Malaysia must be either: (1) really lazy, or (2) complete morons.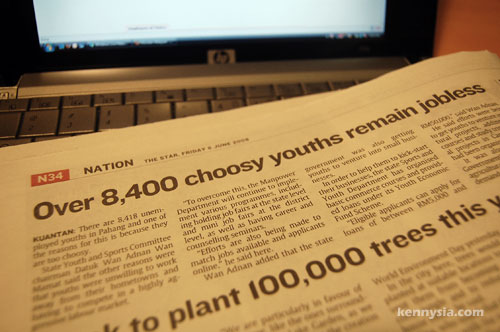 A quick search using popular online job search website Monster.com.my revealed that there's as many as 79 listings for jobs requiring less than 1 year working experience.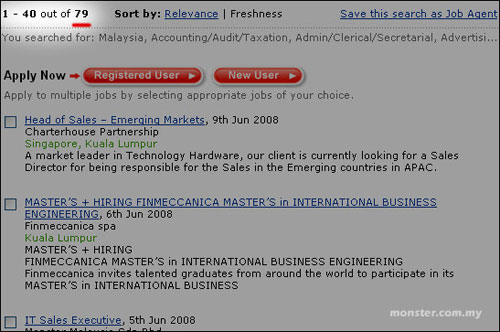 Monster.com is a global online career and recruitment search engine graduates can use to find suitable jobs not just in Malaysia, but throughout 50 countries where it has a presence in. Worldwide, over 7 million job searches are performed on Monster's search engine everyday.
With more than 80 million resumes on file, it is also the largest global resume database in the world. And that number is rapidly increasing everyday with aggressive recruitment campaigns like these.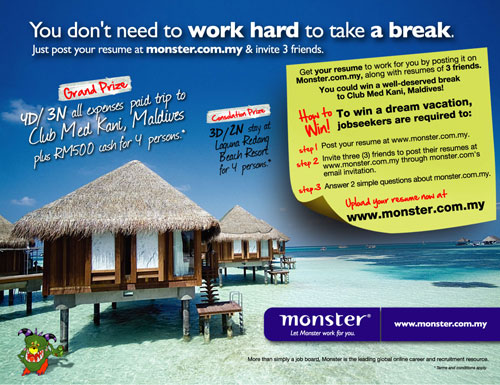 According to Monster.com, there's as many as 39 jobs in Sales, 39 jobs in Engineering and 35 jobs in Accounting in Malaysia.
A lot of these jobs are at prestigious high-paying jobs in reputable companies. Some are even multinationals such as IBM, Tyco and BMW.
More jobs are available for you if you are willing to relocate out of Malaysia, to work in countries such as Hong Kong, Singapore, Dubai, Thailand or India.
Surely out of all these, there's must be at least one position that fits?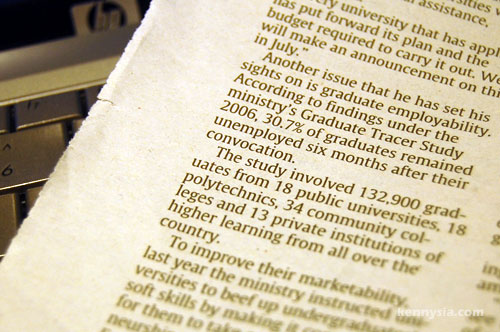 It seems to me like the reason there's so many fresh grads in Malaysia still not able to secure a job is because many of them think way too highly of themselves.
I've seen it before. A bunch of rich kids fresh out of Uni walking into the interview room demanding for the kind of salary that even a manager with 10 years experience are ashamed of asking.
One look at their resume, I struggle to find a reason why I should be employing them.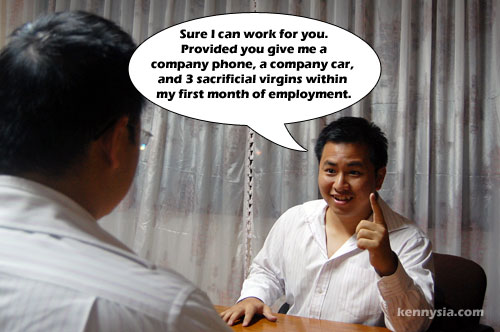 A lot of fresh grads complained that no one wanted to employ them because they don't have any experience under their belt.
I'm not saying that finding a job as a fresh grad is easy. I've been there before. Yellow Pages in hand, cold-calling all 50 engineering companies in my area pleading them to take a final-year engineering undergrad as their intern.
Finally one company accepted, and I went to to intern 6 months for an engineering testing lab free of charge just to gather enough work experience for me to apply for a better-paying job.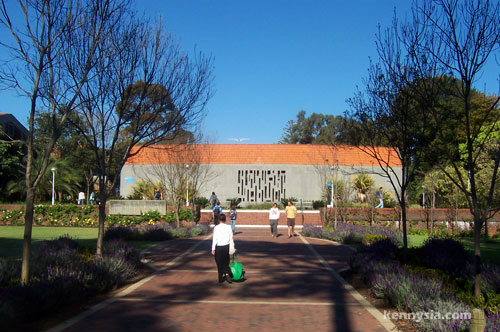 After my internship, I worked my backside off for another company for 2 years. Time and time again, I prove to them that I'm a valuable asset to the company that they cannot live without.
I made no demands and my starting salary was meagre.
But eventually they're happy to double my salary in 2 years because I made myself so integral to their company that if I were to leave them, the company would suffer a loss far greater than what they are paying me.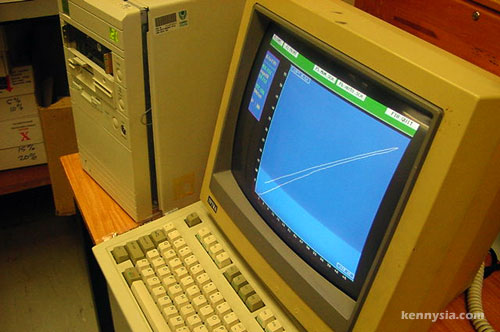 Now that I am in a position where I interview and employ people to work for me, all I can say is that some fresh grads should really keep their egos in check before they walk into the interview room. Until they can fend for themselves on the proving grounds, they have no right to ask for ridiculous benefits.
You're not a student anymore. You are a professional. No longer are employers interested in how many A's you could score in your exams.
Above all else, the number one criteria I'm looking for is how hard you're willing to fight to help us reach our common goals.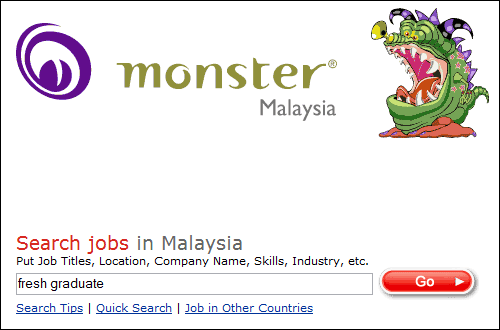 It's not that there are not enough jobs out there for fresh grads.
The jobs are there. Monster has such a huge database of them.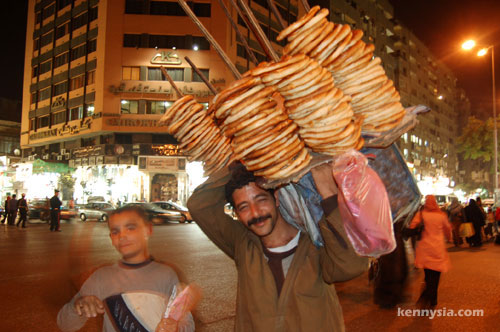 Question is, do you have the right attitude for the job?

Blog Plug Of The Day: This one is a must-read for all the girls out there thinking about participating in beauty pageants.
Beauty queen natalynn has been around the pageant circuit, and in this blog entry she reveals all about the dirty secrets behind the workings of Miss Malaysia Universe.
Wait. What's that sound? That's the sound of a BOMBSHELL dropping, that's what!