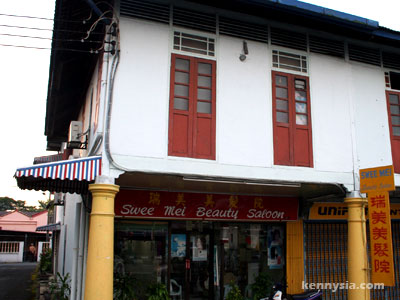 Swee Mei Beauty Saloon is this very old barber shop along Jalan Sekama that's been in operation for as long as I could remember. I've been getting my haircut there since I was a young enough to have to sit on an elevated wooden plank. Almost 20 years later they're still cutting my hair.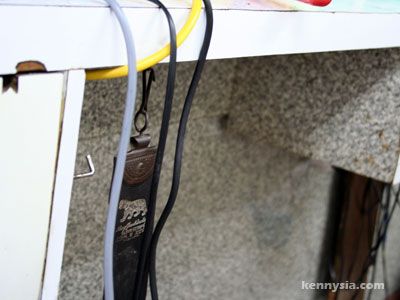 I kept going back there not because I like them, but because its becoming such a habit I didn't bother going anywhere else. It wasn't until much recently that I decided to get my hair done at other hair salons and I've neglected Swee Mei since then. In fact, my last visit was probably around 12 months ago.
Feeling a little nostalgic, I dropped by one day to pay them a visit.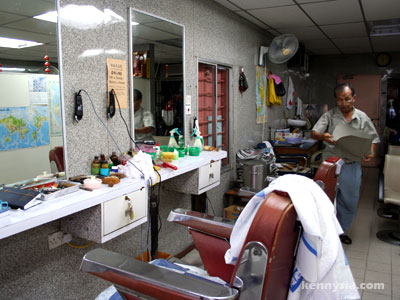 This is the inside of the barber shop – the messy desk, the stench of lubricant, the mat on the chairs, Aaron Kwok on the radio singing 'Dui Ni Ai Bu Wan'. Waliew, its like stepping back into the same barber shop 20 years ago.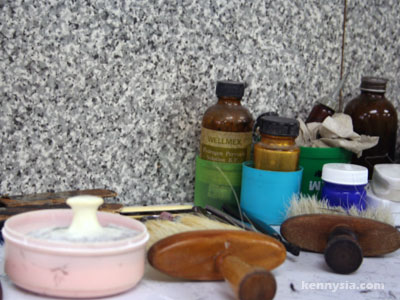 Check out their tools. Screw those shit they use in modern hair salons. Swee Mei uses brushes and talcum powders and freaking BRYLCREEM! That's 100% old school, baby. I don't know what Loreal what Schwarzkopf wtf lah.
Swee Mei is too cool for that crap. They use Brylcreem and Brylcreem only, just like David Beckham. Until he went botak.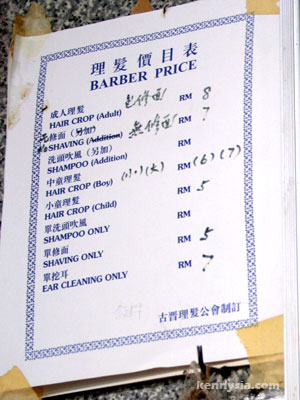 Heck, they are so old school, even their prices are the same as they were 20 years ago. How they manage to survive in this day and age of inflation and rising petrol cost, I have no idea.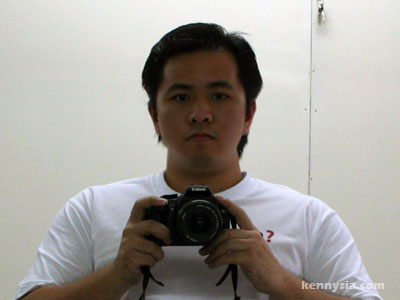 Here's a shot of me desperately in need of a haircut. My apologies for the bad lighting indoors. The Canon dSLR camera isn't mine, but its the same one I borrowed to gatecrash the Miss Tourism Pageant. Note the Bloggercon T-shirt I was wearing, compliments of the Tomorrow.SG crew. 😉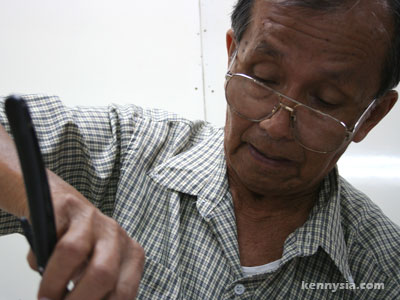 Meet my barber. He's still my favourite among the usual three in the shop. I'd like to introduce him, but 20 years of having my hair cut by him and I still have no idea what his name is. I just know him as the Ah Pek on the second chair in the barber shop.
Ah Pek is a genuinely nice guy alright. Every year, for 8 years, I'd returned from Australia and he'd attempt to strike up a conversation with me in Hokkien. And every year, for 8 years, our conversations would be the exact same topic.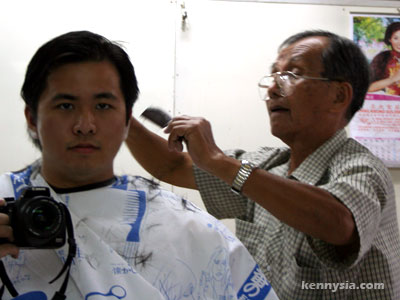 Ah Pek: "Lu ding Orh Jiu tak chek hor?" (You're studying in Australia right?)
Kenny: "Si lor." (Yeah.)
Ah Pek: "Tak hamik?" (What course are you doing?)
Kenny: "Tak kar ji peng eh gao hor siang eh." (I'm doing the equivalent of level 9 over here.)
Ah Pek: "Oh… Orh jiu ji zhong eh ti si jing leng hor?" (Oh… it must be very cold now in Australia isn't it?)
Kenny: "Bo lah. Ji zhong jing juak leh." (No lah, its damn hot right now leh.)
Ah Pek: "OH! Si ar hor. Orh Jiu ga Tiong Kok si toh peng eh!" (OH! That's right. The seasons in Australia and China are opposites of each other!)
Kenny: "Mmm… tiok loh" (Mmmm… Correct.)
*awkward silence*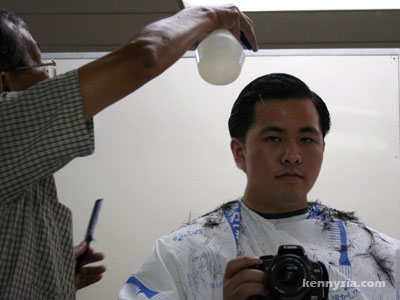 Anyway, I always tell my hairdressers to "Feel free to do whatever you want to do with my hair. Be creative." But there's no need for me to tell him to do that. As soon as my ass touch the seat, Ah Pek would start the session by spraying excessive water all over my head like I'm a potted plant.
After trimming most of my hair with an electric trimmer that smells like its been soaked overnight in motor oil, he picked up a huge pair of scissors and began cropping my hair slowly and carefully. His modus operandi was once again, the same as it was 20 years ago, except now the scissors is becoming blunt and squeaky, and his hands are shaking uncontrollably like he has Parkinson's.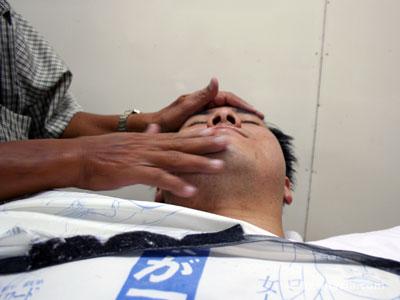 I requested for a shampoo like I always do at modern hair salons. Ah Pek politely declined, informing me that the shampoo girl grandma has gone home so I decided to let it go. Aiya, I don't think I want to let him to shampoo my head lest he breaks his finger bones when he massaged my scalp.
I was getting my hair happily when suddenly Ah Pek stepped on a pedal on my chair and made me fall on my back. Skarly he pulled a knife out no where and held it against to my neck. I got so scared my balls almost shrank.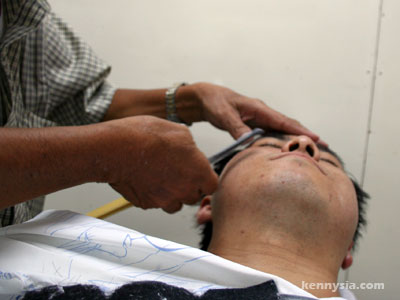 Actually I'm just getting an old-fashioned shave lah. Before Gillette comes along, this is how real men shave.
Ah Pek didn't use any shaving foam, just some soap water to lubricate my chin with a bristle. He shaved everything he could shave too – my chins, sideburns, my face, my neck, monobrow. No lah not my chest hair. No aftershave afterwards either, just Vicks Vaporub to soothe the burns. He even trimmed the hair inside my nose and cleaned my ears with a cotton bud. So nice.
I know all these sounds very gay lah, but Ah Pek is so fatherly you wouldn't even think about it. Anyway, 30 minutes later and this is how I look like.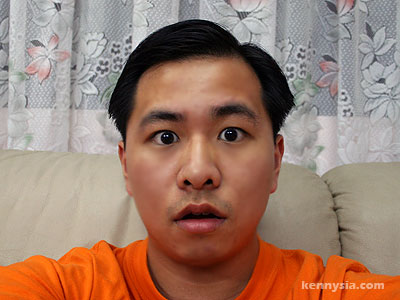 Ya, I'm very shocked too. Nabeh, like I'm wearing a helmet right? I think I'm just a pussy moustache away from looking like Mr Adolf Hitler. I wonder if Desperate Addict is still gonna like me after this.
Still, at RM8.00, cannot complain lah. Its just an old-fashioned barber shop. How to compare right?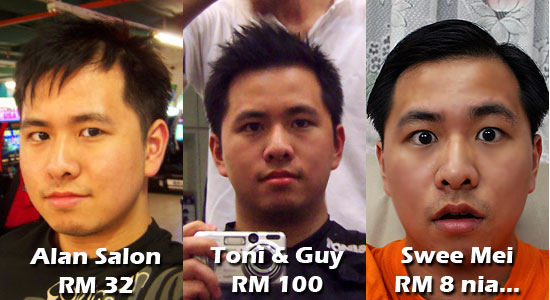 So, what do you think?

One down, one to go.
My sleepless nights paid off in the end. Server failures and flawed data entries aside, Project #1 kicked off yesterday morning without too much technical issues. Now I get to enjoy a few normal-sleeping days before I jumped right into Project #2. It'll be back to regular blogging from kennysia.com when that's done. Shanghai and Perth, here I come. 🙂