This is a bit of an old news, but for those who didn't know – tragedy struck Canada as a lone gunman brought a rifle to school and fired upon its students and teachers.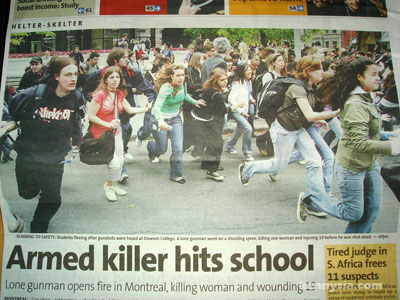 The newspaper last Friday carried this dramatic picture of people frantically rushing out of the school, obviously in terrible state of shock, feeling fearful of their lives.
I thought the photo published here was a great example of photojournalism. The photo captured the very essence of the moment as the story unfolded. Jeff Ooi and his folks at LensaMalaysia would've been proud. It's as if the photographer was standing right there in front of the schoolyard at the right place and the right time, holding up his SLR camera, snapping photos of visibly distraught schoolkids as they dashed out.
But then I start to think about, and I begin to wonder… WHAT KINDA SICK PHOTOGRAPHER hangs around the front of the schoolyard with his camera, waiting for an emergency to happen just so he could take photos of frightened schoolkids running out!?
Upon closer inspection, I noticed something doesn't seem quite right. In fact, I think I smell a rat. A big, fat, juicy rat.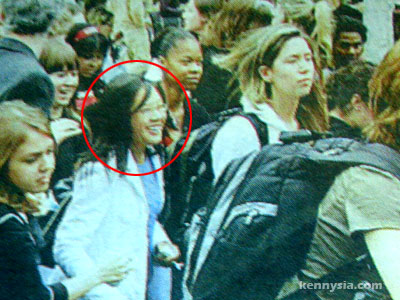 Why was she smiling? She looks like she has just finished school and is about to go on a holiday. Hey I thought the only crazy person in the school is that teenage psycopath with the gun. Don't tell me she's finding this whole thing humourous!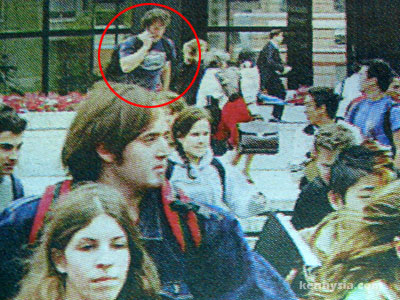 Wah! Talk on the handphone somemore! Not scared he shoot you from behind is it!
Makes me wonder this photo real one or not. Don't liddat simply put on newspaper bluff people one.

Hangout Hotel at Mt Emily seems like a pretty good place to stay in Singapore; although my experience was marred 15 minutes after I checked in, when I was cautioned by one staff member because I was searching for a USB port at the back of their public computer.
S$28.75 gets me a dorm bed in a room that I gotta share with 7 other people whom I've never met before. That's 7 people to share my Dolby Digital 5.1 Surround Soundâ"¢ Snoring with tonight. 😉