My old number died-ed on me. New number is +65 8193 7934.
I'm leaving for Singapore in an hour's time. Will be there on business for Thursday and Friday, but I'll be staying back till Sunday evening.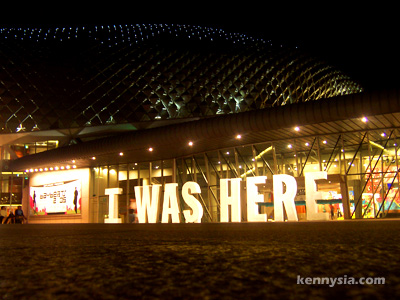 I seem to cause a bit of commotion everytime I step foot into Singapore. God knows what shit I'm gonna stir this time round.

Things I plan to do in Singapore:
Buy some clothes for my iPod nano from Sim Lim Square.
Have a haircut. Any Singaporean hair salons out there want some free publicity on kennysia.com? Gimme a good deal and let me know. 🙂 Somebody recommended to me a Japanese-style hair salon called ShunjiMatsuo. I wanted to try but I don't want to look like Crayon Shin Chan!

Register my prepaid mobile phone. Why do I need to register!? Scare I bomb your MRT with my phone issit? (Btw, my Malaysian number will be off while I'm away. Send your death threats to this number instead.)
Visit Singapore's MOST TALKED ABOUT TOPIC of the year 2005. What integrated resorts? I'm talking about Singapore's handicapped toilets lah.

Endorse Voxy Nails
Catch The UnXpected playing live this Saturday night at Walalala.
Laugh at all the high school kids studying day and night for their GCE 'O' Levels right now. HAHAHAHAHA!!!

Get rid of my 1.5-year-old Sony Ericsson K700i. It's about time. Where's the best place to trade them in?
Cheong Club Momo this Friday night. Why do they call it Club Momo? Can go in there and 'momo' the girls one issit?
Going to Zouk's Mambo Night tonight. Gotta see for myself Mambo Night's famed para-para dancers. Where the hell do these people learn those synchronised hand movements from anyway? Their tai-chi master?

Actually, I really want people to teach me how to dance like that too, but I scared later I accidentally slap and punch their face. How?

Blog plug of the day: KurtLow.com