In case you happen to be living under a rock, Prince Charles and Camilla Parker-Bowles finally married last Friday, thus effectively ending Prince Charles' run as the world's most eligible bachelor.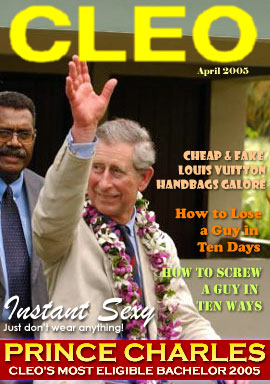 I'm not gonna diss Prince Charles and Camilla Parker-Bowles' matrimony. What needs to be said have already been said by others. At the end of the day, I have absolutely nothing against a royal 57-year-old donkey-face marrying a 58-year-old husband-snatcher on the day of Pope John Paul II's funeral. Its not like what they do has any effect of me anyway.
What I am gonna diss however is the newspaper reports that cover this wedding, sensationalising it to the point of absurdity. Everyone knows that I'm not a big fan of local Malaysian newspapers. The day newspapers here STOP publishing photos of politicians shaking hands at some bloody pretentious VIP event is the day I'll celebrate by shaving the hair off my legs and cook soup with it.
But this one is just beyond ridiculous. Have a look at this headline from news.com.au.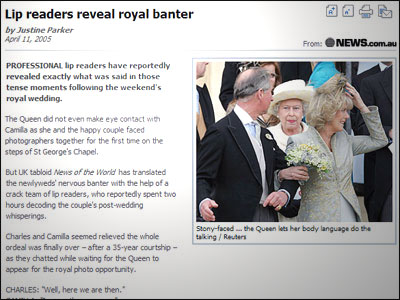 The original story was from News of the World. In case that link doesn't work, I've mirrored the page here.
An excerpt reads: "We hired professional lip-reading experts who spent two hours decoding exactly what was said as the bride and groom walked down the stone stairs to face photographers."
PROFESSIONAL LIP-READING EXPERTS? I can so imagine a couple of nerds with thick glasses practically glueing their face to the TV monitor for two full hours trying to decode what they're saying.
The entire article focuses on how cold the Queen was towards Camilla based on the following series of captioned photos. I've editted the captions into the pictures for better readability.



Gee, I wonder how much they're paying these so-called "professional lip-reading" experts to write a couple of crappy lines that MAY or MAY NOT be what the royal family said. I mean, who's watching right? For all I know they could be playing Solitaire for two hours before they come up with some smart-arse guesses as to what the royal family was possibly saying.
To steal a quote from William Hung, I have no professional training in lip-reading. But what I can do is spend 2 minutes instead of 2 hours "decoding" what they're trying to say.


See?! The Queen LOVES Camilla Parker-Bowles!
So much for professional lip-readers. How the heck can they simply decide what people are saying just by looking at a video? How do they even know they're speaking English? For all I know, they could be conversing in Hokkien.


Did you look at the way Prince Charles and his mother looked at each other? I swear that's not the way a mother and son would look at each other! I don't know about you but I think there might be something more to their so-called mother-and-son relationship.


Stupid professional lip reading experts – think they know everything, but I know better.