When I was in Sibu, I saw this.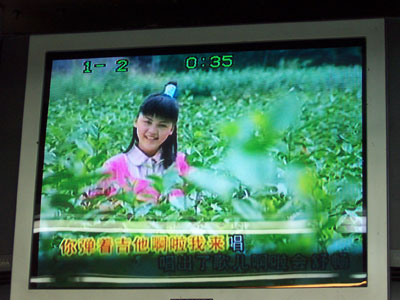 When I got back to Kuching, I saw this.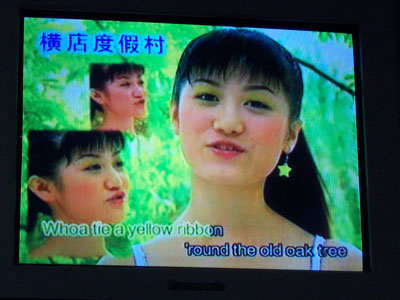 So, I did what any man would do under such proliferate advertising, and I bought this.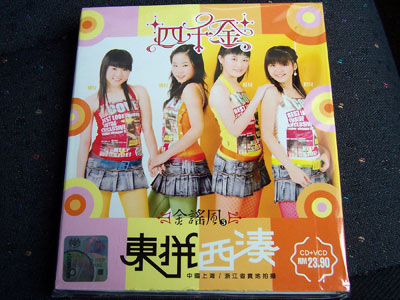 Which shall be our subject of review today.
Oh come on, don't tell me you didn't think this day is gonna come. I've been waiting to review this CD ever since the day I got back to Malaysia. *evil smirk*
So I inserted the VCD into the player, and then the horror began.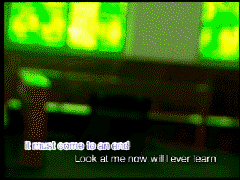 …
…
…
OH.
MY.
FREAKIN'.
GAWD.
Shit. There are SO many things wrong with this music video I don't even know where to start.
Perhaps an introduction.
For those fortunate enough to never have endured the relentless assaults of these girls' shrieking voices during Chinese New Years in Malaysia, consider yourself lucky. The name of the band is Si Qian Jin ('Si' = Four, 'Qian Jin' = Princess). Their official name in English is Four Little Golden Princess as shown on the CD sleeve. Nevermind the fact that 'princess' should be plural, because in this country its important to teach children bad Engrish.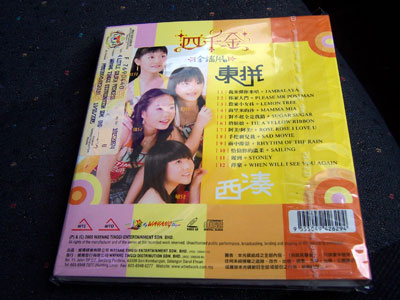 Their latest release is a CD+VCD combo album called Dong Pin Xi Cou, which implies some sort of musical East Meets West thing. Unsurprisingly, all the tracks are remixes of Chinese and English oldies like "Mamma Mia", and "Jambalaya".
Si Qian Jin is a girl group made up of four prepubescent teenage chio bus who called themselves Hong-er, Jun-er, Kai-er and Ming-er.
I think they're missing Fuck-er.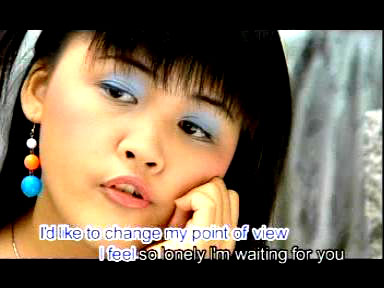 I assume these girls are teenagers. To be honest, I couldn't really tell their age since their faces are always buried underneath thick crappy makeup. Excuse me, but you DO NOT put heavy eyeliners and thick foundations on 15 year olds and expect them to look pretty. Heavy make ups are reserved for drag queens and prostitutes, so unless you're trying to market these girls as prostitutes, goddammit please EASE UP on the MAKE UP!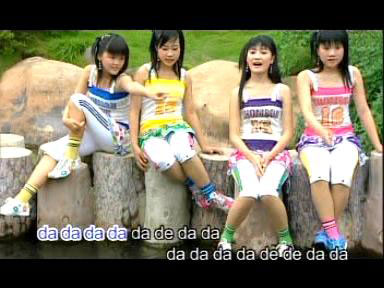 And then there's the clothes. WHAT THE FISH were they thinking dressing up in clothes like that?! That's just wrong, man, so so so wrong. I can understand they're trying to look cute and all, but… mini polka-dotted skirts with three-quarter LEOTARDS? Makes me wonder if they trying to sell this video to the torture chamber in Abu Ghraib or something.
Alright, so you said "Aiyo Kenny you so bad. Its not their fault they dressed up like that watttttt!". Ok ok ok ok fineeee. Then whoever made them dress up like that deserves to have his penis made into pretzels. To have four innocent children dressing up in clothes like that is not just a crime against fashion, its friggin' CHILD ABUSE!
Actually, I think they look like Teletubbies.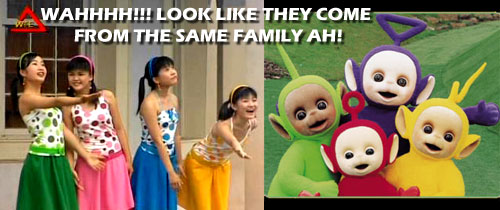 Heh. Uncanny!
Then there were the dances, or rather the lack thereof.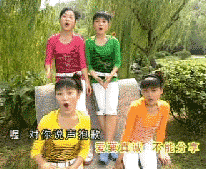 These girls move like robots. I've seen trees swaying outside my house that's more entertaining than that. The funny thing is that these girls can sway continuously for the entire video and never get sick of it. I think their producers probably told them that if they ever stop swaying like a clock, their watch wouldn't move forward.
The entire music video focuses on these four girls parading around happily. Perhaps a little too happy. Over-enthusiasticly happy. So happy in fact, I'm starting to suspect "recreational substance" blog sixthseal.com may have something to do with the production of this video.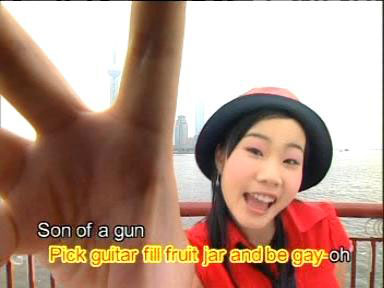 If dressing up in matching bright-coloured clothes like that doesn't induce vomit, I tell you what will: 8-year-olds in thick make ups trying to act cute.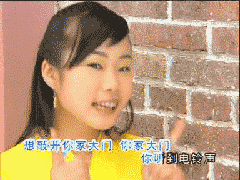 What the fork are you trying to imitiate, a RETARD? 'cos if you are, then congratulations, you're successful in annoying the hell out of me. Now go back to the mental hospital.

Man, I can't believe I spent the past one hour reviewing this crappy VCD. What a total waste.
To save time, I'm just going to write my conclusion to this review right away.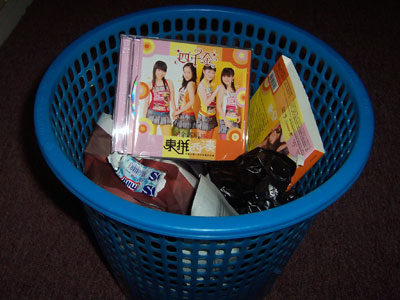 Thank you for reading.
If you happen to be a fan of this particular girl band and think that my review is harsh. I'm sorry. Sorry that your taste in music is that bad. I've got nothing personal against Hung-er Jun-er Kai-er Ming-er and Fuck-er because they've never did me any to me (other than unleashing their weapons of mass destruction on me every Chinese New Year).
To their credit, they do have great voices that's sweet, crisp and naturally melodic. But you know what, there's only so much 'ji-ge-long-tong-chiang-dong-chiang', coconut-tree-like dance moves and overenthusiastic fake smiles a man can take before he goes berserk. I reckon they should do themselves and ourselves a favour, dump their record company and give us a chance to breathe.