Saturday. 25th June. 10:30am. The coach I was on had only just departed Puduraya bus station en route to Singapore.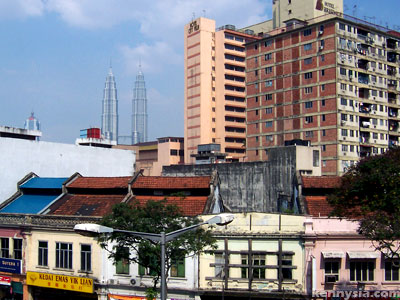 My Singapore trip was more or less decided on an impulse, having just booked my hotel room the day before I was supposed to leave (a grave mistake as I found out later). I made some really close friends from across the border, so I thought while I was in Peninsular Malaysia, why not make a detour down to Singapore to pay them a visit? There's a list of people I was hoping to meet, though I didn't want to let them know 'cos I was secretly planning to give them a surprise.
So I told Scarlett Ting, who was supposed to mastermind a dinner with Finicky Feline (FF) and some others, where I'd appear out of nowhere and give her the shock of her lives. Ting came up with that evil plan, and I loved it.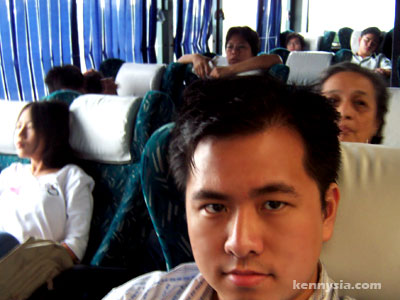 Apple Lim knew too. But that's fine 'cos she's always been very indepedant and I know she wouldn't be telling anyone else.
Then I told minishorts, which I thought was ok since she's Malaysian. Wrong. Within 15 seconds, she sent a message Mr Miyagi-san, who then told mr brown, who then relayed their phone numbers and a time to meet back to me almost immediately. Darn that minishorts.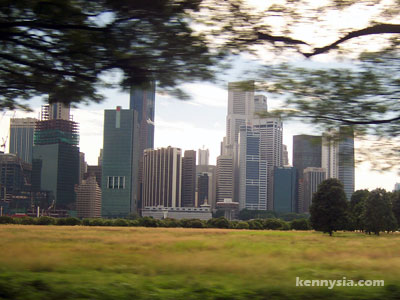 Someone else I wanted to surprise is Wendy Cheng. The night before I was supposed to leave for KL, I hinted her that I was coming down. She demanded that I come down. So I told the blog princess my plans.
At this point, I'd like to iterate although I was portrayed as a casanova, our relationship is definitely not a romantic one. But telling you that kinda spoils half the fun. So pretend you didn't read this message.
So as I was making myself comfortable for that 5-hour coach trip, I suddenly realised one thing… I SUCK AT GIVING SURPRISES.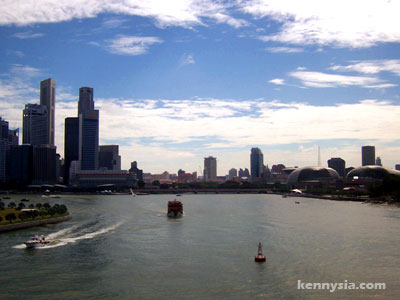 Anyway, I didn't make any appointment with any of them because I want to stay flexible, so a lot of our meet-ups were improvised and impromptu. I thought that as soon as I arrived in Singapore at around 4pm, I should be able to meet with Wendy for some chit-chat, dinner with mr brown and Miyagi around 7pm, Ting and FF at Wala Wala around 9pm, then finish the night with Apple at Devils Bar around midnight. Everyone goes home happy.
Wishful thinking, Kenny. Stop planning your schedule like a 3-year-old.
I was sleeping on the coach when I was interrupted by this message from mr brown.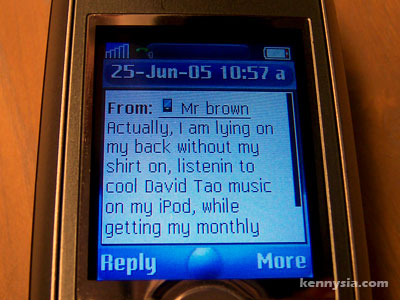 brown = 'metrosexual'? Suddenly I have this image of a half-naked mrbrown forming in my head.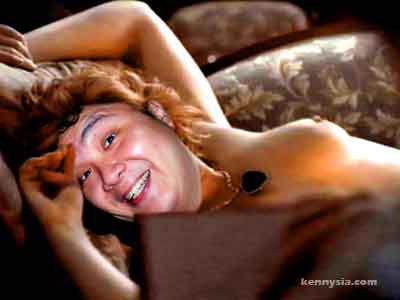 I continued the rest of my journey holding vomit in my mouth.
When I arrived at the Golden Mile Complex on Beach Rd, Wendy gave me a call and said something along the lines of "I don't want to meet you anymore" , Miyagi said he'll call me at 8pm to meet at the Hideout, Ting said to meet at 8pm (as well) at Wala Wala, and Apple was holed up in some place far far away called Tampenis.
Worse still, when I checked into Hotel 81 in Chinatown later that day, the receptionist told me they're fully booked and my reservation didn't went through. Nabeh. Just 'cos my surname is SIA doesn't mean you all can go fly aeroplane on me.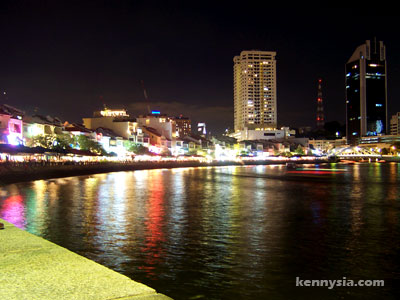 6pm. Orchard Rd. Ting messaged me back after I asked her to try to convince FF to meet at the Hideout instead. Then at least, I get to meet brown and Miyagi together with them. Scarlett Ting tried, but the Feline's flawless cat sense managed to see right through her. My attempt to surprise FF: FAILED. At least she agreed to go to the Hideout at 8pm. Good.
7pm. Orchard Rd. Still no word from the princess, though I knew she wouldn't want to turn up at the Hideout. At the back of my mind though, I was secretly hoping she'd use her brand spanking new Zouk card on me. That is, after my excursion to Hideout.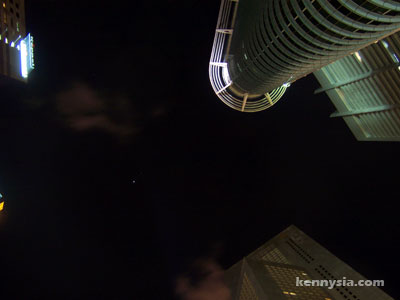 8pm. Raffles Place Stock Exchange. Ting advised me to alight at Raffles Place MRT to go to the Hideout. She's still at home. Miyagi just got home after work. Brown was at church. I thought the princess was angry at me 'cos I still don't know what her plans were.
I walked around the nice pubs at Boat Quay and Circular Road trying to look for the Hideout to no avail. Obviously they're not called the Hideout for no reason. That is, until Muthu from Shahbucks showed me the way.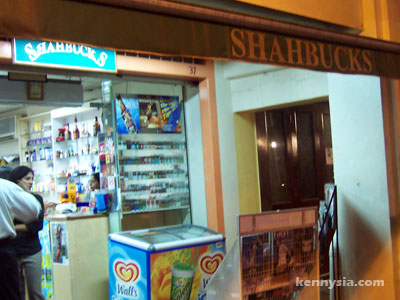 8:45pm. The Hideout. Finally I'm at this place after hearing so much about it from the Singaporean bloggers. Old furniture in amongst maroon walls casually decorated by simple art pieces. Jazzy music playing in the background. Holy shit, its almost exactly the same as Moon Cafe, my favourite late-night hangout place in Perth. Its like coming back to a familiar place after so long. I fell in love with the place almost instantly.
When I got there, it was still rather quiet, save for some really bad karaoke singer on the 2nd floor. I seated myself at the bar and ordered a pint of beer from Chris the bartender. "Hi, welcome to Hideout.", Belinda took the seat next to me as she introduced herself as the owner. She didn't know, but I recognised her.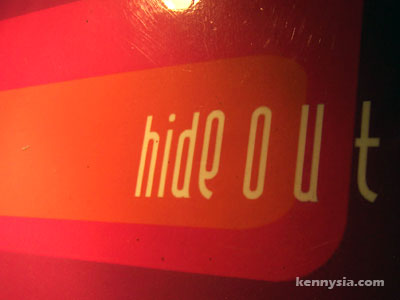 Bel: "Is this your first time here? You've been here before right?"
Kenny: "No, it is my first time here."
"Oh welcome. We don't get many new visitors here 'cos its so well-hidden. How did you find out about this place?"
"My friends told me about it actually."
"That's nice." *reached over and passed me a namecard* "Here's a card. There's our website and I keep a blog there as well. Feel free to drop by and sign up for our spam list."
"Spam list? That's alright I'm not from Singapore actually."
"Oh that's fine. 🙂 What's your name?"
"Kenny."
"Hi Kenny. Bel."
I know. 😉 Belinda walked around entertaining some of her patrons before she made an abrupt U-turn and came up to me again.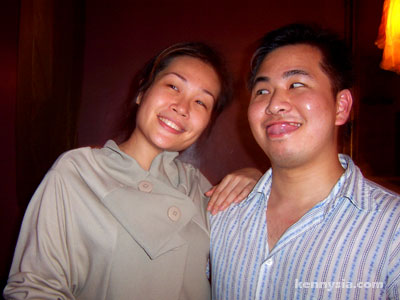 "You don't happen to be from Malaysia right?"
"I am."
"Your surname don't happen to be 'Sia' right?"
"It is."
"Oh… my… ! You're waiting for Ben (Miyagi's real name) aren't you?" *starts getting excited* "I was thinking what are the chances of someone not from Singapore, whose name is 'Kenny', coming to the Hideout!"
Not many. That's why I was there that night, Belinda. 🙂
Anyway the time now is 4:30am and this entry is getting a bit longer than usual. There's a lot more to write but I do need my sleep so I'll continue my story tomorrow. Sorry for being such an anti-climax. Promise me you'll check back hey?

I realised there's a lot of people e-mailing me asking if I could show them the old personal entries I've written last time that was since taken off. I haven't compiled them yet, but once I do I'll reply your e-mails with the web address. Patience my padawan.