It's always sad to see your favourite eateries close down.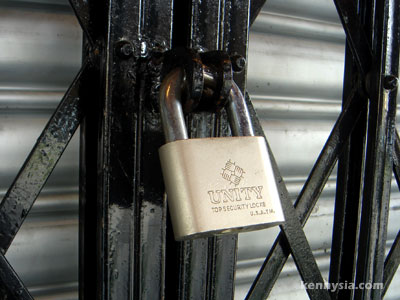 Some of my favourite restaurants in the past had closed down simply because business wasn't good enough.
Even when I had the chance to dine at those restaurants, I didn't see many customers around. It's almost as if I was the only person in the whole of Kuching who appreciates their good food. Everyone else just prefers to eat at the same old few places.
Among the unfortunate casualties were Mambo King at Travillion and A-ha at Ban Hock (now renamed De Crimson, also known as the place where they serve potato wages)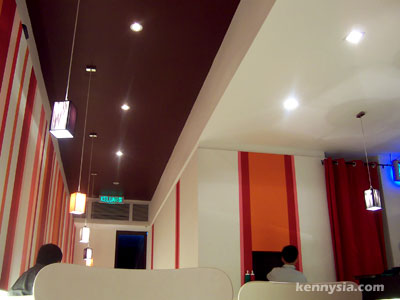 I reckon that's a bloody shame really. Because good food should be celebrated, not avoided!
There are plenty of restaurants out there in the same scenario. One thing I noticed is that their chef never fails to churn out good food, but somehow they can't seem to put enough asses on their chairs.
One ass from me ain't gonna be enough to keep them afloat.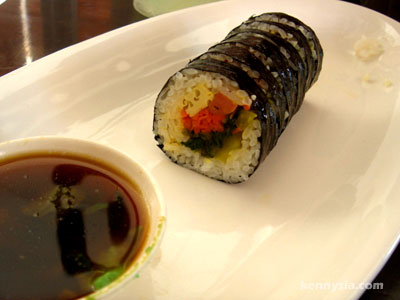 I love these restaurants and I wanna be eating their good food from them for a long time. But judging by the emptiness of their tables everytime I go there, it's a matter of time before they're in danger of closing down.
Unless we act now. FAST!
Which is why for my own selfish reasons, I'm gonna shamelessly plug these restaurants here.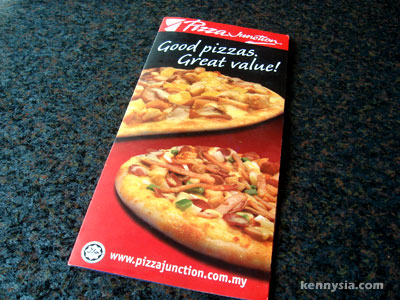 Apologies in advance if I incorrectly assumed that these restaurants aren't doing well, since the only thing I could based that claim on is my personal observation. 🙂
But nonetheless, kennysia.com presents to you, Kuching's Top 4 Most Under-Rated and Unappreciated Eateries.

1. Bella Italia at RH Plaza BDC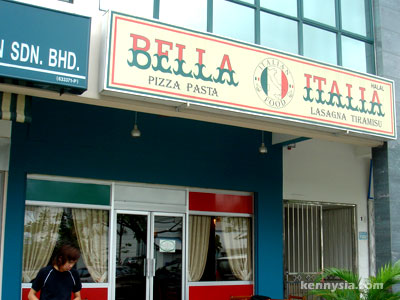 With the exception of maybe Restaurant Beccari at Merdeka Palace, there seems to be a notable absence of goodItalian food in Kuching.
That is, until I stumbled across Bella Italia secretly stashed away at the backlot of RH Plaza BDC.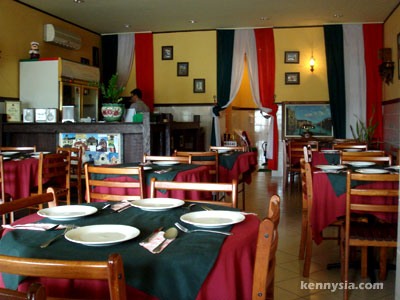 Apparently they've been around for a while but god knows why I had only just discovered them recently.
I came here twice and on both occasions, we were the only customers there. Maybe it's their quiet location, but this cosy little restaurant is so devoid of customers it's Italian tragedy. I am dumbstruck as to why because everything they did here is almost perfect.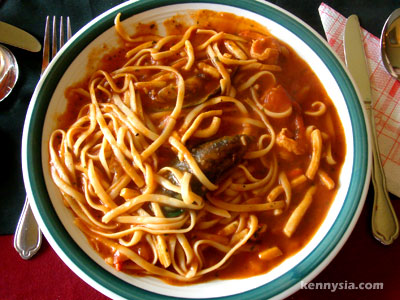 Their risotto is delicious, their marinara soup is super-tasty and their pasta rivals the best in KL. At RM15 to RM20 for mains, price-wise they are also quite reasonable.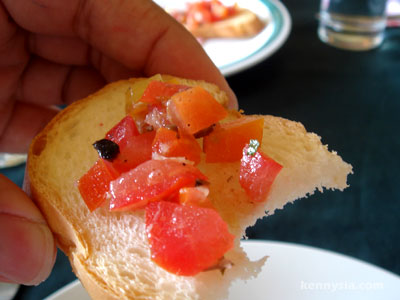 And I am absolutely head over heels in love with their bruschetta bread.

2. Pizza Junction at Jalan Song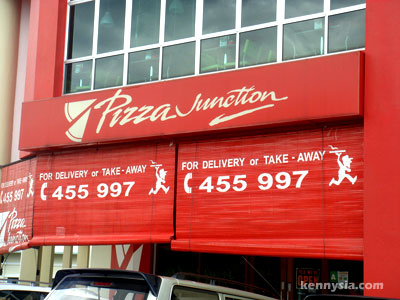 I walked into this restaurant one afternoon and their bored staff jolted up from their seats like they've just seen their first customer since The Stone Age.
It's a pity to see such a nice restaurant so empty and bare.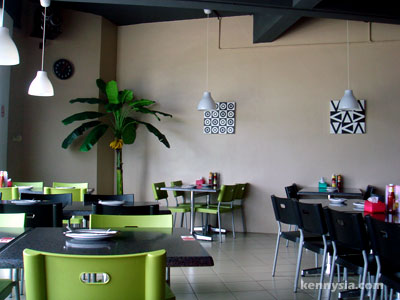 Pizza Junction is a local homegrown fast-food chain restaurant similar to Pizza Hut. But unlike the international franchise, Pizza Junction serves darn good pizzas at prices much lower than the Hut's offerings.
As a comparison, RM21 gets you only one regular pizza at the Hut, but you can get that plus two soups and drinks at the Junction. They even have some dessert pizzas with a local twist, like the Banana Kaya Delight.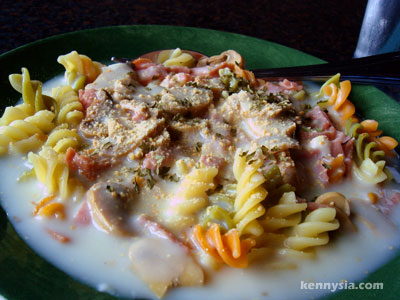 I tried their fusili pasta which was decent, but it was their Chicken Delight Pizza absolutely rocks my socks.
Personally I think Pizza Junction tastes a lot better than Pizza Hut. But do try it out and support our local brand.

3. Korean Da Om BBQ House at Jalan Song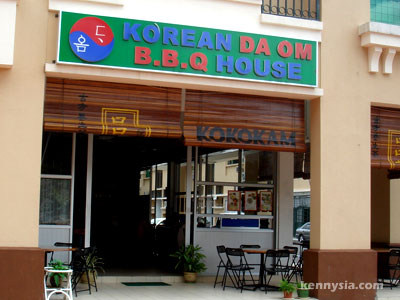 Quite possibly, the best authentic Korean restaurant in town.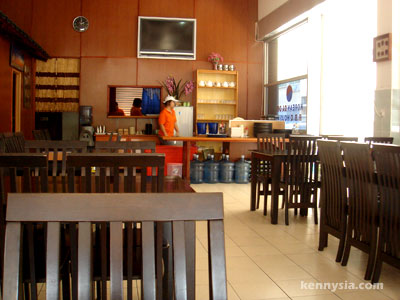 Here's the deal. You order one main course and they'll give you 3 side dish for free. The great thing about Da Om's side dish is, when you finish them you can ask for a refill an unlimited amount of times.
So technically speaking, you can go to Da Om with ten friends, then you just order one main course and let your ten friends eat the side dish until full.
Just don't tell them you learn this trick from kennysia.com one hor! 😛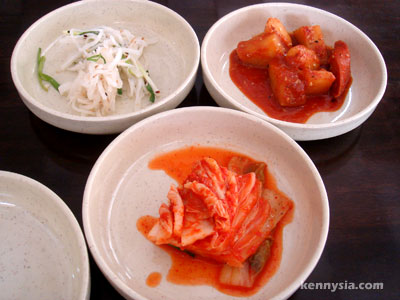 My only complaint with Da Om is that all their spicy dishes are really, really, REALLY spicy! Those stuff should come with titanium metal to reinforce your tongue, because they are so damn spicy it's not funny.
Seriously, their kimchee is so freaking hot, I think they made it out of a mixture of chilli padi and gunpowder.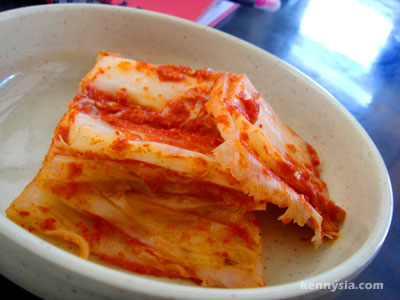 My recommendation is to stay safe and stick to the non-spicy dishes.
My favourites here are the Korean marinated beef served with fresh lettuce, Bi Bim Bap (Korean Fried Rice) and the Sam Gye Theng (Korean Ginseng Chicken Soup).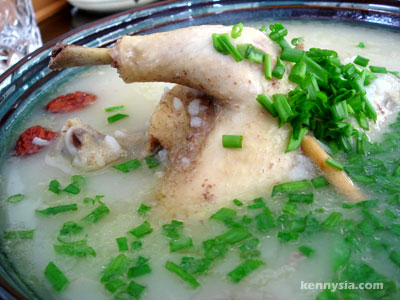 Some say there are better Korean restaurants out there in Kuching, but I disagree.
I say, Da Om is Da Bomb!

4. Sin Chiew Chicken Rice at Point One, Travilion Mall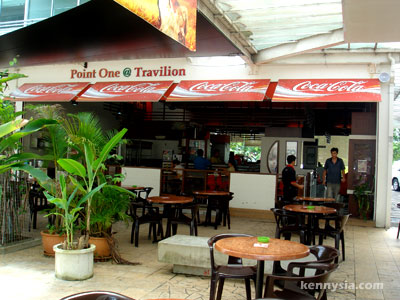 Actually this chicken rice stall is quite popular already. The only reason I put it on my 'endangered' list is because… it is too cheap!
It's so cheap I wonder how they could even make a profit.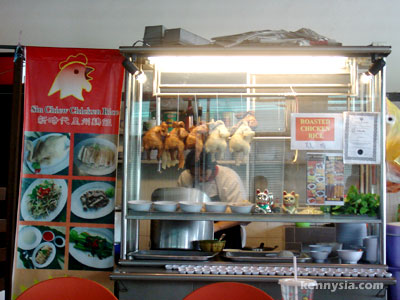 Sin Chiew is good, although I won't say it is the best-tasting chicken rice in Kuching.
I insist that title still goes to Good Thumb (ex-Big Mouth). But the problem with Good Thumb is that their portion is so pathetic, you have to buy two meals to fill up your stomach. Another good chicken rice place in Kuching is Ah Suan, but they can be expensive and parking around that area is a bitch.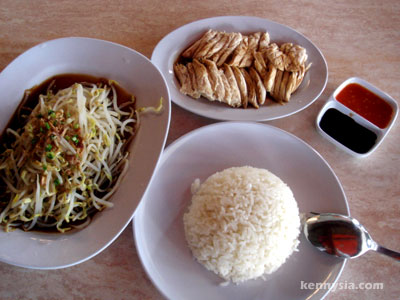 That's why I think Sin Chiew has the best value chicken rice in Kuching. I asked for one plate of chicken rice with a portion of boob meat, one vegie dish, minus the soup and the grand total comes up to just RM4!
How can I not love this place!?
On top of that, Ah Ming the boss is a nice polite guy who will smile and greet at you when you come, and say bye-bye when you leave.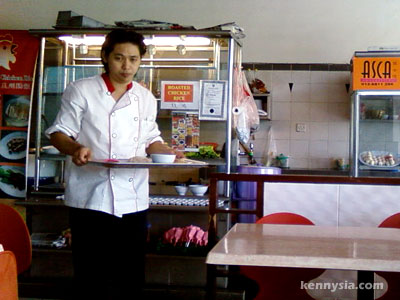 Yes, I know they smile and greet you too at Coffee Bean. But that one you have to pay 10% service charge for it.

It's great that opera-singing mobile phone salesman Paul Potts won the final Britain's Got Talent.
Imagine. Instead of buying mobile phones from him, people can now download his singing as a caller ringtone!