I'm a little bit peeved about this.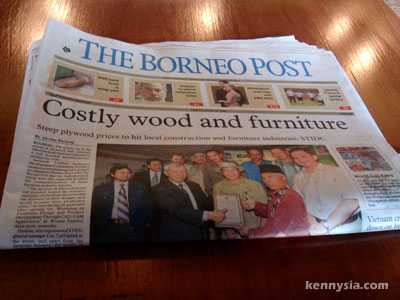 The past few months hadn't been a good time for the average income-earning Malaysian. Everything's gone expensive now. You open up the newspapers these days, you see the same old shit in the headlines: "xxx price set to rise", "things costlier", "new fees added". EVERY DAY something's gone up in price. EVERY SINGLE FREAKIN' DAY, without fail.
Today it's the petrol price increase, tomorrow electricity price increase, next day air ticket price increase. Then after that we have sugar price increase, rice price increase, drinks price increase, kolo mee price increase, simi lanjiao also price increase.
Sien lah everyday price increase not bored meh? Bastards.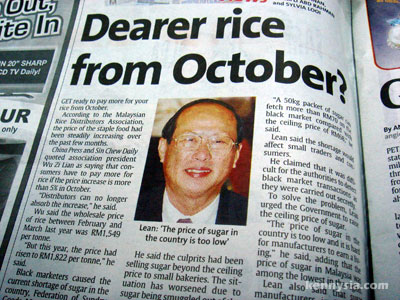 It's the same story everytime. Price increased, you get some big shot coming out, says a few words, tells us to "change our lifestyle" and accept the reality. The Opposition starts a peaceful protest, the police beats up some people for some reason, and then everyone forgets about it and returns to normal once again. Rinse and repeat.
The worst part about all this is that there's nothing you can do about it. It's quite sad really. We are being screwed over and there's nothing we can do about it. Absolutely nothing.Everytime something's gone up in price, you open up your legs wide, invite people to fuck you, then give them a can of beer after they're done and say "Thank you, please fuck again."
Here's what gonna happen if the price of another public service like say, toilets increase.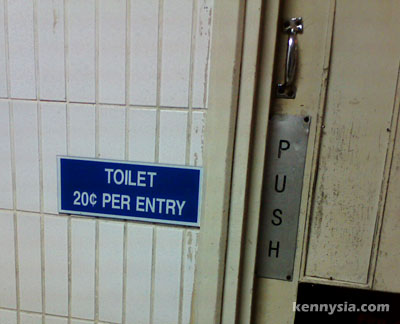 Toilet Price Rise By 10c
Kuala Lumpur: The price for public toilet usage is set to increase from 20 cents to 30 cents per entry effective Monday.
"This is to keep up with the ever-increasing cost of operation, including water and electricity bills," said a statement prepared by the Public Toilet Alliance (PTA). "We really have no choice."

PM Datuk Adalah Bladder-Wee has explained that there's nothing much the government can do about it. "The price of public toilets in Malaysia is too low." He urged the public to accept the reality and change their lifestyle.
"Sometimes when you feel like you need to go, you don't actually need to go. For example, instead of paying 20 cents, I hold my pee for a for while longer before finding the nearest 5-star hotel to relieve myself."
Meanwhile outside a public toilet in Waterfront Kuching, a group of very angry protesters led by Opposition Leader Wang Toh Pi has vowed to stage a piss-ful demonstration.

"We shall not take this shit sitting down!" said Mr Wang, trembling uncontrollably. "This is unacceptable! I have not pee for 3 days already because it is so expensive! My comrades and I will not relieve ourselves until the government rolls back the price hike!"
30 minutes later the riot police shot him down with a water cannon. When interviewed, a police officer who wished to remain unnamed described the situation as desperate. "Mau kencing juga mau bising-bising. Cis, buat kacau saja."
Another price increase, and the same shit is gonna start all over again.

A year ago today, I was named Blogger of the Year by the PPS community.
So much have changed since then.