Eh, eh, take a look at this.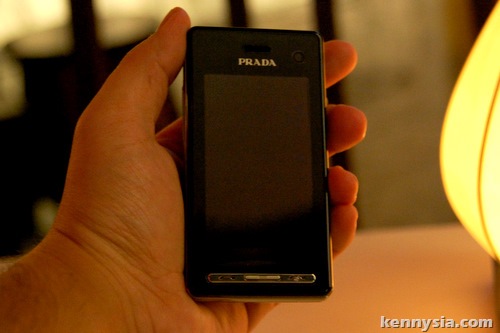 Don't play play. PRADA ok!
(Heh heh. I always wanted to say that.)
This the latest Prada branded phone by LG. It's not my phone, sadly. Just a loan unit that I gotta use for two weeks before I had to return to them.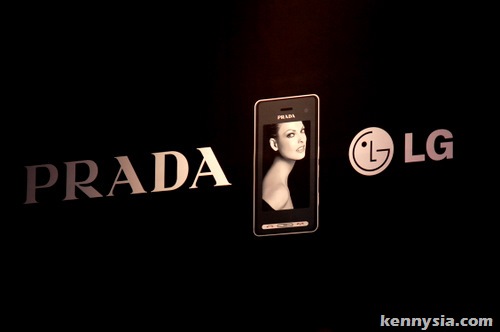 Three months ago, I was first introduced to this stunning little phone during its launch at the super luxurious St Regis Singapore. I thought that it was too damn unique that I just had to get them to lend me a unit for review.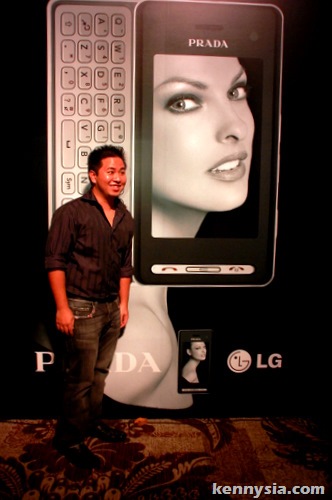 I must stress that I was not influenced in any way to write good things about this phone. I was given complete freedom to say whatever I want, so this is my unadulterated honest review of the phone.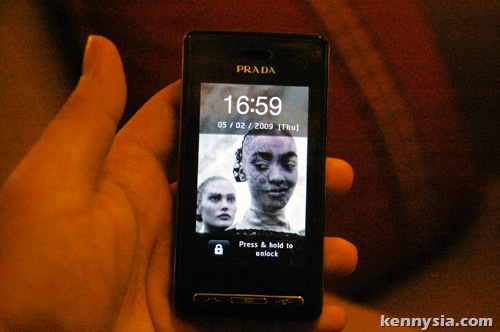 The Prada phone is the latest touch screen phone designed by the Italian fashion house and powered by LG. It is by LG. It is also by Prada. It is by both LG and Prada.
It's the love child between a Korean and an Italian.
It is Eurasian.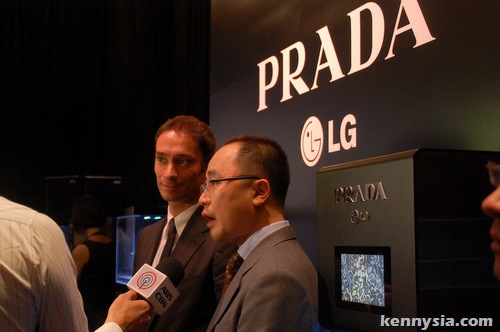 Being a luxury fashion phone backed by such a big designer name like Prada, I expected the phone will be presented in the most stylish and exquisite way possible.
And I was not disappointed.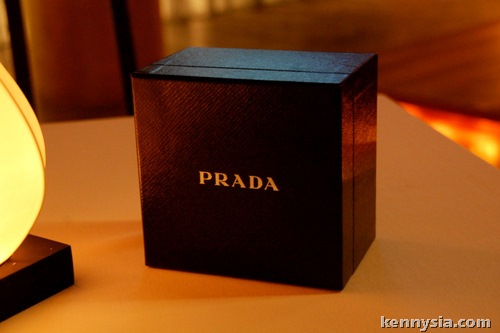 Unlike most other phone manufacturers, where the package box is often the most ignored part of the phone's presentation, it was clear that Prada had put a lot of thought into making the everything reflect the style and quality of the Prada brand.
When I got my unit, I was very impressed to see that it comes packaged in a black leather gift box.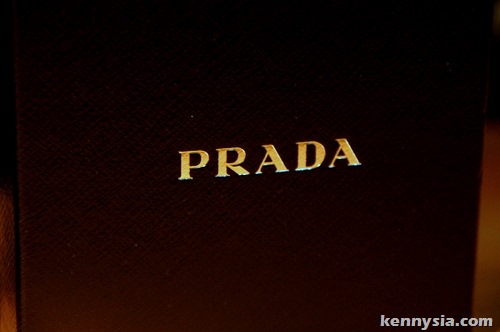 The fine-looking box has nothing else printed on it apart from the the classic Prada logo emblazoned across the top in silver. If I didn't know better, I'd have thought inside the box was a designer Prada tie or a belt.
It was presented absolutely lavishly.
But that was just the box, and the box was only the beginning.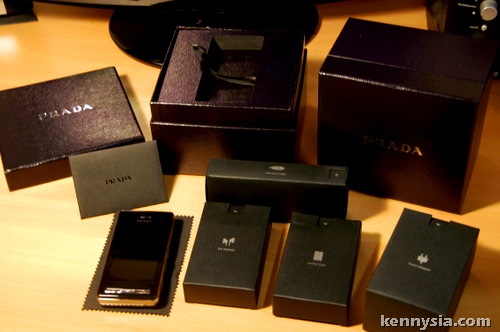 Upon opening, I was surprised to see all the phone's accessories packed individually in fine-looking black paper boxes. Like expensive decks of playing cards.
Most other phones just throw in the charger and earphones for you wrapped haphazardly. But LG has included all the standard accessories of the phone, and then some.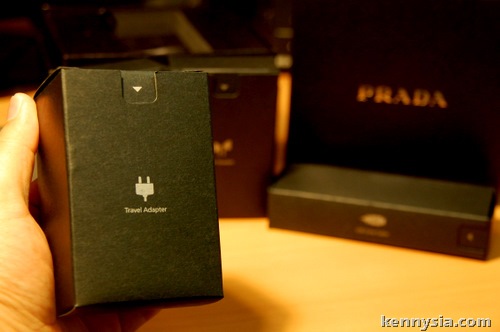 (Actually the packaging look like some hotel soap.)
Not only did LG include the obligatory travel charger and ear phones, they went a step further and put in a USB cable, 1GB microSD card, leather casing and even a cleaning cloth folded neatly inside a black Prada envelope.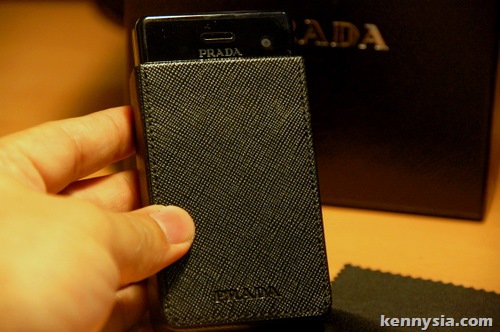 All these come as standard package of the phone.
Excessive? A little bit. But damn, they sure look good.
Presentation-wise, it's a 10 out of 10.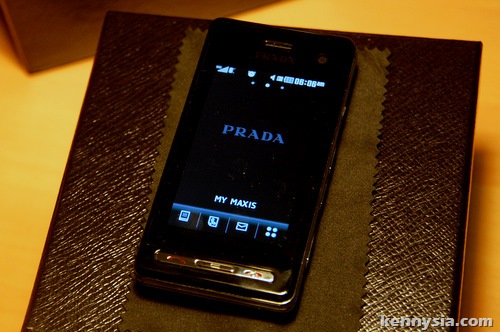 We know Eurasians naturally look good, and this Korean-Italian mixed blood doesn't fare too bad either.
Prada has taken the minimalistic approach to the phone's design. On the front, the Prada logo sits proudly on top the screen, while a slim silver bar beneath it punctuates the otherwise sleek piano black casing.
On first glance, yes, it does look a little like an Apple iPhone. But slide out the bottom half of the phone to the side…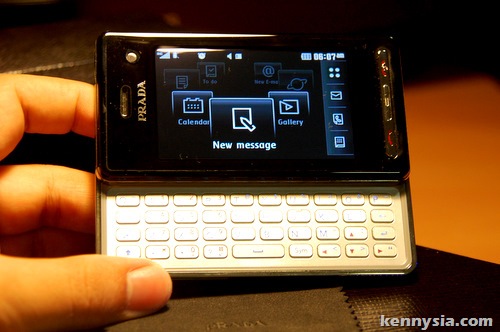 … and out comes a full QWERTY keyboard!
The sliding mechanism of the keyboard is smooth and effortless. It is elegant,  sophisticated and undeniably sexy.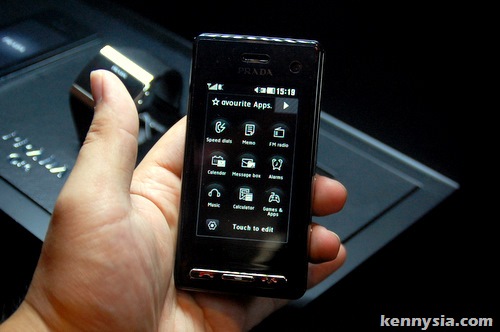 Prada decided to theme the menus in black-and-white.
It may seem like a step back at first, considering the phone is capable of producing full-colour. But I must admit the white-on-black theme grows on me after a while. Certainly, it brings out a more classic look distinct from other phones.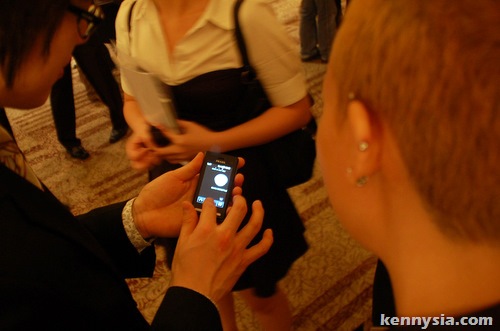 But enough about looks.
The question is, how does this unit function as a phone?
Most fashion phones seem to suffer from The Jessica Simpson Syndrome – looks damn good on the outside, but not a lot of substance inside.
Sad to say, the Prada phone is quite the same.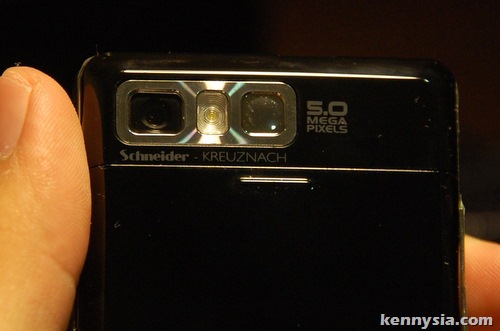 Sure, it has most functionalities of a typical high-end phone: video calls, games, web browser, music player, video player, camera and so on.
The problem is, I find the implementation a bit clunky. Usable yes, but quite laggy and not very user-friendly either.
This is almost like the bimbo version of a mobile phone.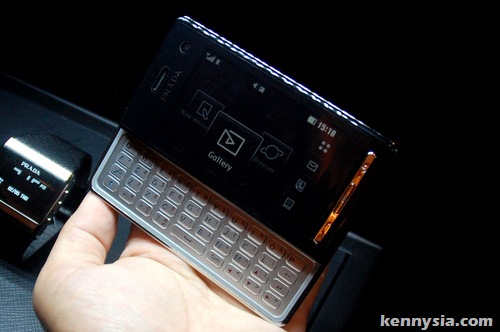 To give credit where it's due, there is a marked improvement in the interface over many of LG's previous fashion phones. It's just a disappointment that not even Prada can break free from the wrath of The Jessica Simpson Syndrome.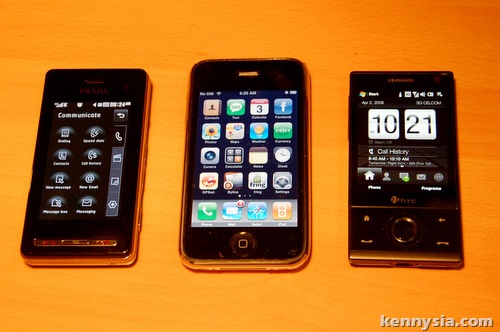 If you're used to Nokia or Sony Ericsson, the lack of user-friendliness of the phone is gonna be quite apparent. If you've used Apple iPhone, then the difference is gonna be REALLY noticeable. The lack of response of the touch-screen especially is a concern.
I rate it a 6 out of 10 for usability.
Still, it's a whole lot better than the
crap shit that is Windows Mobile.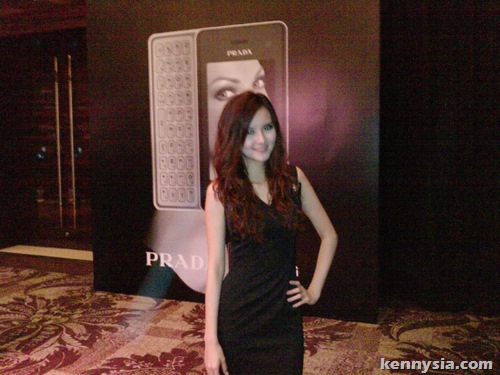 I wanted to test the phone's camera. But then, I accidentally found this photo of one of the models taken with the phone during its launch at the St Regis in Singapore.
I think she forgot to delete the photos before returning the unit to LG. But at least it shows you what image quality to expect.
Too bad there's no Edison Chen-type photos inside the phone. 🙁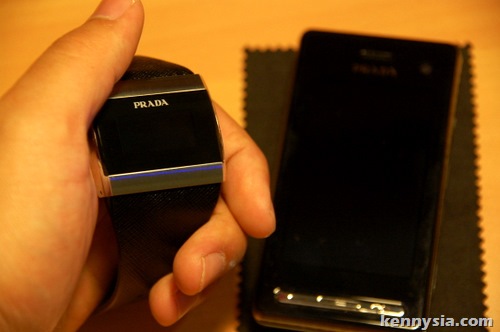 Despite me not liking the user interface that much, there's one unique thing about the Prada phone that I think, sets it miles apart from its competition.
There's this Prada branded watch that you can separately, called the Prada Link.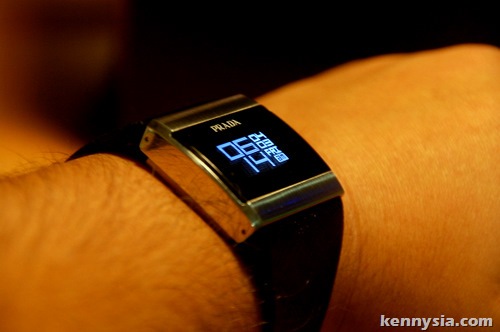 The Prada Link is a sweet-looking futuristic watch on its own. You wear it around you wrist like a normal watch.
But what it actually does, is that it also acts as a Bluetooth receiver for your phone.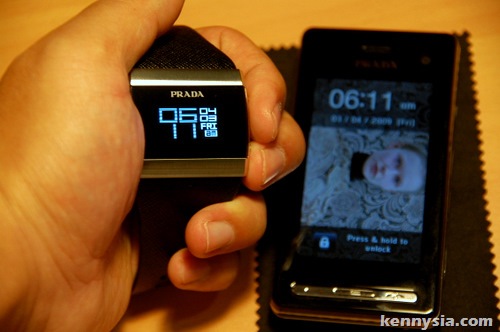 That means is that if your phone is in your pocket and someone calls you, you won't have to take it out just to see who's calling. The caller information will be displayed on your phone, and you can choose to reject the call through buttons on your watch if you want.
Same goes for any SMS you receive. Just read it straight from your watch.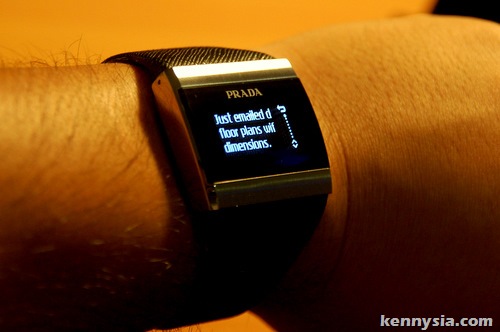 Cool huh?
Some more you can show off to people you're wearing a Prada watch. 😉
It's a pity you cannot answer you phone calls using the watch. Then again, I figured you might look quite stupid if you try to make a phone conversation with your wrist.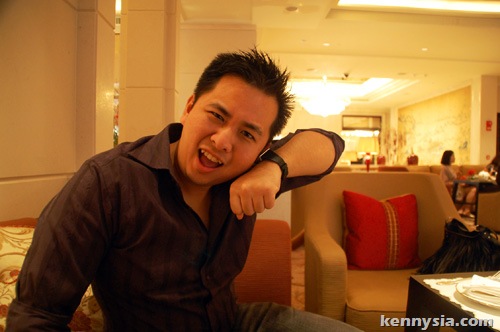 Imagine going "Hello? HELLO? YA, YA!?" on your wrist liddat. People would think you've gone crazy.
The Prada phone by LG is cool. But there's one other thing about it that might put people off.
It's the price tag.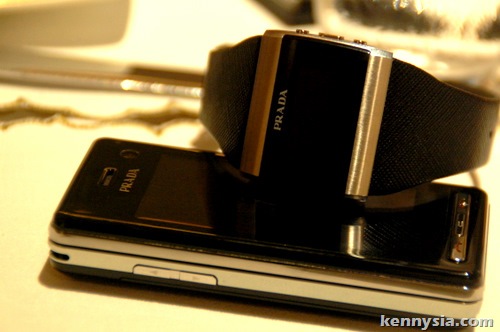 All these designer branded goodness comes with a hefty price tag to match.
Last I checked, the Prada phone itself costs RM2,700. That puts it in the same reach as the Apple iPhone and Nokia N96.
The Prada Link watch is sold separately at around the same price.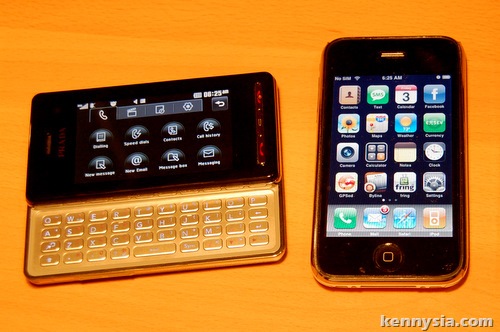 But if you ask me, the Prada phone is no Apple iPhone. As a functional phone, the iPhone is still clearly a much better. The Prada phone is essentially more expensive but prettier phone doing what most cheaper phones are able to do.
Then again, this is why it's called a fashion phone. Nobody is stupid enough to pay extra for its functionality.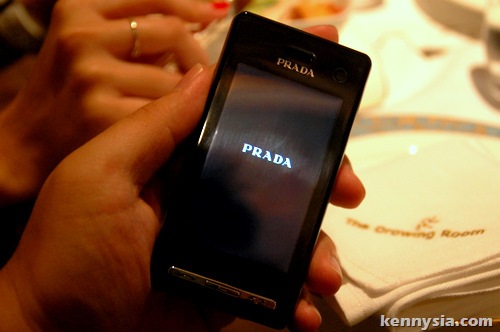 The only people who would want this phone are fashionistas who want the style and prestige associated with the PRADA brand.
If you are not a fashionista, then this phone is NOT for you. If you don't understand the value of the Prada brand name, then most definitely this phone is also NOT for you.
But what if you have NO CASH, NO SENSE OF FASHION, but still want to have the prestigious PRADA brand on your phone?
You could do this.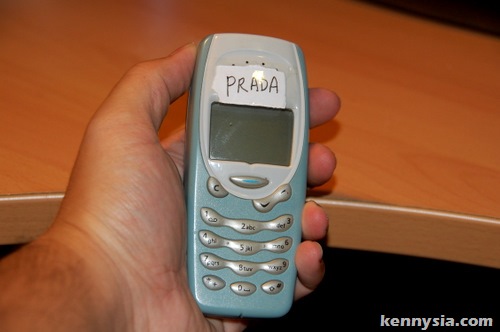 Just cello tape the word "Prada" over your phone lah!
I hate it when Malaysian censors mess up the songs played over the radio. There's this song by Justin Timberlake and Ciara that goes, "I can make you believe in love, sex and magic." Malaysian authorities censored the word "sex". So on the radio, it sounded instead like, "I can make you believe in love, ass and magic."
Kinda made it worse!