Excerpt from 5th May 2005 titled 'The Last 25 Hours'.
To my Kuching readers – I understand that my privacy may be compromised following my father's passing. As always, I ask that you respect my privacy.
Please do not disclose any unnecessary information about my family or my job.
Please do not disclose the existence of this blog to anyone else in Kuching.
Most importantly, do not mention to any of my family members what you read here. Please, leave them out of it.
As odd as it sounds, I rather as little people in Kuching know about my blog as possible, because I know Kuching is a small place and I know how hurtful mindless gossips can be. I enjoy writing. I'm sure many, including you, enjoy reading. Please do not be a bad sport and spoil it for us all.
And just when I thought I can write light-heartedly again, here's another serious post.
I'm sure the part about me not wanting my family members to know about kennysia.com caught many people's attention. Why do I not want my family members to know about my blog? Am I doing something wrong? Am I ashamed of what I write? Why hide?
Of course I'm not ashamed of what I write. In between a couple of serious entries, most of what I've written here are light-hearted fun and humourous in nature. Sure, a lot of my jokes are crude, sexual and dirty. Sure, I used a lot of self-depreciating humour. But that's exactly what I'm like. I'm serious when I need to be serious, and I'm playful all other times.
Of course I write about my personal life from time to time. I document important events in my life on my website so I can reminiscent what it feels like then when I read back in 5 years time. My personal life inevitably involves those close to me, namely my family, Nicole and my friends. I virtually cannot write anything without mentioning them.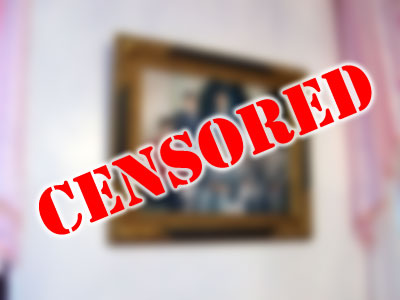 My style of writing is akin to chitchatting with my friends over coffee. Friends as in those close to my age. I never expected anyone over the age of 40 to have any interest in what I have to say.
I'm not ashamed to admit that I have two different personalities: there's a Kenny in-real-life and a Kenny in Bloggerland. My blogging-self is my actual self turned up several notches. Whilst most of the time the Kenny in Bloggerland is foul-mouthed, crude and larger-than-life, the Kenny in-real-life is actually caring, humble and almost never swear a single cuss word. 🙂
I'd write about things that went through my head, but these are things I'd never thought of saying it out in real life. What, you think I'd actually walk around flaunting my coconuts?
If someone made me angry in real life (like that flower-stealing incident), I wouldn't show my anger to that person. I would be annoyed, but still humble so that the person wouldn't be offended. At the back of my mind, I'd be angry at him, not furious. But when I got in front of the computer, I'd remember how angry I was and started calling him 'assholes' and all sorts of other ugly names.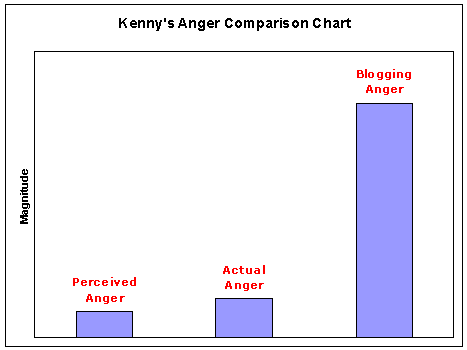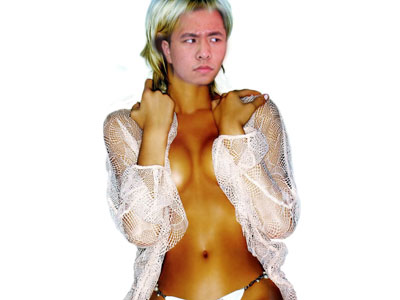 Some of you would suggest that I write anonymously. No offence to those who chose to do that. But I know if I enjoy reading someone's blog, I'd try to find out some information about the blog's author – at the bare minimum, the blogger's real name, age, occupation and a photo so I get to have a face attached to the words that I read. I thought it is common courtesy that I reveal those information about myself to my readers. Obviously there are pros and cons, and although some bloggers believe otherwise, I personally believe that the pros outweigh the cons.
I'm not ashamed of what I wrote. I hide it only because I fear people who knows me cannot accept what a blog is, let alone the fact that I own a blog. That's why I asked for your assistance hiding this blog from them. Never to discuss what you read about in this blog with my family. Never.
But of course, that sort of prevention measure is not foolproof. In fact, it didn't work at all. Someone told my family what they read on my website. I won't name names here, but you know who you are and I know EXACTLY who you are.
I leave it up to your imagination the result that follows.
Suffice to say my assumptions about their attitude towards my blog was correct, and that I once again contemplated shutting down kennysia.com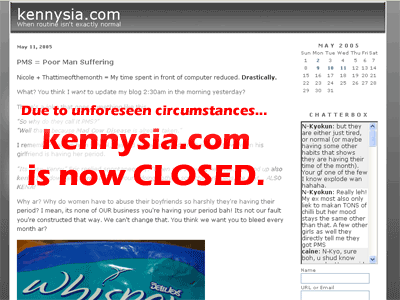 Then I pinched myself hard. That would be unfair to me. That would be unfair to the majority of other readers who doesn't know me in real life, like those Singa-bloody-poreans. 😉 jk. Maybe I should move to Singapore. I feel loved over there.
This will be the last entry on this site that I mention anything about the family.
In the meantime, I will be password-protecting my more personal entries. I hate doing that. In particular, I don't like the fact that I'm not able to share stories of my father's battles and his final journey, because those form obviously a very significant part of my life in bringing me where I am today. Its too bad they had to go.
Now, if I STILL hear people gossiping to members of my family about what I wrote here…
UPDATE: Chill guys, I'm not shutting down my blog (yet), merely password protecting some entries away from those certain somebodies. Kinda sad that it had to come to this. Rest assured I'll let most of you know of the password once its done. Anyway, don't over-react lah can?
'Singa-bloody-poreans' is a term derived from singabloodypore.blogspot.com. I picked it up and used it 'cos I thought it was kinda cute. Obviously its all in jest, I mean no malice and I don't hate Singaporeans at all. In fact, very much the contrary.
Surprisingly, more Singaporeans than Malaysians read this site. I owe them my balls for their unwavering support.