In one week, I'll be in Kota Kinabalu taking part in the Borneo Marathon.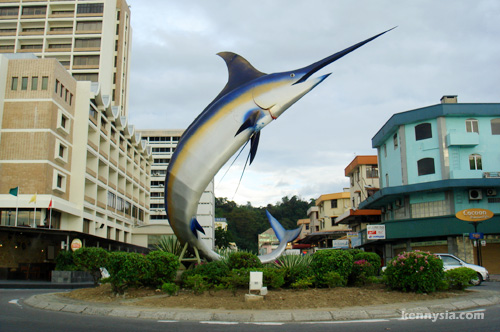 The Borneo Marathon came at the right time for me. I fell in love with KK since climbing Mount Kinabalu there last year and have been looking for an excuse to go back there since.
I signed up for the 21km race to prepare me for my 42km marathon in Singapore this December. Besides, a long time reader of kennysia.com is organizing it, and the least I could do is throw her some support.
Anyway, I've started training since about two months ago, running at least three times a week and clocking in more and more kilometres each time. Last Sunday was my best effort so far – 15km in two hours non-stop.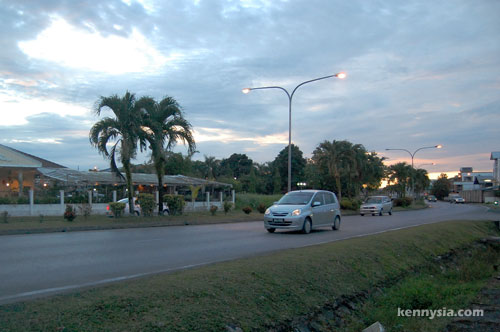 Friends and family are surprised at how seriously I take my training. I stick to my training program quite rigidly, sometimes to the point of absurdity. I've had the most awful experiences of waking up at the ungodly hour of 6am for a run, running at night or even running under heavy rain.
The problem with marathon training is that you do very long distances, and in a place like Kuching there isn't many places for you to run. Very often, training get boring quickly if you just run around the same few park. It also doesn't help the fact that there is only ONE decent park for running in the whole of Kuching – Stutong Park.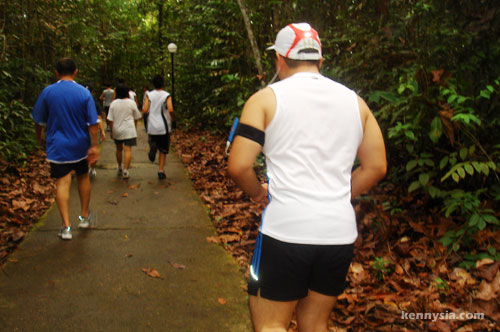 The jogging track in Stutong Park is only 1.6km long. When you're doing 15km, there's only so many laps you could do until you had enough looking at the SAME BLOODY TREES all the time.
So recently, I laid off Stutong Park and took my training to the streets.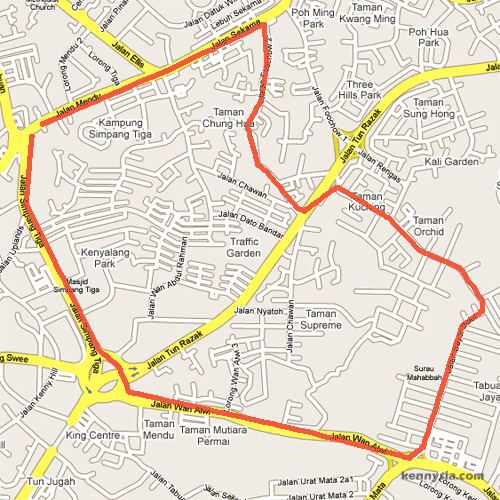 And then I got addicted to it.
Horrible traffic smokes aside, I discovered running on the road is actually a lot more fun! Sure, it's a little dangerous and sometimes I need to break my rhythm to cross the road. But I like running on the road because sometimes I'd notice quirky little things about Kuching that I wouldn't have noticed if I were just driving around in my car.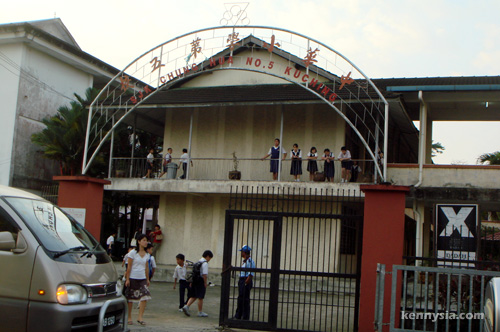 Things like parents sending their cute little kids to school.
Or that hawker stall on Foochow Road selling kolo mee right out of their home car porch.
Who would've thought that after living in my small hometown for so long, I still don't know so many things about it. Quaint new discoveries like those still tickle my fancy.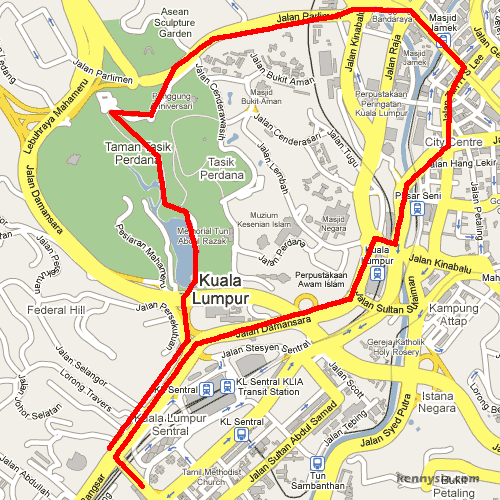 Another problem with marathon training is that because I've been travelling a lot lately, so sometimes I'd need to improvise. Since I begun my training, I've been flown off to Kuala Lumpur, Bangkok, even to as far as Paris and London.
Normally I'd put my training on hold while I'm out of town. But I knew if I did that, come race day, my race results would suck so bad that I'd still be running when everyone else have finished packing up their bags and go home.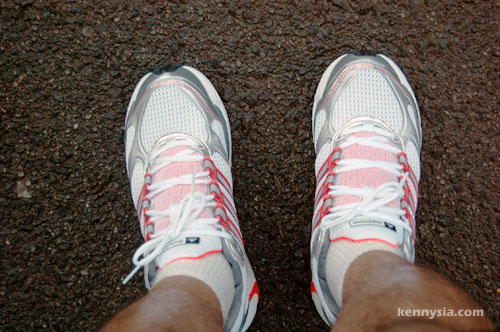 As a habit now, I pack my running shoes when I travel. And through that, I discovered the joy of running in different cities around the world.
Of course, it's easy to lose your way in a foreign city.
Depending on how you look at it, getting lost can be part of the problem, or part of the fun.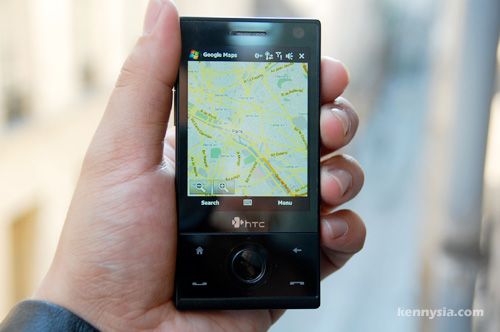 I always carry my HTC Touch Diamond when I run in a foreign city.
I love this phone. The Diamond is an absolute gem for runners. It is one the thinnest, lightest PDA phone on the market so it's damn easy to carry around when I'm running. If I got lost, I can use the GPS function to find out where I am.
If I got REALLY lost, I can always use it make an emergency phone call.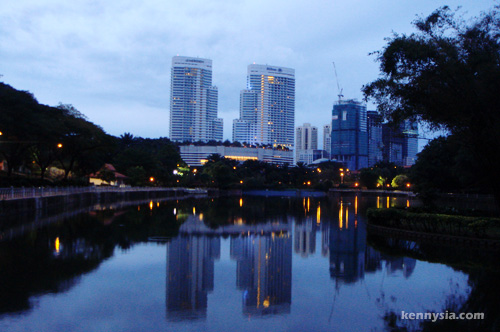 When I ran in KL, I found Lake Gardens a God-sent (or rather, a "DBKL-sent") in a city filled with traffic smoke.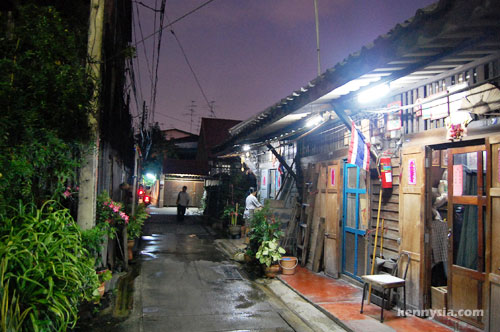 Bangkok's traffic is not much better. On top of that, their footpaths are bumpy and narrow. Many times I nearly tripped over because their footpaths have more holes than Ahmad Ismail's face.
But that's ok, I can forgive that. (The footpaths, not Ahmad Ismail's face.)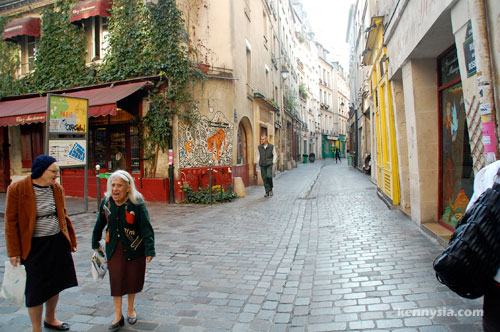 I ran once when I was in Paris, the City of Love.
From where I stayed in the Jewish enclave of Quartier du Marais, I jogged along the tree-lined boulevards, past Notre Dame Cathedral then all the way down Jardin du Luxembourg, joining the locals doing laps around sculptures and statues, including one miniature version of the Statue of Liberty.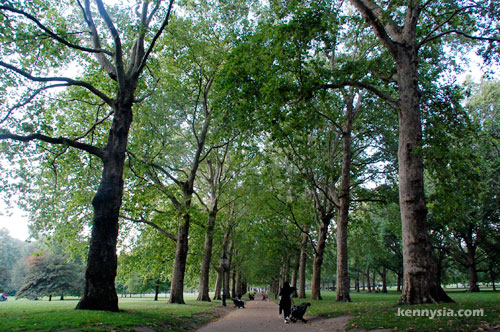 But by far, the best city I ran in during my training is London.
The weather has been nothing but awesome during my time there. It was never too hot, never too cold, and not once did it even drizzle when I ran.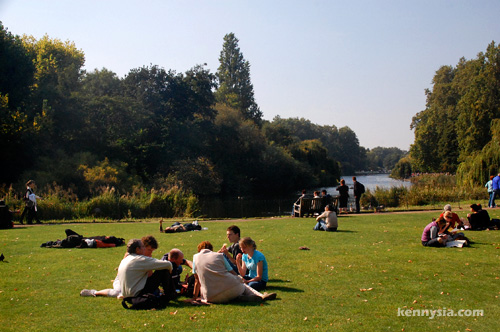 Londoners love the great outdoors so there are always heaps of beautiful parks throughout the city to wander into.
The bigger ones like Hyde Park, St James Park and Kensington Gardens are nicely decorated with ponds, lakes, sculptures and fountains.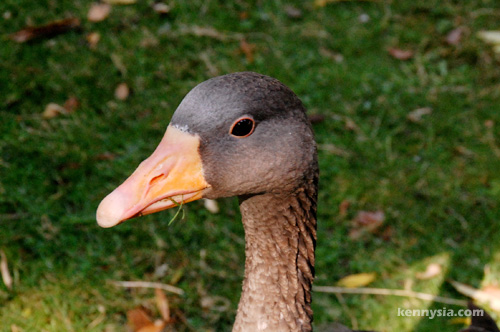 Occassionally, you may see a duck sunbaking by the pond.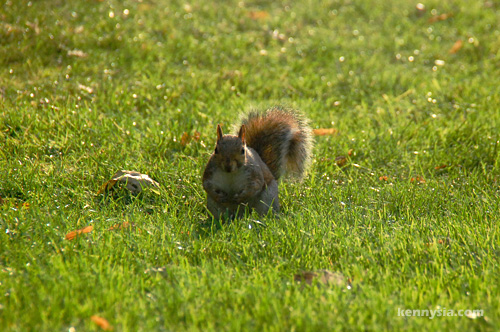 Or a hungry squirrel roaming about in the park.
Squirrels are cute. They are exactly like hamsters, but with a bushier tail.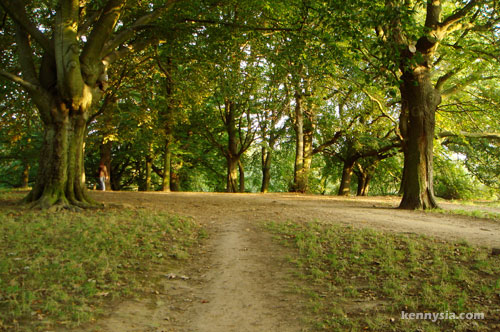 The views along London's running tracks are absolutely stunning.
There's this hill on the outskirts of the city called Hampstead Heath where I ran to one morning to catch the hilltop views of London city. Hampstead Heath is a big ancient park where Londoners used to picnic and and fly kites. Now, it's a place where many Londoners taking their dogs out for a walk.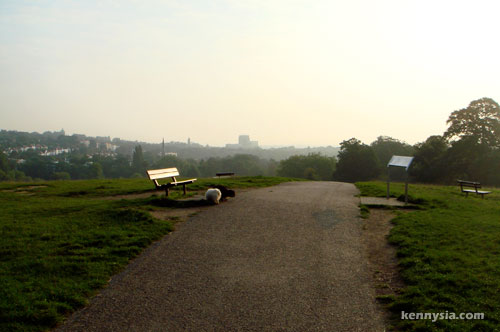 In Hampstead Heath, there are plenty of natural ponds where you can go for a cold swim the old-fashioned way without smelling like chlorine afterwards.
People have been swimming in these ponds since at least 200 years old. The council had wanted ban swimming in them due to health risks, but those crazy Londoners fought against it and won.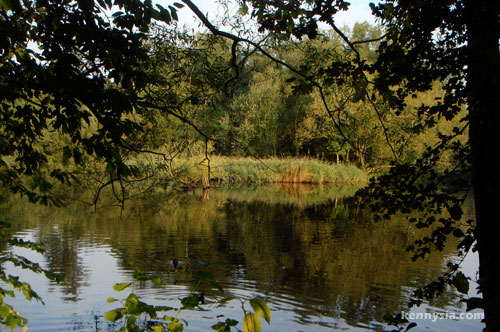 There's a secondary school near Hampstead Heath. That morning, I spotted a couple of students walking to school.
I like their school uniform very much. It reminded me of Harry Potter.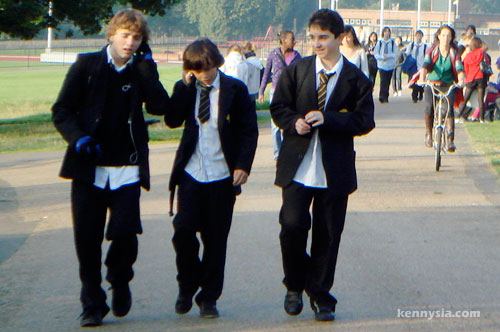 Amazing. Even those schoolkids look like Ron Weasley and Harry Potter.
Speaking of Harry Potter, there IS actually a Platform 9 3/4 at King's Cross Station.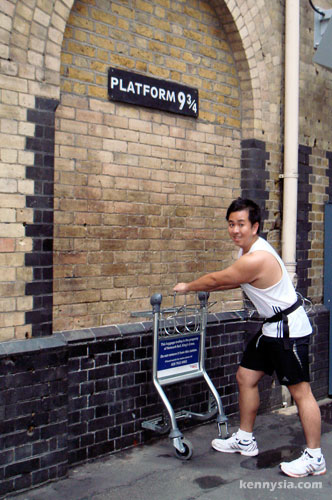 Don't laugh. I know I look stupid singlets and shorts.
I love noticing amusing little things about London when I wander through the streets.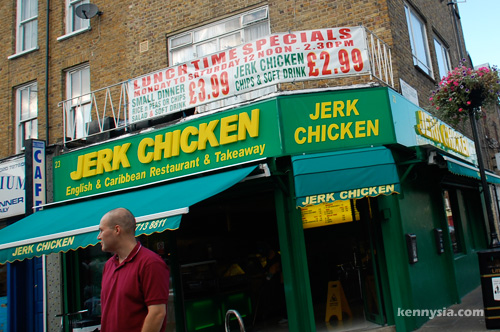 There's this takeaway restaurant near my hotel with a stupid name called "Jerk Chicken".
I believe their next business venture is gonna be selling roast pork called "Bastard Pig".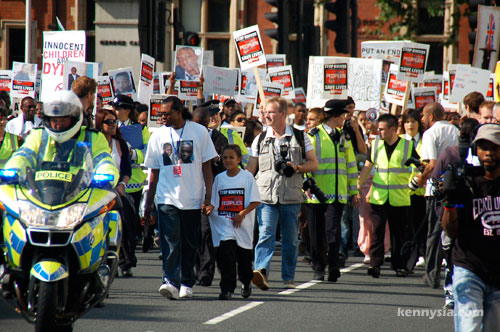 In Parliament Square, next to the British Parliament, a protest match was going on.
The loud but peaceful protest was against knife crime, which has become a serious epidemic lately in London. A lot of people joined in on the match and it attracted a lotta attention.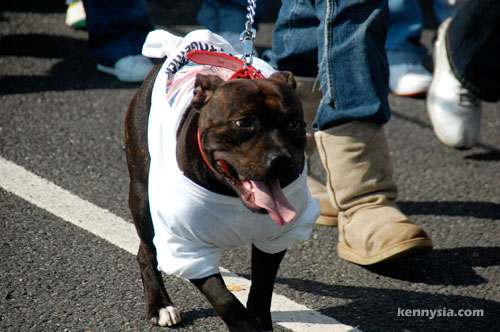 Even the dogs joined in on the protest.
Hundreds of policemen were present. Instead of shooting protestors with water cannons, the police marched alongside them and cordoned off streets to ensure safe and smooth traffic flow.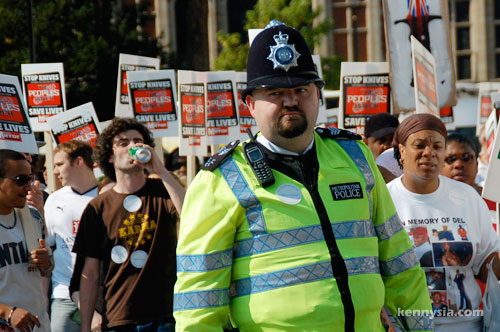 Heck, those policemen were so cooperative, you can even blatantly drink beer behind their back and he wouldn't arrest ya.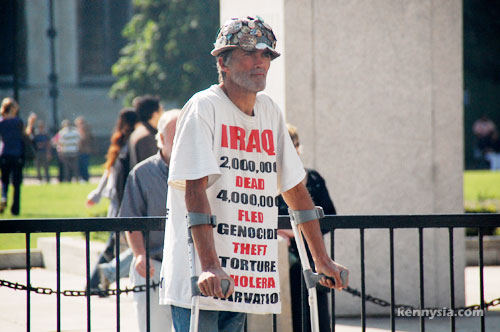 This man in crutches here is Brian Haw.
He is an anti-war protestor who has gained worldwide media attention for his unconventional way of getting his message across.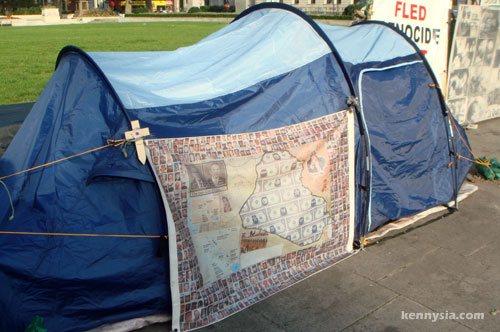 Brian Haw has been sleeping in this camp in front of the British parliament houses since 2001.
That's SEVEN FREAKIN' YEARS, abandoning his own home to live on the side of the road to stage a one-man protest against war.
Everyday for seven years, those politicians going to work have no choice but to walk past Brian's posters and be reminded of the atrocities they've caused in Iraq. Now that's what I called hardcore.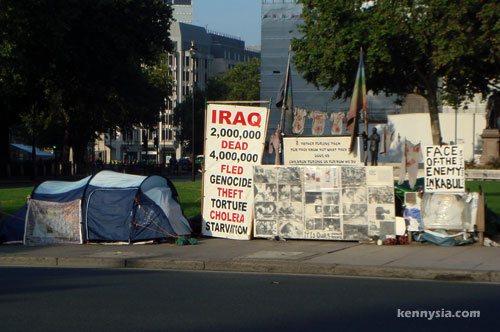 I can't imagine anyone living outdoors for 7 years just to make a statement. Can you do that?
Bloody hell, I can't even stay still in one city for two weeks.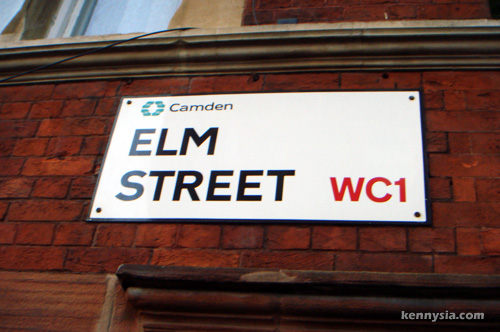 One thing I really like about running in London, is their street names.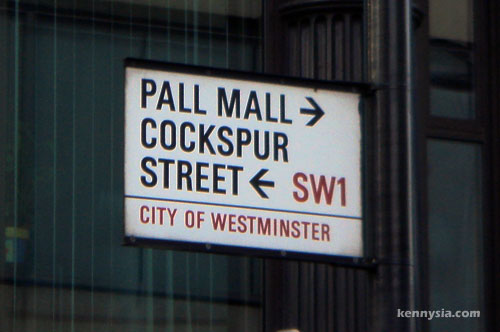 They either sound like they're from Monopoly, or something your genitals would require stitches afterwards.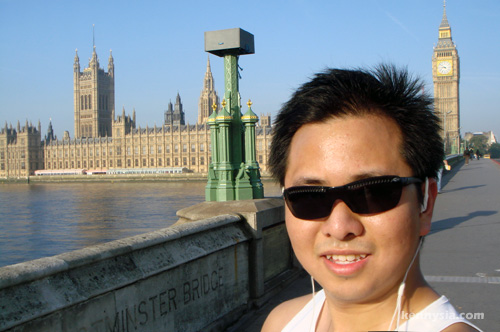 On my last day in London before I return to Kuching, I had the most satisfying 8 mile run from my hotel in Islington all the way to The Big Ben.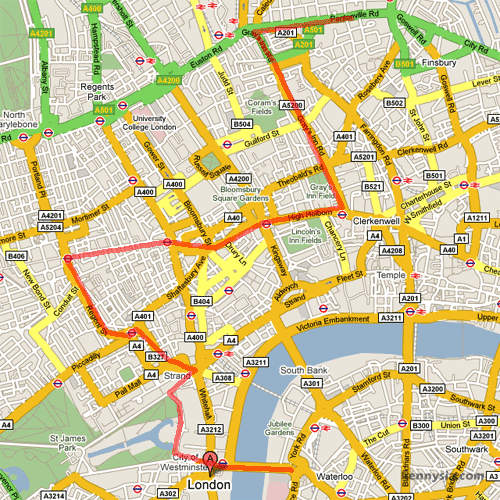 Along the way, I passed by many landmarks I recognised from Monopoly.
Starting from The Angel Islington, I went past Pentonville Road, King's Cross Station, Oxford Street, Regent Street, Piccadilly, Pall Mall, and finally Trafalgar.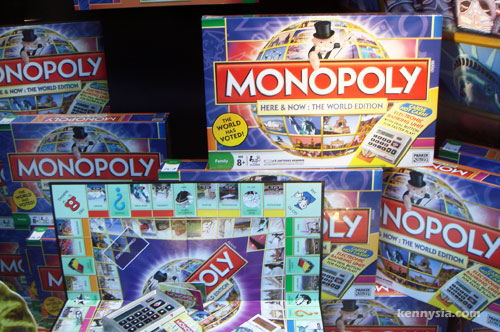 It's so exciting to see these venues come alive from the legendary 2D board game I have played since young. I felt as if I've already known them before I even set foot in London. If only Monopoly money were real, I'd buy them as I walked past them.
There was one only problem though.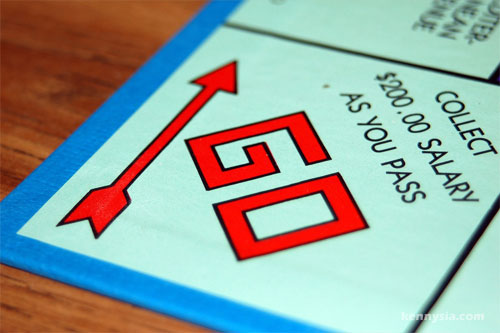 I did not past GO. Did not collect $200.
🙁

I can't believe I actually cried watching the Sex And The City movie. I wasn't even a fan of the series and it was THAT good.
Dammit I am losing my masculine touch.