I'm still not feeling well but I've finally succumbed to visiting the doctor after much deliberation. The doc suspected mumps and prescribed me with a whole lotta pills to swallow. He gave me an MC, but I'm not gonna be able to use it. In fact, I got so much to do at work, I'll be staying back at the office this Saturday and Sunday.
Since I'm not in the mood for entertaining, I'm gonna bore you with my weekend instead.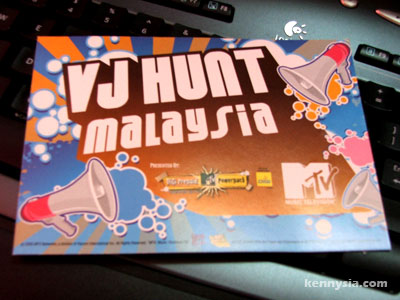 I was strolling around Kuching's shopping district last Sunday when I noticed MTV Asia staging their VJ Hunt at Crowne Plaza. I totally wasn't planning on hanging around to watch the show but my friend Brandon Juan was there and he convinced me to stay. Besides, Guy Sebastian was there.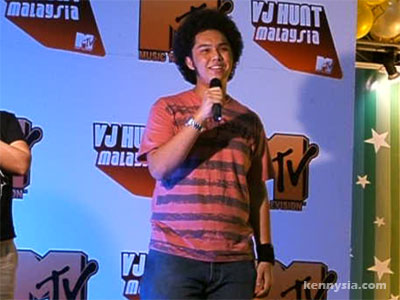 Fine, so I lied.
I thought long and hard whether or not its wise of me to put up their photos and videos, especially when these are all Kuching ppl and they can bash me up easily if they want to. But I decided since they'll all be appearing on MTV Asia anyway, they shouldn't have any problems appearing on kennysia.com right?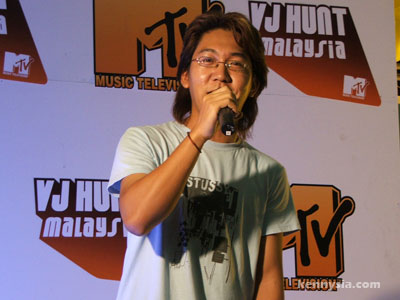 The contestants were asked to do a brief introduction of themselves, perform a special talent (usually singing), then do a spiel introducing a music video. More often than not, the results turned out quite horrendous.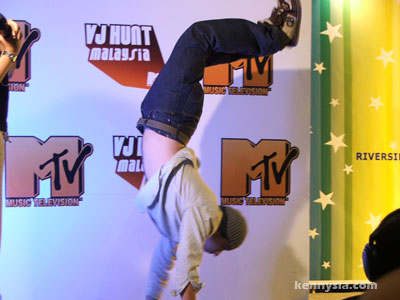 I don't understand why so many of the contestants went on stage and decided to suddenly transform into an angmoh and speak in an obviously fake American accent. What is it with being a VJ and speaking with an ang moh accent anyway?
Whatever happened to Asian pride? Come on guys, you are from MALAYSIA and you're auditioning for MTV ASIA. Why must speak in ang moh accent? Speak in Hokkien cannot ar?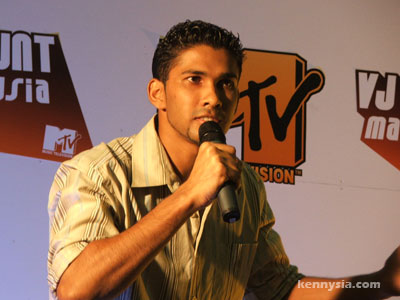 From what I saw, probably one out of every twenty of them deserved to be in the finalists. The rest were so bad, if I saw any of them on MTV screens, I'm gonna sue MTV Headquarters for insulting my intelligence.
Download video clip here. (WMV, 11.2MB)
Anyway, I waited for Brandon's turn to go up the stage. Heh, I don't think he did too well either.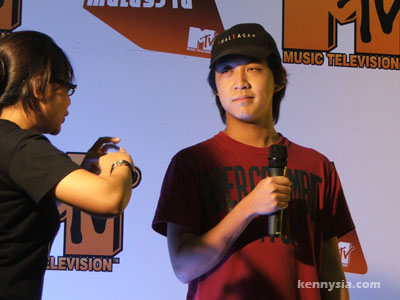 The best thing that night was meeting a few kennysia.com readers who recognised and greeted me, instead of freaking me out by passing me a paper note that reads "Kenny, what is KNNCCB?". Drop me an e-mail so I can send you the photos.
Who's there sitting in a corner digging her ear?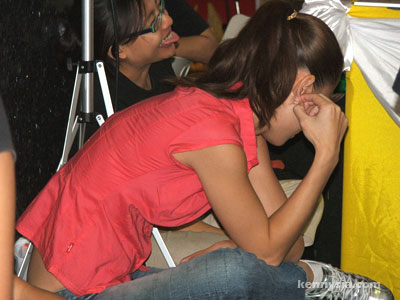 No shit, its Denise Keller!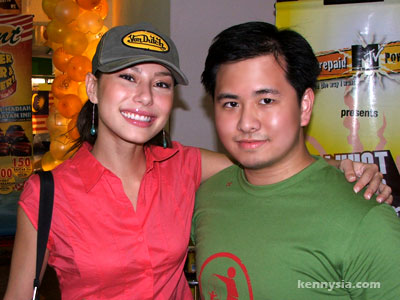 Speaking of Denise Keller, I thought Christian Jigmo from Eye For A Guy look like a character from Journey to the West. Don't you think?
Here, let me show you.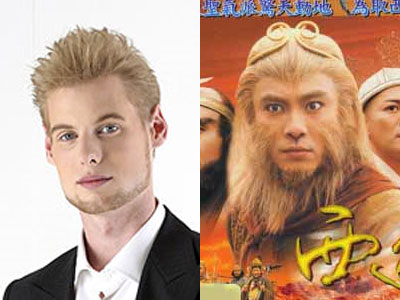 I'm only saying that because a friend of mine thought he looked cute but I begged to differ. No, I'm not jealous. Really. Look at my not-jealous face.
Anyway, its not an insult, its a compliment. Imagine what Sung Wu Kung could do with his magical baton that can grow long and short.

Lim Kit Siang, Malaysia's Opposition Leader, has his own blog (limkitsiang.blogspot.com). Luckily its not the same as the Australian Prime Minister's blog (johnhoward.blogspot.com)