(Disclosure: I was commissioned for this write-up, but I paid for the food myself and the following are my honest and independently written review of their menu.)
So I brought the two Malaysian Dreamgirls Cindy and Cheesie to hunt for food in Solaris, Mont Kiara last weekend.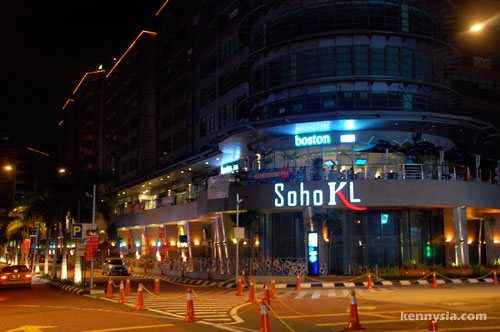 Solaris is nice place to chillout. It is KL's latest party and dining central. I'm guessing it caters mostly towards those rich yuppy types living in Mont Kiara. But I think a poser like me from Kuching is welcome too.
The crown jewel of the area is SohoKL, a whole new row of cool bars and posh restaurants nice enough to impress a date without breaking your wallet or have her call you "kiam".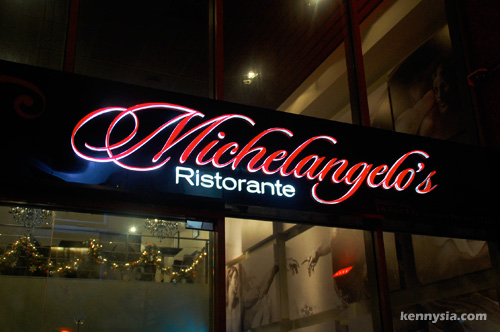 We headed to Michelangelo's for Italian food.
Contrary to popular belief, the owner of the restaurant is not, I repeat NOT, Michelangelo.
The great Italian painter has been dead for over 400 years and he didn't suddenly just come alive and open a restaurant in KL.


What Michelangelo's is, however, a pleasant Italian restaurant that sits somewhere between casual and fine-dining.
Their Solaris restaurant is also another one of those outlets doing the Guinness Christmas menu I've been reviewing. The promotion they run is pretty much the same.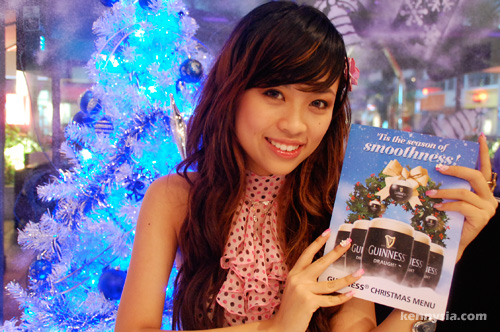 For every main course ordered, they'll serve you a free pint of Guinness Draught right away, RM12 discount off three pints on your next visit, and a free miniature pint glass thrown in to boot.
So you can "yam seng" with me if you're not a big drinker like Cheesie.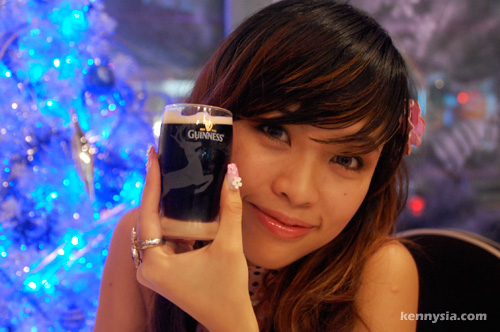 There are four different Christmas-themed miniature glass. I got the one with Rudolph on it and reckoned it was real cute.
(Oh I just found out also that you can get these mini pint glasses from some pubs in Kuching as well, like Rain in Chonglin Park.)
Compared to Delaney's and Jarrod & Rawlins Ampwalk that I've already blogged about, this one seem to have more choices on their Christmas menu.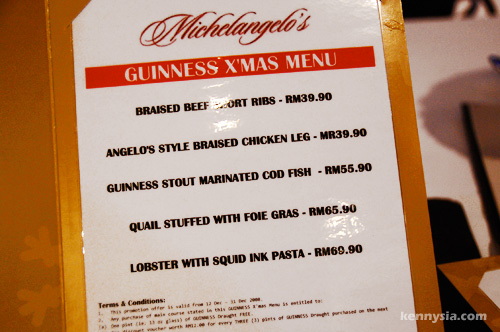 There's a total of five Guinness-infused dishes to choose from, and each of them comes with a complimentary pint of black beer on the house.
Question.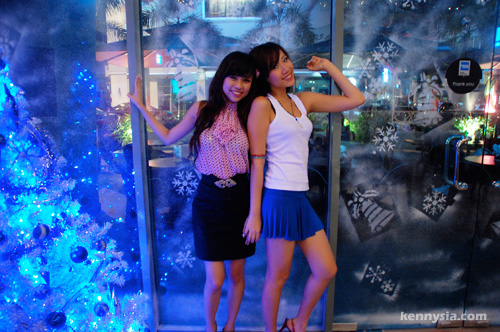 How many dishes did two under-40kg freelance models and one obese marathoner order at a restaurant?
A) One.
B) One for each. Three in total.
C) Everything on the Christmas menu.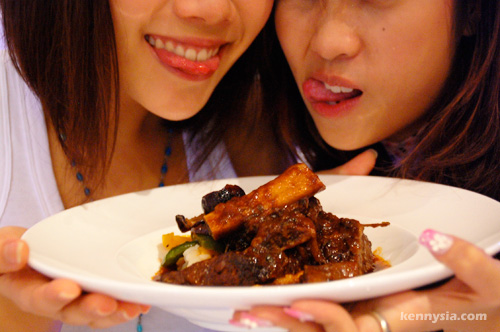 The answer is C. We actually ordered every single item on the Christmas menu.
Goodbye my post-marathon weight loss.
And because neither girl are big drinkers, I ended up finishing most of the free beer too.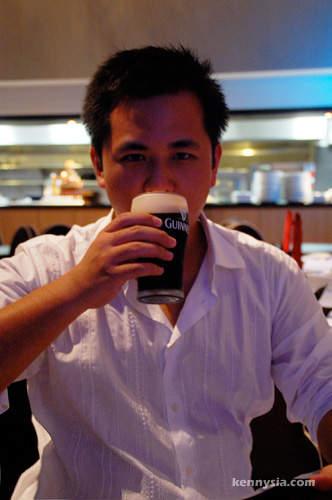 But that's okay. I ain't complaining. 😉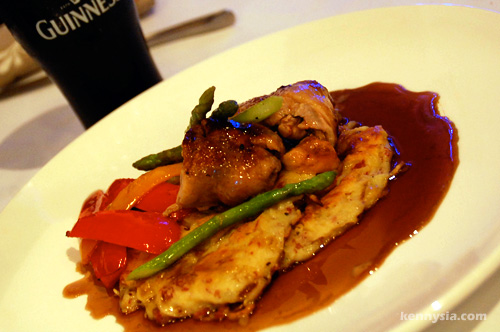 The first dish we ordered was the quail stuffed with foie gras (RM65.90)
This is an original recipe created by Emmanuel Stroobant, executed perfectly by Michelangelo's. The foie gras was marinated with Guinness and shoved up the hole in the quail.
Cheesie described it as "eating a bird and then accidentally biting into the liver."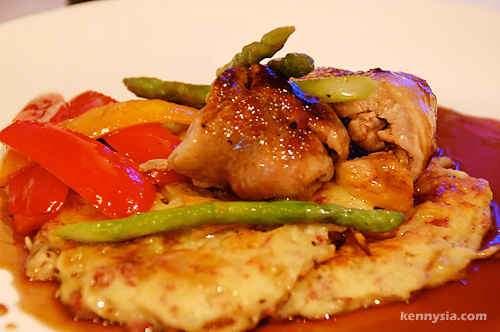 The girls didn't enjoy the sweet sauce that went with the dish but personally I loved it. I thought it went down extremely well with the beer.
My only quip is that the portion size was too little for me to fully appreciate such an exquisite dish. I know it's the economy crisis now, but they should've used a bigger bird instead.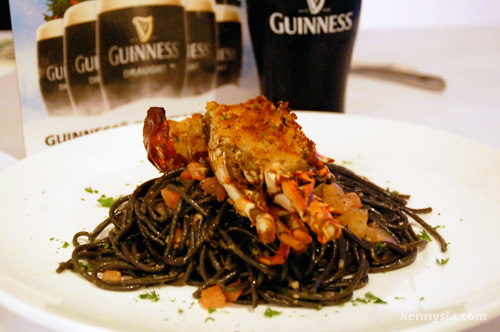 The second dish was lobster with squid ink pasta (RM69.90)
To be honest, I don't know how they could possibly screw this dish up. I love lobsters and I'm a big fan of squid ink pasta.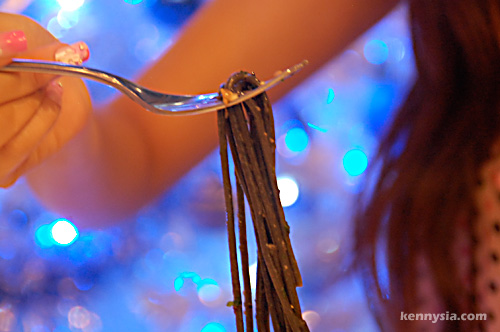 Put them both together and somehow they bombed it. It didn't help that the lobster meat they used were disappointingly flaky and the pasta were as bland as TV3 newsreaders. Considering I paid RM69.90, I think they could've put more effort into making the dish right.
Luckily the next dish came and save the day.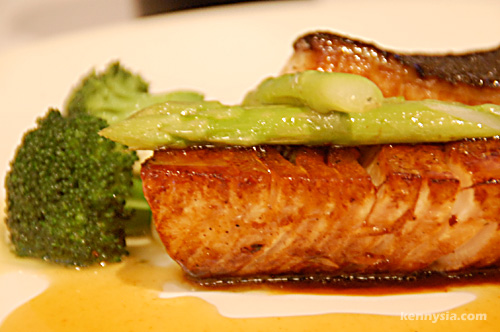 It's the Guinness Stout marinated cod fish (RM55.90).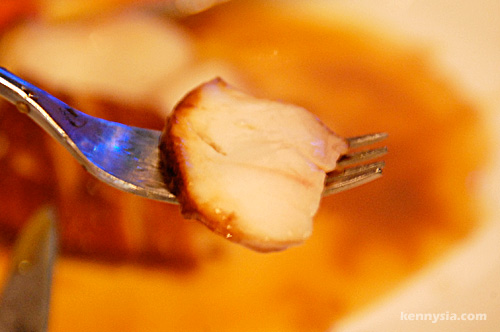 Trust me, the cod is good!
This is the best dish of the night.
It's obvious that they served us a very fresh fish. The cod fish married the sauce wonderfully and the meat so awesomely tender, smooth and juicy that it literally just melted inside my mouth. Very the super delicious.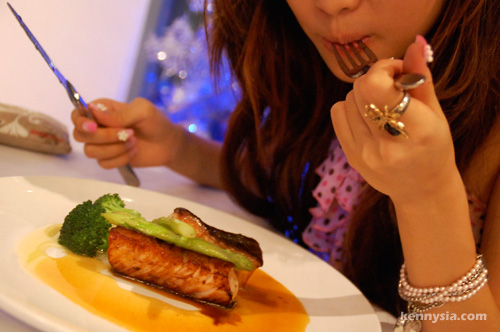 Fish lover or not, I highly recommend this Guinness marinated cod fish. I had to stop myself from taking too much of it in one go, otherwise I might get tipsy and start raping Christmas tree inside the restaurant.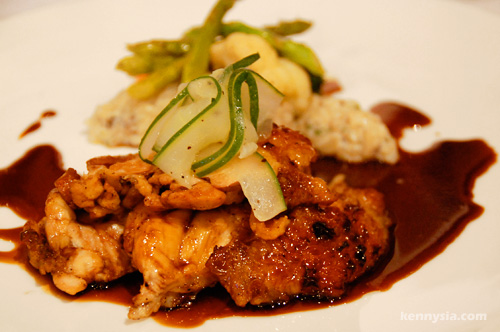 The delicious streak continued with Michelangelo's Angelo's style braised chicken leg (RM39.90).
It is a variation of the dish Emmanuel Stroobant taught me how to make from the workshop I attended earlier.
This one is not bad for chicken lovers.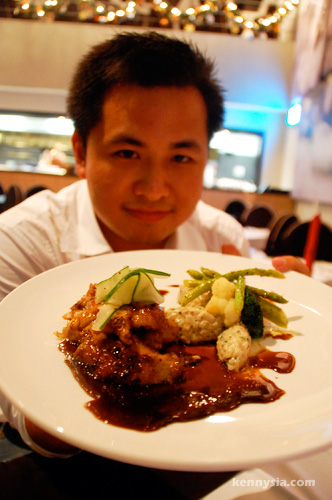 I didn't like that the sourness of the pickled cucumber overwhelm the natural flavour of the marinated chicken, so it's better to leave the cucumber out when savouring this dish. Otherwise, it's excellent. The herb risotto in particular was cooked to perfection.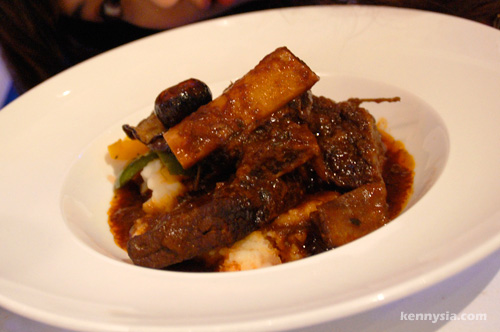 The final dish of the night was the braised beef short ribs with Guinness (RM39.90).
Perhaps it was an overdose of main courses, but tender as the meat was, after a while everything started to taste the same to me. Cindy loved it though, and she polished up the entire serving leaving nothing but bones.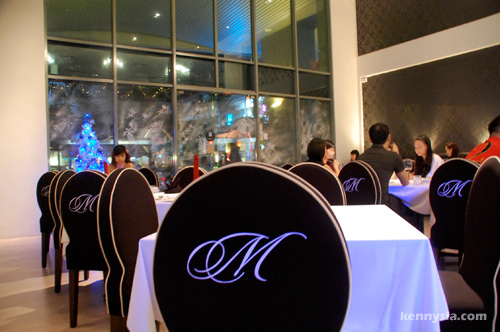 Michelangelo's have some hits and misses with their Christmas menu, but overall we had a fantastic dinner. Portion sizes in general are smaller than say Jarrod & Rawlins. But I think Michelangelo's have purposely done it that way to fill you up without overstuffing you.
Else the three of us could not possibly have finished five main course dishes in one sitting.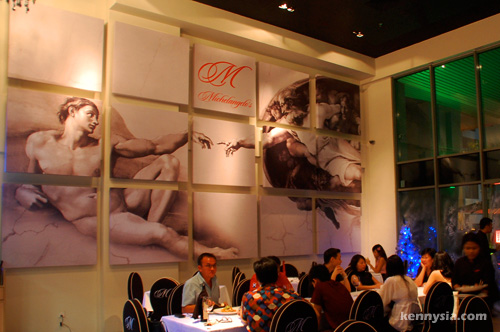 All in all, Michelangelo's (the restaurant) is a great place to go to if you wanna have dinner while staring at the large sized replica of Michelangelo's (the painter) Creation of Adam hanging on the wall.
Coincidentally, I happen to saw the original painting of the Creation of Adam when I was at the Vatican City earlier this year. It's a beautiful painting, and I can understand why it was hailed as one of the greatest masterpieces from the Renaissance times.
Creation of Adam describes a scene from the Book of Genesis.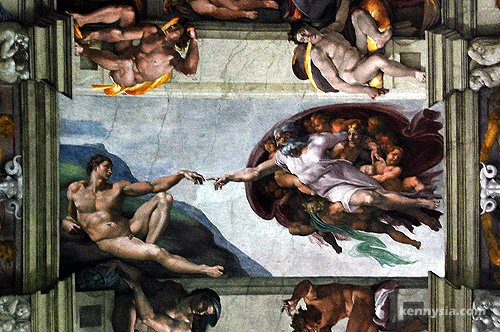 On the sixth day, God created man.
Except at Michaelangelo's restaurant, God left out one, tiny, little detail.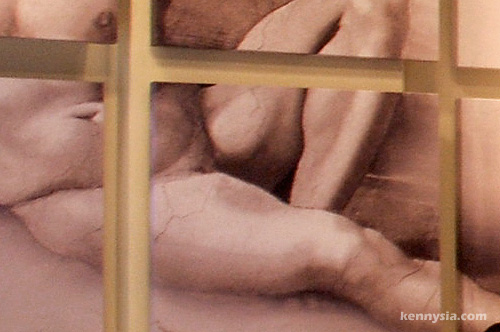 He accidentally made Adam, into Eve.

Blog Plug of the Day: Unlike me, JoyceTheFairy is one of the most fashion literate person I know.
Over the years I've known her, I've seen her hair changed from black, to red, to long, to short, to afro, to andro, and now… BOTAK! She has helped raise some RM20,000 by shaving her head off for charity and for that, she's got my upmost respect. Well done Joyce, you are awesome although now you look like the female version of Hitz.fm's Rudy.