I woke up at 3:30am that day.
A part of me wanted to give up already since I'm not used to waking up so early. With merely 4 hours of sleep and 2 weeks of training, I was desperately underprepared.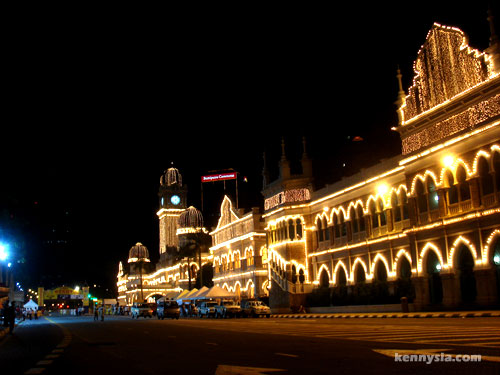 The free shuttle bus was already outside the Mandarin Court Hotel waiting to take me to Dataran Merdeka. It was dark, but I can literally feel the electricity in the air.
The Sultan Abdul Samad building was beautifully lit up. Hundreds of participants were already there. Some stretching, others rubbing generous amount of petroleum jelly onto their bodies.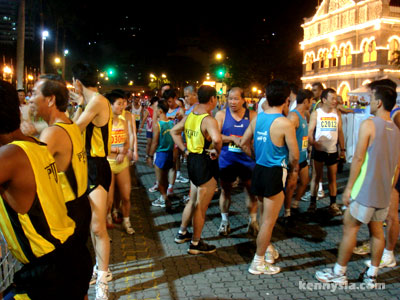 Completing a marathon is a feat that require an almost superhuman effort. And I was there to represent the Average Joes.
Some people were there to win the cash prize. For the majority of us, we were there not for the money, but to push our bodies above and beyond the human limits.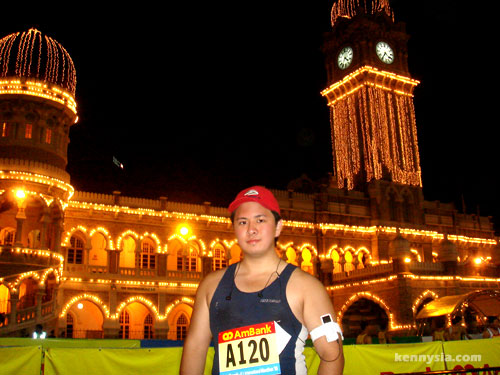 It's very easy for me to feel out-of-place in this pool of people. Everyone there is so slim and well-built, and there I was standing there with a spare tyre around my waist.
It's even easier to separate the seasoned marathoners away from the noobs. The experienced ones all have that intimidating bad-ass look about them.
Like this trio of Mainland Chinese girls that look like boys that look like girls.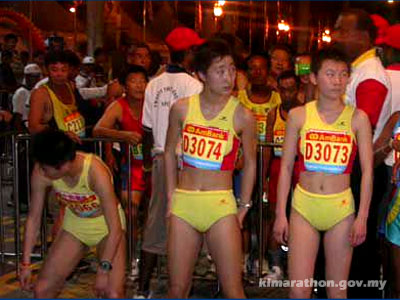 We're all gathered at the starting point. My mind was all cleared up. Adrenaline pumping high.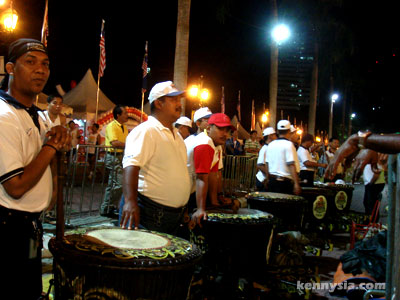 I hung around the place quietly observing other people, drinking more water and munching on PowerBar till about 5am.
And then it's game time.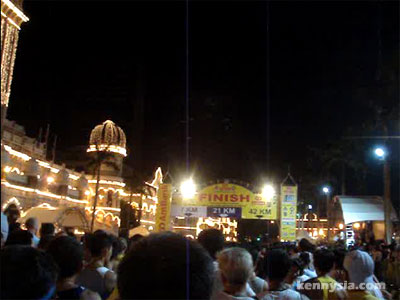 The timing chip set off a beep as I crossed the starting mat. Everyone was quickly passing through me at this point.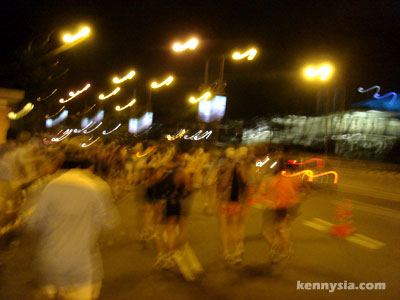 I didn't want to catch up with them. My aim was to go slow and steady, keeping at a pace I'm comfortable with.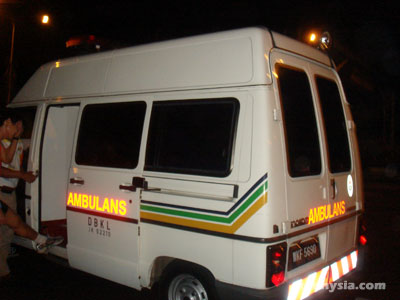 The tarmac on KL roads were rough and lack the "bounce" I'm used to on proper running tracks, but I was still doing OK.
It didn't take long for me to reach the 5km checkpoint. 40 minutes. That's 10 minutes longer than what I aimed for. I had to pick up my pace.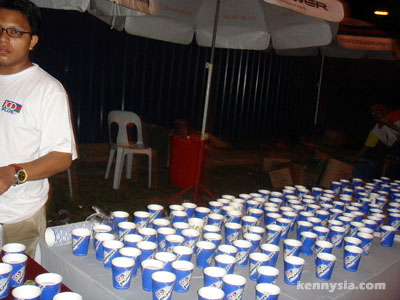 I downed two cups of 100 Plus. Usually I don't drink those stuff (I prefer Gatorade), but at that point in time it was the best tasting drink ever.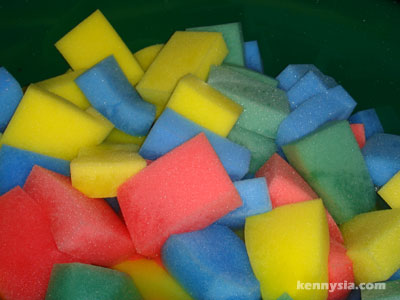 At 7.5km I arrived the first sponging station.
These ice-cold sponges are God-sent. I squeezed them over my sweaty head and felt instantly rejuvenated.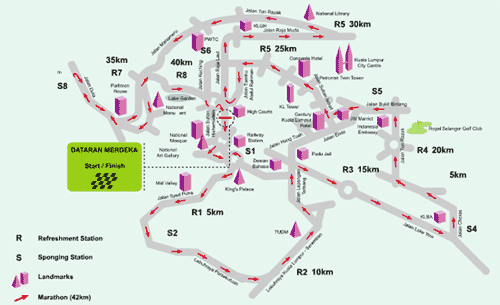 I passed the 10km point in 1hr17mins. That was still the easy part.
My feet were just starting to hurt. The seasoned runners were all running far ahead of me and it was pretty clear that I was among the last few.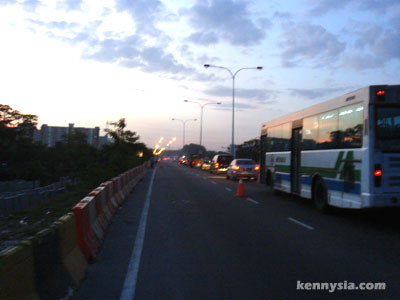 It was 7:03am when I witnessed daybreak. The KL commuters were jamming up the freeway and the CO2 emission were not doing any good to my lungs.
Still had time to camwhore though.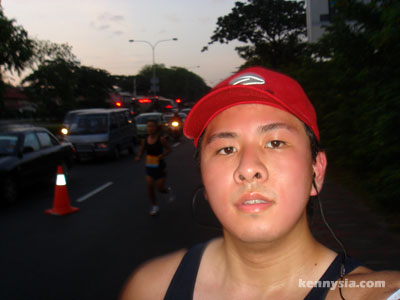 At this point, I overtook a female runner – a first since I started the race. For a moment, I was thinking of doing something stupid like flirting with her and asking for her phone number. Alas, I was too shy to do that so I just smiled at her cheekily instead.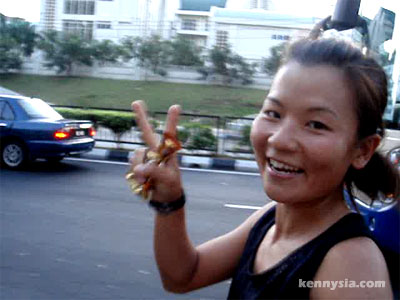 The girl caught up with me a short while later and quipped "Excuse me. Are you Kenny Sia?!"
OMG SHE RECOGNISED ME! The embarrassment! San San is a reader of kennysia.com and she later finished at 5hr59min. We made some small talks before I let her continue on with the race.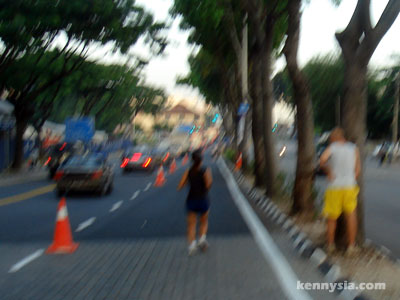 Without a doubt, I met a lot of interesting people during the marathon, but nothing could me prepare for the shock I had when I met Mr Yap. This is one man I DEFINITELY did not expect to see in a race like this is.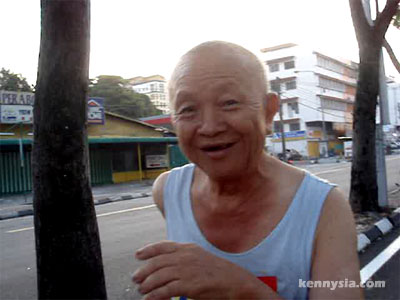 THIS, ladies and gentlemen, is Mr Yap.
He is 73 years old, old enough to be my grandpa and yet still running a 42km marathon. Despite being three times my age, he still managed to finish the race at 5hr06min.
Now how's THAT for determination?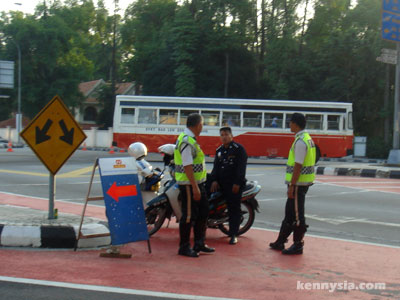 To keep my mind occupied, I attempted to high-five the traffic policemen everytime I passed one of them. Not all of them are cooperative though. KL policemen are so boring.
Or maybe I'm just too boh liao.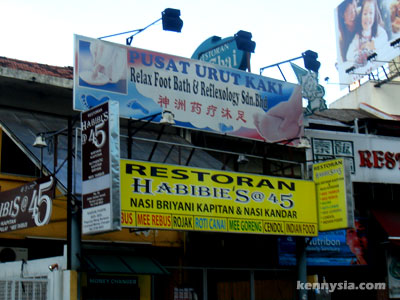 3 hours into the race, I crossed the 21km halfway mark. Already I had broken my personal record for longest time spent running.
Lactic acid was building. My legs up till my knees were completely sore and numb. I wished I was doing the half marathon instead.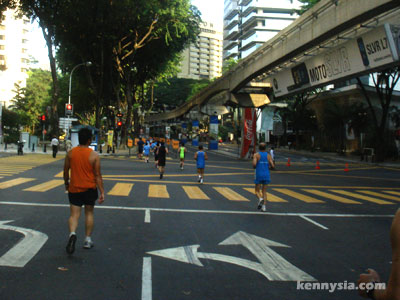 The course was taking us through Jalan Bukit Bintang in downtown KL when suddenly terror struck.
Cramps had attacked my calves. I stopped running and grimaced in pain. It was the most dreadful feeling I had to endure. For the first time ever since the race started, I had to completely stop and wait for the cramps to subside.
One minute seems like forever, and it was pure Hell.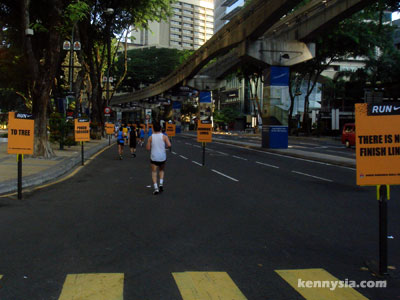 A stranger passed by and handed me a tube of analgesic cream. Thanks! I probably wouldn't even be able to finish the race without it.
We passed through some motivational placards sponsored by Nike. "There Is No Finishing Line", "Punch Through", "Push Myself", "Just Do It".
That was all I needed to mentally go ahead. The pain on my ankles, my feet, my legs were excruciating. But absolutely NOTHING could stop me from finishing the race.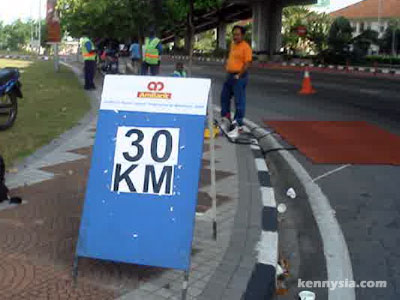 I reached the 30km point in 4hr18mins. 30km is the human threshold. From this point onwards, it's do or die.
Aches from my feet went up to my lower back. It was punishing. The pain was absolutely unbearable. I'm practically LIMPING my way though. I couldn't run anymore or I'll get cramps.
All I could only rely on was willpower and sheer willpower alone to get me through this.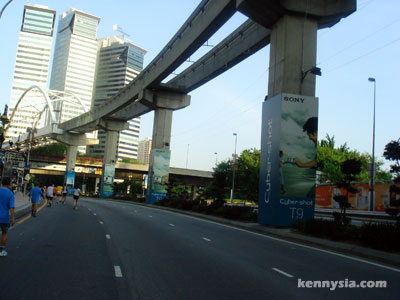 I gritted my teeth and continued pushing myself.
I started to hallucinate.
I thought about life. I thought about my career. I thought about going to Phuket next month. I even imagined the finishing line to be at Phuket where I could just jump into the sea and relax.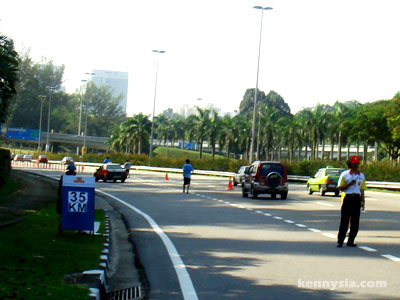 For some reason, I became Hulk Hogan and began talking to myself in the Hulkster's voice. "Watcha gonna doooo…! Watcha gonna dooo….! When Hulkamania runs wild on yoooooo….!"
Trust me, beyond 30km you think all sorts of crazy things.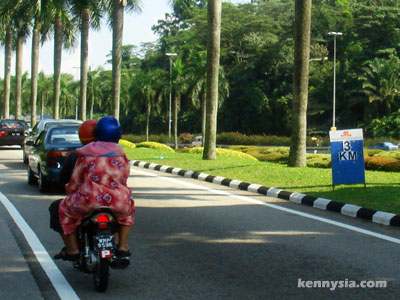 The last few kilometres seem to go on forever. The sun was shining bright at this point. My legs felt as if they've been run through by an 18-wheeler.
It's a torture. Pure brutal torture. Every step is like a steel pipe going through my legs. My digicam is like a brick. My shoes weigh a ton. I thought I walked 5 km but in actual fact I only walked one.
SCREW YOU ISAAC NEWTON FOR MAKING ONE KILOMETRE SO BLOODY LONG DAMMIT!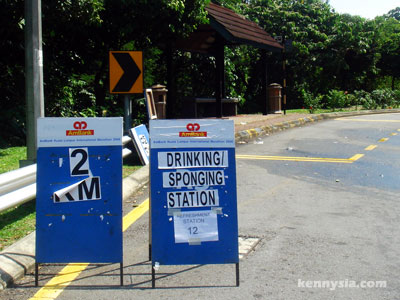 When I reached the 40th kilometre, I knew I had already missed the 6 hour qualifying time.
What made it even worse is that the drinking station that was supposed to be there had disappeared. Stupid DBKL don't care about the last remaining competitors. 🙁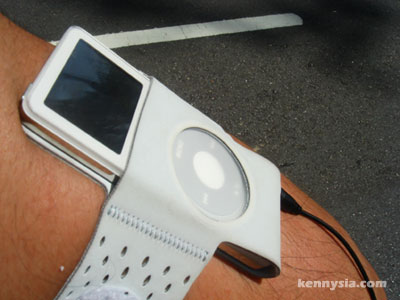 As if that wasn't bad enough, my iPod ran out of juice. That was by far my biggest mental support and now it's gone! I'm all alone.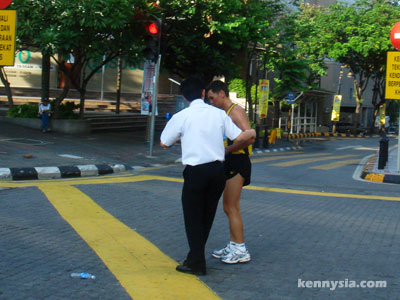 I was almost ready to give up when the DBKL van passed me and asked if I wanted to hop on. OF COURSE NOT DAMMIT! Tempting, but I rejected their kind offer and continued limping towards the finishing line.
I would NEVER forgive myself if I've come THIS far and not complete the marathon.
A roundabout later, I saw it.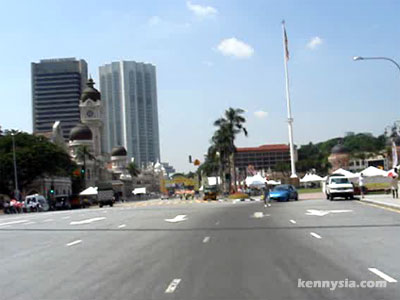 The finishing line in sight! Isn't that the most beautiful thing in the world? It was so near yet so far.
I was limping, literally DRAGGING myself as I inched closer and closer to the finishing line.
"Let me finish this race. JUST let me finish this race." I prayed. I looked up just in time to see my finishing time on the timeboard…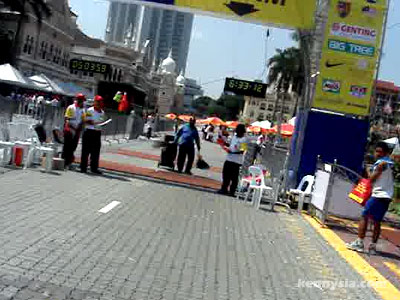 I DID IT. I FUCKING DID IT.
It was my first ever marathon, and I crossed the finishing line after 6hrs33mins.
A HUGE sense of relief came all over me. It was unbelievable. Euphoric. Jubilant. I could not believe myself.
THIS is what I call a natural high.
ME!? Conquering the 42km KL International Marathon!? You gotta be joking!
Nonetheless, I was very upset at myself for not making it under 6 hours. I sat under the shade, still in awe of what had just happened.
What an amazing experience.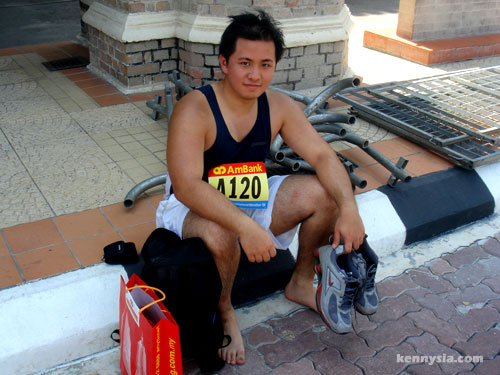 Here I am, an overweight man attempting what myself and many other people thought was the impossible.
It wasn't easy, but I pushed myself. In the end, I persevered and went on to reach my goal.
Completing this race must be right up there as one of the biggest accomplishments in my life.

I'm not sure if I'm going to do this again. What I'm sure of is that everyone should attempt a marathon at least once in their lives.
You haven't lived until you physically experienced the pain and sweat running 42km. That feeling you get when you crossed the finishing line – indescribable.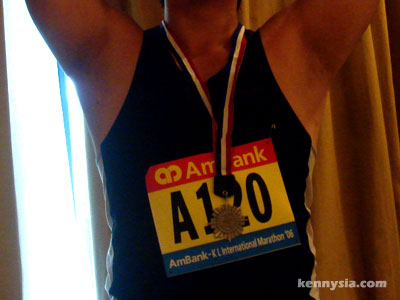 Impossible is nothing and nothing is impossible.
The following day I returned to Kuching a brand new person, with a renewed confidence, ready to take on the world – as soon as my legs are healed of course.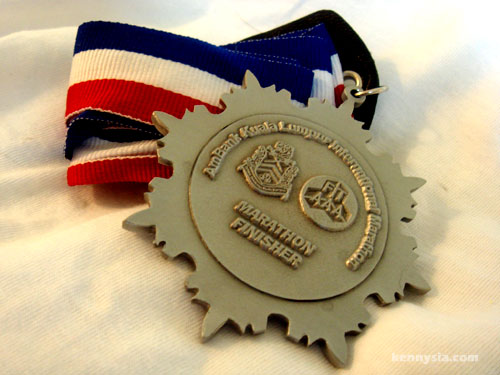 If I could do it, there's no reason why you couldn't do too. 😉

I had to take two days off work. The marathon must have sapped up all my energy. My body immunity was running low.