I wouldn't even know about this if Cheesie didn't tell me.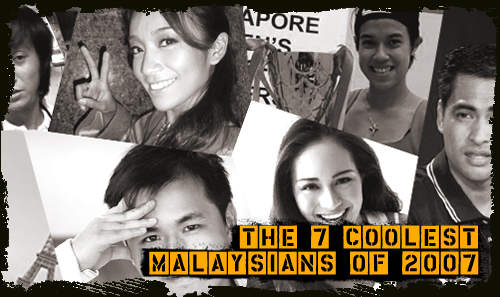 For some strange reasons, Gua.com.my ("Malaysia's entertainment and lifestyle portal!") has named me one of the Seven Coolest Malaysians of 2007.
I don't even know how I managed to get on that list.
Yalah, I was a bit suspicious when some guys kidnapped me and stuck a thermometer up my ass to measure how "cool" I was. But me as one of the coolest Malaysians?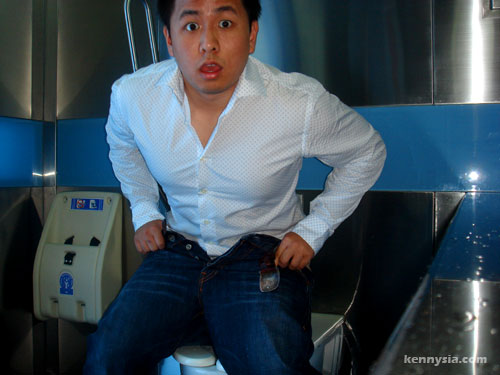 My first thought was that they must've made some sorta technical error and mixed up "Kenny Sia" with "Kanye West". But still, to be mentioned alongside other justifiably more famous Malaysians like Nicol David, Maya Karin and space tourist Sheikh Muszaphar is, well, cool. 🙂
I am so cool I shall finish blogging the rest of this entry looking like this.


That was a nice gift on a special occasion for me.
Yesterday, the 4th of January, was officially kennysia.com's 3rd anniversary. And usually around this time of the year I like to take the walk down memory lane and reflect on the highlights of this blog.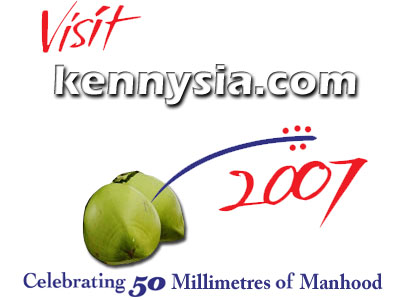 It's quite amazing to think that kennysia.com has been continuously running for three years, especially considering my workload at the office had increased multiple-folds and also repeated protests from within my family to shut down this blog.
My family obviously thinks that my commitment in the office is more important. Of course I see my job and my blog as of equal importance. I don't think one necessarily needs to be sacrificed at the expense of another, so I try to strike a balance and make some compromises. Though I must admit, lately it has become more and more difficult for me to juggle between the commitments of my job and my blog, hence the sometimes lack of content.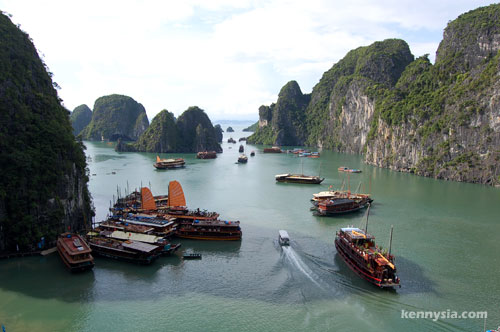 A huge part of kennysia.com this past year was devoted to Travel Logs. That's hardly surprising considering I've been travelling every month of 2007. I didn't even manage to stay in Kuching for a full stretch of 30 days.
To be honest, I'm not sure how well-received my travel logs are. (Please say you like my travel logs.) In any case, I sure hope people enjoyed reading my travel logs as much as I enjoy writing them, because I bloody well enjoy writing them. Just looking through the photos and putting my experience into words is enough to make me re-live the good times once again.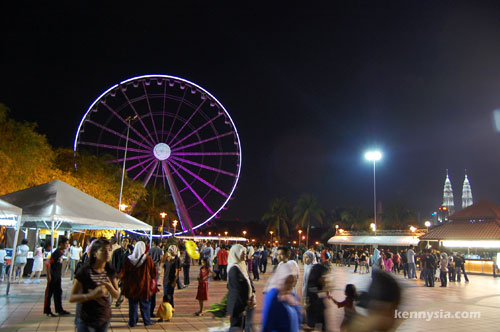 2007 was Visit Malaysia Year.
Although personally I think VMY2007 was a scam by the tourism industry to jack up hotel prices to record high (know any Malaysian who managed to get a cheap travel package in Malaysia?), there are some places in this country that I thoroughly enjoyed going to and blogging about.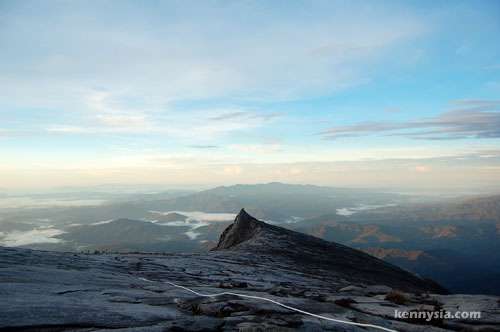 By far, climbing Mt Kinabalu in Sabah was the best travel experience I had, made even better with the company of a new friend in Su Ann.
Coming in second, was my Ipoh trip which ended up unexpectedly interesting and memorable. I also did a guide on my Penang food hunting trip which I'm sure is gonna make a lot of people very hungry.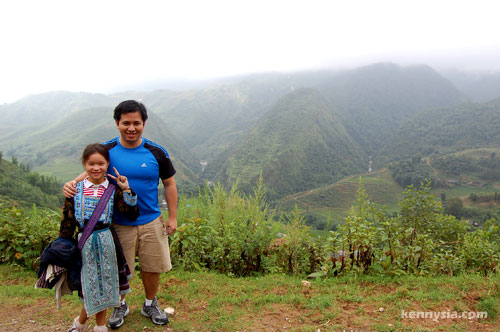 Outside of Malaysia, my Hanoi travel logs (specifically Sapa) are my favourite.
I also enjoyed travelling Jakarta like a local and visiting Bangkok's Chatuchak market.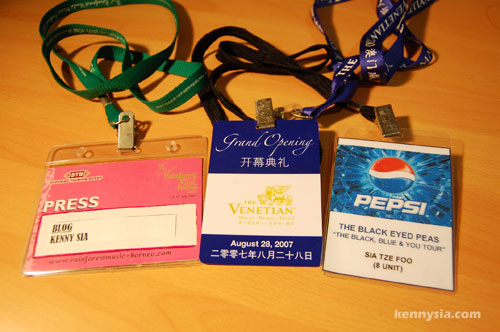 In my third year of blogging, I begin to see signs of bloggers being taken as seriously as journalists from the mainstream media especially during press events. That is something I really appreciate.
It all started with me e-mailing the organisers of the Sarawak Rainforest World Music Festival for a press pass and actually getting it. I have never received a press pass for anything before, and I was excited.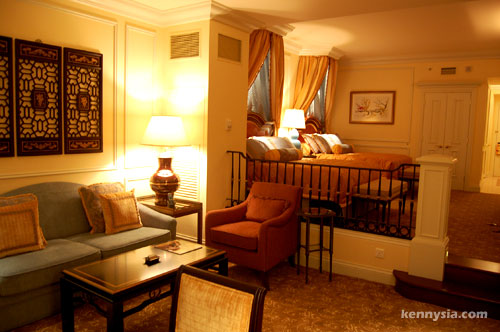 After that, I didn't think it could get any better, but it did.
In August, I was flown to Macau to blog about the grand opening of the mindbloggingly luxurious Venetian Macao Resort Casino. I watched their grand opening concert where David Tao and Diana Ross performed, dined at their gala dinner and stayed at their RM2,000-a-night room way before anyone else from the public did.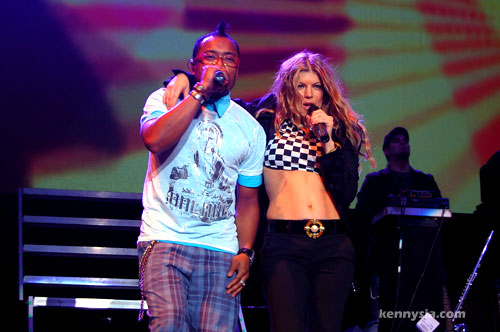 Two months later, I was again flown to Bangkok to blog about Suki and Faizal's interview with The Black Eyed Peas. As if getting the absolute front row spots during their live concert wasn't good enough, I was even invited backstage to chat and shake hands with the stars.
All these just for being a BLOGGER! Can you imagine? I used to have to sneak into events to blog about them!
Now could you fault me for not following my mother's advice and shut down this blog?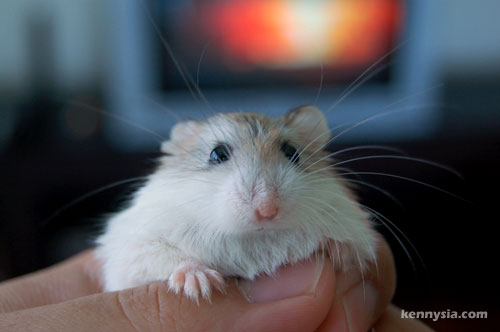 Of course, life isn't always a bed of roses for me. One thing consistently plaguing me is that I seem to attract controversy, even when I do not mean to.
There are generally two types of readers on kennysia.com.
There's one that prefers the old-fashioned, unapologetic, uncensored version of Kenny Sia who do not hold himself back by pandering to the public. Then there's another one that thinks because a lot of people read kennysia.com, that I should censor myself and not blog about things that would make people angry, because y'know, with great power comes great responsibilities and shit.
Seems to me that the concept of blogs as an open personal diary is still difficult for some quarters to grasp.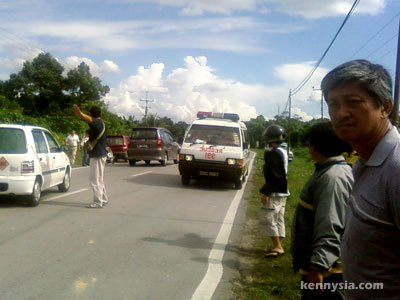 When I blogged about a fatal car accident I witnessed way back in May, some people think I shouldn't do it because I was being insensitive. Yet, I think I reserve the right to blog it because it was something extraordinary that happened in my life.
The ensuing debate ballooned to a dramatic 1,043 comments, until support for me came from the most unlikely of sources – William Liew, the husband and father of the victims.

Then there was this time I swallowed a beating heart of a cobra. A lot of animal lovers threatened to cut out my heart and swallow my blood in revenge eventhough I maintained that it was a once-off experience, and that I don't normally feast on live seafood or animals.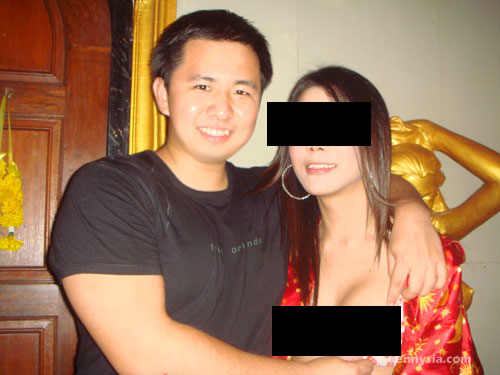 And who could've forget that transvestite-boobie-baring incident?
After seeing so many people insulted me and accused me for disrespecting the transvestite, I finally believe that Malaysians have more respect for transvestite prostitutes than for bloggers.
Anyway, controversies are inevitable and haters are always gonna be there, but what I enjoy doing best is still making people laugh.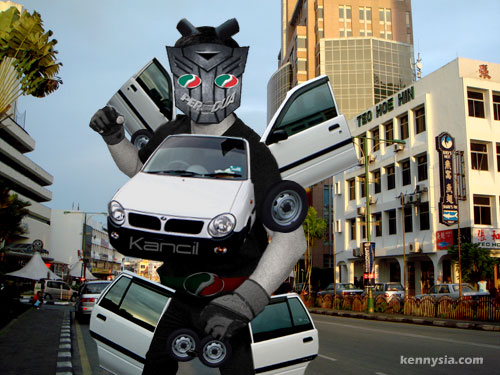 Remember the time when everyone was crazy about the movie Transformers?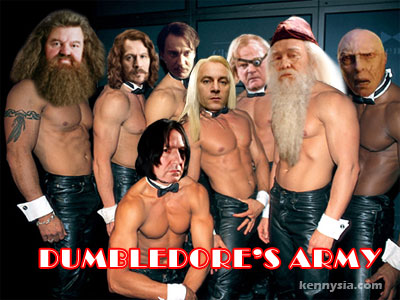 How about when we found out that Dumbledore was gay?
But if I had to pick my absolute favourite blog entry out of all those, I'd pick the time when I beat the scammers at their own game in The Hong Kong Lucky Draw Scam.

That particular blog entry was passed around so much, it ended up saving a lot of people from heartache and losing their hard-earned money. And I'm glad it did.
So that was kennysia.com's third year in review. I don't know what 2008 holds for this blog, but with the General Elections, the Olympics and the Eurocup all in this year, I doubt there's gonna be a shortage of subjects to poke fun at. 😉 Man, I just wish I had more free time to blog.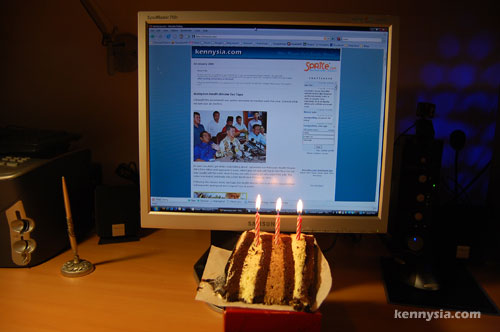 Happy 3 years old, my blog.


A special shoutout to kennysia.com chatterbox regulars naeboo, jane, jane, fritz, zomgwtfbbq, Kelly , Kate, Charmayne, munak, Michael, Calvin, Alvin and the rest for making my CB one of the most kickass and liveliest around. Thanks to you, other people can no longer leave me flattering "I love Kenny" messages on my chatbox.
Damn.