Ten categories, seven days and two inches added to my waistline later, it's time to announce the winners for the 2008 kennysia.com Kuching Food Awards.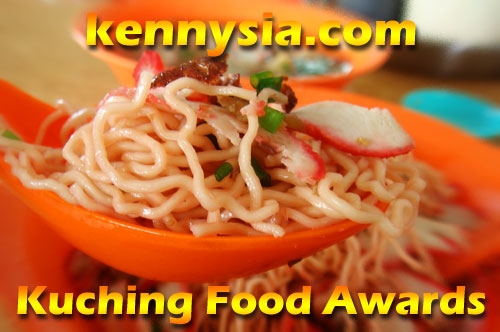 Here, kennysia.com stands up and takes his hat off to the best of the best local fare. These awards applaud not just to the obvious, but also to those quietly making a difference. And of course, I encourage everyone to try the good food listed here.
For visitors to Kuching, not to worry. The location of all the winners are noted on my handy Google Maps application.

10. Best Fine Dining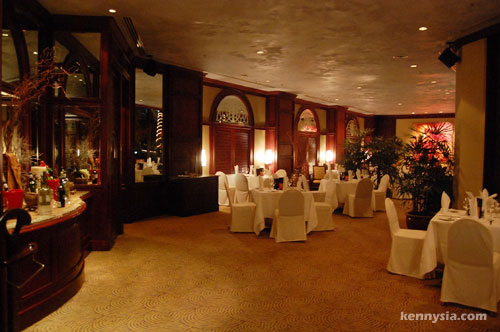 Winner: The Steakhouse, Hilton Hotel Kuching.
If you want to dine at The Steakhouse, be sure to bring along your wallet, an arm, a leg and your first-born child.
Because that's about how much you'll be expecting to pay for a meal over there.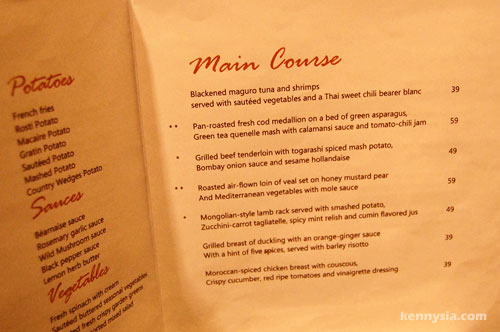 Dare I say though, it was absolutely worth it. Fine-dining is never meant to be a cheap affair.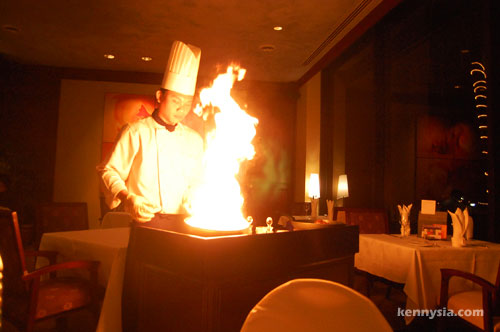 I dined at The Steakhouse once only on Chinese New Year's Eve. It's a special occassion so we all thought about splurging a little bit.
It was such a fantastic meal, my mouth waters just thinking about it. We had Yee Sang (raw salmon and jelly fish) served in cocktail glasses, chicken consomme in a Chinese teapot, garoupa grilled to perfection and beautifully presented.
In terms of visual presentation, it's 10/10. In terms of taste, it's another 10/10.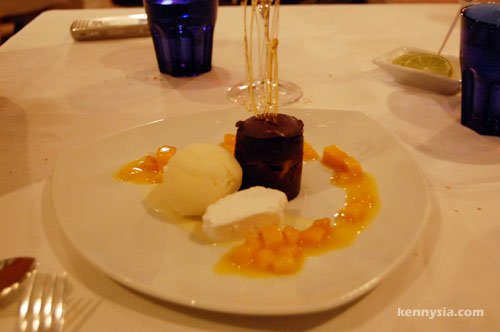 Unfortunately, mathematics tells us 10×10 = 100, and I got the shock of my life when the bill comes up to RM100 per person.
Having dined at most of the other finer restaurants around Kuching, I have no doubt in saying that The Steakhouse beats all competition with its boot firmly impaled up their arses.

9. Best Casual Dining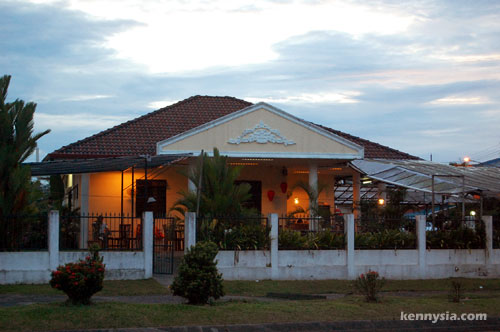 Winner: Chef At Home, Lorong Taman Hui Sing 5/6.
For first-timers, it is not easy to find the place because there aren't any visible signboards outside the house.
Chef At Home is located inside a residential house where the car porch and garden are conveniently converted into an alfresco dining area. It's nice and romantic.
Very cozy, and it doesn't cost a bomb.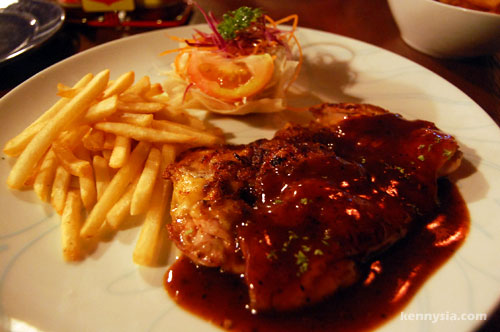 What I like about this place is its range of delectable grills. Their steaks are juicy and their chicken chop are so tender it literally melts in your mouth. You can never go wrong with the meat here.
They have quite a sense of humour when it comes to naming their mocktails.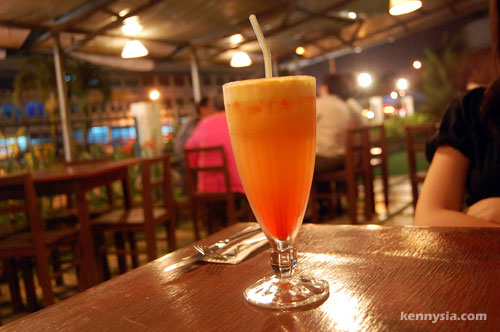 This one is called Malaysian Sunrise. Orange juice with grenadine syrup topped up with 7-Up.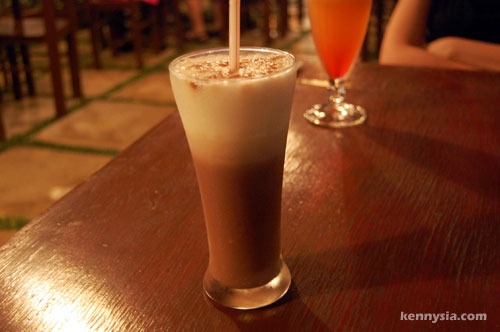 And this mixture of chocolate milk with sprite is called Michael Jackson.
Why? Because it's black and white.

8. Best Food Court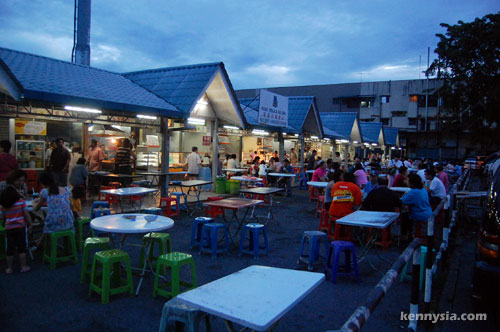 Winner: Hui Sing Hawker Centre, Lorong Taman Hui Sing 3.
Just across the road from the winner of Best Casual Dining is the winner for Best Food Court in Kuching.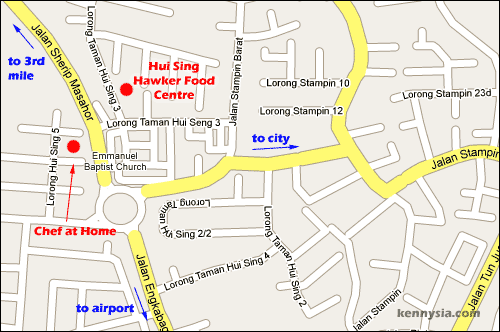 Hui Sing Hawker Centre is in my books, one of the best local eats in Kuching.
Sure, it is not as big as the triple-combo Jalan Song food courts, nor as flash as the brand new Food Avenue in 4th Mile that offers retractable rooftop, projector TV and free WiFi. But what Hui Sing Hawker Centre lacks for in size, it more than make up for in quality.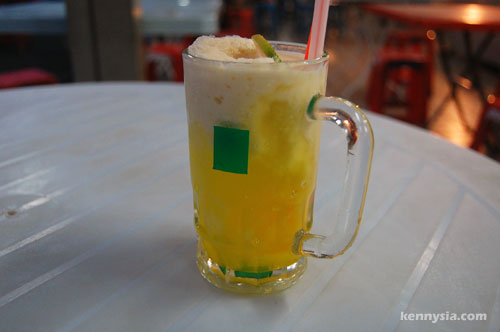 It is here that the delicious White Lady was created, alongside other famous icy delights such as ABC and Matterhorn. These creations are not easily found outside of Kuching, and they are absolutely delightful especially with the hot and humid weather over here.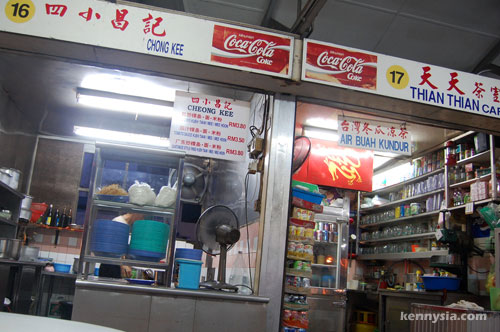 Other dish worth trying in this excellent food court are the pork satays, the fried taugeh noodles with clams, the tomato kueh teow, the sotong kangkung and the curry chicken rice.

7. Best Nightspot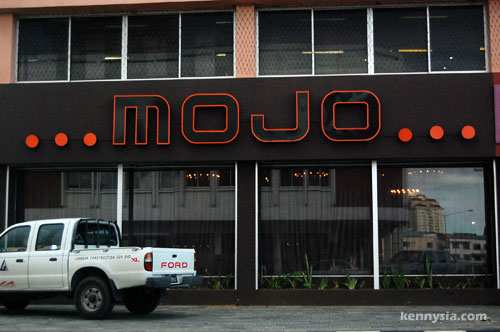 Winner: Mojo, Jalan Abell.
While we're still waiting for Zouk and Ministry of Sound to set up a proper nightclub in Kuching (won't happen at least for the next 10 years), Kuching people are still partying their weekends away in pubs.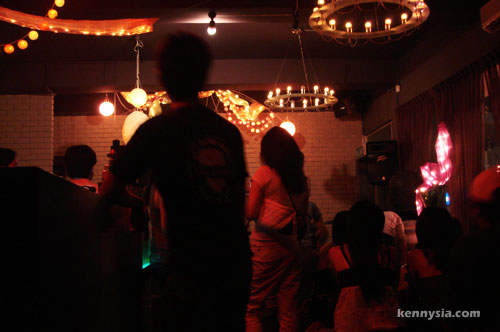 Mojo deserves a big thumbs up for introducing something a bit different to the locals.
While Soho gets heavily crowded and overrun by wannabes on weekends, Mojo manages to do their part to keep their customers happy. It is not Velvet Underground of KL, but it's close enough.
Funky DJs, plush couches, a proper dance floor and a memorable theme party last Halloween made Mojo officially the coolest place to hang out in Kuching.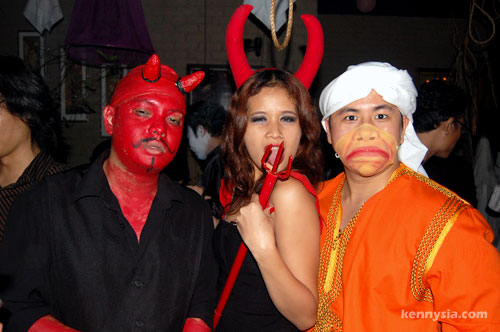 I'm sure after winning this award, more people will be coming in to further crowd the place.
What the Teng brothers need to do next is install more freakin' airconds!

6. Best Place To Have Breakfast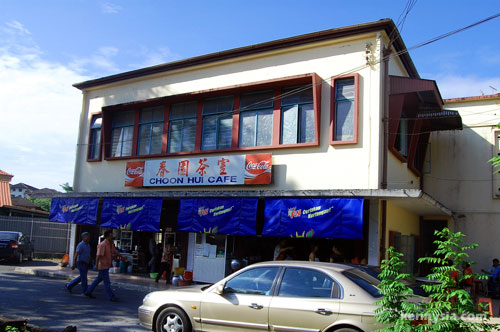 Winner: Choon Hui Cafe, Jalan Ban Hock.
This legendary establishment has been feeding hungry Kuchingnites for many years.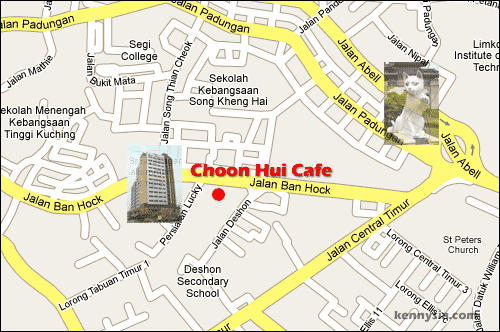 Located close to town, right next to Grand Continental Hotel, Choon Hui is as authentic as it can get to a old-fashioned Kuching Chinese-style coffee shop. It is open during breakfast hours only, starting business very early in the morning and finishes around 11am.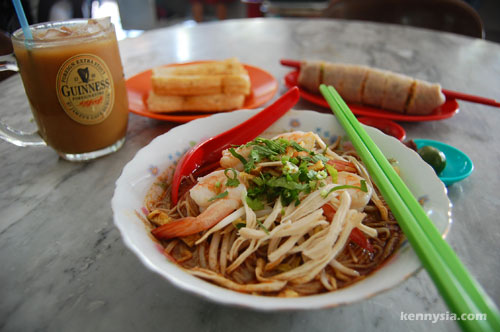 This is what my typical breakfast at Choon Hui looks like. A bowl of laksa, a roll of popiah, kaya butter toast and a glass of iced coffee served in a Guinness Extra Stout beer mug. You may also order kolo mee, chicken porridge or soft-boiled eggs here.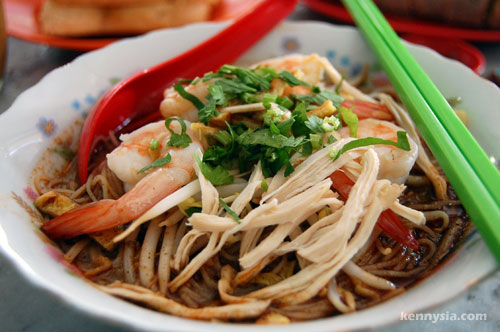 The laksa here is very popular among the locals. In terms of visual presentation I give it a 10/10, though taste-wise it is not the best in Kuching.
The popiah served here, on the other hand, is nothing short of perfect. I love how they wrap the vege and crushed peanut so perfectly, it never falls out of place when you take a bite.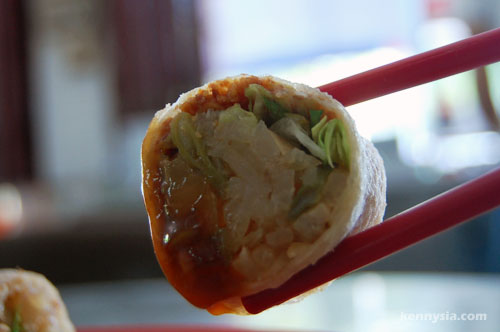 Make sure you dip it in the sweet sauce. It is mouthwateringly awesome.
Even with the mushrooming of newer and trendier kopitiams all around Kuching, Choon Hui has shown no signs of losing its loyal base of customers. Not only is the quality of food here consistent, the people running the shop are all genuinely warm and friendly.
Not matter how busy they are, they will smile, joke and make small talks with you even if you're just a total stranger. This is authentic Kuching hospitality at its best.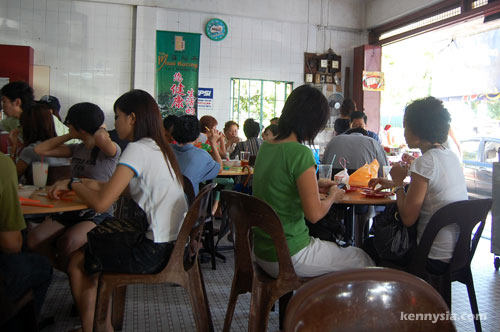 And the best part is? You don't have to pay 10% service charge for it.

5. Best Beverage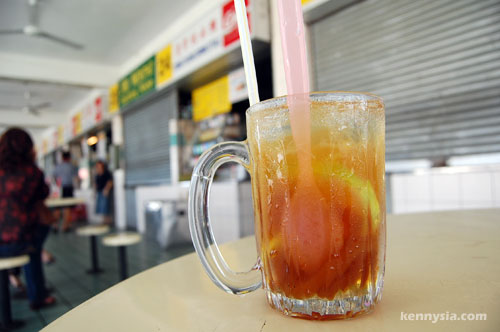 Winner: Honey Sea Coconut, Ching Chang Drink Stall at Song Kheng Hai Food Court.
I love this drink. It's a cool and refreshing concoction of honey and sea coconut, and Ching Chang Drink Stall serves the best version of this drink.
The uncle manning this popular stall is also very lame.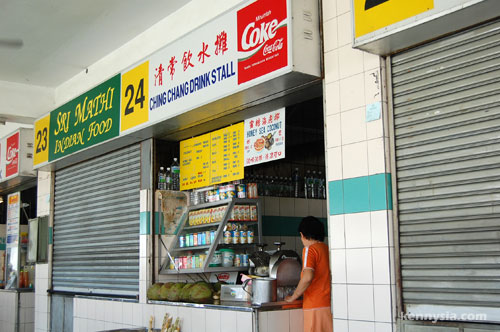 Order a drink at this stall. If your order comes up to RM1.50, he will come up to you and say, "RM1,500 please!"
And he does that EVERY. SINGLE. TIME.

4. Best Chicken Rice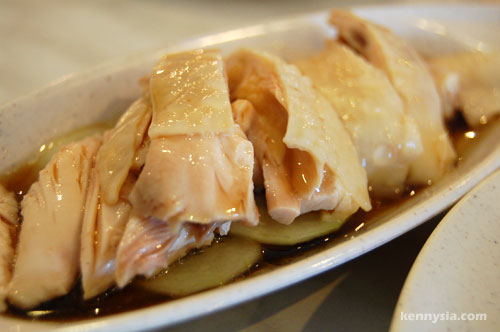 Winner: Hainan Street Restaurant, RH Plaza.
Hainan Street Restaurant used to operate an outlet along the same stretch of shophouses at Chicking Eating House at Jalan Petanak.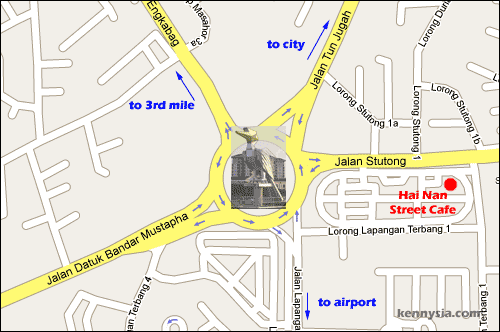 My office is located around the area so I often eat at both places.
It's the same everytime. Chicking will be filled up like crazy and Hainan Street will be dead quiet even during the busiest lunch hour. I have no idea why.
My tastebuds tell me the chicken at Hainan Street is more oily, more juicy, more tender and more chock full of flavour of the two.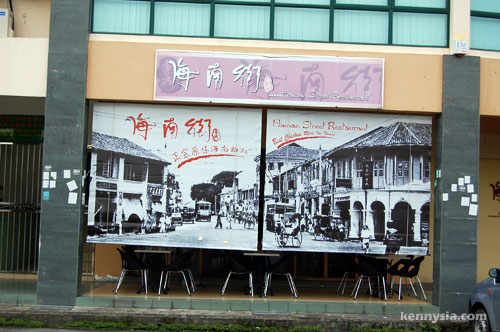 Hainan Street is no longer operating their outlet in Jalan Petanak, but their nice air-conditioned outlet at RH Plaza in BDC is still doing comfortably well.

3. Best Tomato Kueh Teow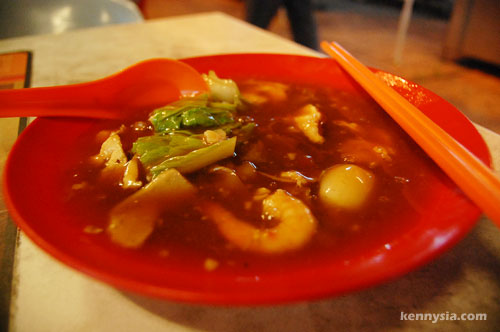 Winner: Ah Kau Fried Kueh Tiaw/Noodles, Expert Food Court Jalan Song.
This is one of my all-time favourite Kuching dish.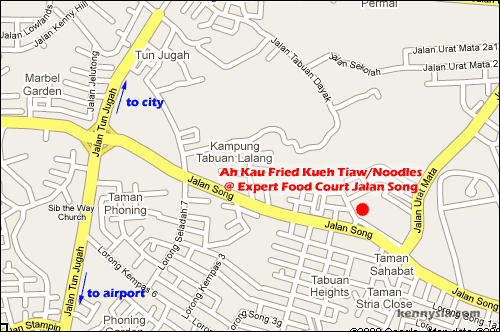 From the picture, it may not look like much. But trust me on this, it tastes better than it looks. A lot better,
Many establishments in Kuching serve tomato kueh teow, but none do it as good as this one does. Very rarely will you find one where the tomato-based gravy is cooked and fried to the right amount of flavour. You can literally taste the bite of the tomato on your tongue.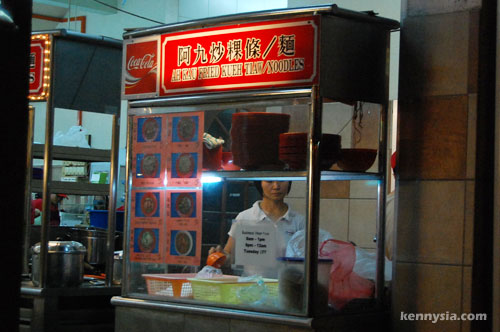 Not a lot of people come here for the tomato kueh teow. Actually, if I didn't stumble across this place myself, I wouldn't even know it is capable of serving such a fabulous dish.
Ah Kau Fried Kueh Tiaw/Noodles is located in the busy Jalan Song food courts and opens for lunch and dinner only.

2. Best Sarawak Laksa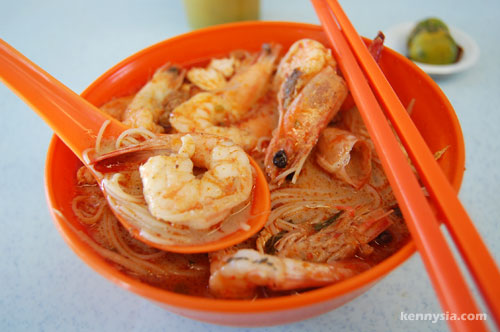 Winner: Golden Arch Garden Laksa, Golden Arch Shopping Mall.
The Golden Arch "Shopping Mall" (to use the words loosely) is a dump.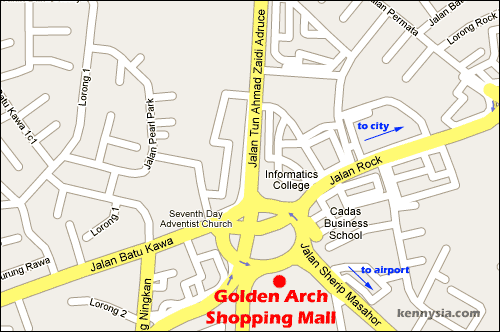 It is never a "shopping mall" because there's absolutely nothing for you to "shop" over here.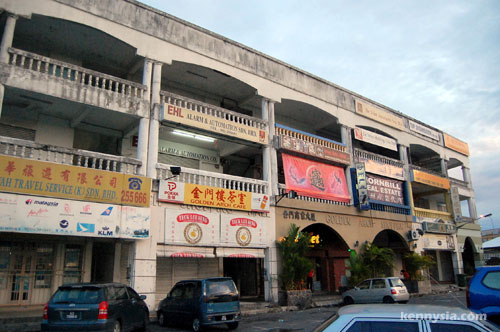 There are only two places worth going to in this "shopping mall". First, is Planet Karaoke Pub.
The other is Golden Arch Garden Laksa for breakfast, serving possibly the juiciest prawn-iest laksa in the whole of Kuching.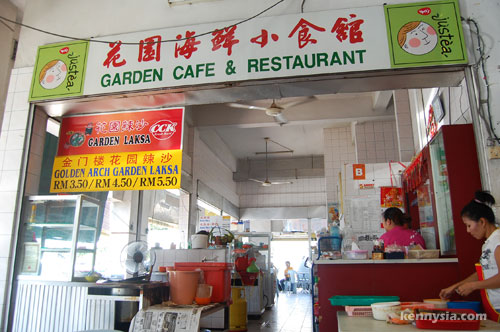 The laksa served here skimped on a few basic ingredients (eg eggs, coriander). But every laksa lover knows that the secret of the flavour lies in the gravy.
At Golden Arch Garden Laksa, the spiciness of the laksa has the right amount of "oomph". Not too mild until you couldn't taste anything.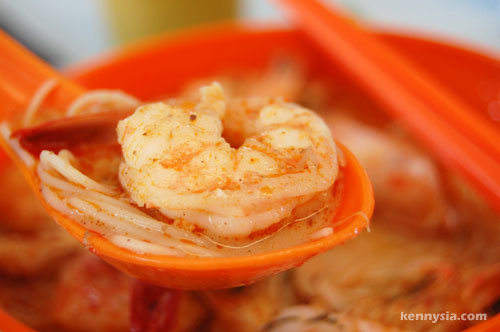 But not too overwhelming until a pair of hands reaches out from the bowl, grabs you by the collar and gives you a tight punch in the face.

1. Best Kolo Mee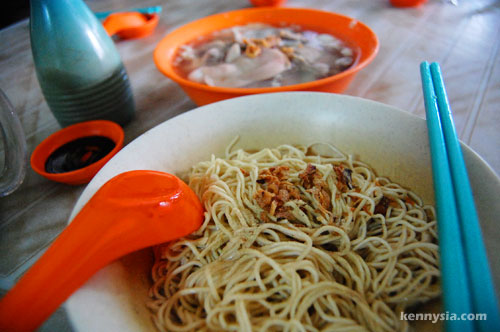 Winner: Min Joo Cafe, corner of Carpenter St and Bishopgate.
Let me teach you how to order the best tasting kolo mee you could possibly find in Kuching at Min Joo Cafe.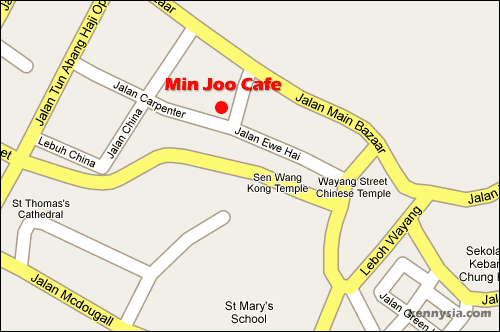 When you rock up at the coffee shop on the corner of Carpenter Street and Bishopgate, 99% of the time this old and rundown establishment will be packed with customers filled to brim. So if you wanna taste good food, you have no choice but to stand on the side waiting for your turn.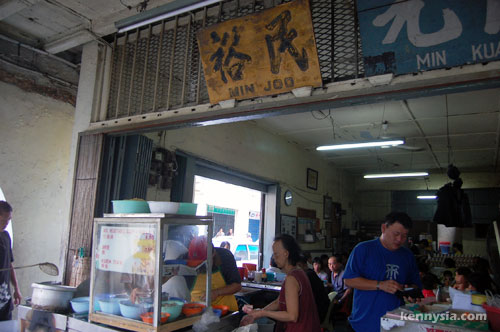 So you stand there and wait. And wait.
And wait some more.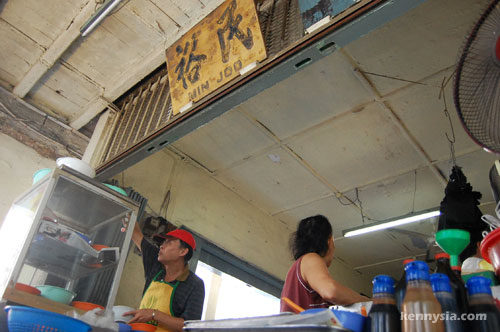 30 minutes later, a customer leaves and you sit down at his place, sharing the table with two other strangers. A loud and feisty uncle yells at you, "It's like that over here. Everyone sits with everyone!"
And then you continue waiting. And wait.
You wait, because there's nobody coming to take your order!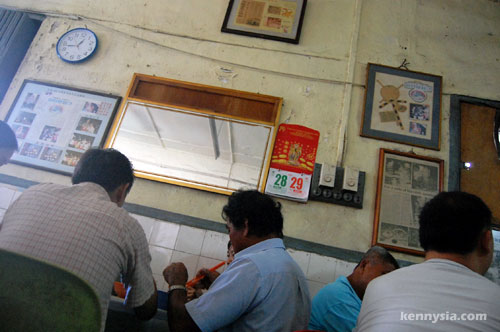 So another 30 minutes later, the loud feisty uncle comes by and take your order.
You already know what you want. There is only one dish here that kept all the customers come back for more. It's their signature kolo mee with mixed pork soup.
So you made your order with the uncle. And guess what?
You continue to wait! Very very patiently wait.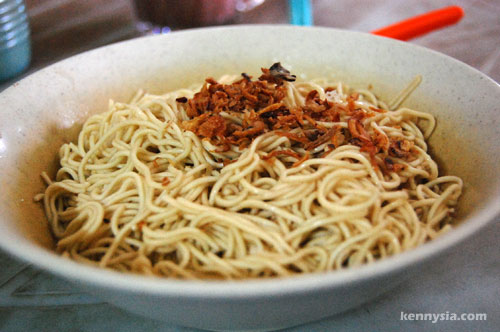 15 minutes later, your order finally arrives. It's a bowl of kolo mee with nothing but fried shallots on top.
A moment afterwards, a bowl of soup with all the spare parts of the pork arrives.
One spoonful later, you immediately understand why us locals keep going back to that unhygenic Grade C hole to wait another one hour plus in that stupid queue.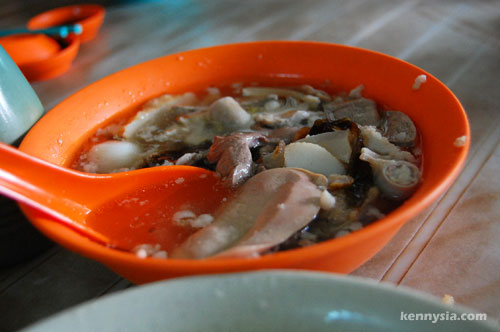 Hungry yet?

Man-gasm Alert: Tony Fernandes commented on my blog!
"6 years I have asked for Kuching-Singapore , KK-Singapore, Penang-Singapore and more flights for KL-Singapore. Why should we not get them? Why can Firefly fly from Subang and we can't. It's great MAS competes with us but notice the fares where Airasia doesn't fly on."