Was feeling the itch to check out the new Ford Focus after someone sent me this link that made me giggle all night like Scooby Doo.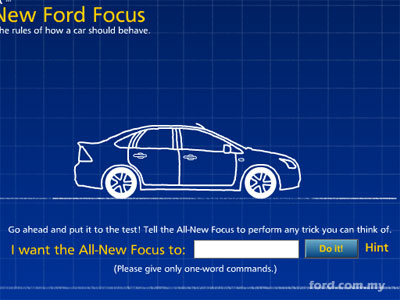 Type in 'fart' and see what it does. Don't you just love silly marketing gimmicks. 😉
Ford isn't exactly the most popular car manufacturer in Malaysia, unlike in Australia where fans of Ford and Holden love their cars so much it's religion. Down under, the rivalry between the two competing car brands often spill over from the V8 Supercar race tracks into the office water cooler.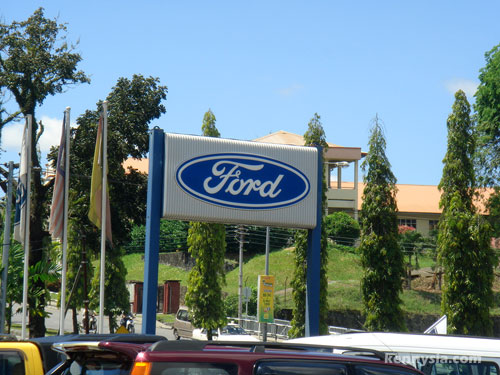 In Bolehland, Ford is only popular for its pick-up trucks and SUVs.
Personally I've only driven sedans all my life. I wanted to drive a sports car – my ultimate dream car being the Boxster Porsche 911. But it's impractical on our pothole-filled roads and the cost of insurance is a bitch. Besides our beloved little vandals would love scratch those sports cars because they've never seen a Porsche on the road before.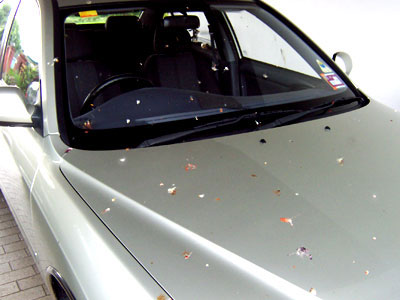 I never really thought of driving an truck or an SUV. That is, until I met up with Cheesie when I was in KL and she came to pick me up in her mini SUV.
It hit me hard. (The thought, not the car lah – otherwise I won't be here blogging.) What have I been missing out? Even a girly girl is driving an SUV while a burly man like me is still cruising around in my sissy Hyundai. Where did I hang my balls, man?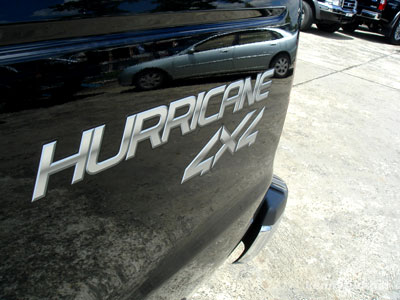 Real men like me should be driving a bigger vehicle like a truck or an SUV. And it's not just the "tough guy" image it brings. There are legitimate excuses reasons why it's better to drive a bigger vehicle on the road.
1. Bigger, more spacious, more practical = more 'fierce'.
2. Don't have to worry about scratching the bottom of the vehicle when going over a bump. Higher clearance and better suspension means they're nothing but pimples on the road.
3. Some joker dare to scratch your car, don't worry – just drive over their sorry asses.
4. If you can't find parking next time, you can always park on the pedestrian paths.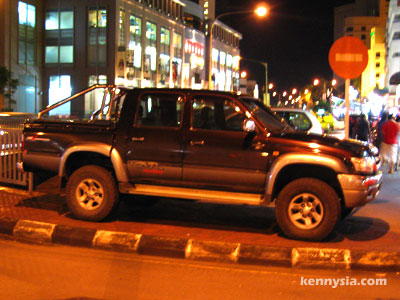 So anyway, it's the long weekend and I went to visit my local Ford dealer in Jalan Pending to do a bit of car shopping.
You know the world is too small when the salesman at the Ford dealership turned out to be your next-door neighbour. He showed me the Ford Focus which I was initially looking for.
This one is not bad lah. It's designed in Europe and engineered by Volvo in Germany. And you lucky guys in KL can witness the new Focus ST, Equator and Four-Trac concept cars later this month at the KL International Motorshow in PWTC.
I can't be there. So remember to take photos of the sexy car girls on my behalf. Thank you.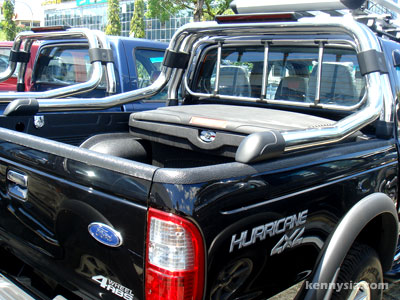 Then he showed me the Ford Ranger.
Ford's tagline for this pickup truck is 'Built Tough'. With its bold chrome bullbar, imposing chassis and sporty finish, this baby certainly looks tough and feels tough. It's not that expensive now either. The Ranger Hurricane costs around RM90,000 on the road. That's about the same price as the Hyundai Elantra I'm driving.
But it was the Ford Escape I was interested in and I requested the salesman to get me behind the steering wheel for a test drive.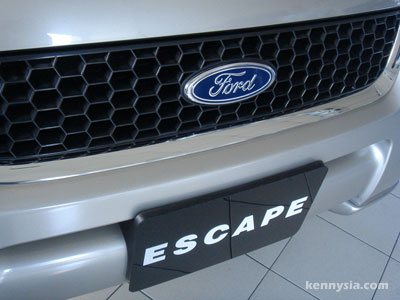 It's a great car! I never truly understand the joy of driving an SUV until I drove the Escape that day. The handling of the vehicle was fantastic, and the ride was smooth and comfortable. There's something cool about driving a higher car that overlooks the lousy peasant sedans at the traffic lights. 😛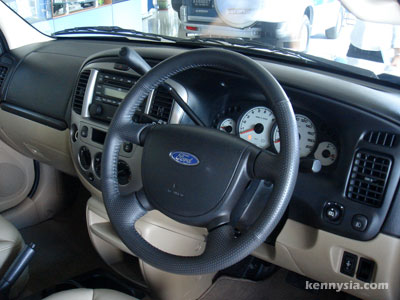 There are perks like ABS, leather seats, electric sunroof to top it off. The position of the gear stick was a little awkward at first but I got used to it after a while.
10 minutes on the joy ride and I'm convinced. The Ford Escape is a beauty of an SUV that goes along with the image of young executives like myself. I truly like it.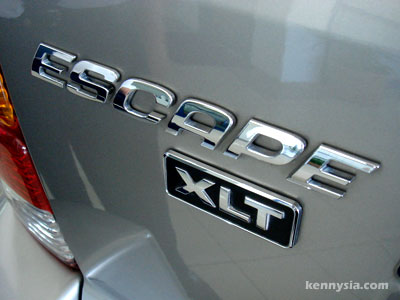 Ford is running a "Kawan Anda, Wang Anda" (translation: "Your Friend, Your Money") promotion right now. The idea is to get your friends to purchase any Ford Escape or Ford Ranger Hurricane/XLT variant, and they'll pay you RM2,000 reward as commission.
Yes, according to Ford, that's what friends are for.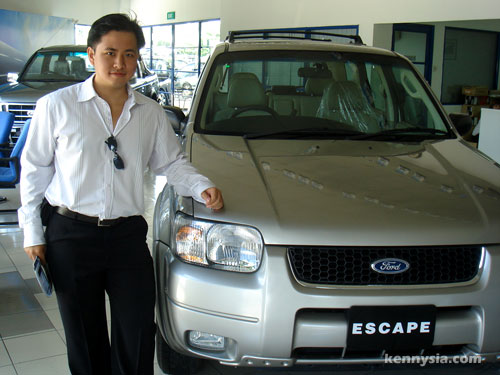 I plan to get a random friend to "introduce" me as a tokenistic gesture so I can pocket the commission for myself. The vehicle is gonna cost me RM137,000 after the RM2,000 discount which is not bad for a vehicle its class. All I need to do is to take out a car loan and pay it out over 20 years or something.
Anyway, if there are any Ford Escape owners reading this, I'd appreciate your insightful comments before I sell my soul to the money-grubbing devils at the bank. Thanks!

Just got upsetting news today that another extended family of mine has contracted cancer.