It's a disgrace that I lived 8 years in Australia, and during that time never did I learn from those surf-crazy Aussies how to surf.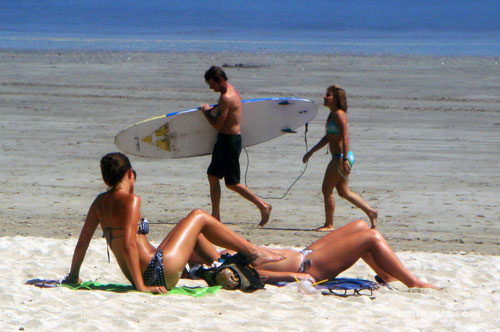 I knew when I booked my AirAsia flights to Bali that on the top of my To-Do list is to know how to stand on a surfboard.
After all, every holiday is a chance to try something new. My last holiday in Hanoi, I gobbled down a beating snake heart along with its blood.
This time round, I'm gonna ride the waves.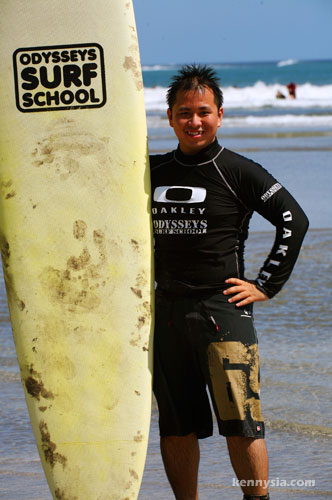 Call me Kenny Sia, the surfer.
Our first night in Bali, we put up at the delightful Un's Hotel not far away from Kuta Beach and all the action.
It's clean, it's quiet, it's Balinese and best of all, at just US$18 (RM60) a night per person, it is dirt cheap.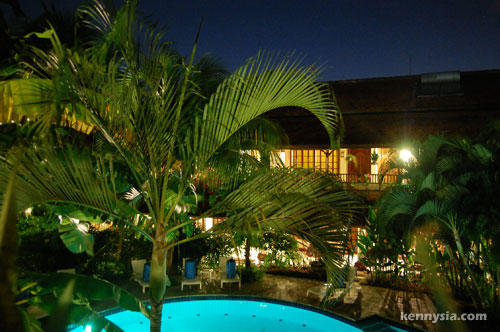 Together with my travel mates Chris, IcyQueenGoddess and Cheesie, the four of us booked our surfing lessons through our cheerful hotel receptionist.
Surfing lessons at Odyssey Surf School cost USD$30 (RM96) per day. They aren't the cheapest, but they are reputable.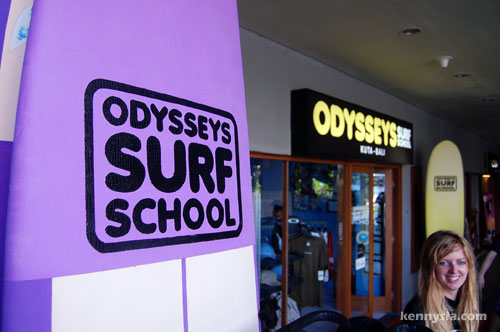 That also was when our silly "surfing" conversation with Cheesie took place.
Kenny: Hey, you guys wanna try surfing?
Chris + IcyQueenGoddess: Ok!
Kenny: Cheesie, you wanna go surfing?
Cheesie: Ya, sure!
Chris: What? You're gonna do surfing? But I thought you can't swim!
Cheesie: What? SURFING!? No no no! Don't want, don't want! I thought you meant internet surfing!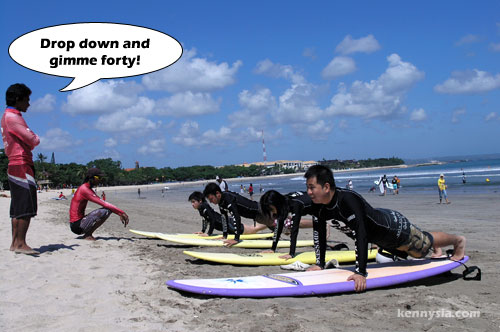 Next morning, we were picked up from the hotel and whizzed straight to Kuta Beach for our surfing lessons.
Kuta Beach is the most famous but arguably the ugliest tourist beach in Bali.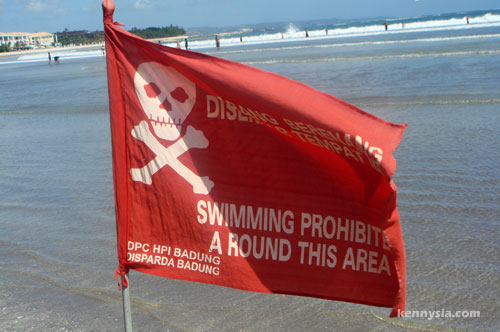 The beach is not suitable for swimming but is there purely for surfing only.
The reason for that is because Kuta Beach's waves are strong.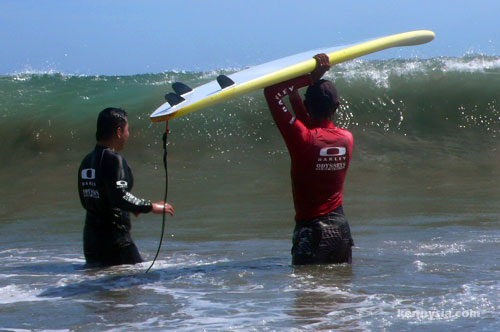 And I do mean…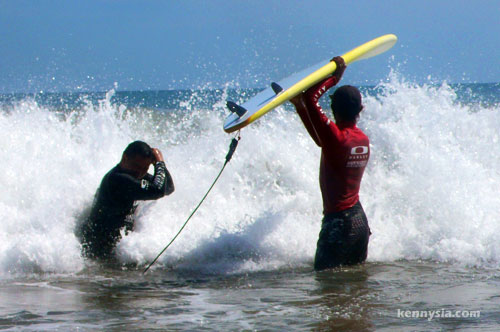 …VERY strong!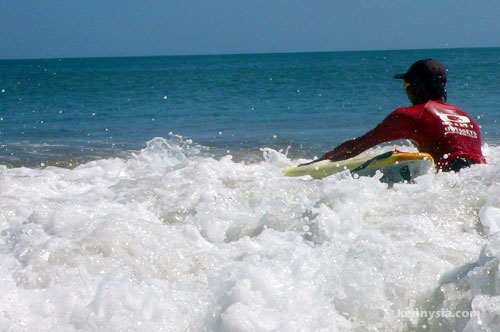 Kuta Beach is also extremely crowded with a lot of sunbaking tourists, which could be "a good thing" or "a bad thing" depending on how you look at it.
For instance, this is what we call "a good thing"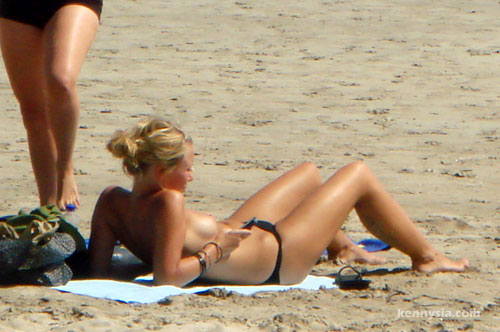 This is an example of "a bad thing"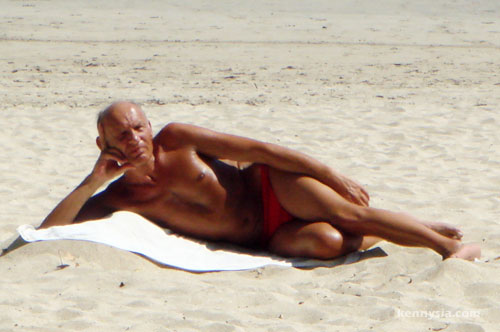 Okayyyy…
Now back to our surfing lesson.
We were given some very basic instructions on dry land.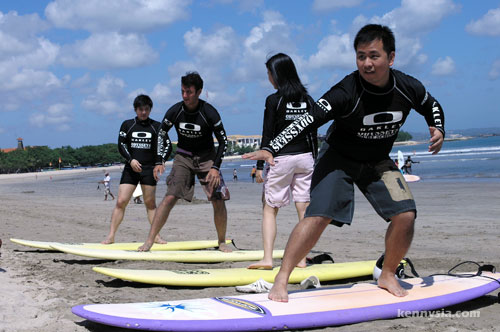 When our instructor showed us, it appeared pretty easy alright. The basic moves are really simple to do.
There are only 3 steps to remember, which I shall demonstrate to you in this video as follows.

Of course, those moves are a lot easier to do on land than in water.
After 10 minutes of practising, we were asked to jump into the sea and that's when the fun began!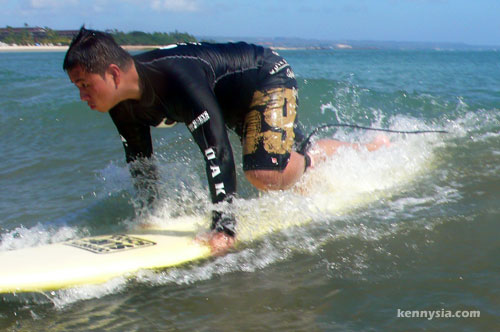 I want to learn surfing because surfers are often synonymous with the word 'cool'.
You watch Cameron Diaz surf in Charlie's Angels. She's cool.
You watch Kate Bosworth surf in Blue Crush. She's cool.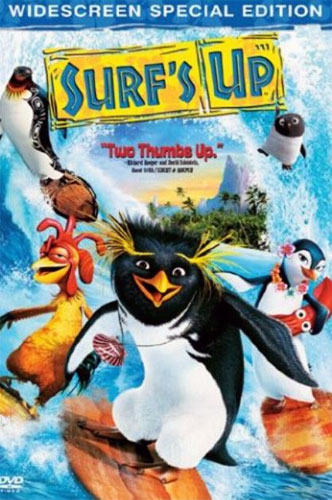 Even the penguins surfing in Surf's Up are cool.
But for some strange reasons, when I surf…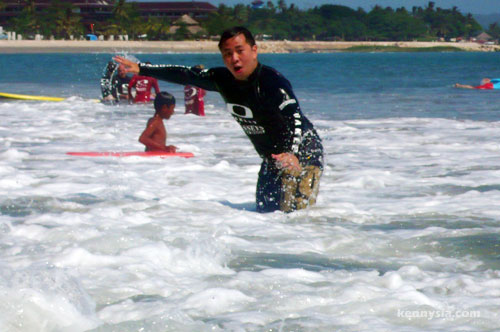 …I didn't even come anywhere close to cool!
Maybe I'm too fat to surf.
To my credit, at least I did managed to at least stand on the surfboard.
Watch this.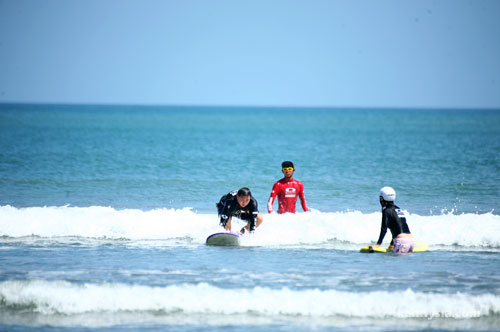 Ready.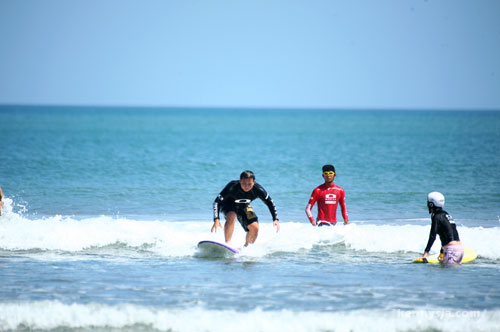 Hands off.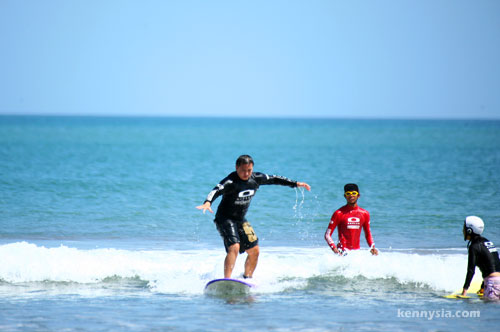 Standing up.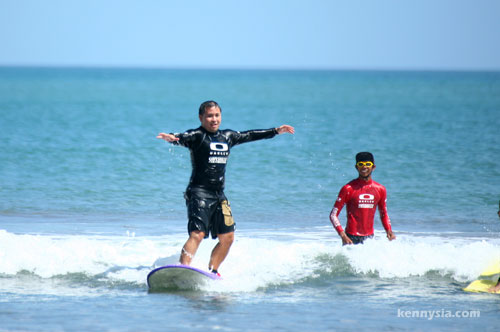 Balancing.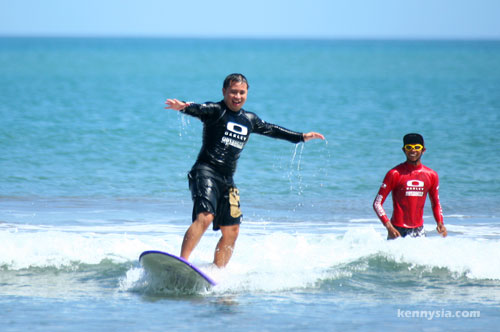 Wahey, I got it!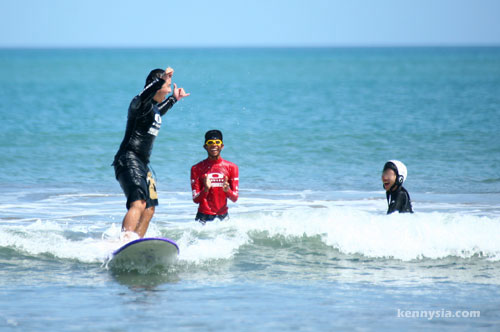 Clap for me! Clap for me!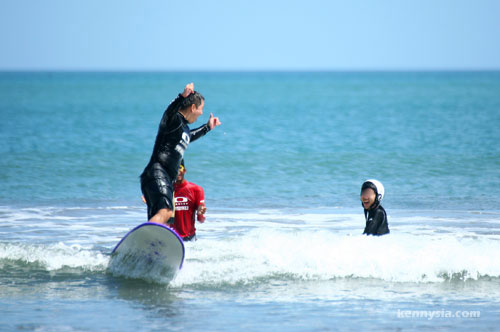 LOOK AT ME! I'M SURFING! I AM COOL!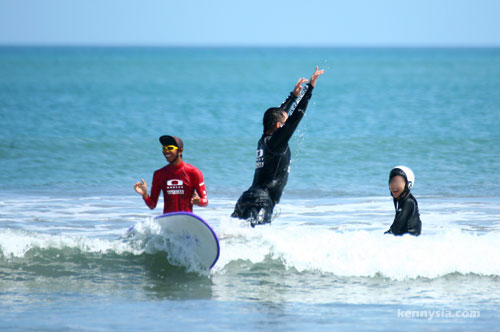 Oh shit.

Music of the Week: I don't listen to Chinese songs much nowadays, but once in a while somebody comes along with a beautiful singing voice that completely blows me away. This time, it's by a local trio called 2V1G (Sounds disturbingly similar to "2 Girls 1 Cup", but actually it stands for "2 Voices 1 Guitar")
If you can appreciate soulful musicians such as Corrinne May, then you'll definitely fall in love with 2V1G.