One of the best things about keeping a blog is that you get people from all walks of life commenting on your entries.
Comments are usually good. But every once in a while, somebody leaves a comment on your blog so bizarre, you go "What in the blue hell is this guy thinking?"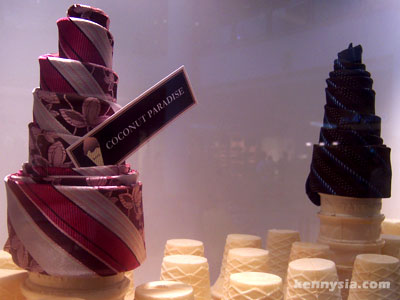 Case in point. When I wrote about my visit to Malaysian singer Guang Liang's showcase in April, I did not expect it to become such a popular entry. Let's face it, the showcase was boring, the photos I took were boring, and I didn't even crack any stupid lame jokes in that entry.
Yet, even until today, I still get people who seriously think that I am Guang Liang, foolishly leaving me comments like "i likes u very much, especially ur song Tong Hua."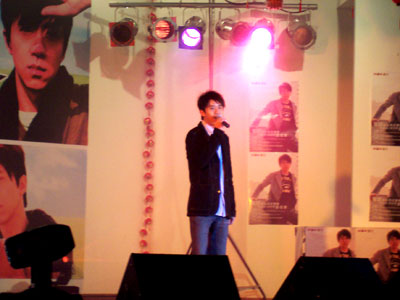 Yesterday, something even more bizarre happened. Remember how I went to Toni&Guy in KL and wrote a review about it?
Take a look at what I got in my comment box of that entry.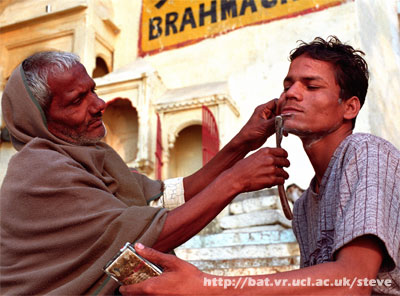 Dear Sir,
I,Siddhartha Chatterjee age 26 year's an Indian live in India,unqulified but english is good,doing a small business from last three year's comeing from a very good family.
Sir,I want to do a hair dressing course from your school because I want to be a hairdresser the reason is, now in India max people go to beautiparlaor's so its mean hairdresser have a great feture in India,so if I be a hairdresser then I can earn a lot more,so for that I want to do a coaurse for hair dressing from your school.So is it possible without qulification to do this couarse?I am really waiting for your reply soon.
Thanking You
Your's Faithfully
Siddhartha.

Posted by: siddhartha at October 27, 2005 09:23 PM
WHAT. IN. THE. HELL? First I'm a poofter of a Malaysian singer, and now I'm a BLOODY HAIRDRESSING SALON!? What has the world come to!?
I feel bad for Siddhartha, really. I mean the guy is so professional, polite, nice and all that. I just can't find it in my heart to tell him the truth, man. Seriously, it would be too cruel for me to simply brush him off, clarifying that I'm not actually Toni&Guy but THAT idiot in the photo getting his hair cut.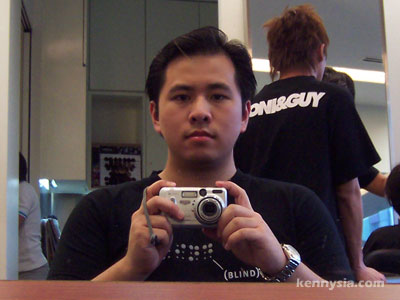 So I fired up Microsoft Word and drafted him a reply.
Dear Siddhartha Chatterjee,
I,Kenny Sia age 23 year's a Chinese live in Kuching. I not Toni&Guy from KL.
Sir, I sorry I cannot teach you hair dressing coaurse from my school because I not hairdresser enaugh to teach you the reason is, I no no qulification.
I is just a normal person with max hair on my body so its mean I have to go to beautiparlaor very often to potong my hair.But never mind cos if you open a salon next time in India, I will ride an elephant to visit you at your beautiparlaor so you cut my hair and you can earn a lot more and have a great feture in India ok.I am really waiting to visit you soon.
Happy Deepavali
I Not Toni,
Kenny Sia.
I'm such an asshole.

Blog plug of the day: Merv Kwok