I wanna take a break from writing about silly things on the net to focus on something slightly more serious.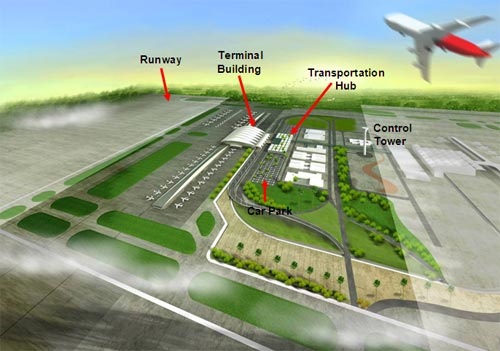 Over the past few weeks, there have been some intense debate online and offline over AirAsia's intention to build their own airport.
The gist of the story so far is, due to AirAsia's rapid expansion, it is fast outgrowing the current LCCT airport it is operating out of. So AirAsia approached Sime Darby and a proposal was put forth to the government to build a new budget airport called KLIA East.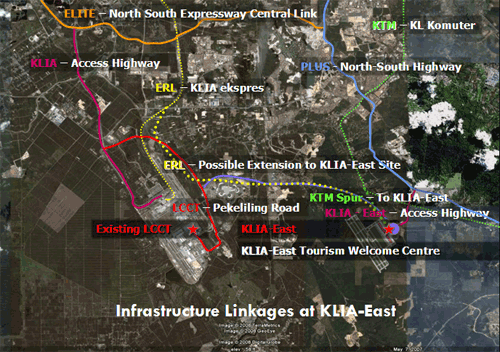 The new airport will be completely funded by private funds, and it will be located 20km to the east of the present KLIA in the Negri Sembilan town of Labu. Not only will this new airport be able to accommodate AirAsia's growing size, it will also be better connected by road and rail to both KL city and main airport.
The government had a look at the proposal and subsequently approved it, but almost immediately a huge uproar from the public resulted.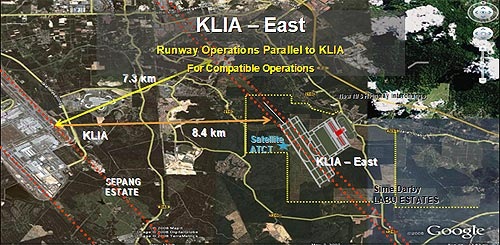 Some were saying that the proposed Labu Airport will be located too close to KLIA to be safe. Others were saying that it is located too far from KLIA for transferring of passengers to be convenient. Most people were saying that it is a waste of money for a fourth airport in KL to be built after Subang, KLIA and LCCT – never mind the fact that AirAsia assured that not a single sen of tax payer's money will be used.
Then there are those who resort to insults and personal attacks, slandering both AirAsia boss Tony Fernandes and the government, accusing them for being corrupted and uncaring towards the ordinary Malaysian.
Among the fiercest critics of AirAsia's plans were several prominent social-political bloggers including Jeff Ooi, Rocky and PKR MP Wee Choo Keong. Even our former Prime Minister Tun Dr Mahathir got nasty with his words, eventhough he is that very same man who sold AirAsia to Tony Fernandes for RM1 eight years ago when the airline was making huge losses under DRB-HiCom.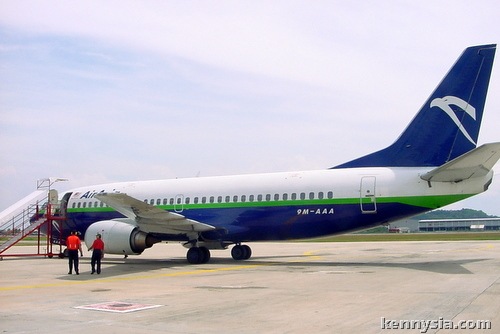 The outcry from the online community was so loud that someone even set up an online campaign to boycott AirAsia.
Faced with such intense and public online controversy, AirAsia did something remarkably unprecedented in Malaysia.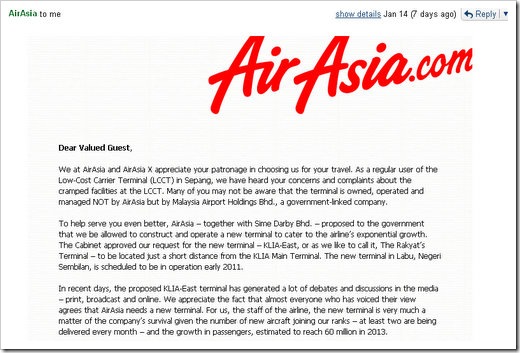 While most corporations would've kept quiet and carried on with their business (after all they have already got the proposal approved), AirAsia decided to respond to their critics, sceptics and haters by launching a micro-site on KLIA East. Providing facts and figures, AirAsia tactfully explained the need to build a new airport and showed how such a project would bring more benefits than harm to the rakyat.
To anyone reading through the FAQs, it is clear that AirAsia is pointing a large Airbus-sized finger squarely towards Malaysia Airports Berhad, the sole operator of the three airports in Kuala Lumpur.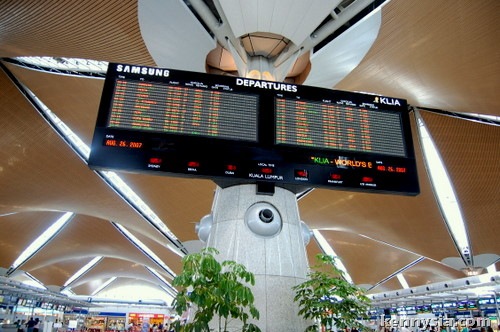 AirAsia said that all three airports are not suitable because Subang is too small, KLIA is too expensive and LCCT is not expanding fast enough to cater towards their rapid growth. AirAsia is pretty much forced out due to the incompetence of Malaysia Airports.
To much surprise from everybody, Malaysia Airports did not sit still when faced with criticism either. Instead, they launched a series of announcements on their own website to rebuff AirAsia's claims. Normally, people can't be care less to log on to Malaysia Airports website. But because of this fiasco, web traffic at malaysiaairports.com.my suddenly shot through the roof!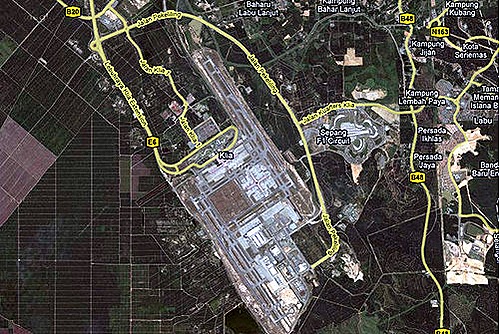 According to Malaysia Airports, there are indeed plans to develop KLIA North, a dedicated budget terminal located just next to the existing KLIA main terminal.
The only problem it'll take longer to build and estimated to cost twice as much compared to KLIA East. Therefore it is AirAsia's fault that they are impatient and instead run off to build their own airport.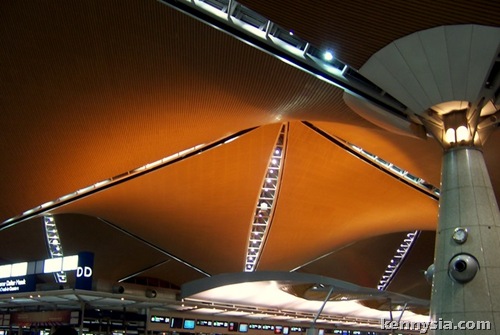 So to summarised what has happened, Dr Mahathir points his finger to AirAsia on his website, AirAsia points its finger to Malaysia Airports on their website, Malaysia Airports claimed innocence and pointed its finger back to AirAsia.
And I thought "blog wars" are the domain of bored teenagers who got nothing better to do with their lives. Who would've thought a "blog war" would occur between AirAsia, Malaysia Airports and the former Prime Minister of Malaysia?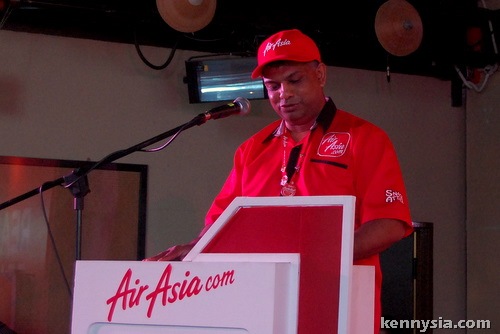 Reading through some of the harsh comments online, I honestly cannot help but to feel terribly sorry for Tony Fernandes.
I can see that AirAsia's intentions are noble.
Tony Fernandes wants to build a cost-efficient airport, so that savings can be passed onto the consumers. He wants a large airport so that AirAsia can connect Malaysia to the rest of the world, so that Kuala Lumpur can usurp Bangkok and Singapore as South East Asia's aviation hub. Tony Fernandes truly believes that this project is good for everybody, and he has even worked out a way to do these without spending much of tax-payer's money. KLIA East seems like such a great win-win solution for everybody.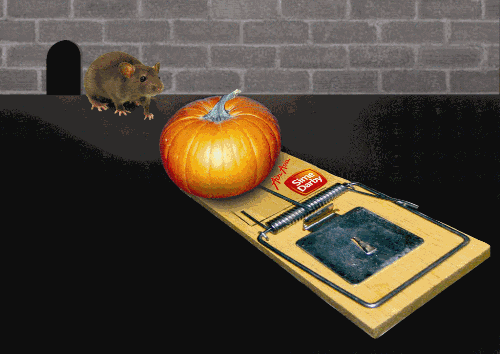 But instead of being lauded and praised for taking the initiative to bring about positive change to KL, Tony Fernandes was attacked, insulted and ridiculed by the online community. Instead of getting even a
little bit of appreciation and thank you's from the community, he was accused of undermining national interest, of robbing people's money to achieve his own selfish aims.
For a businessman as far-sighted as he is, the ugly fallout from this incident is perhaps something he had least expected.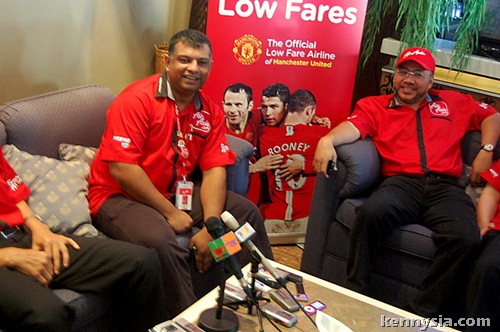 And that is why I felt compelled to write something here to show my support for Tony Fernandes.
Then again, who am I?
I am not a politician. I am not a businessman. I am just a 26-year-old guy with a naive understanding of the world. No where am I ANYWHERE near the calibre of Jeff Ooi and Rocky, let alone that of Tun Dr Mahathir.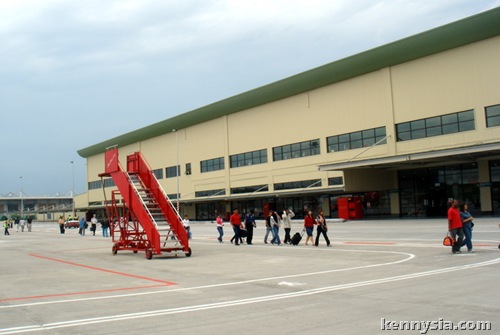 If there is one credential I have over them, it is the fact that I have used the LCCT airport more frequently than all three of them combined. That's a fact, because I have been travelling in and out of LCCT so frequently, I see the immigration officers there more often than I see my mom's face.
I am a consumer. And the only thing I can say about the LCCT is that it sucks. The airport sucks so bad, we could've make more money if we market it as a porn star.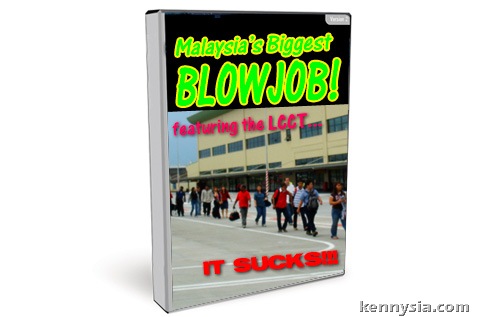 Make no mistake about it. I hated it when AirAsia moved out of KLIA four years ago, and I am still hating it every single day until today. The LCCT is such an overcrowded slum that if the fare difference isn't much, I'd rather pay extra to fly MAS.
Gimme the frills of checking in at KL Sentral and riding KLIA Express anytime.
Clearly AirAsia cannot stay in the current LCCT. So that leaves us with two options: (1) move to Malaysia Airports' KLIA North, or (2) let AirAsia build their own airport at KLIA East.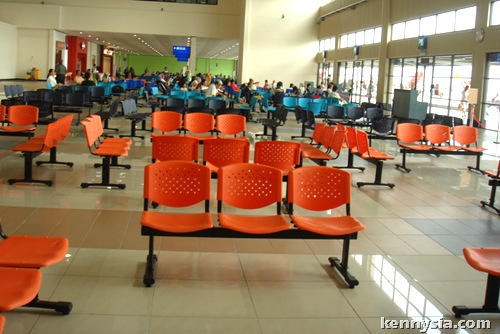 On the surface, KLIA North sounds like an ideal option. I too, would've supported AirAsia moving back into KLIA or at least somewhere close to it. But due to problems with the soil and the train tracks, it will take twice as long to build and cost twice as much. As consumers, are you prepared to pay extra for that? Do you all want to pay more for your air tickets?
If they wanna develop KLIA North, they could've done so four years ago before the current LCCT is constructed.
Building KLIA North apparently will involve a significant portion of taxpayer's money. OUR money. Money that could be better spent on things like education, healthcare and luxury mansions of corrupt politicians.
Now, compare that with KLIA East, which can be constructed ready in two year's time and won't even cost the government a single sen. While other cities in Malaysia on their knees are begging for an airport, AirAsia is willing to give one to KL free of charge!
Please remind me why are we having this debate again?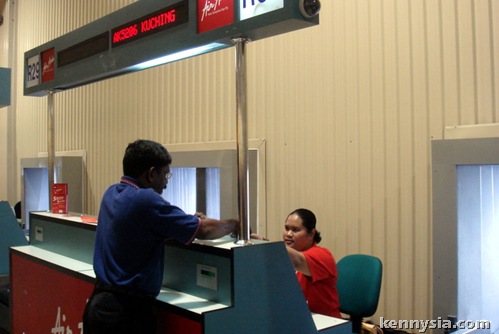 True, people do not like redundancy – having two set of control towers, immigration and customs instead of one is wasteful. But come on, if you wanna talk about redundancy, why don't you talk about how many redundant shopping malls we have in KL first? Why not shut down Subang and move Firefly and Berjaya to KLIA?
People are scared AirAsia may compromise safety to save costs. For example, instead of building airport runways, AirAsia might land on Amber Chia's chest.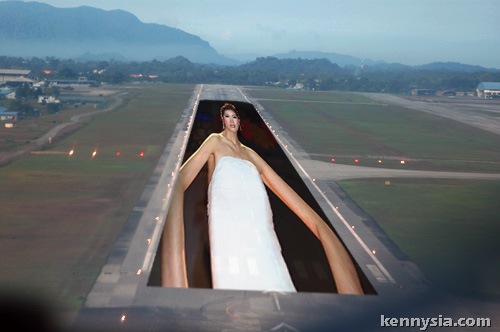 But are these rational fears? Why would AirAsia wanna compromise on their unblemished safety record? To put it simply, it is bad business for any airline to crash their planes.
Of course, as private entities, profit-making is their primary aim. But the intense competition between the two airlines has virtually left them no room for errors and plenty for improvement. These airlines know that if they screw up, we the consumers will switch to their competitor just like that.
Letting AirAsia build their own airport is sure to bring the already fiery and intense competition between the two to yet another level. Don't forget that at the end of the day, the one benefiting the most out of these competition is us. Don't we all want cheaper fares?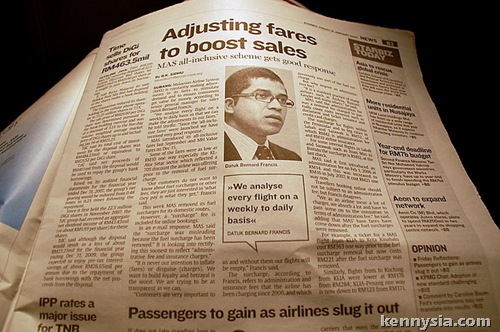 The next question people would wanna ask is: why is Kenny Sia writing all these? How much did AirAsia pay kennysia.com?
The answer is zero.
AirAsia has not paid me a single cent to write anything for them. In fact, AirAsia has never even advertised on kennysia.com.
On the contrary, their direct competitor Malaysia Airlines is among my biggest advertisers. For me to write this entry, I am risking not just having AirAsia critics attack me, I am also risking my website's revenue stream.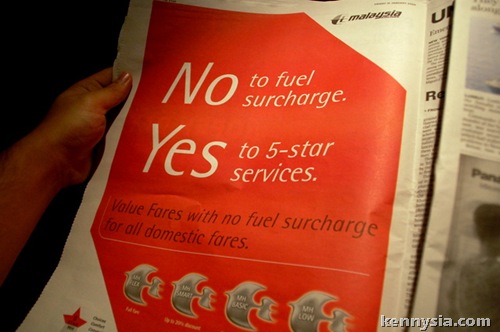 But I am saying what needs to be said.
And the reason I am writing this is because I feel that maybe Malaysians can get a bit too negative sometimes. There are FAR wasteful and controversial government projects in Malaysia that warrant our attention, like the CIQ Complex in Johor and the Bakun Dam in Sarawak. Yet I cannot help but feel that in this particular instance we are beating up the good guys.
Something is very wrong here.
Airlines like MAS and AirAsia, in my mind, are doing a great service for this country. For that, they deserve our commendation. But what I am seeing here is that instead of supporting them, we are beating them up with a stick.
It's like helping a fallen girl off the floor, then getting wrongfully accused for molesting.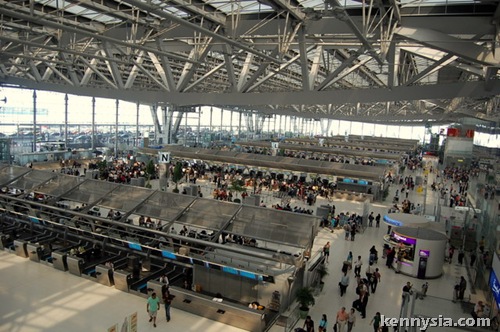 That is why as a frequent flier, I am throwing my support behind AirAsia to construct KLIA East @ Labu.
Because I believe Malaysians should not be so pessimistic and negative about everything. Because competition is good for the consumers. Because if AirAsia can do what Malaysia Airports do, but in a way that's faster, cheaper and more efficient, then for us consumers the choice is clear.
Don't say no to KLIA East.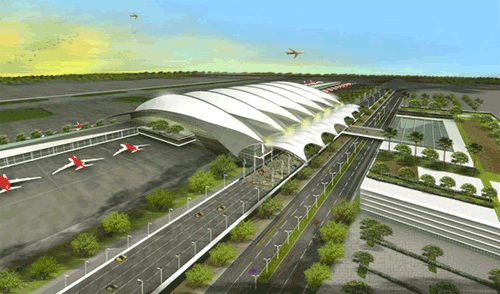 Supporting this project is the way to go.
Not surprisingly, PAS Youth wants to ban Rihanna's concert in KL.
When contacted by reporters, singer Rihanna has this to say: "Please don't stop the music. Please don't stop the music. Please don't stop the please don't stop the please don't stop the music."