Its quite unfortunate that I didn't get to go out much during my time in Sibu. I was stuck at work most of the time. Coupled with the flood and rain, it really wasn't a good idea to fit some sightseeing into my schedule.
For two nights I stayed at Li Hua Hotel, which is a three-star hotel overlooking the Teh-C-Peng-like Rejang River. My room window faces the river, and from the 7th floor the view is simply amazing. There's something about big rusty old cargo ships sailing past equally old and rusty jetties that's so beautiful, so quaint, so…. uniquely Sarawakian.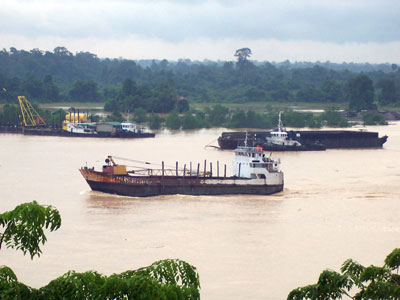 I always feel a sense of connection with the Rejang River, like we have something in common. Its not surprising though. After all, Rejang is Malaysia's longest river, and I have Malaysia's longest penis… nevermind. 🙂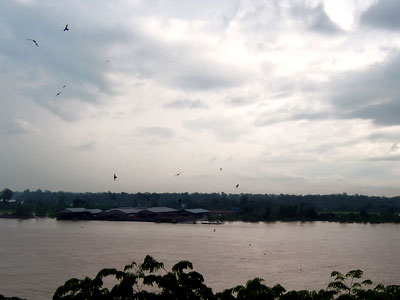 A lot of people regard Penang as the food capital of Malaysia. Perhaps I'm a little biased but I'm afraid I have to disagree on that. (Ok lah, I'm very biased! ;)) I think Sarawak has the best range of authentic Malaysian food that suits the palate of people all over the world.
The food in Sibu is disgustingly cheap and many times I feel like giving some tips to the kopitiam waitress just because service was so prompt. Sometimes I wonder why posh 5-star restaurants have the audacity to ask us for tips for their crappy service when the young girl at the kopitiam deserves it more and yet we never thought of giving anything extra to her.
Anyway, back to food. The trademark food of Sibu is the kampua mee (or 'dry plate noodle' in Hokkien). Although this Foochow dish is available in Kuching, Sibu is the place where you can savour this yummy noodle in all its authentic and original glory.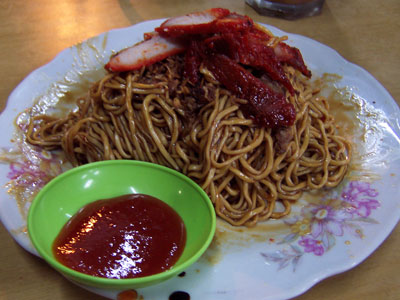 This plate costs me RM1.80 (or AUD$0.60, the price of one pack of chewing gum in Perth). I had mine the way I like it, and that's with soy and chilli sauce. It tastes very much like Indo Mee Goreng, except its drier and fresher. I reckon if you lick your computer monitor really hard you might be able to taste it.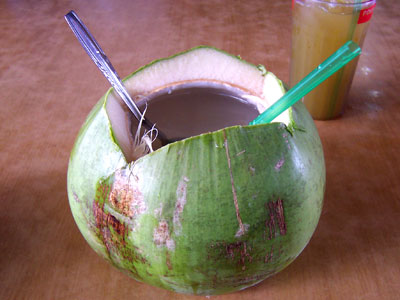 I ordered a fresh coconut (RM2.00) to go with it. I'm a strong believer that coconut water should only be drank straight from its shell. Anything other than that is an unneccessary compromise.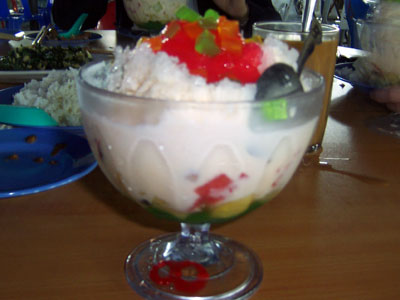 This is Sibu's famed Shui Guo Bing (or 'Fruit Ice' in Mandarin) for RM2.00. Its essentially a big bowl of shaved ice and some jelly atop pieces of watermelons, honeydew, pineapple, lychee, etc. This mouth-watering dessert is best savoured after a round of hot spicy dishes to cool your tongue down.
Hungry yet? 🙂
11:30pm was the only time I could explore Sibu on my own. The good news is, there were pubs around the hotel I was staying that operate late into the night. The bad news is, these are dangdut pubs featuring fugly singers with thick make-ups and skimpy clothing unfortunate enough to be cursed with singing voices that rival the ah-peks of Chinese wedding dinners.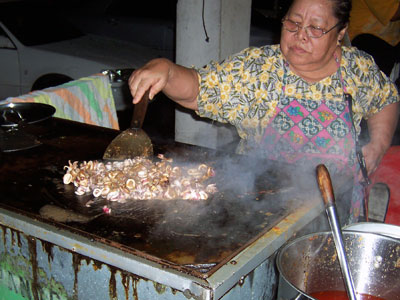 I was lucky there were few late night kopitiams around, mostly selling seafood. I saw a makcik (Malay for 'auntie') skillfully cooking seafood on a sorry-excuse-for-a-BBQ stove. I remembered my workmate recommending the sotongs ('octopus') of Sibu, so I wasted no time ordering one.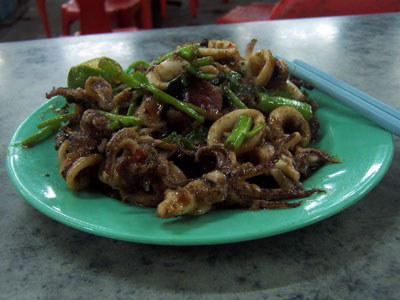 This is Sibu's sotong, grilled to perfection with traditional Malay's sambal paste and some fresh kangkung. It really is as delicious as it looks. A dish worth coming back to Sibu for indeed.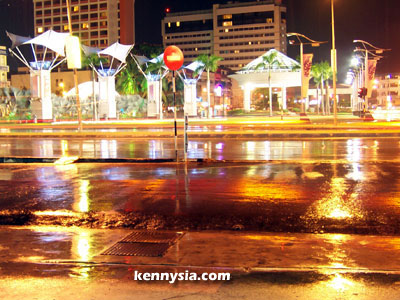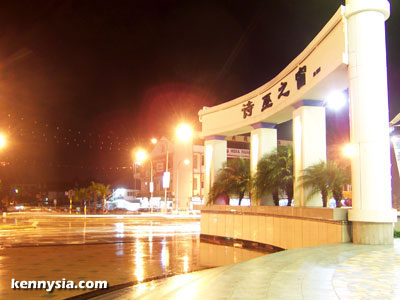 Before I leave Sibu, I just had to do a shot of the town's landmark. The place was quiet except for a few loud and drunk teenagers loitering around. Not far from here is the Sacred Heart Cathedral where a mass was held mourning the death of Pope John Paul II.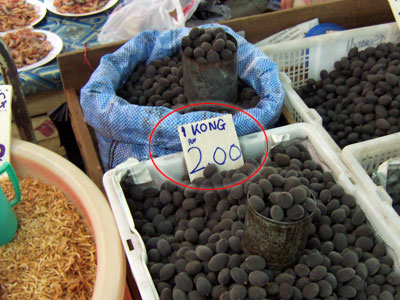 Sibu is an intriguing little place that retains much of its old-town charm. Its so quaint, so fascinating. I can't wait for the next time I travel to Sibu to explore the place a little bit more. Hopefully, without the flood.
*~*~*~*~*~*~*~*~*
To conclude this diary entry on a funny note. Introducing, the worst name for a cafe in Sibu…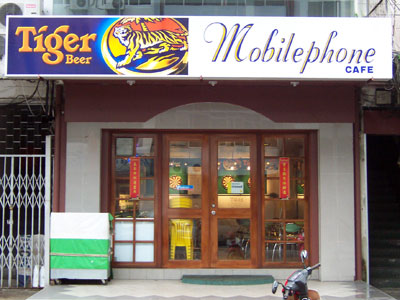 A MOBILEPHONE CAFE? A cafe for mobile phones? wtf? I don't know about you but this is what I imagine what the inside of the cafe would look like.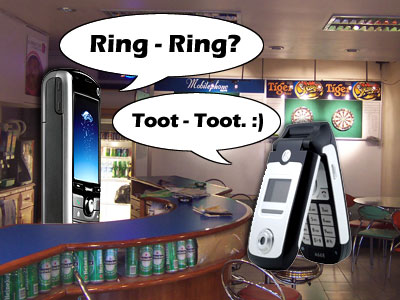 Just as I was editting this photo, my elder sister walked into the room.

Sister: "Why you took a photo of that cafe?"
Kenny: "'Cos it has a funny name."
Sister: "What's so funny about its name?"
Kenny: "Well, its called Mobilephone Cafe!"
Sister: "I don't see why that's funny. I mean there are Internet Cafes so what's wrong with Mobilephone cafe?"
Kenny: "………………"

I think my sister turned into Jessica Simpson after she got married.