Reader Kenny Cheah sent this in.
"Saw this ad in Taiwan. Not sure if anyone already posted this to you. Obviously, I was the only one laughing all the way from the aiport to the MRT until I reached my hotel."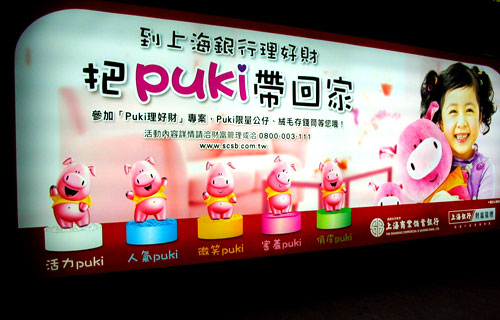 There's even A SONG.

It is just so wrong on so many levels naming your company's toy mascot after a favourite word Ah Bengs use to scold people. I wanna try to make a joke out of it, but I think I'll just take the classy road and stay quiet.
I only have one question though.
If the name of that little pig is called PUKI, does that mean his mother is called PUKIMA?

Is it just me or does there suddenly seem to be a LOT of female bloggers out there selling girly stuff on their blogs?
Cheesie's Wardrobe has been very popular. But check out also Simmy Tan. And from Singapore Mistress of Glam (support my sponsor!), Angelicious Creations and thy-dowager.
So many big shopping centres in KL and Singapore already still not enough for you girls to shop ah?